Testimony of the Day
"Hi Maria, I wanted to send you a note and tell you to thank you. I recently had a second baby (January) and was talking with a friend about buying the Wheat Belly book a year ago and never reading it. She and I shared similar food journeys and the transformation for her to this lifestyle was life-changing. So with her encouragement, I read the book during my son's first month… I decided to give this lifestyle a try on April 1st, 13, for 30 days. No sugar/no gluten… I must be crazy, but for 30 days I can do anything. But the transition to this way of living was fairly seamless for a self-proclaimed food addict. I have always been a heavy person, dieted my whole life…but the urges to binge and cravings would always win over. Not this time. I couldn't believe the way the body reacts once you take away those things. My desire to binge is completely gone! I was a secret eater…wait till the hubby went to bed, then hit the pantry, eat an entire bag of chips, etc. Also, a trip to the grocery store, whether I had eaten or not was usually an entire trip of salivation. But once I made this change, none of that happens anymore. It's liberating.
I found you through that same friend (Joy Chrest), and have been ever so thankful. Your recipes have kept this the easiest way of life. More work? sure. But for better health, I'll take it. I will say I am not as disciplined as you….yet. But I'm light years ahead of where I was just 4.5 short months ago. I've done low carb before…but with your help…I can do low carb and not feel like I have to eat bacon 24/7. From your pancakes to your lemon bars, I'm amazed at the fact, not only are they good…but they are low carb! I made a pan of brownies and some magic cookie bars around July 4th. They stayed in my freezer for weeks. NOTHING stayed around here that long before, let alone anything made in an 8×8 pan! It was eye-opening to find out that indeed I WAS the biggest snacker around our house. The things that hang around here now never would've lasted had I continued eating my 'old' way. I am working on converting my family. They do not complain about the healthified meals I make, but I need to fully convert my pantry. And since I'm the one that grocery shops, it's up to me!
So in total, I'm down 25 lbs (50 since delivery) and over 20 inches, I can just feel the change in my body, so I had to do a comparison today and that's what I wanted to share with you! The before is when I was pregnant, as it's the only time I'd be in front of a camera. An excuse to be fatter so to speak. But now, I don't mind pictures at all. Because I'm finally liking what I'm seeing! THANK YOU THANK YOU. I'm so grateful for all the ideas out there of other people living this, it makes it so much easier. I'm also grateful for the acre garden I planted this year, keeping our dinners filled with the 'good stuff'! Now on to chickens!
Keep doing what you're doing. For people who don't believe or say it's too hard, take it from someone who has let food rule her life..all her life. It works…you can get over the cravings and addiction…and you will feel amazing!
Blessings,
Sara
P.S. I have been waiting 37 years for someone to tell me to put butter on everything AND lose weight! WOO HOO!"
We have gotten some amazing feedback on the 30-day meal plan option. One email said "Holy Moly! That included more tips than I thought it would! I certainly see where I went wrong with my grain-free/low carb diet before this!"
Craig and I are perfectionists, so he helped me add even more detail along with a grocery checklist for each week. Click here to get started on your "after" photo!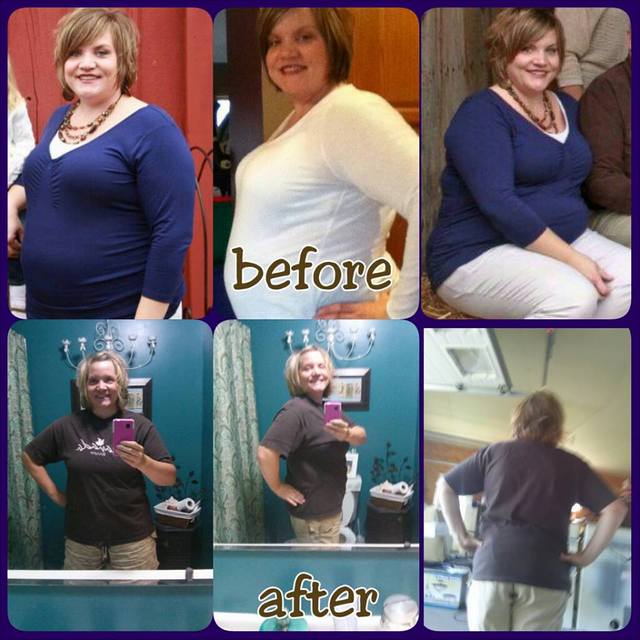 Back to School Struggles
I'm reading a book called Heavy, which is a memoir of a mother who is helping her young daughter lose weight. Well, I should be honest…I'm not reading it, Craig is. After 12 years of marriage, Craig still reads to me before bed. I suffered from insomnia before I realized I was deficient in a few things (including magnesium, which is no surprise considering what my diet was! It takes 54mg of magnesium to process 1 gram of sugar or starch! No wonder magnesium is the most common deficiency! So before I added certain supplements for sleep, Craig read to me to help calm me down and he continues to do so, even though my sleep issues are gone.
Anyway, in the book, she writes about how at school, they have stations. One of the stations is a "snack station" (which her daughter spent most of her time at). Really!? Craig and I remember getting in trouble if you ate in class. What are your biggest hardships when it comes to your kids eating healthy?
I can't believe the responses I received when I posted this question on Facebook! Here were some shocking responses:
1. Grandparents! They all live locally (meaning they are around them almost daily) and think eating real food is an obsession of mine I'm trying to punish my kids with.
2. Honestly, the PTA is our biggest obstacle. Several times a month, the students have the opportunity to get or buy food as a PTA fundraiser-nachos, pizza, ice cream, even the "waste-free lunches" from Whole Foods aren't something I would choose for my kids. My son has food allergies so we eat mainly from home regardless. I'm not really worried about my own son's healthy eating. However, I don't think "we" as a school community got to talk about childhood obesity when we are allowing so much crummy food weekly in school. It's so hypocritical.
3. Once my daughter hit middle school, she could eat the hot lunch or order from the a la carte menu-burgers, fries, pizza, nachos, etc. I made a deal that I would give her $20 per month for a hot lunch. Whatever she didn't spend she could keep. She hasn't bought hot lunch since 5th grade. (She's now in tenth.) best money I ever spent.
4. The school giving me a list of "approved snacks" that includes skim milk, fat-free sugar-free pudding, and pretzels…it's going to be a long year.
5. I have joint custody with my ex. When my daughter is with me, she eats 80% of the time grain-free sugar-free. When she goes to her dad's, he feeds her easy processed food. She has to be gluten-free due to celiac, but that is the extent. He sees cooking from scratch as too expensive & time-consuming, despite his degree in exercise physiology & his family history of issues with thyroid, diabetes, blood pressure, & cancer.
6. Food that is offered at grandparents' and friends' houses…my oldest (10 years old) is getting better at making smart decisions when faced with food choices, but it's still hard for her and practically impossible for my 6-year-old. 7. It really bugs me that in my kids' schools they have banned homemade treats. All treats (like for birthday celebrations) have to be processed, store-bought.
8. I am a teacher and I would say the choices on the school menu. Pizza, pizza, and more pizza!
9. My daughter is going into her junior year and we have been eating this way since she was in 3rd grade. I can say from elementary school all the way through high school food is still used as a reward. Her good behavior has won her several pizza parties and ice cream parties that she cannot attend. Her freshman year in cooking class her teacher was so rude to her and would tell her a few bites of whatever they baked wouldn't kill her. Lots of peer pressure and questions all along the way. Our best year was 6th grade because her teacher's father was a celiac so he understood. We have never been able to have her eat school lunches.
And that was just a few of them! The theme of the answers were the same, school, grandparents, relatives…shouldn't those people want your kids to thrive too?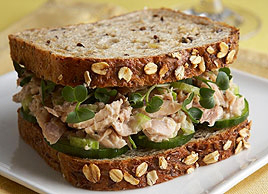 Doesn't this look like a "healthy" sandwich to send to school? We all know that we need to stay away from sugar, but "whole grain" bread is high in sugar, higher than some candy bars and sugary sodas, and some scientists have proven that two slices of whole wheat bread will raise your blood sugar levels as high as if you were eating a candy bar. Why does it take the mainstream media so long after a new study to report health benefits? BECAUSE they would lose all their advertising! I had to sign a waiver when I would be on TV that I won't bash whole grain or cereals…they didn't want to lose their advertisers! It's truly shocking. According to the Life Extension article, eating two slices of whole wheat bread is worse than drinking a can of Coke or eating a candy bar.
The original 1981 study at the University of Toronto found:
Glycemic Index:
White Bread = 69
Whole-grain Bread = 72
Wheat Cereal = 67,
but Table Sugar (sucrose) = 52
That means the Glycemic Index of whole grain bread is higher than that of table sugar, which is also known as sucrose. For you "gluten-free" readers out there…rice cakes are listed on the Glycemic Index at 77! This is why when people go "gluten-free" and grab a lot of packaged "gluten-free" items at the store, they gain weight rather than lose weight. This is why I write at the beginning of my cookbooks why I use flours like coconut and almond flour. It is important to not only get rid of the gluten but stop the inflammation that the starch is causing so the gut can heal!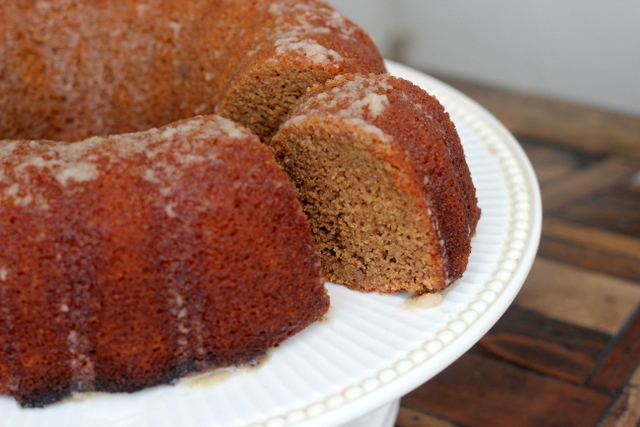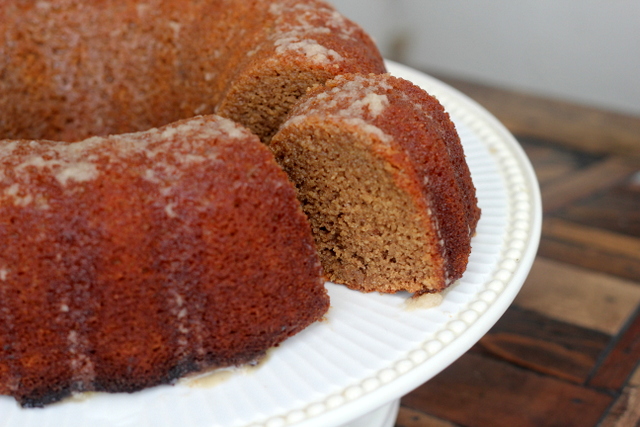 KETO GINGERBREAD CAKE
1/2 cup coconut flour
1/2 cup almond flour
1/2 tsp Celtic sea salt
1/2 tsp baking soda
1/2 tsp baking powder
2 1/2 tsp ginger
2 tsp cinnamon
1/4 teaspoon ground nutmeg
1/4 teaspoon ground clove
5 eggs
1/2 cup unsweetened almond milk
1/4 cup coconut oil, melted
1/2 cup Swerve confectioners
GLAZE:
1/2 cup coconut oil (or butter), melted
1/4 cup Swerve confectioners
Preheat oven to 350 degrees F. Combine all dry ingredients in a small bowl and whisk together. In a large bowl combine eggs, coconut milk, coconut oil, and sweetener. Whisk together. Add the extract and stir well to combine. Pour wet ingredients into dry ingredients, mixing thoroughly until smooth.
Grease 6-inch bundt pan with coconut oil and fill a pan with batter. Bake in the oven for 40 minutes, or until firm to the touch, or when a toothpick or fork tine inserted in the center comes out clean.
Meanwhile, make the glaze by placing the melted coconut oil and natural sweetener in a small bowl. Stir until well combined.
Spoon glaze over cooled cake if desired. Makes 12 servings.
NUTRITIONAL COMPARISON:
Traditional Gingerbread = 208 calories, 29.8 carbs, 0.5 fiber
"Healthified" Gingerbread = 124 calories, 9.5g fat, 4.4g protein, 4.2 carbs, 2.3 fiber (70% fat, 15% protein, 14% carbs)