Keto Eclairs
Here is a sneak preview of my cookbook (Apple iBooks version) The Art of Eating Healthy: SWEETS.
If you would like to help out a small family, rather than large business, I am happy to announce that you can now get my books as a high quality ebook that works on any platform. This is an ebook format that works on any computer or mobile device. It is a beautiful pdf that has all the full color pages and layouts as the printed books with click-able table of contents and searching capabilities. This is extremely useful when trying to find a recipe. These books are much higher quality than the ebook platforms (kindle, apple). Plus, most of the profits don't go to Amazon or apple! Just go here to get your copy!
Just Click HERE or select "My Books" above to get your copy now!
Thank you all for your support!


I received a comment on my Facebook timeline yesterday that totally made my day. She gave me permission to post here so everyone could be inspired by her amazing success. Way to go Gretta! Stories like this motivate me to help as many people as I can! 🙂
"Maria, I have been following you on FB and your blog since I started my weight loss/get healthy journey in Nov. of 2010. With your help, guidance, tips, and phenomenal recipes, I can proudly say, I am down 112 pounds and not only do *I* eat healthier, but so does my family (husband and 2 daughters – ages 3 and 6). We've enjoyed so many of your recipes and I am constantly putting your books on my… "wish lists." Well, Monday, I decided I was going to fill my own wish list, just dove right in and ordered ALL of your books at once through your link.. they came in today and I spent the entire evening reading Secrets to Controlling Your Weight, Cravings, and Mood! So much insight in that little book! You touched on many of the problems I still struggle with and have given me even MORE insight to fight my "issues." I just want to say THANK YOU for all you do and all you've shared for FREE! You have helped me AND my family find a healthier way and STILL be able to enjoy what we eat without feeling deprived! Love to you!!"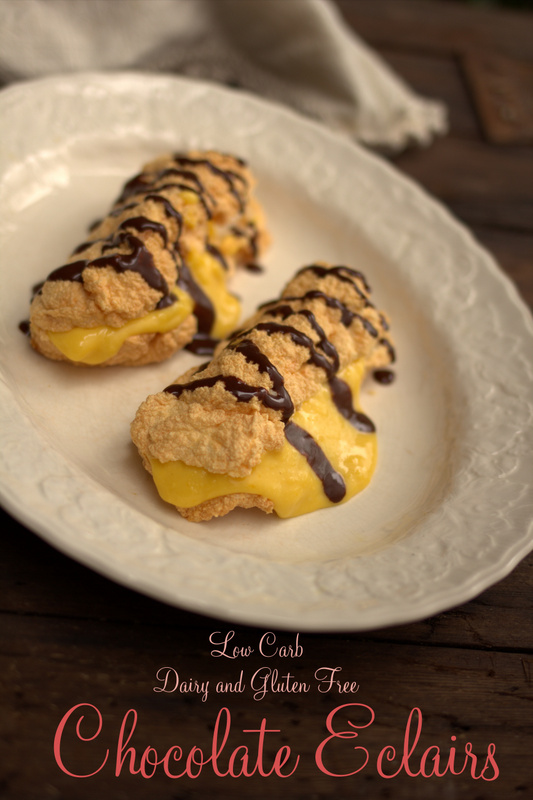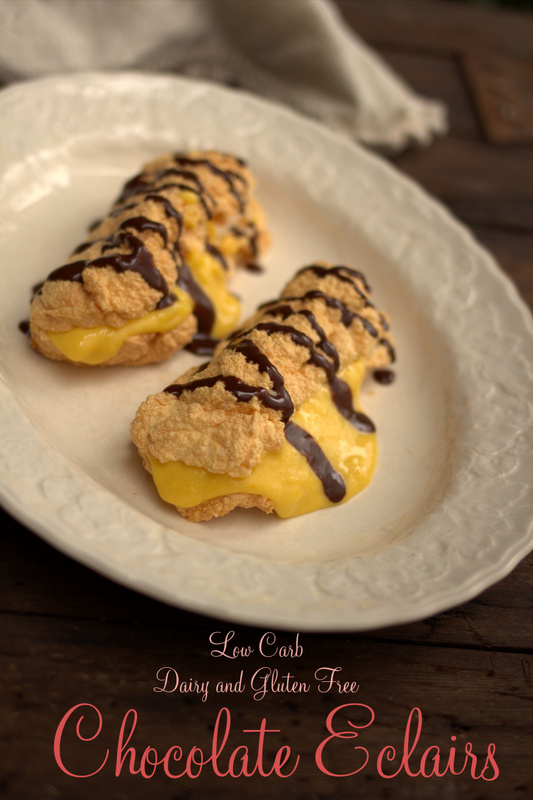 You can also make these keto eclairs into protein sparing eclairs by using my protein sparing modified fasting bread recipe and using my protein sparing pudding for the filling! This would also make them diary free!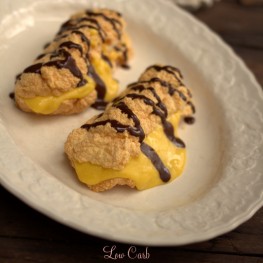 Chocolate Eclairs
Ingredients
ECLAIRS:
3

large

egg whites

1/8

teaspoon

cream of tartar

1/2

cup

vanilla egg white protein powder

3

ounce

cream cheese

softened

4

tablespoons

Natural Sweetener

or 1 tsp stevia glycerite
ECLAIR FILLING:
6

large

egg yolks

1/2

cup

unsweetened almond milk

or heavy cream

1/4

cup

Natural Sweetener

or erythritol and 1/4 tsp stevia glycerite

1/4

cup

salted butter

melted or coconut oil
CHOCOLATE GLAZE:
1

bar

The Good Chocolate

chopped fine

2

tablespoons

unsweetened almond milk

or heavy cream
Instructions
Preheat oven to 300 degrees F. Separate the eggs and whip the whites and cream of tartar until very stiff (I use a stand mixer and let it go for 5 minutes). Slowly fold in the protein powder to the whites. Combine softened cream cheese and natural sweetener. Using a spatula, very gently fold the cream cheese into the whites. Spray a lasagna pan with coconut oil spray and spoon the mixture into it in tube-like shapes (if the whites fall, put the mixture into greased muffin tins). Bake for 18 minutes. Remove pans from oven and let cool on a cooling rack.

To make the eclair filling, Whisk egg yolks, almond milk, and sweetener in a medium metal bowl to blend. Slowly mix in the melted butter so the eggs don't cook unevenly. Set bowl over a saucepan of simmering water. Whisk mixture constantly and vigorously until thickened and an instant-read thermometer inserted into mixture registers 140°F for 3 minutes, about 5 minutes total (or coats the back of a spoon). Remove mixture from over water. Serve warm or chilled. (If serving chilled, it can be prepared 1-3 days ahead and refrigerated. Re-whisk before serving.)

To make the glaze, In a double boiler or microwavable bowl, combine ingredients. Microwave for 30 seconds. Stir well. Drizzle onto éclairs and let rest on cooling rack until glaze has set.
Nutrition
Calories:
121
|
Fat:
9
g
|
Protein:
8
g
|
Carbohydrates:
4
g
|
Fiber:
3.4
g
|
P:E Ratio:
0.8
Testimony of the Day
"I have tried so many diets in the past. I will admit I was one to be fooled into thinking that the popular "low fat" diet was the way to go. I can certainly agree with you and say that it's not! After cutting fat and calories from my diet, I found myself losing weight (one pound a week if I worked out a lot). Eventually, though, I would feel deprived and depressed, and gain it all back. In addition, I was noticing my hair thinning a ton! I started seeing my doctor about my hair thinning over a year ago. She did a blood panel and then sent me to see multiple specialists. I've probably had one appointment every couple of months for a year, and still I have no answers; I haven't been directed to take action in any way either. That is what really tipped me over the edge to contact you, Maria. I figured I've already spent so much time and money not getting any answers. Why not try your way? What have I got to lose?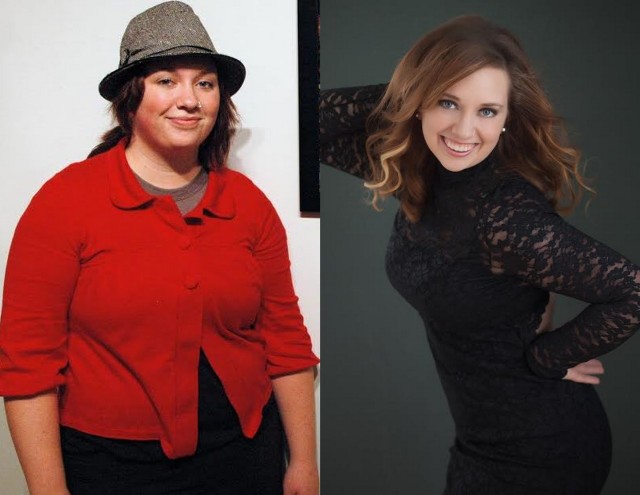 From our first email, I could tell that you cared enough to help me. As soon as I booked a session with you, we took action (unlike the doctors office). I listened to everything you said and, well, you helped me change my life. Everything you teach just made sense to me and really "clicked." I started the "Maria way" in October 2012, and it is now January 2013. Since then, I've lost over thirty pounds and I'm still losing!
The most important part for me is that all of the symptoms I had when I came to you are gone or are very close to gone. Anxiety = gone. Hunger spikes = gone. Stress levels = greatly reduced. Not to mention, my hair is growing in thicker, healthier, and much faster. My skin looks amazing, too, and I've been getting so many compliments about it 🙂 Overall, I feel like a million bucks! From the bottom of my heart, thank you!
—Molly
Most people I consult are doing keto totally wrong. Get fast results with the my NEW Keto Packages!