Italian Cream Cake
Many of you asked me to make my Italian Cream Cake recipe in the oven instead of an Instant Pot. I adapted the recipe and made it to bake in the oven for those of you who do not have an Instant Pot.
This Italian Cream Cake recipe is in memory of my Grandma Rosemary. While I was on my way to speak in Russia, I received news that my Grandma Rosemary passed away. Sadly, we watched her suffer from Alzheimer's for many years. She was given terrible nutrition advice to never eat saturated fat or cholesterol when my Grandpa Vince, her husband, had his first heart attack at age 32. It was hard to pull myself together to speak in front of hundreds of Russians, but her illness is one of the reasons I'm so passionate about telling the word about a healthy Ketogenic lifestyle.
This photo is from our wedding in 2001 and it was one of the last memories I have of her before she started having Alzheimer's.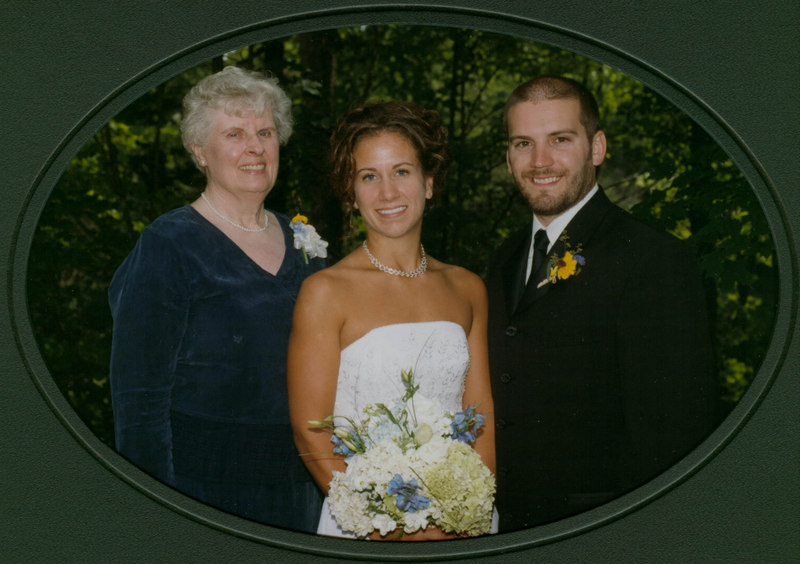 I was asked to speak at her funeral. All of these forgotten memories started to come back. I feel honored to be asked to tell special memories about her at her funeral.
One of my memories of her is that she was a great cook and baker. One of her specialties was Italian Cream Cake and she served it at Christmas dinner. I adapted her recipe to make a Keto Italian Cream Cake! I hope you enjoy this special recipe.
I only have one 6 inch springform pan so I baked one layer, then the other.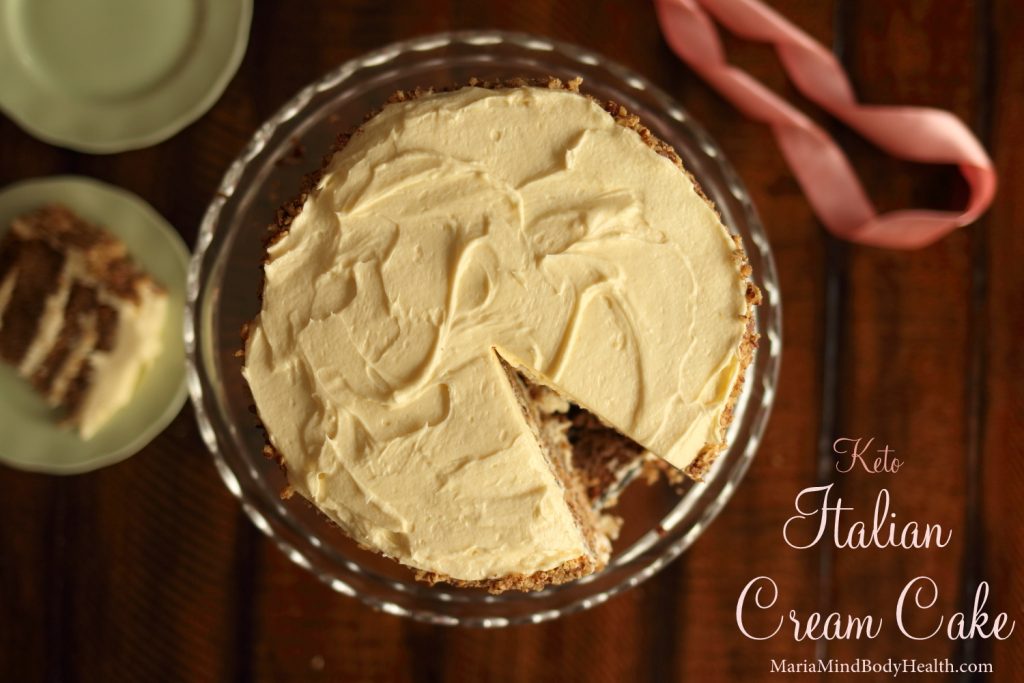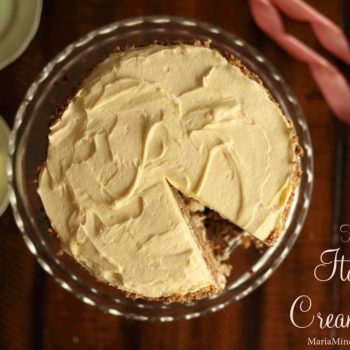 Italian Cream Cake
Ingredients
CAKE:
1

cup

sour cream

1

teaspoon

baking soda

1

cup

butter

2

cups

Natural Sweetener

or equivalent

5

large

eggs

2

teaspoons

vanilla extract

1

cup

unsweetened flaked coconut

1

teaspoon

baking powder

2 1/2

cups

blanched almond flour
FROSTING:
8

ounces

cream cheese

softened

1/2

cup

butter

softened

1

teaspoon

vanilla extract

2

cups

Natural Sweetener

or equivalent

2

tablespoons

heavy cream

or unsweetened almond milk

1/2

cup

chopped walnuts

1

cup

unsweetened flaked coconut
Instructions
Preheat oven to 325 degrees F. Grease 2 6 inch round springform pans. In a small bowl, dissolve the baking soda in the sour cream; set aside.

In a large bowl, cream together 1 cup butter natural sweetener until light and fluffy. Mix in the eggs, sour cream mixture, 2 teaspoons vanilla, 1 cup coconut flakes, baking powder and almond flour. Stir until just combined. Pour batter into the prepared springform pans. Cover top with parchement or foil to prevent burning on the top.

Bake for 30 to 35 minutes, or until a toothpick inserted into the center of the cake comes out clean. Allow to cool completely before frosting. Slice each cake into 2, so you have 4 layers of cake.

To Make Frosting: In a medium bowl, combine cream cheese, 1/2 cup butter, 1 teaspoon vanilla and confectioners' swerve. Beat until light and fluffy. Mix in a small amount of cream or almond milk to attain the desired consistency. Stir in chopped nuts and remaining flaked coconut. Spread between layers and on top and sides of cooled cake.
Nutrition
Calories:
578
|
Fat:
56
g
|
Protein:
10
g
|
Carbohydrates:
8
g
|
Fiber:
3
g
|
P:E Ratio:
0.2

TESTIMONY OF THE DAY
"Hi, Maria!  When my biological father passed away in October of 2016 I decided it was time to learn as much as I could about being my healthiest.  My mom was diagnosed, bravely battled, and beat breast cancer when she was 50.  I was approaching that age myself, and honestly, I was a little afraid.  I knew it was time to get busy and get healthy for real and learn how to stay that way.  I had yoyo dieted and exercised throughout my entire adult life.  Losing weight and looking great for a little while only to gain the weight back and then some when I would go back to eating "normal".   I would cut out some foods that I knew made me feel bad.  But I would always go back to eating them.  I suffered from migraines, very bad menstrual cramps, sinus issues, pretty bad joint pain, and heart burn just to name a few.   My focus was not about my weight.  It couldn't be because while that is great motivation to start with, it's really hard to stick with it for the rest of my life.  I already proved that to myself over and over.   
I was intrigued by what I was learning about Keto.  There is a lot of information and to be honest I was eating, sleeping, daydreaming, and thinking about it constantly.  Soaking up as much information as I could.   At the time I was getting heartburn after everything I ate and drank, including water.  I was so sick of feeling lousy.  I decided I would start before Christmas.  I literally started December 21, 2016.   I kept my new lifestyle to myself, except for my immediate family at first.  You know, in case I couldn't stick with it.   I have been on this lifestyle for two years.  It has changed my life forever.  I think about everything I put in and on my body, such as supplements and lotion, because it all makes a difference to my overall health.  
    My husband, while not 100% Keto is a great support and my 18 year old daughter has joined me in this lifestyle and has lost 42 pounds.  My 27 year old daughter, who has a beautiful family of her own now, my mom and dad (my dad who adopted us when we were kids, not my biological father) and my sister have also been great support.  They have even joined this lifestyle or have started using some of the recipes.   When people tell me I have lost a lot of weight, I tell them yes I have, and I thank them for noticing and very happily share with them that it's not about the weight loss for me.  Even though the weight loss is a really awesome bonus (56 pounds), there is so much more to this Keto lifestyle than that.  I no longer am a slave to the migraines.  I no longer have to take Ibuprofen the entire time I am on my menstrual cycle.  I don't have the sinus issues, the joint pain, or heart burn. 
    I knew dairy and grains gave me a lot of issues.   So cutting those out was a big part of what I needed to do.   A lot of the Keto recipes I was seeing had dairy as one of the ingredients.  My Keto lifestyle needed to be dairy free.  It was challenging at first but with Maria's dairy free recipes, it's a lot easier.  I am so thankful and grateful for Maria and Craig's hard work and the fact that they are so willing to share their knowledge and recipes.   I am turning 50 in 2019, and I have never felt better."  Candi Smolinske
Most people I consult are doing keto totally wrong. Get fast results with the my NEW Keto School!