Instant Pot Italian Cream Cake
This Italian Cream Cake recipe is in memory of my Grandma Rosemary. While I was on my way to speak in Russia, I received news that my Grandma Rosemary passed away. Sadly, we watched her suffer from Alzheimer's for many years. She was given terrible nutrition advice to never eat saturated fat or cholesterol when my Grandpa Vince, her husband, had his first heart attack at age 32. It was hard to pull myself together to speak in front of hundreds of people in Russian, but her illness is one of the reasons I'm so passionate about getting the word out about healthy Ketogenic lifestyles.
This photo is from our wedding in 2001 and it was one of the last memories I have of her before she started having Alzheimer's.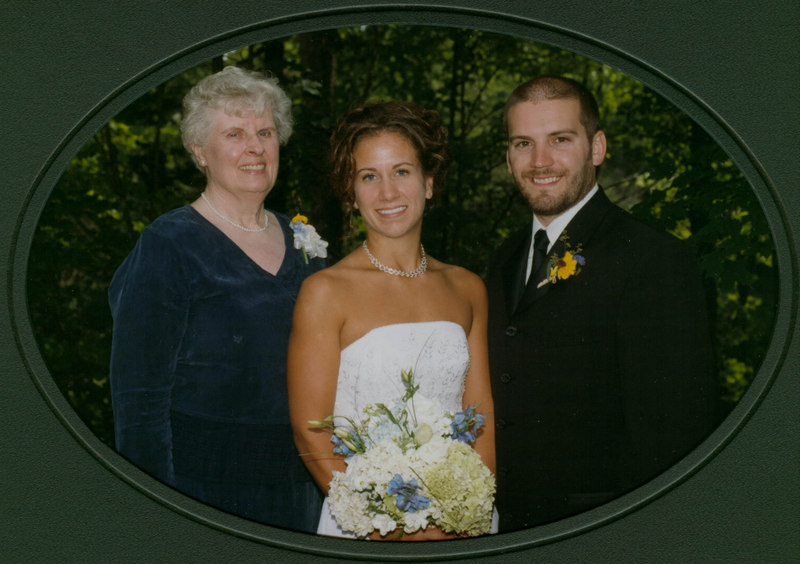 I was asked to speak at her funeral. All of these forgotten memories started to come back. I feel honored to be asked to tell special memories about her at her funeral. I will always wonder what could have been done with diet to help keep the Alzheimer symptoms away or from progressing.
One of my memories of her is that she was a great cook and baker. One of her specialties was Italian Cream Cake and she served it at Christmas dinner. I adapted her recipe to make a Keto Instant Pot Italian Cream Cake to honor her. I hope you enjoy this special recipe.
INSTANT POT RECIPES
Did you hear the news? I have a new cookbook out called Keto Instant Pot Recipes book! But this is not just any Instant Pot cookbook. This keto cookbook has a ton recipes with BOTH Instant Pot directions AND slow cooker directions! I also started an Instagram account on my favorite Keto Instant Pot Recipes and giveaways called @KetoInstantPotRecipes!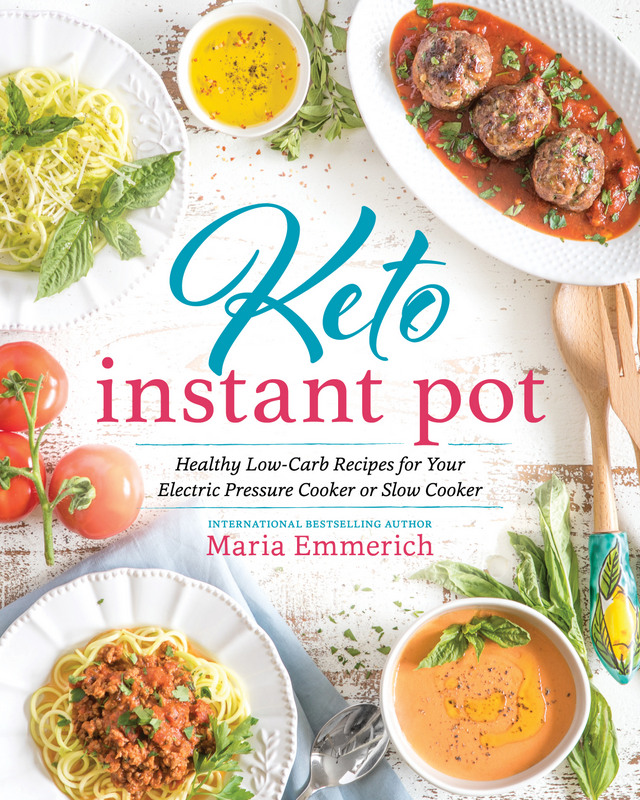 If you do not have an Instant Pot yet, I have to tell you, I am not a gadget girl and I adore my slow cooker. I like the idea of filling my slow cooker the night before, place the shell in the fridge overnight and turning it on in the morning and allow the meal to cook while I am working or exploring nature all day. However, the Instant Pot was easy to fall in love with. It is also a slow cooker! And on days when I forget to plan ahead, I can make a delicious meal in minutes. Click HERE to find the Instant Pot I love.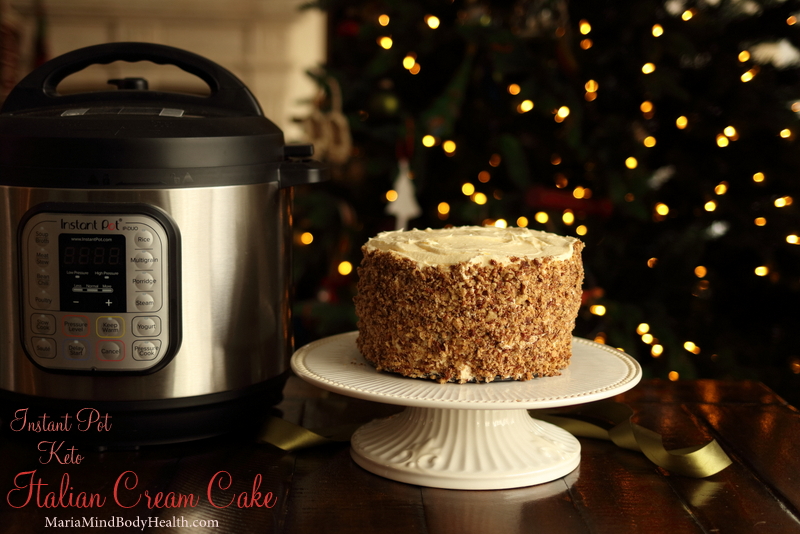 INSTANT POT ITALIAN CREAM CAKE
Before you begin making the Instant Pot Italian Cream Cake, make a tinfoil hammock for the dish to sit on in the Instant Pot while baking. Take a 2 1/2 feet by 2 1/2 feet piece of foil and fold  one edge up in 2 inch increments. Keep folding until you have a 2 1/2 feet by 2 inch piece of foil. Set the foil hammock onto a steamer rack into the Instant Pot with the long edges hanging out. Use to lower the pan into the Instant Pot. This allows for easy lifting out of the Instant Pot.
NOTE: Keep the foil hammock for future recipes where you want to lift out a dish or ramekins!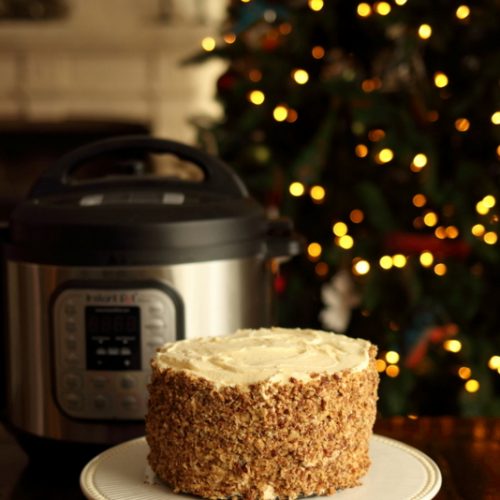 Instant Pot Italian Cream Cake
Ingredients
CAKE:
1

cup

sour cream

1

teaspoon

baking soda

1

cup

salted butter

2

cups

Natural Sweetener

5

large

eggs

2

teaspoons

vanilla extract

1

cup

unsweetened flaked coconut

1

teaspoon

baking powder

2 1/2

cups

almond flour
FROSTING:
8

ounces

cream cheese

softened

1/2

cup

salted butter

softened

1

teaspoon

vanilla extract

2

cups

Natural Sweetener

or equivalent

2

tablespoons

heavy cream

or unsweetened almond milk

1/2

cup

chopped walnuts

or pecans

1

cup

unsweetened flaked coconut
Instructions
Set a trivet inside a 6-quart Instant Pot and pour in 1 cup of cold water.

Grease the sides and line the bottom of a 7-inch round spring-form cake pan with greased parchment paper.

In a small bowl, dissolve the baking soda in the sour cream; set aside.

In a large bowl, cream together 1 cup butter natural sweetener until light and fluffy. Mix in the eggs, sour cream mixture, 2 teaspoons vanilla, 1 cup coconut flakes, baking powder and almond flour. Stir until just combined. Pour batter into the prepared springform pan.

Use a foil sling to lower the cake pan onto the trivet in the Instant Pot. Tuck in the sides of the sling.

Seal the lid, press Pressure Cook or Manual, and set the timer for 35 minutes, or until a toothpick inserted into the center of the cake comes out clean. Once finished, let the pressure release naturally, about 20 minutes.

Allow to cool completely before frosting. Slice cake into 3, so you have 3 layers of cake.

To Make Frosting: In a medium bowl, combine cream cheese, 1/2 cup butter, 1 teaspoon vanilla and confectioners' swerve. Beat until light and fluffy. Mix in a small amount of cream or almond milk to attain the desired consistency. Stir in chopped nuts and remaining flaked coconut. Spread between layers and on top and sides of cooled cake.
Nutrition
Calories:
578
|
Fat:
56
g
|
Protein:
10
g
|
Carbohydrates:
8
g
|
Fiber:
3
g
|
P:E Ratio:
0.2

TESTIMONY OF THE DAY
"Hi, Maria!  Yesterday, was my 1 year Keto-versary! I have lost 70 pounds, 35.75 total inches (neck, waist, hips, 1 arm, 1 thigh, 1 calf measurements) and 20 years of back pain. Keto is a way of life for me and I will not go back to the lifestyle I used to live. It has made a difference in my family' life as well. Craig and Maria's books have been such a blessing on this journey! I'm grateful for the education and all the yummy recipes. Keto on friends!!" – Debbie
Most people I consult are doing keto totally wrong. Get fast results with the my NEW Keto School!