Testimony of the Day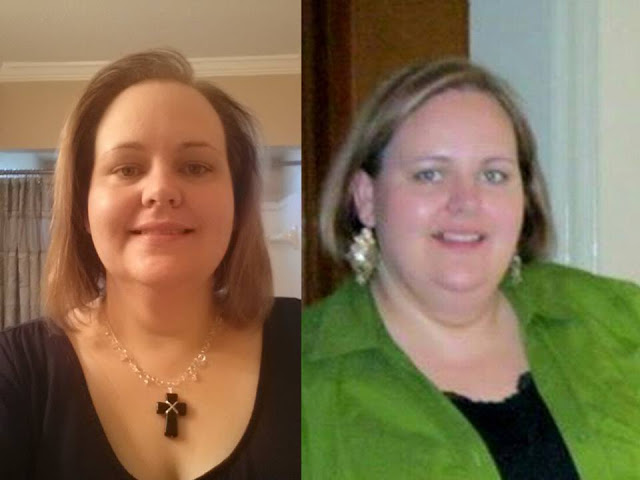 "I found Maria Emmerich Blog and books in 2012. I was hooked! I signed up for Maria's Email Support and Nutrition Planning package mid February 2013. Best investment I ever made! She helped me every step of the way to get things started and she really cares about you!
I started in March and the first 7 days I dropped 16 pounds! I was shocked! Within the first month I dropped 23 pounds; my skin had cleared up and was looking great. I noticed my hair had stopped falling out, no more hair filled brushes! All my body pain/aches were gone and my mood swings had stabilized! I felt normal for the first time in my life!
By June 7th I reached my first goal of 50 pounds lost which was reached 5 weeks and 2 days before dead line I set for this goal! And I did it without exercise. I feel great and I am ready for my next goal: 66 pounds , start exercising and able to jog a 5k by Christmas!
It has been a real learning process and I have had my ups and downs but I know Maria will always be there for me. I have learned so much and still growing. I am one of those people that have to learn everything the hard way. I now know what slows and stops my weight loss. Maria told me it would happen if I ate this or that but I had to eat it and learn it for myself. I guess that's just how I roll! Maria has been a real blessing in my life.
Started 315 pounds
as of July 7th 265 pounds"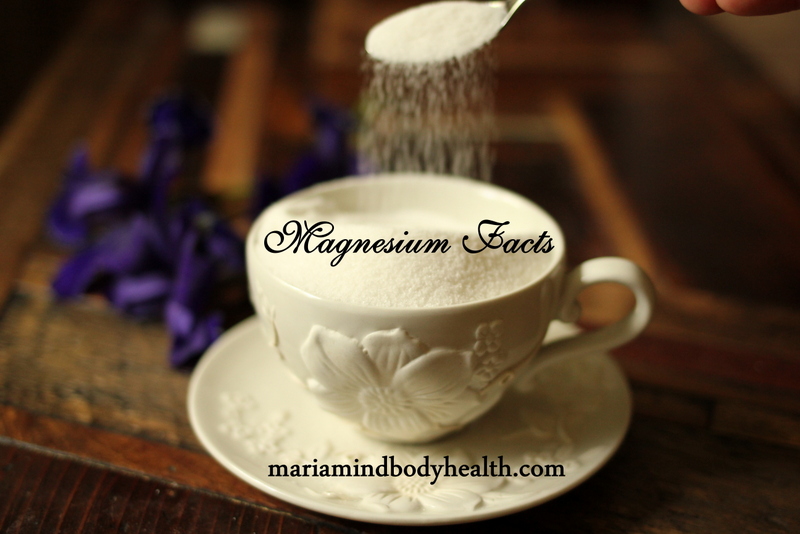 You may be wondering why we need to supplement if our ancestors never did. Well, most of the magnesium was found in water but now most people drink treated, softened or bottled water which is devoid of magnesium. Magnesium salts in water make deposits in your water pipes and makes it difficult to get a decent lather with soap. This problem was solved with the development of water softeners, but the process gets rid of the magnesium. Our ancestors drank untreated well water or water from a stream which had a lot of magnesium.
Since our water is now depleted and you don't find adequate amounts of magnesium in foods, I suggest taking a quality chelated magnesium supplement and at least 400 to 1000mg per day.
For most of my clients and their children, magnesium is relaxing so taking it at bedtime helps them get quality sleep. In rare occasions, magnesium is energizing, so if you find yourself unable to sleep after starting magnesium, I suggest to take 400mg at breakfast and if needed, another dose at lunch. Everyone has a different tolerance with magnesium and the only problematic side effect is loose stools. This will happen if you take magnesium oxide that you purchase at a large retail store which is a non-absorbed form of magnesium. Always look for magnesium glycinate, which I have only been able to find online. If you still have issues with loose stools even with a small dose of magnesium glycinate, I suggest you use a topical magnesium or Epsom salts in a bath.
One of the main symptoms of magnesium deficiency is hyper-ness and anxiety. A main source of magnesium is "fortified whole grains" (which is just magnesium supplement added to the grains). So, if you remove gluten from the diet like I suggest you do, you are also removing a major source of magnesium. Since calcium competes with magnesium for uptake, adding in calcium supplements without sufficient magnesium (and NOT at the same time as calcium) also increases a magnesium deficiency.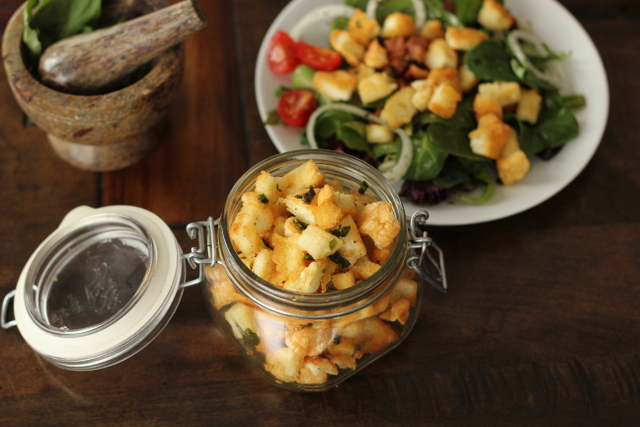 Protein Buns
5 eggs, separated
1/2 tsp cream of tartar
1/2 cup Jay Robb unflavored egg white protein (or whey protein)
Preheat oven to 350 degrees. Separate the eggs. In a separate bowl, whip egg whites and cream of tartar until stiff. Then add the protein powder. Using a spatula, gradually fold the yolks into the white mixture, being careful not to break down the whites. Spray a cookie sheet with coconut oil spray and spoon the mixture onto the sheet, making 6 mounds. Bake for 18 minutes. Keep oven shut, turn off oven and leave the buns in there for another 5 minutes or until cool. We use these for our hamburger buns, but in this recipe we are going to make croutons out of them.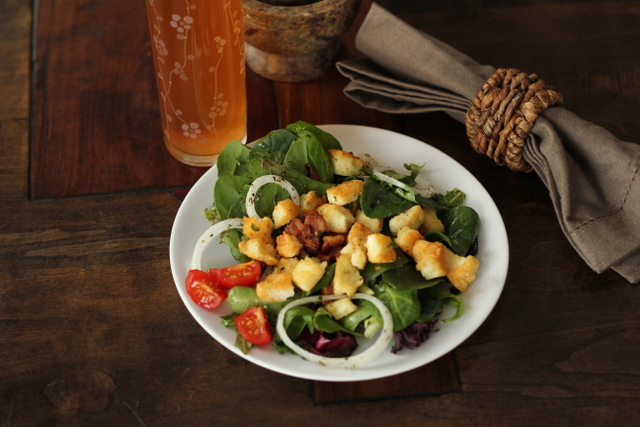 CROUTON RECIPE:
1 batch of protein buns, cut into crouton shapes
4 TBS organic butter (or bacon grease or SkinnyFAT MCT oil for dairy free)
1-2 tsp garlic, minced
OPTIONAL: additional herbs such as basil
Preheat oven to 350 degrees. Place the butter in a saute pan on medium heat until slightly brown, add the garlic and bread pieces to coat. Place buttery croutons on baking sheet and bake for 15 minutes or until crispy. Let cool and enjoy!
NUTRITIONAL COMPARISON (per 1 cup):
Pepperidge Farm Seasoned Croutons = 186 calories, 25.4 carbs, 2 fiber, 4.3 protein
"Healthified" Croutons = 162 Calories, 0.9g carbs, 0g fiber, 6.3g protein