NEW Keto-Adapted Video!
We are always trying to improve our services and make life easier for you. We have made a very in-depth and detailed video on Keto-Adaption, how it works, how to calculate the right ratios of protein, fats and carbs, as well as how to test if you are in ketosis.
This video is included in my nutrition packages. Click HERE to get started on your path to health and healing today!
 Testimony of the Day
"Hi Maria!! I need to tell you Thank You!! I wanted to let you know 2013 has been the best year of my life. I am so happy I found your blog, and signed up for a consult. I'm down over 60 pounds, and off all but 1 prescription medication!!! I was taking over 600 pills a month, prescription and non-prescription. I had headaches everyday, had no energy, severe acid reflux and had severe IBS. For the first time in my life I feel amazing!!! My body is changing, and it feels great. I used to be a carb loader, now I have turned my body into a fat burner thanks to you!! You have given me back my health, which I am forever grateful!!!! -Tanya
Click HERE to start your journey to a keto-adapted diet!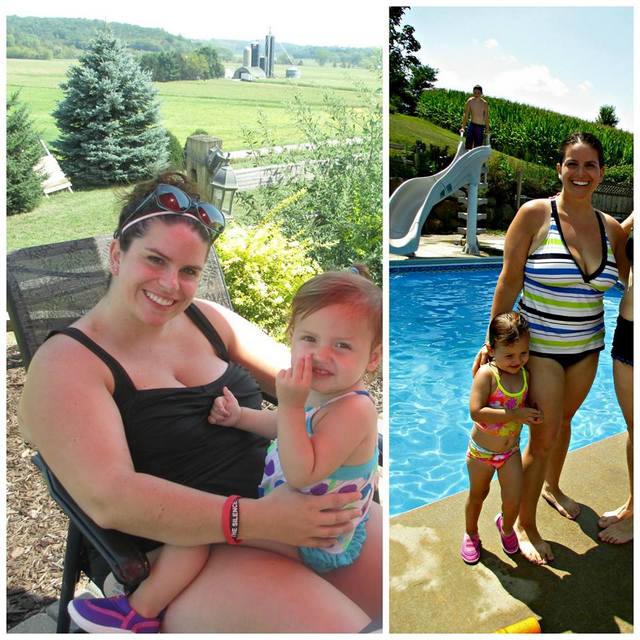 Have a sore throat?
Skip the trick of using honey in your tea for it's healing properties! Honey may be less refined and more natural than white sugar, but honey is still high in calories and fructose. It contains sugar and calories just like any other sweetener. One teaspoon of natural honey contains 22 calories. Honey actually contains more calories than sugar, as one teaspoon of sugar contains 16 calories. The biggest problem with honey is that it is roughly 50% fructose.
One of the big contributors to the aging process and the development and perpetuation of degenerative diseases is Advanced Glycation End-products (AGEs). Glycation is when a chemical reaction occurs between proteins and either sugars, lipid peroxidation products (free radicals from oxidative damage), or the breakdown products of sugar. So sugar plays a big role in glycation as does oxidative damage (think PUFA oils and sugar inflammation).
Glycation is the forming of sort of a crust around our cells. Many different studies have shown that this crust contributes to a wide range of diseases including diabetes, Alzheimer's, heart disease, asthma, stroke, cataracts, glaucoma, PCOS, autoimmune disease, and much more.
So what role does fructose play here? Studies have shown that fructose enables glycation reactions ten times more rapidly than glucose![35]
Sure, honey does provide some nutritional benefits that are lacking in white sugar. Honey contains niacin, riboflavin, thiamine and vitamin B6, though it contains only traces of these minerals. Additionally, honey doesn't even get close to the U.S. Department of Agriculture's recommended daily standards. Although these trace vitamins might make honey a slightly better choice than white sugar, it's still not a healthy food. Despite the fact that several websites claim honey to be some kind of miracle food, most of these statements are mythical and unproven. If you still think honey is worth using in your baked goods because of the vitamins, let me put it another way: only 2% of honey contains vitamins! And in most cases, store bought honey doesn't even contain the pollen that is claimed to have health benefits.[36]
Honey without pollen is a watered down, synthetic scam. The majority of honey on supermarket shelves is made from an ultra-filtering process that heats honey to high temperatures, using high levels of pressure to force it through exceptionally small filters to eliminate pollen. Why are they doing this? It is so manufacturers can hide where they are getting the honey from. And why would they want to conceal the honey's source? Well, because most of the honey comes from Chinese markets that are responsible for allowing dangerous antibiotics and ample amounts of heavy metals to enter imported honey products.[37] Makes you want to throw away those athletic "Honey Gel Packs" doesn't it!
You might be thinking, "OK Maria, then I will only buy honey from my friends who make their own." In that case, remember that by weight, a homemade batch of honey is 82% sugar. Half of that sugar (40% of the total weight) is fructose, and the honey still contains only trace amounts of vitamins and minerals.[38] Your body doesn't care whether you ingest honey or table sugar; once they enter your bloodstream, you produce an abundance of insulin. To your body, sugar is sugar. All types of sugar should be consumed cautiously, even if it is honey.
Read more on glycation, natural sweeteners, coconut sugar and much much more in Keto-Adapted.
If you would like to help out a small family, rather than large business, I am happy to announce that you can now get my books as a high quality ebook that works on any platform. Plus, most of the profits don't go to Amazon or apple! 
Click HERE or select "My Books" above to get your copy now
!
Click HERE to get a limited edition of the Hard Cover.
Click HERE to get a soft cover.
Thank you all for your love and support!


So instead, try adding gelatin to a cup of tea with a TBS of coconut oil. The warm gelatin coats and soothes your throat while the anti microbial properties of coconut oil kill infection-causing bacteria. More on how gelatin heals click HERE.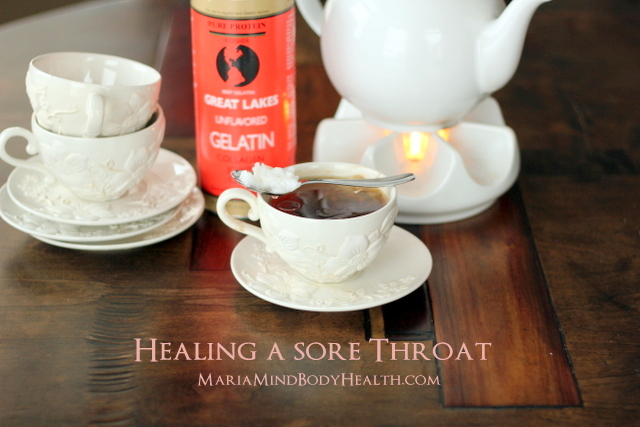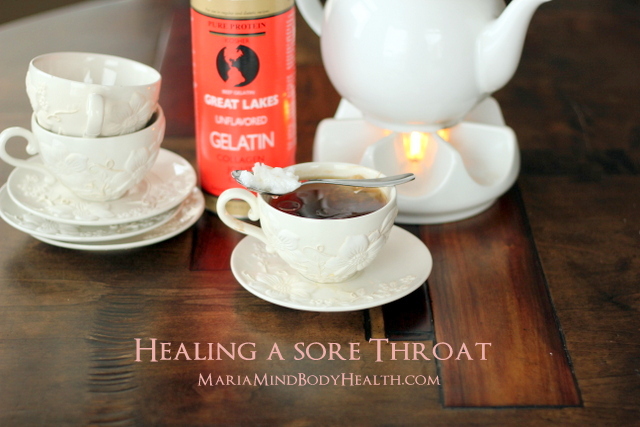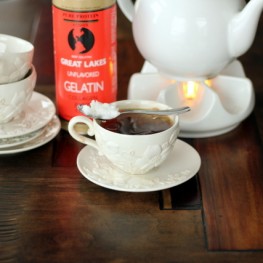 Healing a Sore Throat without Honey
Instructions
Place a tea bag in a cute tea cup.

Add in a cup of boiling water

Stir in the gelatin, coconut oil and natural sweetener.

Enjoy.
Nutrition
Calories:
124
|
Fat:
13.6
g
|
Protein:
1.7
g
|
Carbohydrates:
0
g
|
Fiber:
0
g
|
P:E Ratio:
0.1
Another Cute Testimony
"Thanks for all you do. I know my life is better off because of you and my consult (back in May). I'm enjoying foods and fats in a whole new, healthy way. I bought jeans that are a size smaller (probably could have been 2 sizes…). And I did a boudoir shoot for a Christmas present for my hubby. I'll try to find a demure shot to use for a testimonial. ; )  Laura"