Gratitude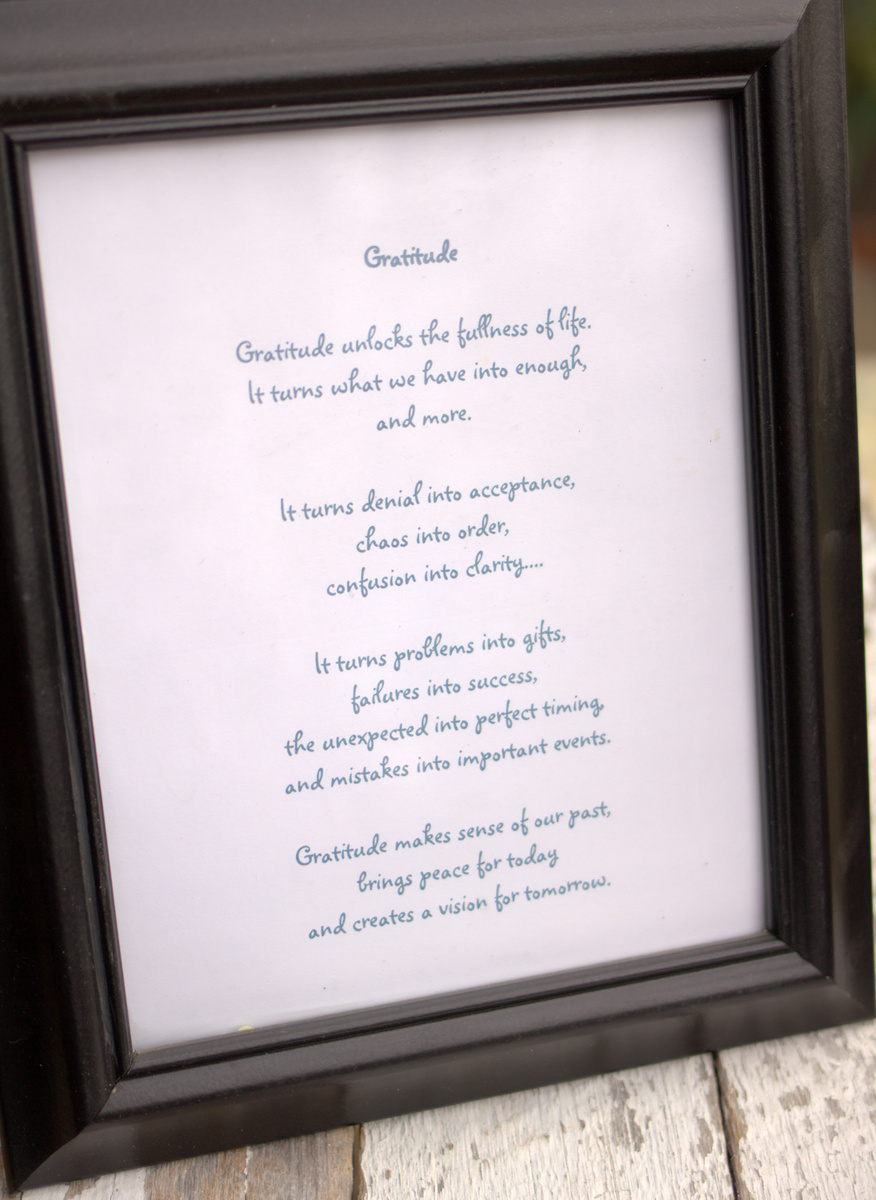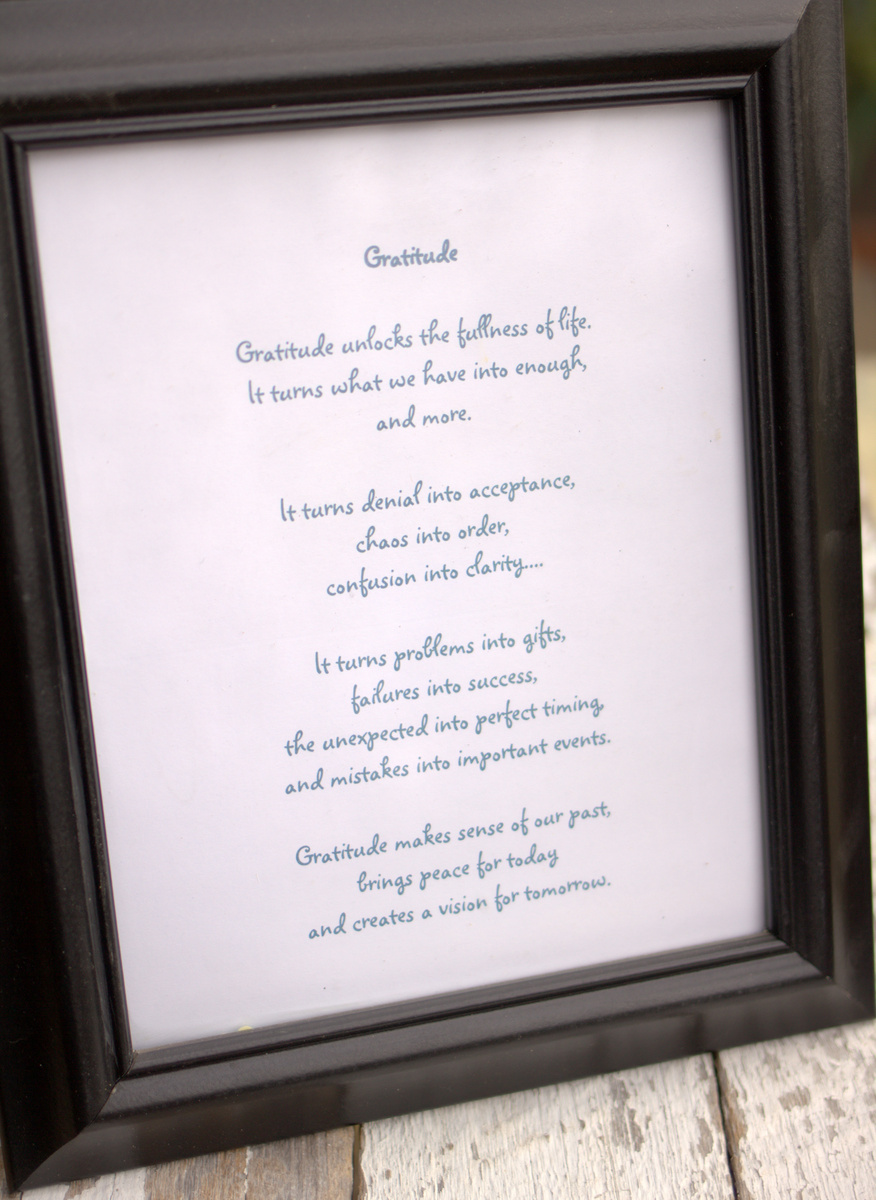 I love this quote about gratitude because it is a reminder that life is like waves of the ocean; there are ups and there are downs. I have this framed and hung by our door as a reminder.
When we were in the process of adopting children, my husband, Craig, lost his job which caused us to put our adoption on hold; we also lost our house and sold our cars. This was a terrible time of sadness for us. There were many times I didn't want to get out of bed.
A friend told me to start writing a cookbook to help raise money for our adoption so I did! It gave me a reason to wake up.
I also started teaching yoga at Anderson Window corporate office over the lunch hour and my friend let me use her dance studio to teach yoga classes when she wasn't using it for dance so I could help make extra money. Craig came to every class.
I wasn't about to lie down and let this devastation get the best of me. I read this quote at the end of every yoga class for my students.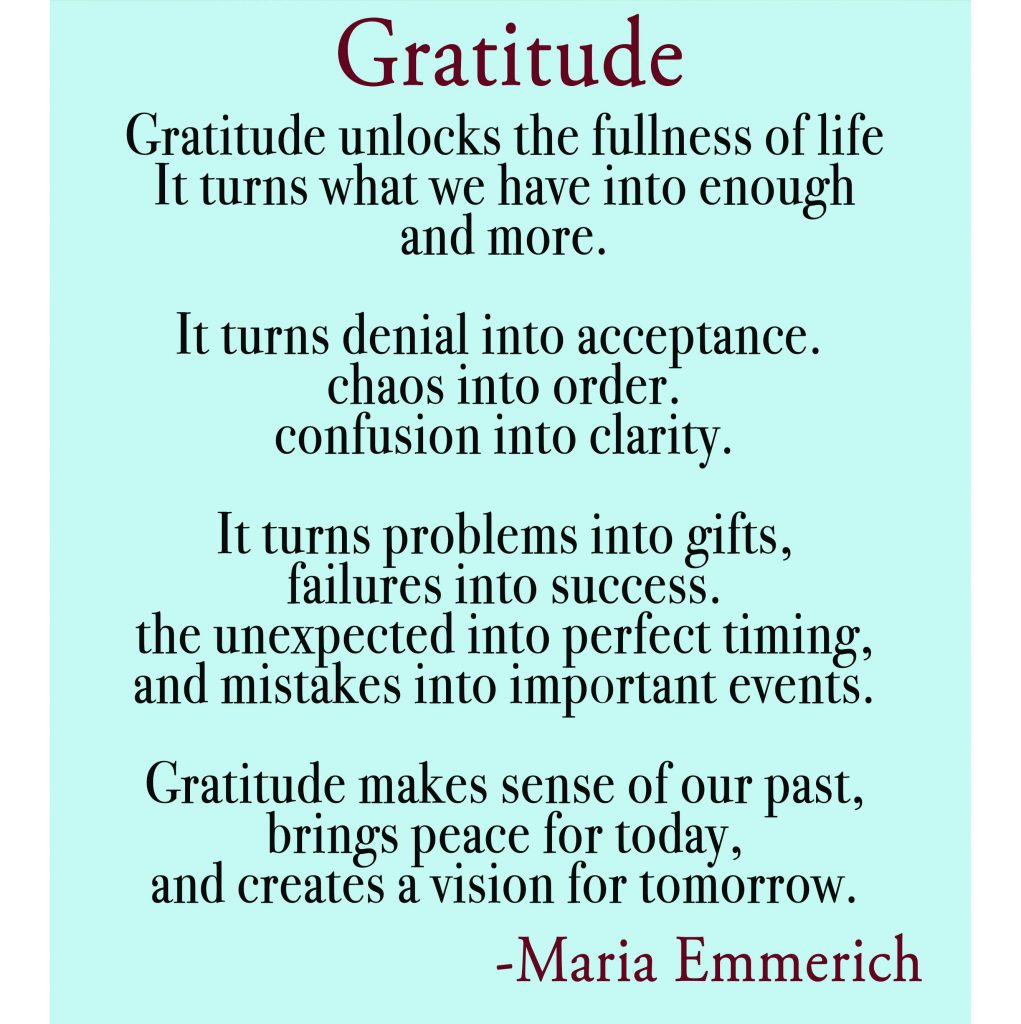 The other day, I was sent a photo on Facebook from an old yoga student of mine. It was of an eye pillow I made to sell for extra money. That reminded me of just how hard those times were. I even made healthy dog treats and mittens out of old sweaters to sell. The library was our "date night"… we would pick out movies and books for entertainment since we no longer could afford to eat out.
All of this led us down the path to working harder and not eating out at restaurants was not just more affordable, it was much healthier anyway! These struggles helped me be gracious for the gifts I have been given.
I want to express my gratitude to you, the reader!
My goal for my blog is for you to do something every day… even if it is something small… to honor your body.
Many blessings to all of you! You all helped me through the most difficult time in my life and I am eternally grateful!
If you would like to make a difference and support a small family rather than making a minuscule sale for a large company, I am happy to announce that you can now get my books as a high quality ebook that works on any platform (all done by my wonderful husband!). This is an ebook format that works on any computer or mobile device. It is a beautiful pdf that has all the full color pages and layouts as the printed books with click-able table of contents and searching capabilities. This is extremely useful when trying to find a recipe. These books are much higher quality than the ebook platforms (kindle, apple). Plus, most of the profits don't go to Amazon or apple!
Thank you for your support!