Testimony of the Day
"I'm not a doctor or a scientist. I'm just a 47 year old lady who has had IBS for at least 20 ears and was diagnosed with fibromyalgia a little over 10 years ago. I hadn't had normal BM's or a day without pain for so long it became my new normal. I had just learned to live with it. There were days I didn't have the strength to pick up a coffee mug. Since I have been following Maria, I no longer have IBS symptoms, and no fibro pain. I feel great! As an added bonus…I have lost almost 50 pounds and weigh what I did before the birth of my oldest child. My energy is great. My moods are stable. And her recipes have made it soooo easy. Thanks Maria." – Linda
Get started on your path to health today with the recently improved 30 day accelerated package! Now every day has calculations for percent of fat/protein/carbs. It has never been easier to follow the keto-adapted lifestyle.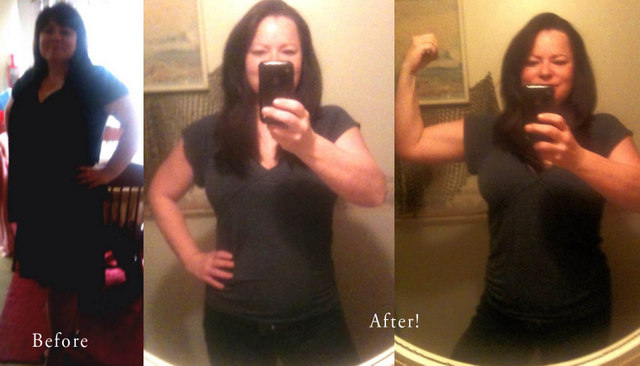 MARIA'S FAVORITE THINGS GIVEAWAY!
Today's giveaway is This GALLON jug of coconut oil is worth $120!
All you have to do is 3 things:
1. "Like" Maria Mind Body Health on Facebook.
2. Share Maria Mind Body Health with your friends and family.
3. Leave a comment below on what tricks you do to stay healthy during flu season!
A winner will be picked Feb. 2nd and posted on Maria Mind Body Health Facebook page . Good Luck!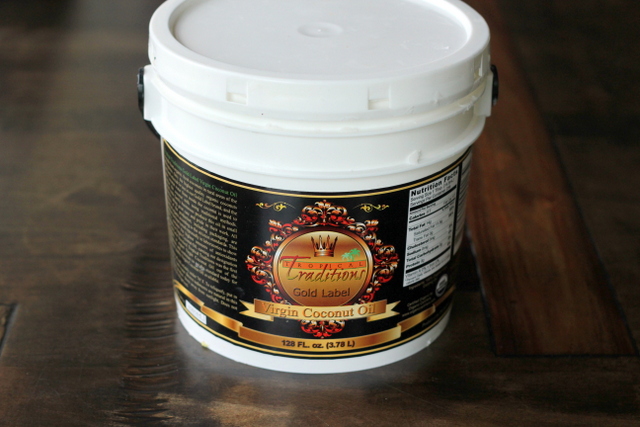 Testimony of the Day
I just thought I would send you a note and say THANK YOU! Between you and several others, I took the road to health and eat a high fat, low carb, grain and sugar free diet, and have HEALED my PCOS! My doctor told me today that there is not one hint of anything indicating I even had it! 55 days of grain free and sugar free, going strong! -Elise
To get started on your path, click HERE. I'd be honored to help you too!
Ginger Tea
My friend told me the cutest story about Ginger Tea. She ordered ginger tea at a Japanese restaurant and waited a very very long time for the tea. The waiter was very apologetic when he brought her the tea and explained that they had to go and buy the ginger to make her tea! Now that's service!
This miracle spice has so many health benefits including gastrointestinal healing properties. In India, ginger is grandma's antidote of choice for battling cold and flu and is abundantly used in daily life. Some awesome benefits I would like to point out are:
1. DIGESTION: Fresh ginger increases flow of digestive juices and can help with digestion as well as help with sense of taste. As we age, we slowly produce less digestive enzymes which is why many elderly people lose their appetite… they can't taste the food!
2. SINUSES AND CONGESTION: Ginger clears the 'microcirculatory channels' of the body, including the bothersome sinuses that may flare up. Ginger helps to expand your lungs and loosening up phlegm because it is a natural expectorant that breaks down and removes mucus so you can quickly recover from difficulty in breathing.
3. DECREASE PAIN AND INFLAMMATION: Ginger contains very potent anti-inflammatory compounds called gingerols. These substances are believed to explain why so many people with osteoarthritis or rheumatoid arthritis experience reductions in their pain levels and improvements in their mobility when they consume ginger regularly. Ginger suppresses the pro-inflammatory compounds (cytokines and chemokines) produced by synoviocytes (cells comprising the synovial lining of the joints), chrondrocytes (cells comprising joint cartilage) and leukocytes (immune cells).  It's also used for poor circulation and lower back pain.
4. ANTI-CANCER: Ginger inhibits the growth of human colorectal and ovarian cancer cells. In one particular expansive study, exposure to ginger extract caused cell death in all the ovarian cancer lines studied. A pro-inflammatory state is a key contributing factor in the development of ovarian cancer. In the presence of ginger, a number of significant indicators of inflammation (vascular endothelial growth factor, interleukin-8 and prostaglandin E2) were also diminished in the ovarian cancer cells.
5. BOOSTS IMMUNE SYSTEM: Ginger promotes healthy sweating, which is helpful during colds and flus. Sweating assists detoxification (which is why I recommend taking saunas in my Keto-Adapted book) but sweat also helps with fighting infections. German researchers recently found that sweat contains a powerful germ-fighting agent that help fight off infections. They found a specific gene, which they have named dermicidin. Dermicidin is produced in the body's sweat glands, secreted into the sweat, and transported to the skin's surface where it delivers protection against invading microorganisms, including bacteria such as E. coli and Staphylococcus aureus (a common cause of skin infections), and fungi, including Candida albicans. Ginger also acts as an antihistamine and decongestant, two cold-easing effects that can help with symptoms.
6. GAS OR BLOATING:  Ginger helps reduce flatulence!
7. INCREASE LIBIDO: hmmmm, interesting! …the Ayurvedic texts credit ginger with aphrodisiac properties!
8. NAUSEA: After surgery or during pregnancy, ginger helps decrease nausea.
9. LEAKY GUT AND ABSORPTION ISSUES? Ginger increases the absorption of vitamins, minerals and nutrients. It does this by stimulating gastric and pancreatic enzyme secretion.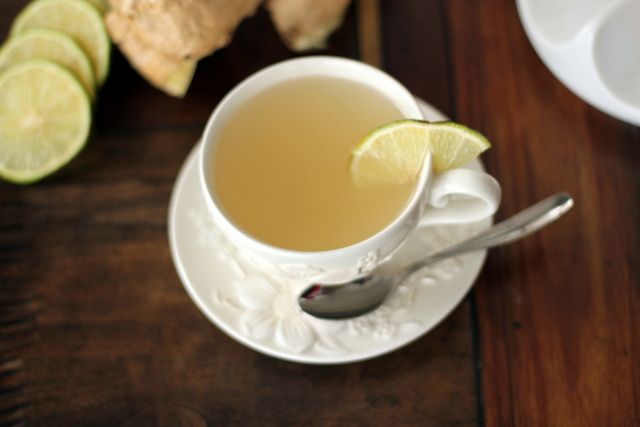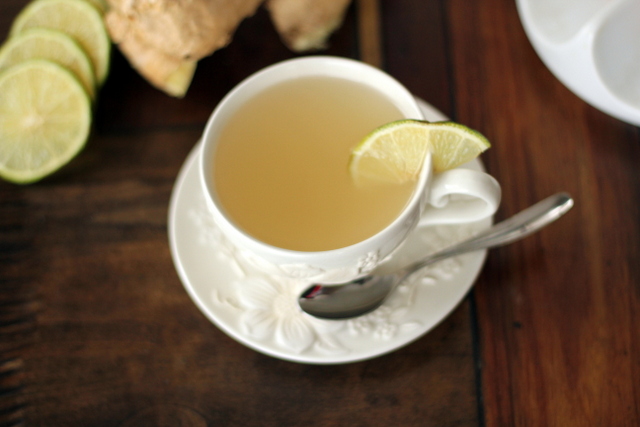 To find my favorite tea pots and tea cups click HERE.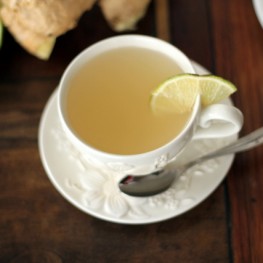 Ginger Tea
Ingredients
1

quart

water

1/4

cup

freshly grated ginger

Juice of 1 lime

1/4

cup

Natural Sweetener

or drop of stevia glycerite

Thin slices of lime for garnish
Instructions
In a large saucepan bring water to a boil. Add ginger, lime juice, and the squeezed lime.

Let steep about 20 minutes.

Stir in natural sweetener.

Line a strainer with a thin wet cloth and strain tea into a pitcher. Chill thoroughly and serve on ice with thin slices of lemon and lime.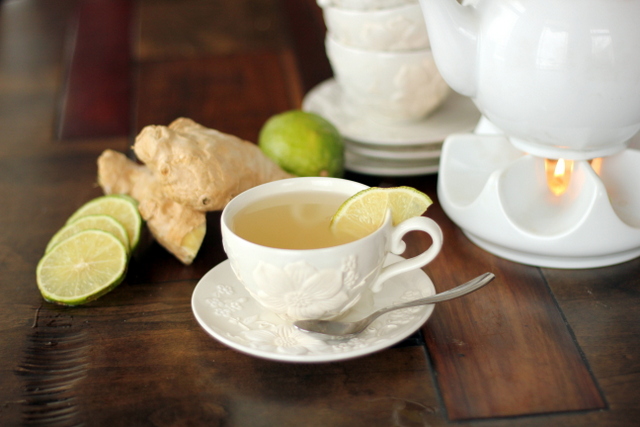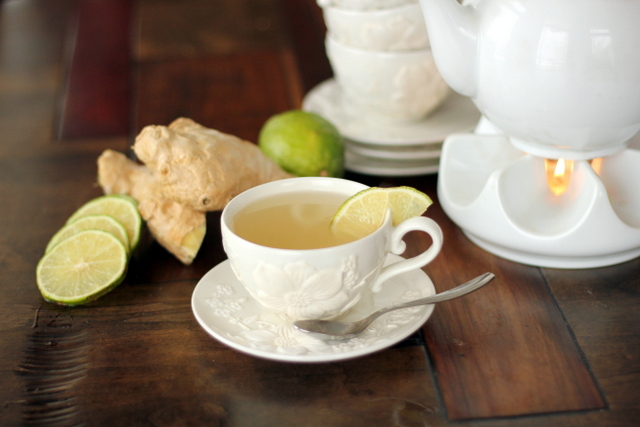 Another Cute Testimony
 I feel like a different person since eating the Maria way! Allergies/sinus issues have improved, & I can't tell you how long it's been since I've slept more than 4 solid hours/night! 

 thanks!! -Amy