Fruit Roll-Ups
Again, food manufacturers have created a snack that will increase our waistline with added Corn Syrup and TRANS-FAT!!! Even TIMES MAGAZINE claims that fruit roll-ups are one of the top foods NOT to feed your children!
Yellow 5, Red 40, and six other widely used artificial colorings are linked to hyperactivity and behavior problems in children and should be prohibited from use in foods, according to the nonprofit Center for Science in the Public Interest. The group today formally petitioned the Food and Drug Administration to ban the dyes, several of which are already being phased out in the United Kingdom. The other six dyes are Blue 1, Blue 2, Green 3, Orange B, Red 3, and Yellow 6. Synthetic food dyes have been suspected of disrupting children's behavior since the 1970s, when Dr. Ben Feingold, a San Francisco allergist, reported that his patients improved when their diets were changed. Numerous controlled studies conducted over the next three decades in the United States, Europe, and Australia proved that some children's behavior is worsened by artificial dyes, but the government did nothing to discourage their use and food manufacturers greatly increased their reliance on them.
Fruit Roll-Up Ingredients: Pears from Concentrate, Corn Syrup, Dried Corn Syrup, Sugar, Partially Hydrogenated Cottonseed Oil, Citric Acid, Sodium Citrate, Acetylated Monoglycerides, Fruit Pectin, Dextrose, Alic Acid, Vitamin C, Natural Flavor, Color (Red 40, yellows 5& 6, blue 1)
SO, the prepackaged fruit roll-ups have Added Sugars, Processed Oils, Preservatives, Dyes, Low Ingredient Quality, 0 Fiber, and 95 mg Sodium.
Click HERE for my book that has more information on children's brain health.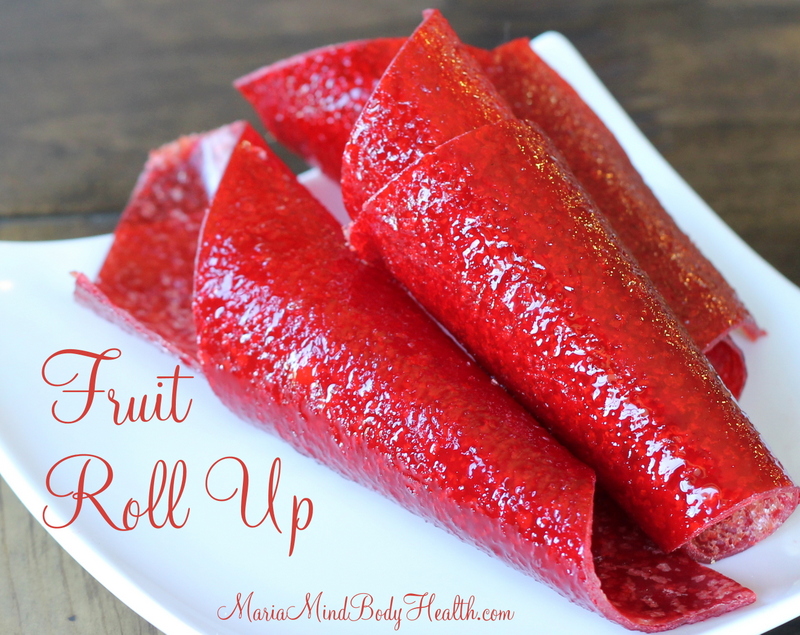 "Healthified" Fruit Roll-Up:
4 cups strawberries (or other fruit)
1/2 cup water
4 TBS Swerve (TOTALLY OPTIONAL)
Place strawberries (and sweetener if using) in a food processor and blend until smooth add in the water. Place the mixture in a saucepan and bring to a simmer for 10-15 minutes to cook the fruit.
Lightly spray a large cookie sheet or baking dish (I used 2 lasagna pans) with coconut oil spray. Turn oven to 140 degrees and dehydrate for 8 hours. Make sure to keep your oven low enough so you don't bake the fruit, just dry it. OR you can use a dehydrator. Click HERE to find the one on my "wish list!" Makes 8 servings.
NUTRITIONAL COMPARISON (per serving)
Store-Bought Roll Up = 55 calories, 0.5g fat, trace protein, 13 carbs, 0 fiber
"Healthified" Roll Up = 23 calories, 0.2g fat, 0.5g protein, 5.5 carbs, 1.4g fiber
Look at that beautiful color! These tasted great with no chemical, plastic-like flavor.