French Onion Soup with Protein Sparing Bread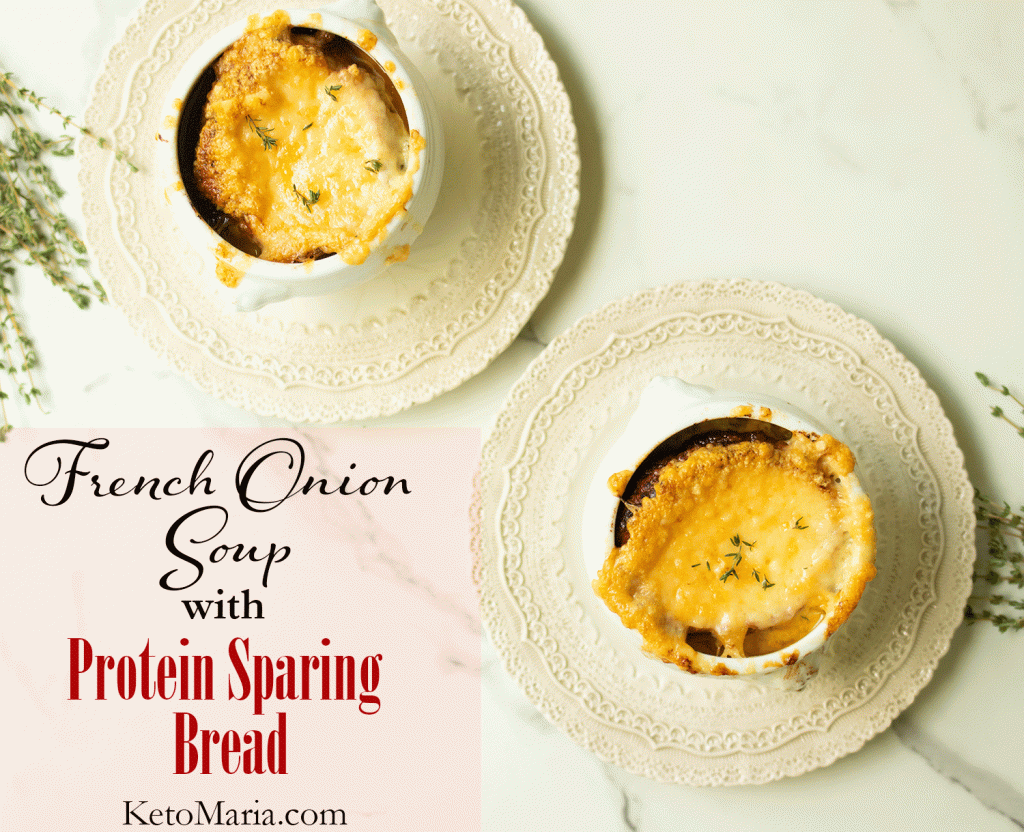 I just got back from Paris and I was inspired to make the BEST French Onion Soup using my protein sparing bread for all of you to enjoy!
When I made this recipe, Craig devoured the bowl!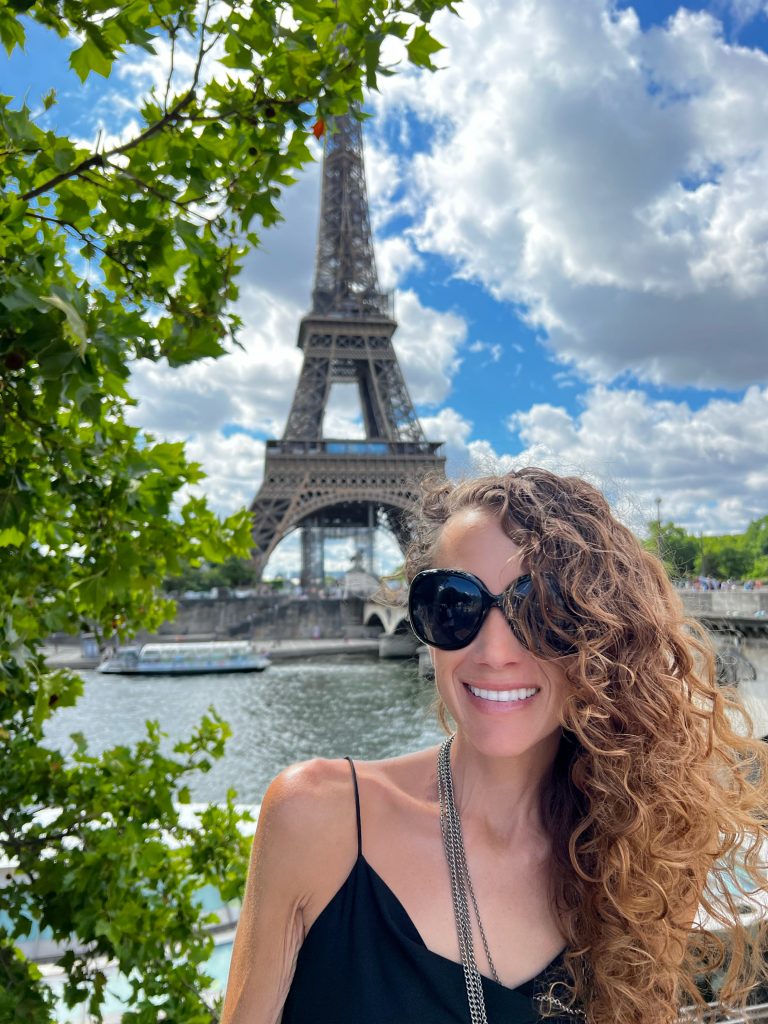 I know summer isn't really soup season, but in Paris, people were gobbling up French Onion Soup everywhere we went no matter how warm it was and I thought, it is always a good idea to have French Onion soup!
It is so good, I couldn't wait to share my keto French Onion Soup with Protein Sparing Bread recipe with all of you!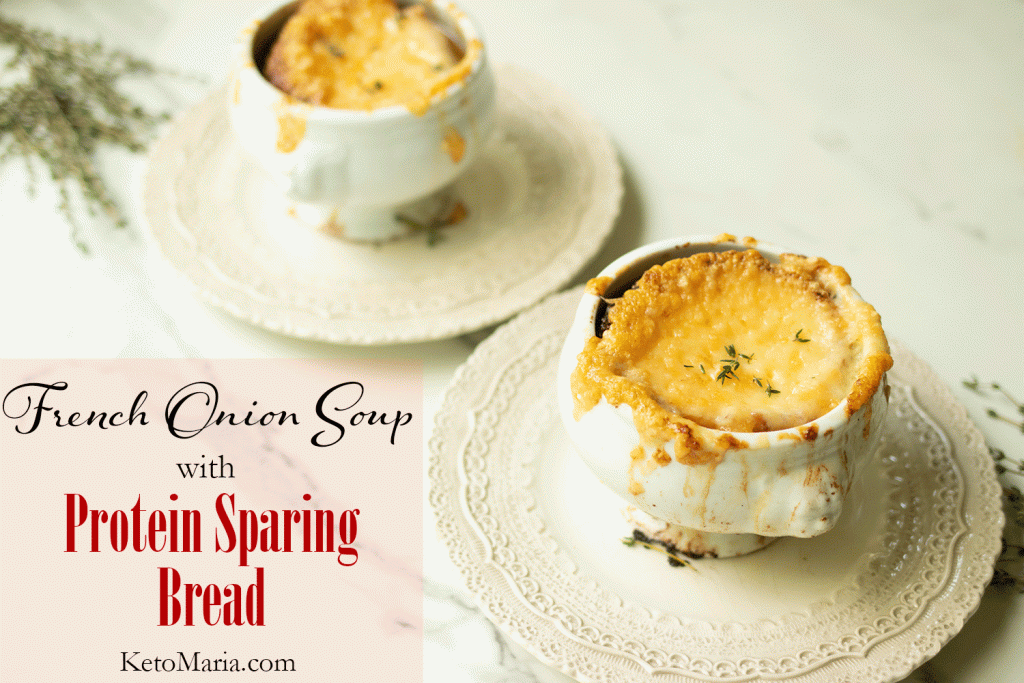 HOW TO MAKE KETO FRENCH ONION SOUP
I am always trying to make recipes easier, not only for all of you, but for myself too! I want delicious food and I do not want to spend all day making it! So, to make my keto French Onion Soup easier, I used FOND Bone Broth!
FOND Bone Broth flavors are so amazing! They are delicious as a soup on it's own! Using it in my keto French Onion Soup takes your cooking to the next level!
When you use quality ingredients like FOND bone broths your meals will taste extra delicious! I'm not kidding! When you use ingredients that taste extra spectacular, the recipe you make with them are extra flavorful! FOND uses special organic herb infusions and use Redmond real salt which really takes their broths to out-of-this-world delicious territory!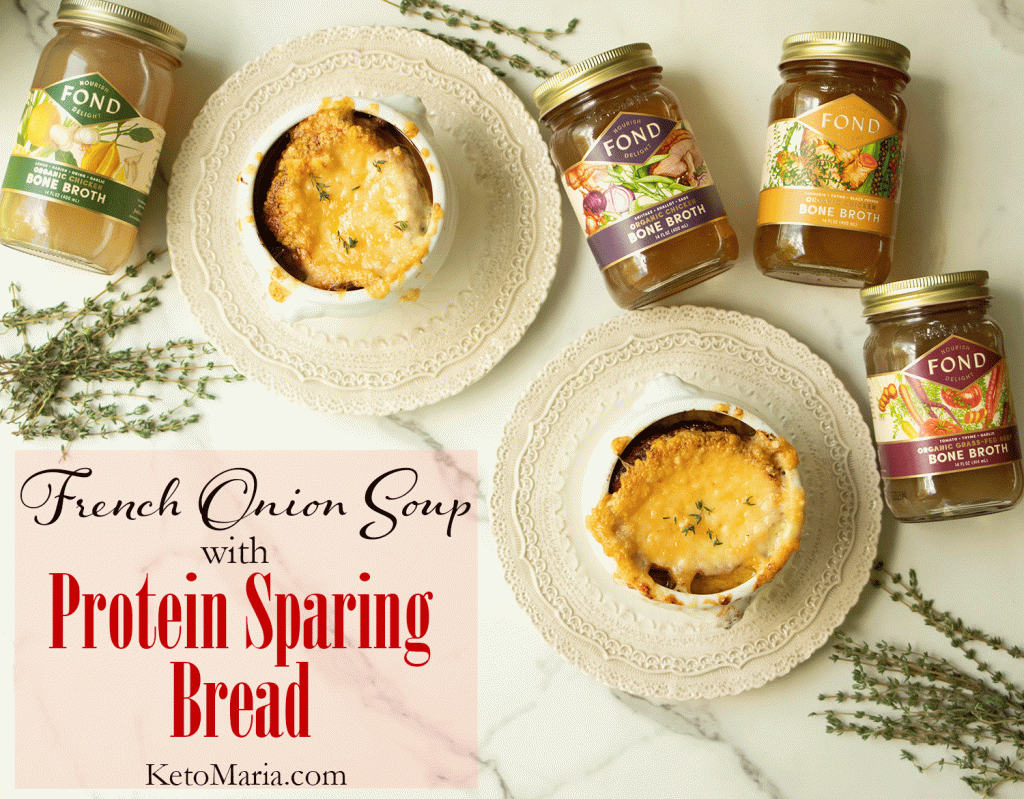 FOND Bone Broth was born from a mother's search for healing, easy-to-digest nourishment to soothe her chronic health issues. Based in San Antonio, Texas, the female-founded, female-led company makes ready-to-sip, organic chicken and beef bone broth tonics that combine pasture-raised protein with fresh herbs and botanicals to nourish the body and delight the palate. Named for the French term for "base", FOND is the first and only bone broth to combine a flavor-forward and nutritionally-functional approach to create food-as-medicine tonics with ingredients that work synergistically to support good health. The broths are packaged in glass, utilizing a 100% plastic and aluminum-free process – from brew to jar, without any preservatives, additives, acids or artificial flavorings. FOND Bone Broth is Certified Organic, gluten and dairy-free and non-GMO, as well as Keto Certified and Whole30 Approved. Zero added sugars, hormones or GMOs, and every jar sold supports local farms.
Woman-founded, owned and led! And the women are very kind!
FOND only uses fresh herbs (many broths use dried!) and they never use powdered bone broth as their base (a surprising number do!)
 FOND has a 100% plastic and aluminum-free process and package their broths in recyclable/reusable glass jars.
They test for heavy metals, including lead, arsenic, cadmium and mercury.
FOND has 12 delicious flavors that are certified organic and 3 flavors are low FODMAP-friendly broths and 3 broths are AIP-friendly.
Whole30 Approved, Keto Certified, Certified Organic
Their beef is 100% grass-fed, chicken is pasture-raised
ZERO SUGAR! Which is hard to find in bone broth!
FOND Bone Broth will also be at KetoCon this year! Click HERE to join us at KetoCon, make sure to say "hi" to Sam at the booth! She is the nicest person! Tell her Maria sent you and that you loved the keto French Onion Soup recipe using their broth!
FOND Bone Broth is so generous they are offering 20% off your first time purchase or 10% off your subscription order when you use code MARIA.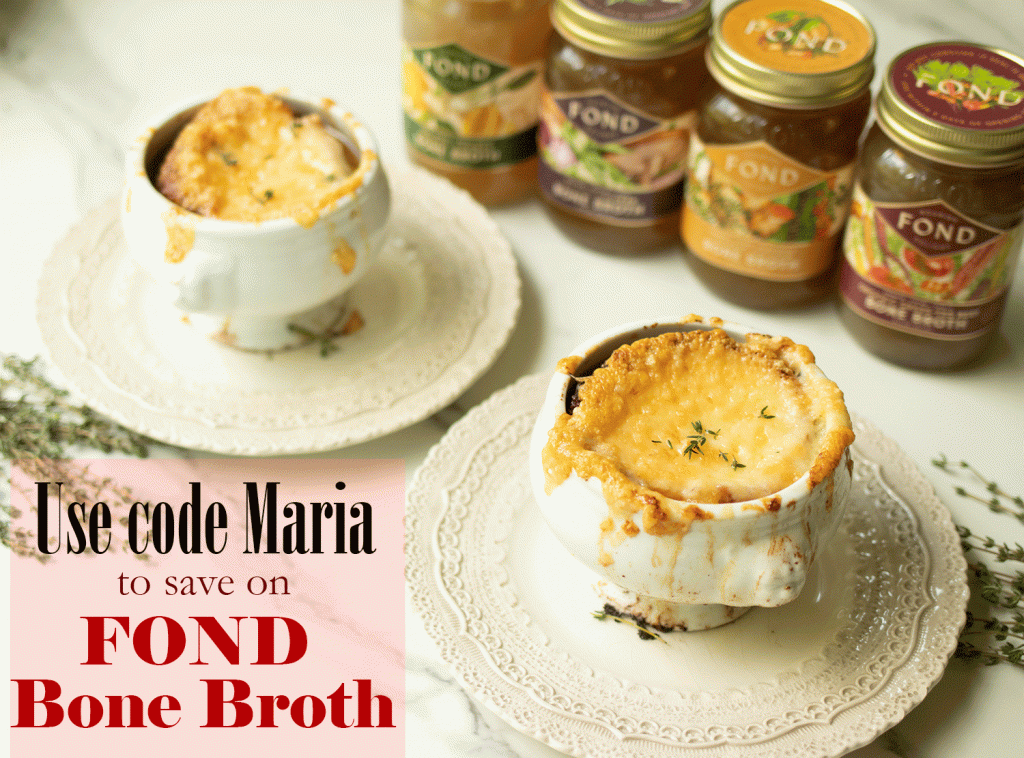 French Onion Soup with Protein Sparing Bread
Ingredients
FRENCH ONION SOUP:
3

large

onions

1/4

cup

butter

or butter flavored coconut oil if dairy free

1

teaspoon

Redmond Real salt

1/2

teaspoon

ground pepper

1 1/2

tablespoons

chopped fresh thyme

2

tablespoons

Red Wine Vinegar

or Sherry Vinegar

5

cups

FOND beef broth

I used thier Firstade flavor

2

bay leaves
PROTEIN SPARING BREAD:
6

large

egg whites

3

tablespoons

allulose

½

teaspoon

Redmond Real salt

½

teaspoon

cream of tartar

optional, to stabilize egg whites

1/3

cup

unflavored egg white protein
TOPPING:
1 1/4

cup

shredded Gruyere cheese
Instructions
In a large Dutch oven or heavy bottomed stock pot, heat the butter over medium heat until melted. Add the onions and season with salt and pepper. Cook while stirring occasionally, until the onions are a deep caramel color, approximately 45-50 minutes.

Stir in the red wine vinegar in with onion mixture and scrape bottom of pot to dissolve small bits of browned food from the pot.

Add the FOND beef broth, thyme and bay leaves. Bring the mixture to a boil and then turn the heat to low. Simmer over low heat for 10 minutes to allow the flavors to combine. Taste and add more salt if desired.

Meanwhile, make the protein sparing bread. To make the protein bread baguette, preheat the oven to 325 degrees F. Place a piece of parchment onto a rimmed baking sheet and spray with Avocado oil spray and set aside.

Separate the eggs (save the yolks for another recipe like my keto ice cream, hollandaise, mayo or lemon curd), and place the whites into a large bowl or stand mixer. Add the allulose, salt and cream of tartar if using and whip the whites for a few minutes until VERY stiff.

Turn the mixer to low and gently mix the egg white protein powder into the whites. Do not over mix or the hot dog buns will end up like Styrofoam.

Spread the protein sparing bread mixture onto the prepared pan in a baguette shape that is about 3 inches round and 12 inches long. Bake for 15 minutes or until cook through and golden brown. Allow to cool completely before slicing. NOTE: The protein bread baguette can be made 4 days ahead and stored in the fridge (or a month ahead and stored in the freezer).

Slice the protein sparing baguette into 1/2 inch slices. Set aside.

Ladle the soup into four oven-safe crocks or bowls. Top each bowl with one slice of protein sparing bread and 1/4 cup of cheese. Broil the soup under the broiler on low until the cheese is melted and golden. Serve immediately.
Nutrition
Calories:
221
|
Fat:
13
g
|
Protein:
16
g
|
Carbohydrates:
8
g
|
P:E Ratio:
0.8
TESTIMONY OF THE DAY
While we were in Paris, I received the BEST email!!!
"Hi Maria and Craig,

I just wanted to update you on our success! I am the one that asked if you would add two seats so I could bring my daughter to your PSMF class at your home.

Jozie is 12 and has Turners Syndrome and weight issues and eating has been a struggle her entire life. Guess what?! She is successful and loves this way of eating! She is experiencing being full and I always said "she doesn't have a full switch"!

Also, she is on shots daily for growth for her TS and hadn't been growing well even with them. Well, during the last 44 days she grew an inch and she lost 10lbs!!

The supplements from your personal health assessment and your way of Keto has been nothing but amazing! We didn't care about the weight loss but figured some would happen. Her self esteem, her confidence, and her success in committing to this lifestyle is just giving her so much! Thank you, thank you, thank you I have been doing it side by side with her so we could be a team and the benefits I am seeing are also nothing short of amazing. I have lost 17lbs and still going.

Most importantly for me I am hanging on to my gallbladder and seeing so many other health improvements! Like my allergies are even non-existent since I converted – who knew?!

Thank you for going out of your way to add two seats that day…you literally changed our lives in ways I can't put all in to words." – Linda 
Most people I consult are doing keto totally wrong. Get fast results with the my Mind-blowing Keto School!