Eggs Benedict
My healthified version of Eggs Benedict.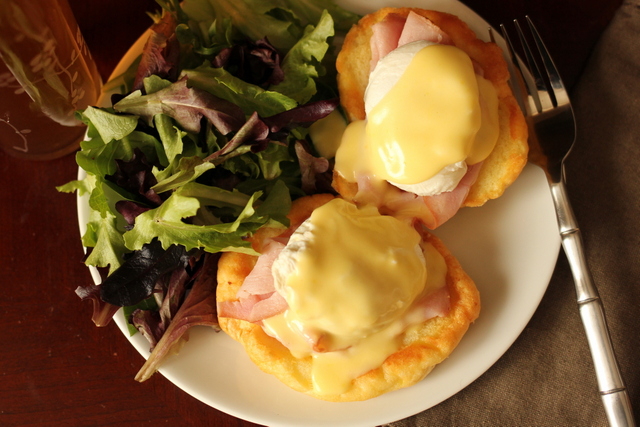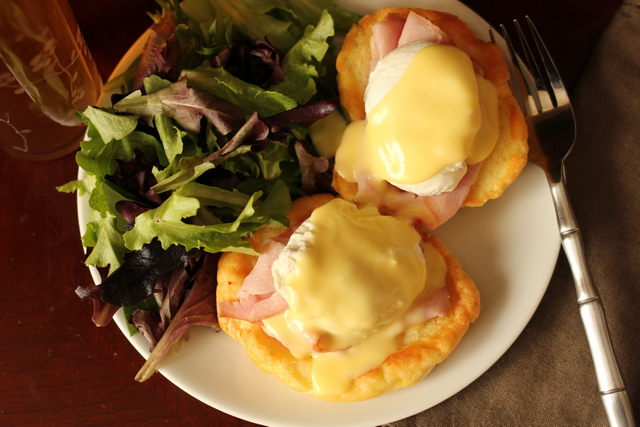 6 large egg yolks
1/4 cup lemon juice
2 TBS Dijon mustard
1 1/2 cups melted unsalted butter
1/2 tsp salt
1/8 tsp freshly ground black pepper
1/8 tsp cayenne
1 large eggplant (cut into "English muffin" shapes)
3 cups Crab, or ham slices
12 large eggs
Optional: Capers
Make hollandaise sauce: In the bottom of a double boiler or in a medium saucepan, bring 1 in. of water to a simmer over high heat and adjust heat to maintain simmer. Put egg yolks, lemon juice, and mustard in top of a double boiler or in a round-bottomed medium bowl and set over simmering water. Whisk yolk mixture to blend.
Whisking constantly, add butter in a slow, steady stream (it should take about 90 seconds). Cook sauce while whisking until is it well incorporated. Add salt, pepper, and cayenne and continue whisking until thick, about 3 minutes. Adjust seasonings to taste. Remove from stove and set aside.
Preheat oven to 450 degrees F. Cut eggplant into "english muffins" (I used a round cookie cutter) and arrange on a baking sheet in a single layer. Sprinkle with salt and bake until toasted, about 5 minutes.
Put 2 muffin halves on each plate and top with crab (or a slice of ham if you are traditional:), dividing evenly.
Poach eggs: Bring 1 in. water to boil in a 12-in.-wide pan. Lower heat so that small bubbles form on the bottom of the pan and break to the surface only occasionally. Crack eggs into water 1 at a time, holding shells close to the water's surface and letting eggs slide out gently. Poach eggs, in 2 batches to keep them from crowding, 3 to 4 minutes for soft-cooked. Lift eggs out with a slotted spoon, pat dry with a paper towel, and place 1 egg on each crab-topped eggplant.
Top each egg with 2 to 3 tbsp. reserved hollandaise sauce and serve hot.
How to Prepare Eggplant
Eggplant is a very bitter vegetable and it must be prepared carefully. Older eggplants tend to be more bitter than younger ones, so you should choose eggplants that are firm, shiny, light, and smooth-skinned. Pockmarks and soft spots are indicators of a more bitter eggplant.The usual preparation method is to slice it, wash it well, and then rub it with salt. The salt pulls out the bitter juices, so when preparing it is often best to put the slices of eggplant on a rack over a sink or on paper towels. After at least 30 to 60 minutes, brush off the salt with a paper towel and cook according to your recipe. When the eggplant has been "purged" in this manner, the flesh becomes much more absorbent and flexible, like a sponge, and is excellent at absorbing other liquids and flavors.
NUTRITIONAL INFO: Serves 6 (with 4 TBS of hollandaise per serving)
739 Calories, 66.8g fat, 28g protein, 8.9g Carbs, 3.7g fiber (81% fat, 14% protein, 5% carbs)
Testimony of the Day
"Several years ago, I felt like I was dying. I was plagued by numerous symptoms, i.e. always cold, no sleep, racing and out of rhythm heart, depression, hair falling out and always sick with something. My doctor took the usual tests and told me that my thyroid was normal and handed me a referral to a psychologist. I was so discouraged, but found a Osteopath that ordered a ton of blood work. It turned out that I have Hashimotos, an immune disfunction where your thyroid hormones are destroyed by your own immune system. I was on several medications, then a naturopath I visited told me if I would get off of gluten I could kiss the meds goodbye. I initially just got of wheat, but through the help of Maria Emmerich, I have gone totally grain free and sugar free. Currently, I don't need any medications, which is awesome because the am super sensitive to prescription; there is always a price to pay. Hope this helps someone out there!"
If you too want to get off your thyroid medication, click HERE for a consult. With the right diet and supplement plan, you can feel like a new person!