Easy Tenderloin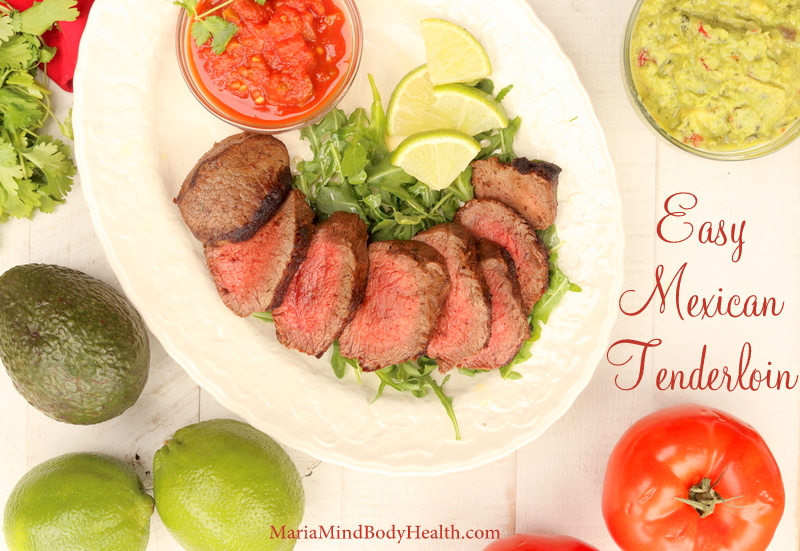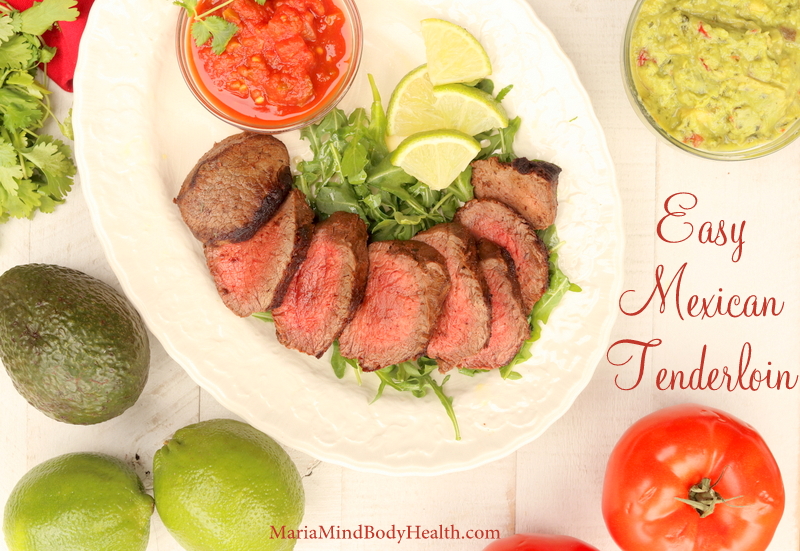 If you don't know, I am an avid bow hunter. My dad owned his own plumbing and heating business so he worked ALL THE TIME… I wonder where I get it from:)  Anyway, in order to spend time with him, I started bow hunting and immediately fell in love with sitting in nature while watching the animals.
Someone said I was cruel for doing this (on Facebook, yet she had a burger restaurant on her Facebook wall) but honestly, it is the most humane way to feed my family. The animal lived a beautiful life gallivanting around in my woods with yummy acorns to eat, as well as my lovely flowers they always nibble on! PLUS, the majority of the time, I sit in a tree stand to watch the animals. It isn't about killing, it is about celebrating nature.
There is something in nature called a Limiting Factor. This is when a herd gets so large, things such as cars hitting deer, starvation because of lack of food, harsh weather, and hunters help thin the herd. We have so many deer in our area that I am just one tiny blip in this Limiting Factor. Next time you hit a deer with your car I bet you will wish I hunted in your area.
This Easy Tenderloin recipe was made the day I went bow hunting with my son Micah. He sat so quiet and patient for weeks and one morning we woke up very early in the morning to sit in our tree stand. It was a windy day so I didn't expect to see deer but we love to be in nature so neither of us minded. All of the sudden Micah whispered "Big Buck!" Being with him meant so much to me! It was a special moment and it felt really cool to make this tasty recipe with my son and show him where our food comes from.
I get so many people asking about venison or wild game recipes I thought you may enjoy this! On Thanksgiving, my dad always makes a venison tenderloin because he knows I do not like turkey. My dad is such a sweetie! However, if you do not have venison, you can use a beef tenderloin for this recipe.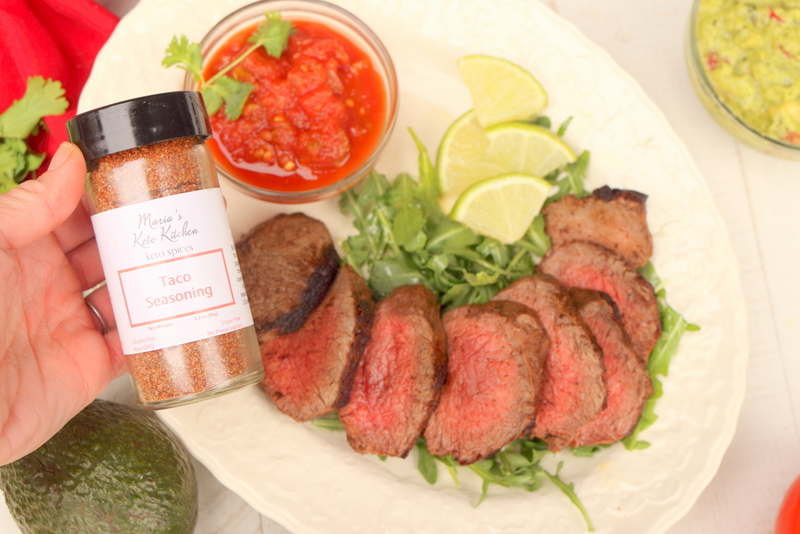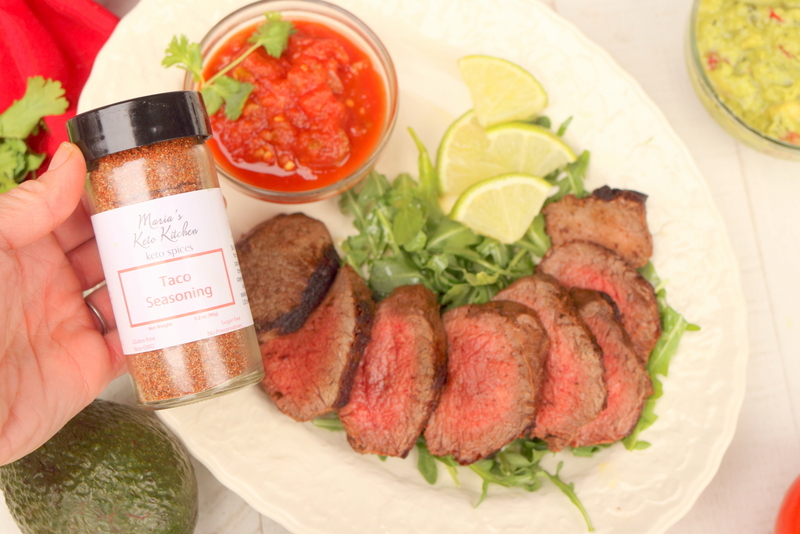 I made this Easy Mexican Tenderloin with Maria's Keto Kitchen Taco Seasoning. If you do not have this seasoning, you can make your own spice mix using my taco seasoning recipe. The reason I made my own seasoning line is because I know all of you are super busy and often do not have time to mix your own seasonings and neither do your keto friends! So might I suggest a gift box of Maria's Keto Kitchen spice mixes for your friends!
Easy Mexican Tenderloin
Ingredients
1

lb.

loin

beef or venison loin

4

cloves

garlic

minced

1

tablespoons

fresh lime juice

1

tablespoons

MCT oil or avocado oil

4

teaspoons

Maria's Keto Kitchen taco seasoning

or homemade taco seasoning

1

tablespoon

lard

2

teaspoons

Redmond Real salt

Garnish: salsa

Guacamole, limes and cilantro leaves
Instructions
Place the loin in a baking dish, add the garlic, lime juice, oil and taco seasoning roll loin to coat. Cover and refrigerate for at least 30 minutes or overnight.

Preheat oven to 450 degrees.

Place cast iron skillet with lard to medium high. Season the loin on all sides with salt, then add the loin to the hot skillet. Sear on all sides for about 2 minutes each or until a nice crust forms.

Use a hand towel and transfer to the hot oven. Cook for 7-8 minutes. Meanwhile prepare salsa and guacamole. Remove from oven and allow to rest on a cutting board for 10 minutes before slicing.
Notes
Nutritional Information:
253 calories, 11g fat, 34g protein, 1g carbs, 0g fiber
TESTIMONY OF THE DAY
The 30 Day Ketogenic Cleanse Testimony: Craig called me while I was traveling to tell me about this AMAZING testimony on how we saved this man's life (he is also a doctor!)"Craig and Maria Emmerich , Y'all may have played a huge part in saving my husband's life. I'm posting this here instead of privately because what we discovered today is HUGE and everyone needs to hear it. 
A couple of weeks ago, I was freaking out about my elevated cholesterol and Dr's insisting on me taking statins. Craig recommended I get a CCS (Calcium CT). I immediately researched where to get one in our area and enlisted my husband's help.( little background info… Husband is a physician, lost 60 lbs on Keto woe over past year and has made a huge impact on his patients' lives teaching them about what he has learned. His cholesterol has always been very low, had physical last week giving him and exemplary bill of health. Dr so amazed at his "insulin score of 0" etc. ) 
Our hospital was getting a new CT machine with ability to do calcium scoring so he signed me up to be a practice patient. We convinced him to do one too even though nobody thought he was at risk. He had his CT today at noon… Calcium score over 500 (high chance of heart attack) everyone was so shocked! Best friend with "hereditary high cholesterol" score of 0. 
Had mine done, again totally freaking out, Cholesterol over 300 low HDL, Drs shaking heads because I refused statins…. Calcium score ….. 0!  All these years as a couple, we thought I was the walking heart attack and contrary to what we've been taught all these years…. he is!" – Ginny
 Thank you for your love and support!