Easy Sugar Free Ice Cream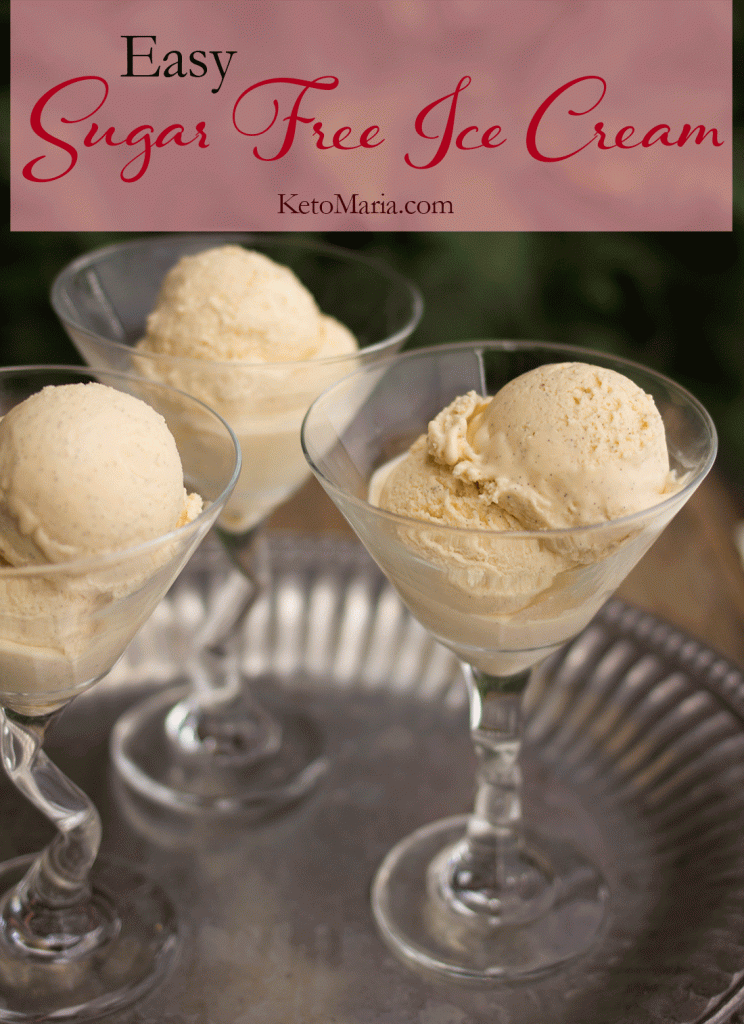 What is your FAVORITE ice cream flavor?
I am traditional and love vanilla! Actually, when I make my easy sugar free ice cream, I rarely add the vanilla. I love the flavor of cream!
HOW TO MAKE EASY SUGAR FREE ICE CREAM
It is funny how I make a few recipes every week for my family and my easy sugar free ice cream is one of them.
I recently realized, I never wrote a recipe for it! I was doing the recipe for my Easy Sugar Free Ice Cream on my YouTube videos. On my Keto Cheeto YouTube video I was demonstrating what I do with all the extra yolks. Someone commented, "Where is your easy ice cream recipe?" So I thought it was time to give you this delicious and easy sugar free ice cream recipe!
Making sugar ice cream is tricky. If you use an erythritol-based sweetener it hardens to a rock, but if you leave it out before serving, it will soften. If you would like more tips to keep ice cream soft, click HERE.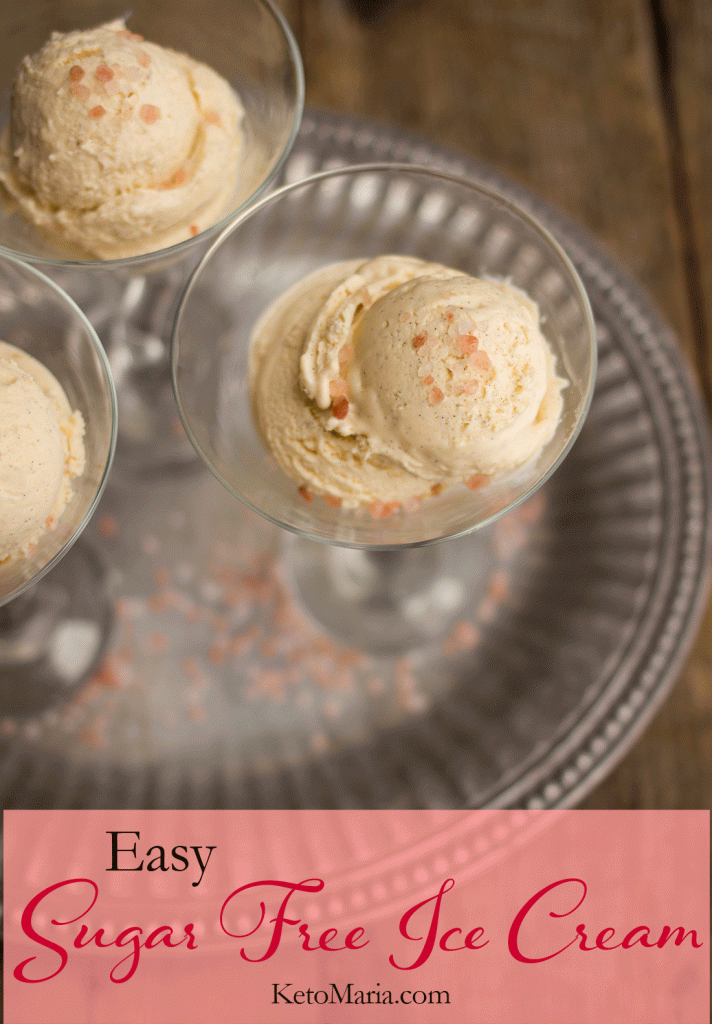 SUGAR FREE ICE CREAM INGREDIENTS
If you haven't noticed, I do not allow advertising on my site.
I just didn't agree with some of the products that were advertised. They were keto products, but they were unhealthy and I would never personally eat most of the products. It was hard to say no to blog advertisements; they pay thousands of dollars a month, but I just felt uncomfortable about having the products I didn't recommend on my website.
Instead, I have created a shopping list where you can find all the healthy ingredients that are difficult to find in the grocery store (and if you do find them, they are often very expensive).
I have done a lot of detective work and found the lowest prices on for all of the products I use and love. Everything from food like allulose to make sugar free ice cream, pantry items, kitchen tools like my favorite blender and ice cream maker to make my easy ice cream, the top supplements to help speed up weight loss and healing, and skin products are on my list.
I rarely waste time in the grocery store because I find everything online for a way better price!
All you have to do is click on the words in my recipes and it will take you right to the correct item. If you add them to your cart I get a tiny commission that helps me afford to keep practicing recipes (Recipe experimenting can costing me a fortune, but I love helping!).
I also have GREAT GIFT IDEAS on the list!
Happy Shopping and THANK YOU for all your support!!!
Easy Sugar Free Ice Cream
Ingredients
5

large

egg yolks

1/2

cup

Allulose

keeps ice cream soft (or 1 teaspoon stevia glycerite)

1

cup

heavy whipping cream

or coconut cream if dairy free

1

cup

unsweetened vanilla almond milk

1

vanilla bean

scraped clean (or 1 teaspoon vanilla extract)

1/4

tsp

Redmond Real salt

use code Maria15 to save!
OPTIONAL ADDITION:
2

tablespoons

MACA powder

malted milk favoring!
Instructions
Place the yolks and sweetener into a blender (click HERE to find my favorite blender).

Place the heavy cream into a saucepot and heat over medium high heat until simmering.

With the blender running, slowly pour the cream into the blender to cook the yolks. Once all the cream is in the blender, turn the blender on high for 20 seconds.

Add the chilled almond milk, vanilla and salt.

Place in the fridge to chill for 2 hours or overnight.

Pour the mixture into your ice cream machine (click HERE to find the one I love AND it is 1/2 off the original price!!!)and watch the magic happen within 45 or according to your ice cream maker's directions.

Freeze until set for vanilla ice cream or stir in your favorite swirl flavor to mix it up.
Nutrition
Calories:
221
|
Fat:
23
g
|
Protein:
4
g
|
Carbohydrates:
2
g
|
P:E Ratio:
0.2
TESTIMONY OF THE DAY
"I have to give a shout out Maria Emmerich.

Your life will improve by leaps and bounds one keto meal at a time.

I just got my blood work results from my nephrologist for April.  My kidneys have improved three more points to 30 eGFR, which now puts me into stage three chronic kidney disease. 

Less than 6 months ago I was nearing stage five, at 24 eGFR.

In December I improved three points to 27 eGFR and now I've improved three more points to 30 eGFR.

Protein is curing my kidney disease!!!

PSFM days are healing my kidneys and my body. It's a lifestyle that is working. I am also taking the recommended supplements Maria suggests (I did a personal health assessment).

 I have also lost over 85 pounds and too many inches to count since October. 

I did all this by doing 3 PSFM days a week. The food is delicious, nutritious and so satisfying. Even though I wish I would have lived this lifestyle many years ago, I now know that many things can be repaired and reversed. Stay the course. This is your life and you can do it!    IN PSMF" Wendy
Most people I consult are doing keto totally wrong. Get fast results with the my Mind-blowing Keto School!