Easy Protein Sparing Cinnamon Bread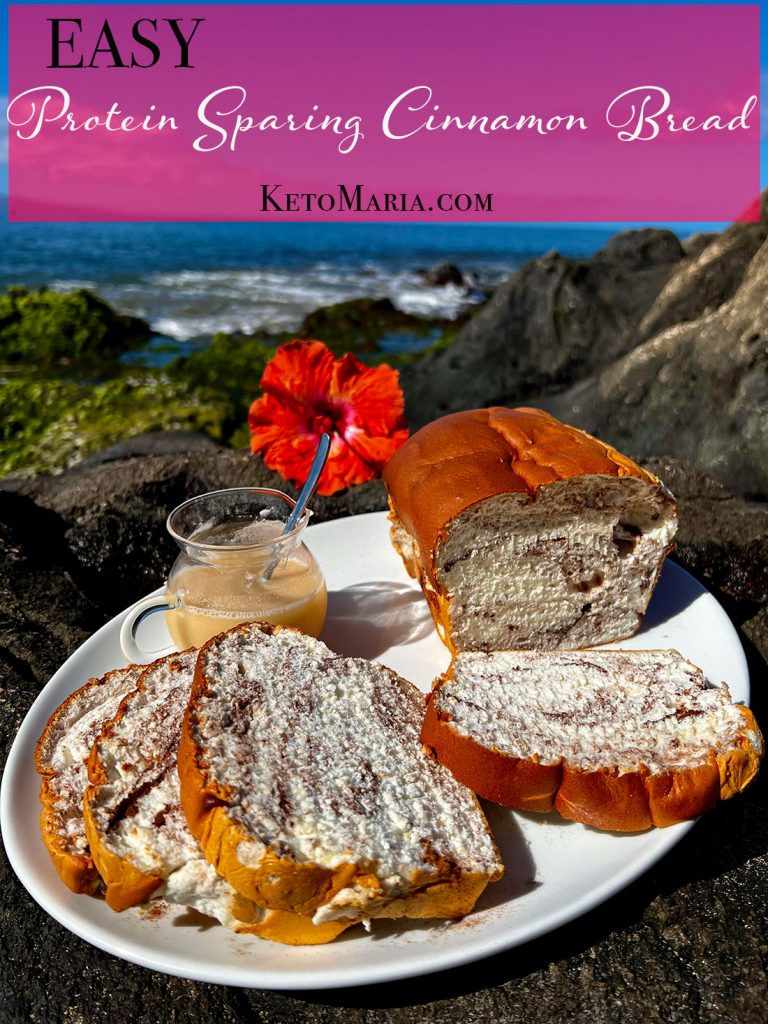 I LOVE my protein sparing cinnamon bread! I also love easy recipes!
If you love my easy protein sparing bread, you are going to love this easy protein sparing cinnamon bread with a sweet sugar free glaze over the top!
If you would like to watch a video on how easy it is to make my Easy Protein Sparing Cinnamon Bread, I posted a quick video on my Instagram wall @mariaemmerich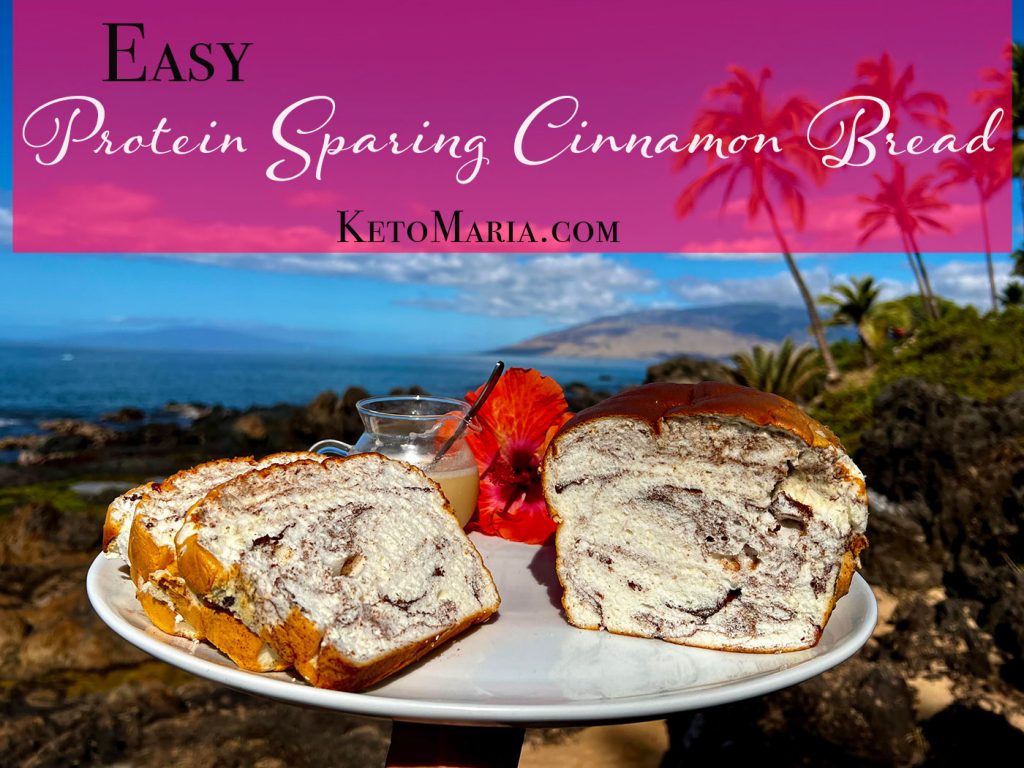 To make my easy Protein Sparing Cinnamon Bread, I used Wholesome Yum allulose monk fruit blend !
Wholesome Yum brand of allulose is the best quality allulose and they even ship to Canada!
Wholesome Yum has the best quality natural sweeteners. Wholesome Yum also doesn't use harmful additives like some brands!
I also love Wholesome Yum because they are also a kind small family-owned business. You all know I love supporting small business!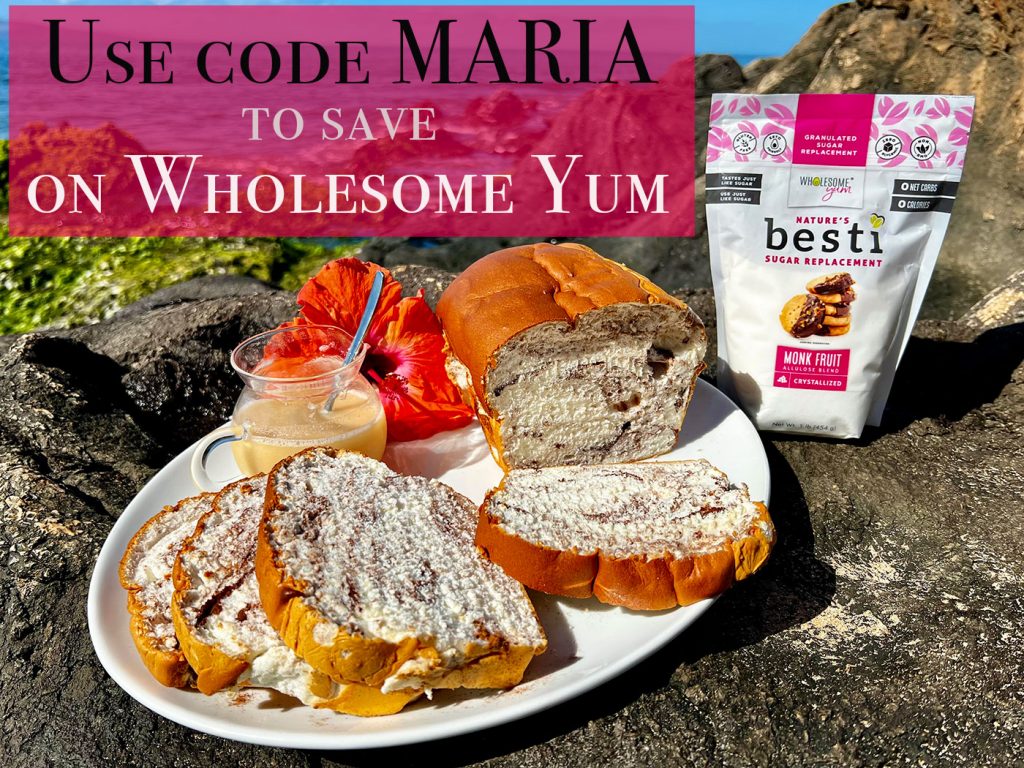 Protein Sparing Cinnamon Swirl Bread
Ingredients
1 1/2

cups

dried egg white powder

1/4

cup

Wholesome Yum allulose

4

tablespoons

Further Food gelatin

1/2

teaspoon

Redmond Real salt

1/2

teaspoon

cream of tartar

1 1/2

cups

water

3

tablespoons

ground cinnamon

1

teaspoon

vanilla

Optional: 1-3 tablespoons egg yolk powder

or whole egg yolks
Instructions
Preheat oven to 325 degrees F. Grease a bread pan with avocado oil spray (or if making buns, place a piece of parchment onto a baking sheet and spray with avocado oil spray. Set aside.

Place the egg white protein, allulose, gelatin, salt, cream of tartar and vanilla extract into the bowl of your stand mixer (or any large bowl). Stir to combine well.

Add the water. Turn the mixer to high (or a hand mixer on high speed) and whip for at least 5 minutes or until stiff peaks form. Click HERE to find the 8 quart stand mixer I have so I can make 2 loaves of psmf bread at once! Makes a GREAT gift!

Note: If adding yolks, lightly combine. But note, the yolks will increase fat and can increase likelihood of falling.

Swirl in the cinnamon with a spatula or spoon.

Place the mixture into the prepared bread pan.

Bake for 15 minutes or until golden and cooked through for buns. Bake for 30 minutes or until cooked though and golden brown for a loaf.

Remove from the oven and cool completely before slicing.

Click HERE to watch a very helpful video on Protein Sparing and how to do PSMF properly and avoid the weight loss mistakes I see all the time!
Nutrition
Calories:
58
|
Fat:
1
g
|
Protein:
12
g
|
Carbohydrates:
2
g
|
Fiber:
1
g
|
P:E Ratio:
6
TESTIMONY OF THE DAY
 "I have been keto for 2 years and have lost 60lbs and have wanted to lose another 10lbs and it was so hard to fall off I found Keto Adapted – Maria Emmerich  psmf (protein sparing modified fasting) way of life and I cannot believe the results I am having I went from 135lbs to 127lbs so quickly within a month of less!
I was at a point where I was only losing a pound a Month for months!
I'm not starving! I can't wait to get to maintenance. It seems I will be there in no time! My health conditions are so thankful for it! I too have PCOS and I know the struggles.
I just wanted to say Thank you Maria for educating me." – Eleanor
Most people I consult are doing keto totally wrong. Get fast results with the my Mind-blowing Keto School!