Easy Keto Cheesecake for 2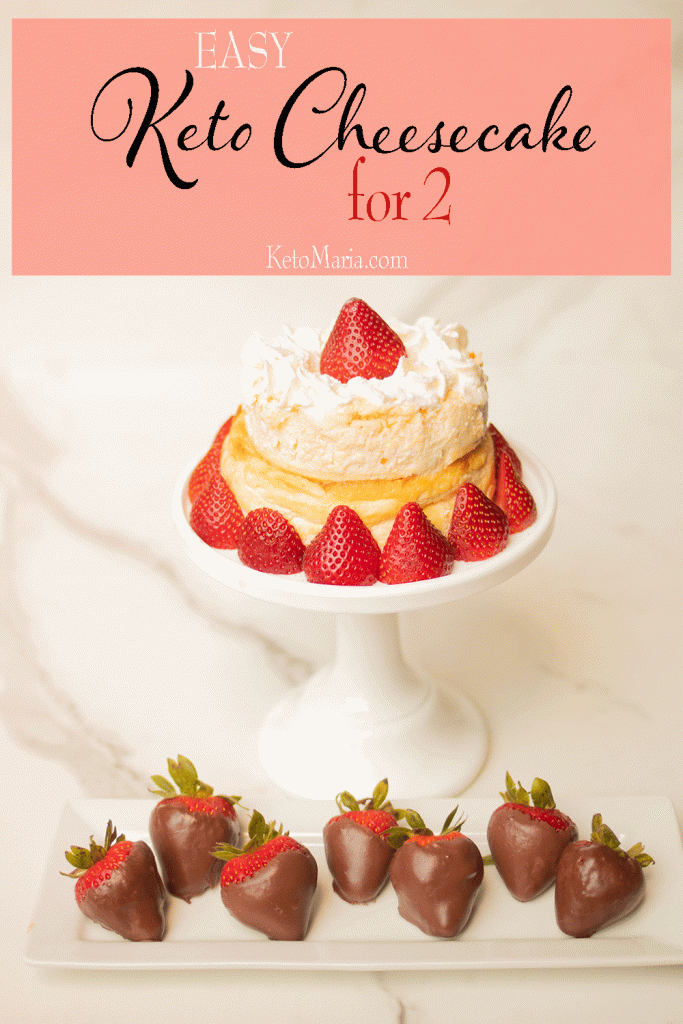 It is my son Micah's 13th birthday today. I can't believe my baby boy is 13! Where does the time go?
 I am so grateful to be his mother! I started writing cookbooks to help raise money for our adoption after my husband lost his job and our adoption fell through. I was so depressed at that time but writing gave me a reason to wake up. At that time my mom told me, "Maria, your babies weren't born yet." At the time, I didn't want to hear that but you know what? She was right! Micah and Kai were meant for me!
And thanks to all of you who helped make moments like this possible
Micah LOVES cheesecake and he loves strawberries! Since this year we didn't have a large party, I didn't want to make a huge cheesecake so I made an easy keto cheesecake for 2. Well, this cheesecake doesn't just serve 2, it could serve 4. But cheesecake always makes great leftovers!
SPECIAL BIRTHDAY GIFT
One of the homeschool assignments I've given the boys the past few years is to do a PowerPoint presentation about various topics every week. Sometimes I give a topic, but most of the time they get to pick.
I look forward to their presentations every week!
But this week, I surprised my son with a presentation about him. About how he has brought so much joy into my life and how grateful I am to be his mother!

HOW TO MAKE EASY KETO CHEESECAKE FOR 2
My recipe for cheesecake for 2 is so simple, my son Kai helped me make it and he basically did it himself!
This keto cheesecake does not have a crust. Too often I make a keto cheesecake and no one eats the crust anyway and I feel it isn't needed! By not doing a crust, this makes the cheesecake extra easy!
Share this recipe with a friend who would loves cheesecake like Micah does!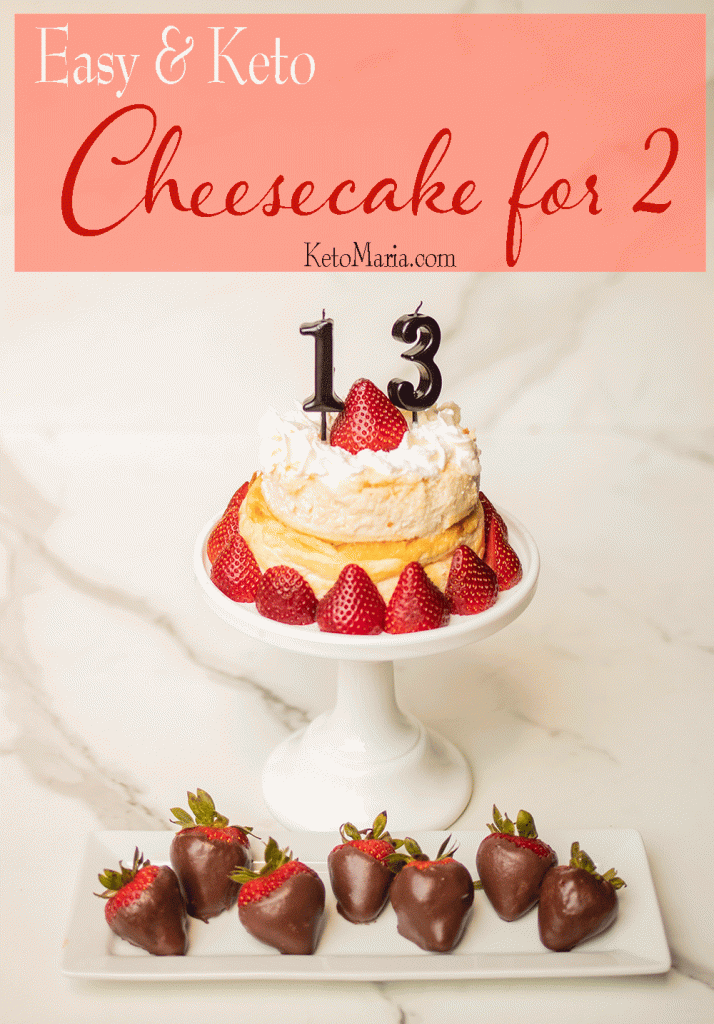 CHOCOLATE COVERED STRAWBERRIES
I also served sugar free chocolate covered strawberries with the easy cheesecake! Micah LOVES strawberries and he loves chocolate! Since we do not eat sugar, I used The Good Chocolate to coat the strawberries.  The Good Chocolate is a sugar free chocolate that is absolutely delicious! Click HERE to find! 
Easy Keto Cheesecake for 2
Ingredients
2

8 ounce packages

cream cheese

softened

1/2

cup

Natural Sweetener

or 1/4 cup and 1 teaspoon stevia glycerite

1

large

egg

2

teaspoons

lemon juice

1

teaspoon

vanilla extract

1/4

teaspoon

Redmond Real Salt
OPTIONAL GARNISH:
Sliced strawberries

The Good Chocolate

Click HERE
Instructions
Preheat oven to 325 degrees F (Do not use convection oven, the air causes cracks in the cheesecake). Place a piece of parchment on the bottom of a 5 inch springform pan (OR I used a 4 inch springform pan and a 4 1/2 inch springform pan to make a mini tower). Spray with avocado oil spray. Set aside.

Place the cream cheese into a large bowl. Add the sweeteners, egg, vanilla, lemon juice and salt. Use a hand mixer to beat until very smooth. Taste and adjust sweetness to your liking (some of the natural sweeteners cook off so it will be less sweet after baking).

Pour the mixture into the prepared baking pans. Place onto a rimmed baking sheet and place into the oven for 25-30 minutes or until cooked through and a toothpick entered into the center comes out clean.

NOTE: If using a 4 inch and 4 1/2 inch springform pan, cook the 4 inch for 18 minutes and the 4 1/2 inch for 20 minutes. Check with a toothpick and add more time if needed.

Once the cheesecake is done cooking, remove from the oven and cool completely. After it is cool, use a sharp knife to rim the outside of the cheesecake. Open the springform pan and place onto a platter.

Decorate the cheesecake with strawberries or whatever you prefer!
Nutrition
Calories:
422
|
Fat:
37
g
|
Protein:
10
g
|
Carbohydrates:
4
g
|
P:E Ratio:
0.2
TESTIMONY OF THE DAY
Doesn't Jess look AMAZING???? I'm SO proud of her! She has lost 89 pounds in only MONTHS! 
"What is even happening here??!!!

Forever grateful for Maria Emmerich and Craig Emmerich! 

With their help, I am changing my life!

I started at 289lbs…now I am headed towards 200.  Locked, loaded, and ready to go!!!!!" Jess

Most people I consult are doing keto totally wrong. Get fast results with the my Mind-blowing Keto School!