Easy Keto Almond Joys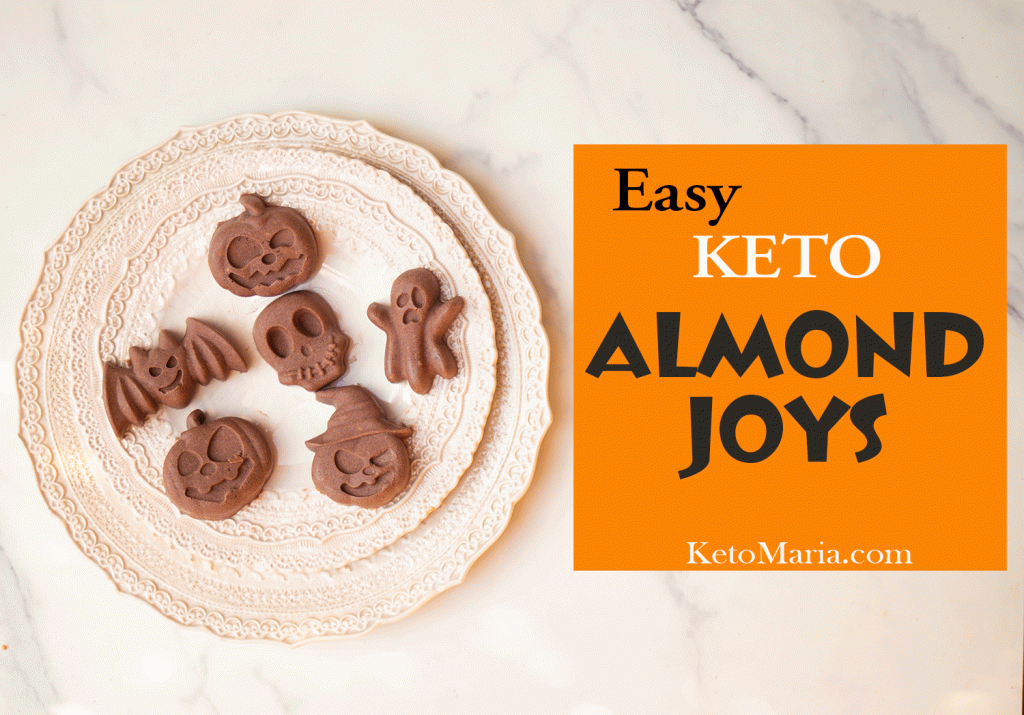 Halloween is coming! If you love Almond Joys, skip the sugar candy and make my healthy keto Almond Joy recipe!
These sugar free candies are so easy, my son Kai made them all by himself!

HOW TO MAKE EASY KETO ALMOND JOYS
To make my Easy Keto Almond Joys, I used Further Food chocolate collagen!
I love that these sugar free Almond Joys are filled with healthy collagen! Did you know that 1/3 of your body is made up of collagen and after menopause, you lose 30%? This is why building collagen before you lose it is so essential to good health and great skin!
Use code MARIAMINDBODY to save!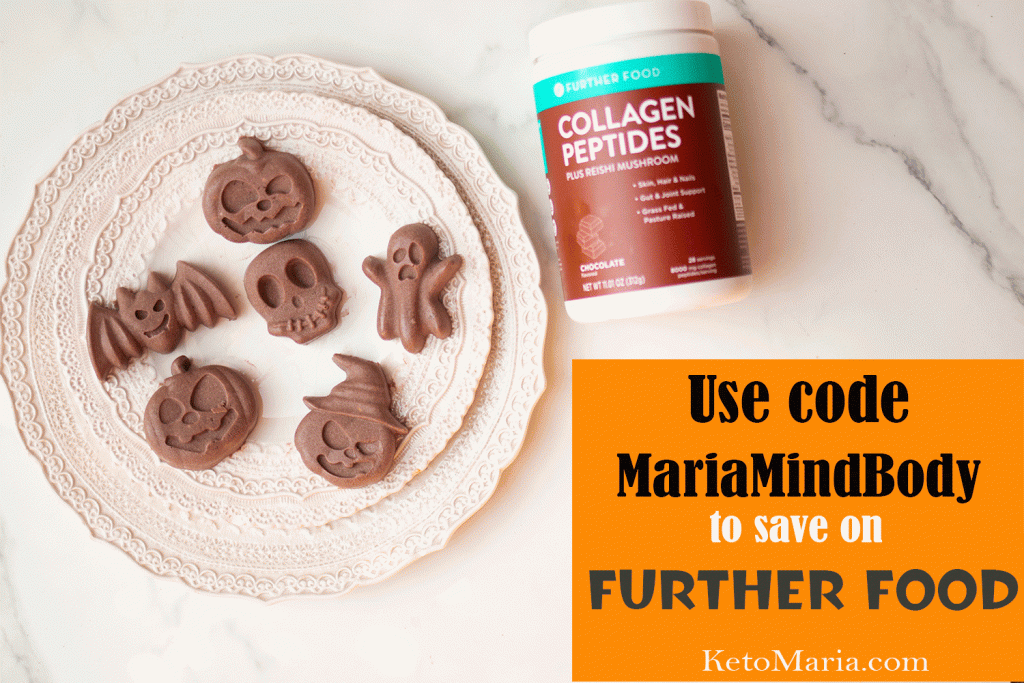 Easy Homemade Almond Joys
Equipment
Instructions
Line a 6-inch square baking dish with parchment paper, leaving some overhanging for easy removal.

Place the melted coconut oil in a medium bowl. Stir in the Further Food chocolate collagen. Add the almond butter and mix until smooth. Add the coconut stevia. Taste and adjust the sweetness to your liking.

Pour the mixture into the prepared baking dish. Freeze for at least 20 minutes or until set. Remove the chilled Almond Joys from the dish using the parchment paper. Cut into 16 squares. You could also use cute candy molds like I did.

Store in an airtight container in the refrigerator for up to 5 days or in the freezer for up to a month.
Nutrition
Calories:
87.3
|
Fat:
9.1
g
|
Protein:
2
g
|
Carbohydrates:
0.9
g
|
Fiber:
0.5
g
|
P:E Ratio:
0.2
TESTIMONY OF THE DAY
Doesn't Twila look AMAZING?
She lost 270 POUNDS & is off medications
"I have battled being overweight most of my childhood and then being morbidly obese most of my adult life. I started dieting at the age of 8. I did every diet that is out there, including all the popular ones, even Opti fast shakes through a hospital program and numerous weight loss pills. I could lose weight but quickly gained it all back. Twice I lost over 100 lbs with WW. And I was even grinding my own wheat berries, eating 8-10 fruits & vegetables a day! I cooked all my own meals and ate as healthy as I knew how. My diabetes, insulin resistance, PCOS, thyroid, inflammation, depression, arthritis, chronic high blood pressure and high cholesterol kept getting more out of control while the Drs gave me more medication. 

Then I found the keto diet through my PA. What did I have to lose?! So I started. I was not eating enough protein at first and yes I lost weight BUT I also was losing muscle. 

I found Maria Emmerich 9 months after starting and the knowledge Craig & Maria had was crucial to my understanding how the body works. I increased my protein, started working out with weight training and I never thought I would end up here. I lost 270 lbs, went from a size 6x to a size 12 and lost all the medications except I still take a low dose of thyroid med. I reversed all my health issues!

I have maintained the weight loss for almost 1 1/2 years. I continue to learn from the Emmerich's and continue to help others who struggle as well. I don't share my story to say " hey look at me" I share it to show others anything is possible! And to encourage, point others to the knowledge they need to help them be successful and getting healthier." Twila
Most people I consult are doing keto totally wrong. Get fast results with the my Mind-blowing Keto School!