Easiest Keto Lasagna
This post was sponsored by egglife, but all opinions are my own.
I'm always on the pursuit to find healthy keto products to help make your life easier!
I love to cook but I am also so busy with consulting clients, it is hard to find time to make healthy keto food and I also know that not all of you like to spend hours in the kitchen so when I find a special keto product (with quality ingredients) that makes my life easier, I get SUPER excited to tell you about it!
Egglife egg white wraps are my new FAVORITE kitchen staple!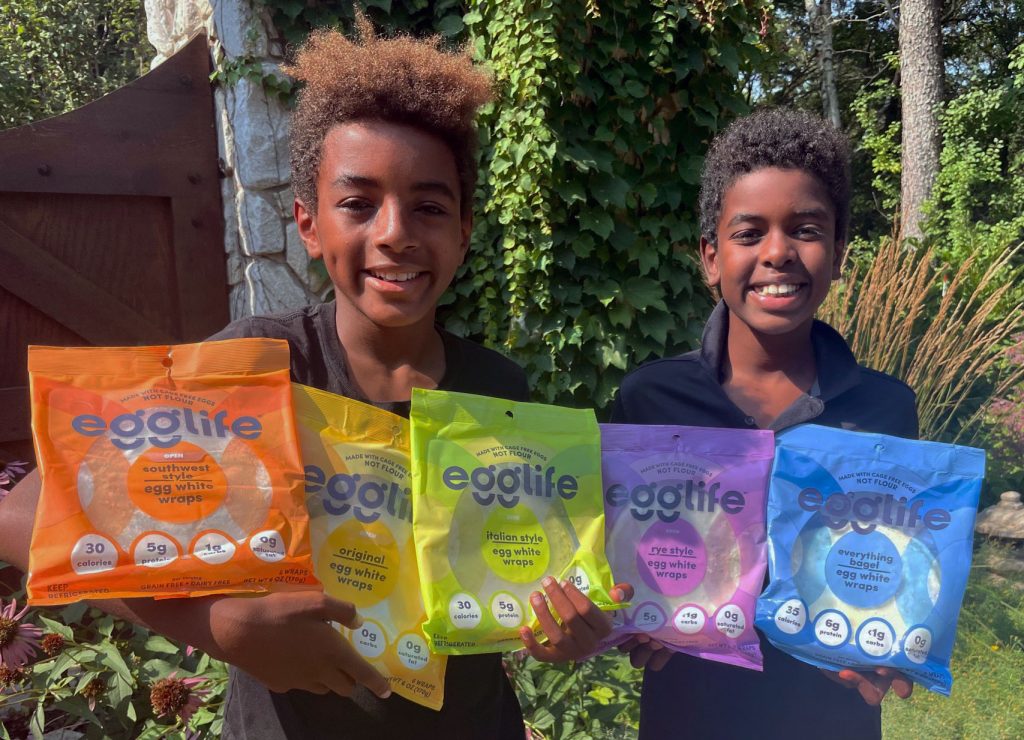 They are not only my new favorite keto-friendly product, but my keto kids also love these delicious egglife wraps because they are so versatile!
Kai begs for sandwich wraps made with egglife wraps almost daily!

I love egglife egg white wraps for many reasons!
1. They make easy sandwich wraps!
Fill them with your favorite sandwich fixings and you have an easy keto lunch!
2. They are a great Protein Sparing Modified Fasting item!
They are almost zero fat and almost zero carb which makes them all protein! Perfect for PSMF days! Just fill them with lean turkey or chicken and some mustard and you have a delicious protein sparing lunch!
3. They are gluten free and dairy free!
4. The original wraps I use in this recipe are only 25 calories, 5g protein and zero fat and 0g carbs!
5. They work great for making easy keto lasagna!
I wanted to make a special recipe featuring my new favorite keto-friendly wraps so I thought I would make a version of my protein noodle lasagna but BETTER!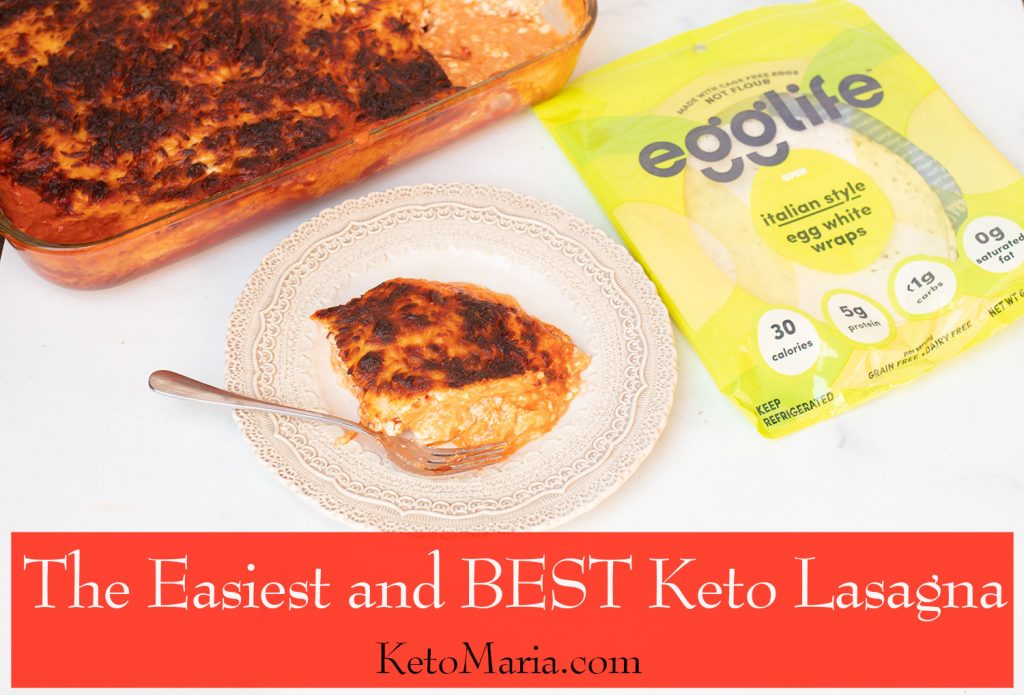 This easy keto lasagna is better than my protein noodle lasagna because the egglife wraps absorb the moisture like a regular lasagna noodle would. This adds a lot of flavor to the keto "noodle" in my easy keto lasagna, but it also avoids the undesirable liquid that happens with my protein noodle lasagna recipe.
You could also make my easy enchilada lasagna and use the southwest style egglife wraps! Both reicpes would work great for meal prep to throw in the over later.

Use code Maria5 for $5 off $25!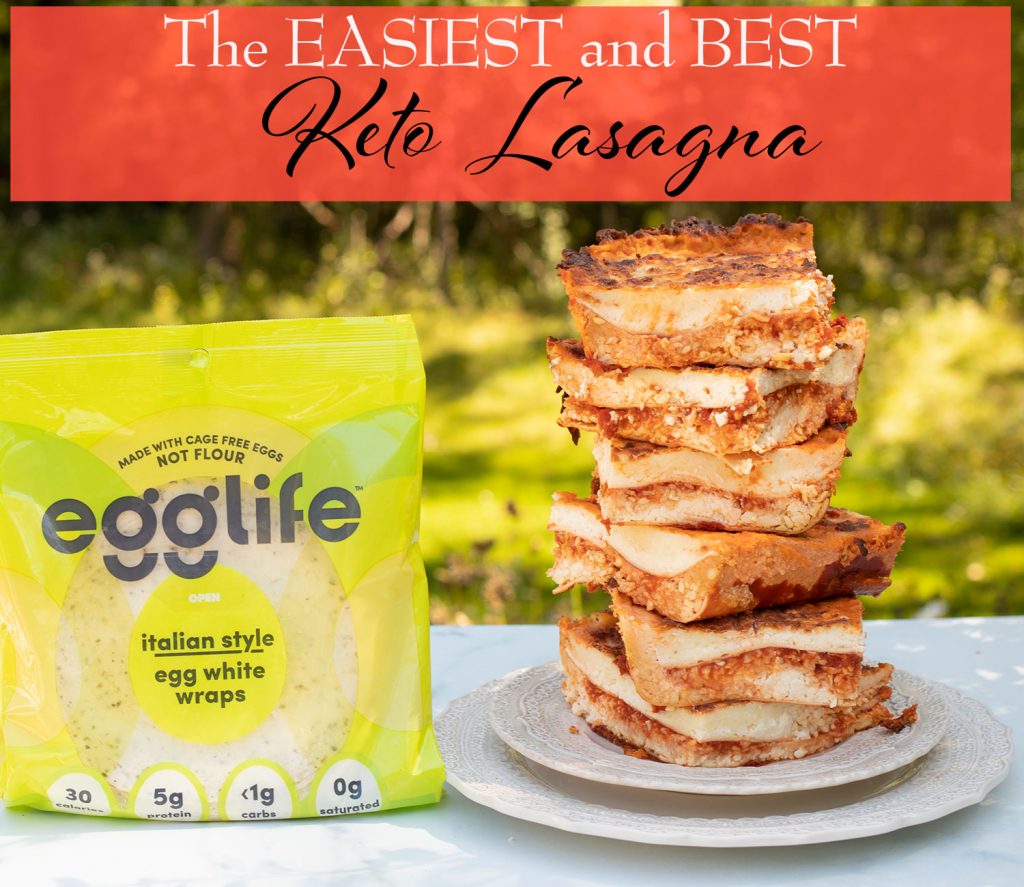 Easiest Keto Lasagna
Ingredients
1

package

plain egglife wraps

or Italian, use code Maria5 for $5 off

3

cups

marinara sauce

16

oz.

ricotta cheese

or cottage cheese

4

cups

shredded mozzarella cheese

¾

cup

freshly grated Parmesan cheese
Instructions
Preheat oven to 375 degrees F. Cut 2 egglife wraps in half and set aside.

To assemble the easy lasagna, spread 1 1/2 cups of marinara sauce in the bottom of a 9x13 inch baking dish.

Arrange 2 whole and 2 halves of the egglife wraps on top of the sauce to cover the sauce well. Spread evenly with one half of the ricotta cheese. Top the ricotta with a third of mozzarella cheese and sprinkle with 1/4 cup Parmesan cheese.

Repeat layers, and top with remaining mozzarella and Parmesan cheese. Cover with foil: to prevent sticking, either spray foil with cooking spray or make sure the foil does not touch the cheese. Bake for 25 minutes. Remove foil, and bake an additional 15 minutes or until cheese is golden brown.
Nutrition
Calories:
289
|
Fat:
18
g
|
Protein:
26
g
|
Carbohydrates:
7
g
|
Fiber:
1
g
|
P:E Ratio:
1.1
TESTIMONY OF THE DAY
"What a difference a year makes! 43 lbs down and feel amazing!! Thank you Maria and Craig !" – Melanie
Most people I consult are doing keto totally wrong. Get fast results with the my NEW Keto Packages!