Does Bacon Cause Cancer?
Processed Meats and Cancer
Does Bacon cause cancer?…I am sure you have all seen the World Health Organization (WHO) declaration that red meat "probably carcinogenic to humans, based on limited evidence that the consumption of red meat causes cancer in humans" and declared processed meat as "carcinogenic to humans, based on sufficient evidence in humans that the consumption of processed meat causes colorectal cancer."  They said that consumption of 50 grams of processed meat daily increases the risk of colon cancer by 18%. As is always the case with these "Studies" the devil is in the details.  We have seen the effects of big organizations and their recommendations in the past (see Ancel Keys "Study" and the low fat agenda (PDF) of the last 30 years).  So lets break down this latest example.

THE DATA
As with any study you need to look at where the data is coming from (and sometimes who is funding the research). In this case the data was largely based on dietary questionnaires (notoriously unreliable).  Yes, that's right.  This didn't closely follow these people and track their diet. They gave them a questionnaire that asked them what they ate. The majority of the time these are 7 day and in many cases 1 year questionnaires.  So they are asking the participants "What did you eat over the last year?".  You tell me how accurately you could answer that question. Just for fun here is a study that showed no correlation between processed meats and colon cancer for women and a 10% REDUCTION in risk of colon cancer for men (source)!
Additionally, the data also needs to be looked at for other factors.  Did the people who ate more processed meat have other factors that contributed to their increased risk?  In this case it showed that the people that ate more processed meats were also three times more likely to smoke and two times more likely to have diabetes (source).  They were also far less active and had higher BMI's. So was it the higher intake of processed meats or the higher intake of everything in the standard american diet (including the chemicals, preservatives, grains, sugar, GMO foods, etc). This is a perfect example where correlation doesn't equal causation.
Lastly, lets look at the absolute risk of the numbers presented by the WHO (if you still believe the link they make). They say that the increased risk is 18%.  That sounds like a fairly big number (except compared to the other things grouped in the WHO category like smoking is over 2,000% increased risk of cancer). Lets look at absolute the number and see what this means.  After all, if you have a study where the first group has 1 person die out of 100 and the other group has 2 people die out of 100, the increased risk is 100%! In this case the incidence of colon cancer in the US is about 47 per 100,000 people.  So if you believe their relative risk data then the absolute numbers would become 51 per 100,000 people. That is 0.004% more people.  And several of the studies actual showed no statistical increase for women, only for men. Pass me the bacon please!
PROCESSED FOODS IN STANDARD AMERICAN DIET
The next thing to consider is what the standard American diet consists of when consuming processed meats. The typical GMO corn fed, factory farmed, chemical laden processed meats have little in common with a grass fed pasture raised meat product from an organic farm.  The effects of these added chemicals and preservatives alone could be a huge component of this added risk.
Also there is a misconception that nitrates cause cancer. Nitrates have actually been shown to treat heart patients by opening up the arteries (source). In addition, we get a lot more nitrates from vegetables which are hundreds of times higher in nitrates than processed meats (something they never mention when talking about bacon and nitrates). One serving of arugula, two servings of butter lettuce and four servings of celery all have more nitrates than 467 hotdogs (more here).
CONCLUSION 
So to me this is just a bunch of fear mongering.  I will continue to eat lots of cured meats (nitrates and all) and grass fed red meats. Just take a look at where the WHO gets some of its funding from and you can take their credibility with a grain of salt (WHO money LINK).
SUGAR FREE BACON
It is hard to find bacon without sugar and if you do, it is really expensive! That is why I order Pederson's Farms bacon! Click HERE to get sugar-free bacon! 
If you want to get my favorite keto BUNDLE of meaty goodness from Pederson's Farms, you get a great deal!
Maria's Mind Body Health Bundle contains 10 of Pederson's Natural Farms Whole30 Approved No Sugar Added products. Included with this bundle is:
1 package No Sugar Added Hickory Smoked Uncured Bacon
1 package No Sugar Added Smoked Kielbasa
1 package Uncured No Sugar Grass Fed Added Beef Hot Dogs
1 package Fully Cooked No Sugar Added Mild Breakfast Sausage Links
1 Uncured No Sugar Added Half Ham, Boneless and Spiral Sliced
1 package No Sugar Added Italian Ground Sausage
1 package No Sugar Added Chorizo
1 package No Sugar Added Uncured Old World Kielbasa
1 package No Sugar Added Uncured Hot Dogs (Made with Pork & Bacon)
1 package 100% Grass Fed Organic Ground Beef
Bundle is normally $225.00 but with code: MARIAEMMERICH it is only $161.00! Click HERE to get it! 

TESTIMONY OF THE DAY
Phone Client Testimony: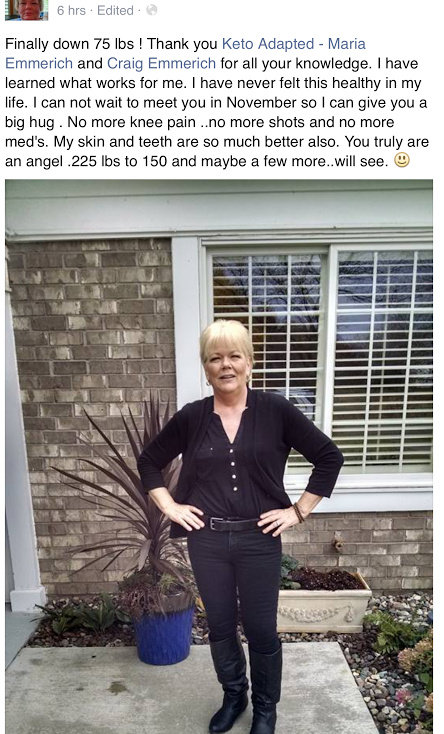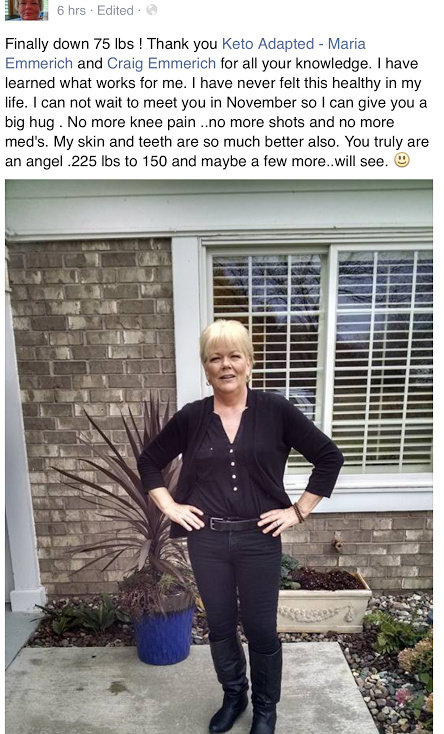 "Finally down 75 pounds! Thank you Keto Adapted-Maria Emmerich and Craig Emmerich for all your knowledge. I have learned what works for me. I never felt this healthy in my life. I can not wait to meet you in November so I can give you a big hug. No more knee pain…no more shots and no more meds. My skin and teeth are so much better also. You truly are an angel. 225 to 150 and maybe a few more…will see:)"
Click here to get started on your path to health!