Testimony of the Day
It is never too late to start your journey to health!
"Maria, I am so excited to get started on my new journey.  I am going through your videos and learning so much.  I have cleaned out my pantry and ordered the items I don't have so I can really jump in and start my new healthy eating.
I am going through all the videos, making copies of recipes while waiting for my product to come in.  I will jump in and start my journey by Monday.
Thank you Maria, I am 73 and didn't realize how food affects our body and mind.  But, I am learning even at my age. Blessings to you and your family" – Char
To get started on your path to health and healing, click HERE.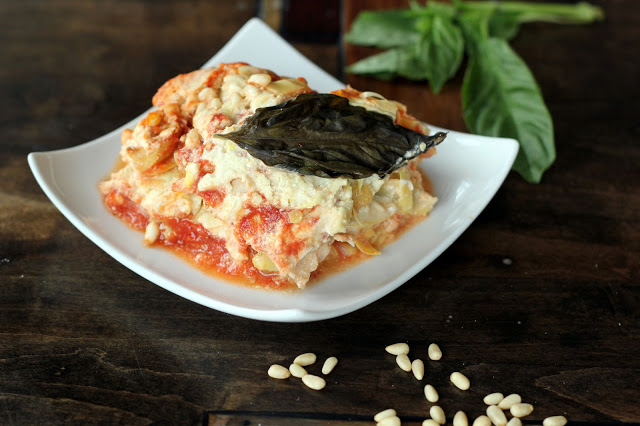 I prepared this one Sunday afternoon and froze it before baking it. The other day, I knew I was going to be too busy to prepare a meal when I got home, so I took the frozen lasagna out of the freezer and placed it in my oven on a "delay timer." I had the lasagna finish baking about 60 minutes before dinner so it could "set"…most people cut lasagna and such too early, which will make it runny.
"HEALTHIFIED" Lasagna
1 (14 oz) jar artichoke hearts, quartered
1 lb thinly shaved chicken breast (Protein Noodles)
1/2 cup pine nuts
1 cup snipped fresh basil
1 (24 oz) jar marinara sauce (no sugar or soybean oil)
"CHEESE SAUCE:"
1 cup organic beef or chicken broth
4 oz soft goat cheese
4 cups hard goat cheese, shredded
2 eggs
Preheat oven to 350 degrees F. Rinse and drain the artichokes.
In a saucepan, heat the broth and soft goat cheese, whisk until well combined. Add in the shredded hard goat cheese and mix well. Remove from heat and cool slightly. Slowly whisk in the eggs (not too fast or you will get scrambled eggs).
To assemble, spread about half the marinara sauce over the bottom of an un-greased 3-quart shallow baking dish. Layer the Protein noodles in the dish. Spread with one-half of the artichokes and one-half of the goat cheese sauce, then a layer of chopped basil and pine nuts. Repeat layering Protein noodles, artichokes, and goat cheese sauce. Top with basil leaves and sprinkle with pine nuts.
Bake, uncovered, for 35 to 40 minutes until edges are bubbly and top is lightly browned. Let stand for 30 to 60 minutes before serving. Makes 12 servings.
NUTRITIONAL COMPARISON (per serving)
Traditional Lasagna = 337 calories, 20g fat, 1g protein, 25g carbs, 2g fiber (23 effective carbs)
"Healthified" Lasagna = 305 calories, 14.4g fat, 24.5g protein, 8g carbs, 3.5g protein (5.5 effective carbs)