Another client's testimony on cholesterol and blood sugar… I just LOVE getting these!
"Working with Maria was the BEST thing I have done! It was worth every dime I spent …. and I am ever so grateful for her! When I began working with Maria, it was 4-5 months after I had a heart attack. My weight during that time was 182 lbs on my 5-foot 6-inch frame. I had type 2 diabetes and also an A1c that was 8.3 (way out of the normal range.) Total Cholesterol 257, Triglycerides 158, LDL 183, HDL 42.
On the insisting of my daughter, I signed up to work with Maria. I followed her plan and her recipes and supplements she suggested for me. I was amazed at how accurate her suggestions were later after consulting an Integrative Cardiologist, who has continued to help with the recovery of my heart function. Following Maria's advice was the best step I have had in the turn around of my health.
Within 3 months of her plan, my weight had dropped to 163, and I astounded my doctors not only with weight loss, but my blood work too. My A1c dropped down to 6.4, then 5.5 on the next reading. Cholesterol levels were lowered, my blood sugar readings were lower…and I felt better than I had in years!
After a few months of her plan my Cholesterol Total was 166, Triglycerides 75, LDL 96, and HDL 55. Today, now 1 year and 7 months later after starting with Maria, I am now down to 153 lbs (Triglycerides dropped to 54!) and continue to feel great! My A1c and cholesterol levels are all within normal range and I truly owe my gratitude to Maria for all her hard work. Not to mention, her recipes are delicious too!! THANK YOU MARIA!!!"
Annette M.
Click HERE to get started like Annette! You deserve it!
Alcohol Facts
When people go on a diet, they often choose the "light" version of their favorite alcoholic beverages in order to save a few calories. However, that is only a small piece of the puzzle. Fat metabolism is reduced by as much as 73% after only two alcoholic beverages. This scary fact shows that the primary effect of alcohol on the body is not so much how many calories we consume, but how it stops the body's ability to use your fat stores for energy.
Alcohol in the body is converted into a substance called acetate. Unlike a car that uses one supply of fuel, the body is able to draw from carbohydrates, fats, and proteins for energy. When your blood acetate levels increase, your body uses acetate instead of fat. To make matters worse, the more you drink the more you tend to eat; and unfortunately, drinking will make your liver work to convert the alcohol into acetate, which means that the foods you consume at this time will be converted into extra fat on your body.
If that didn't sound bad enough; alcohol stimulates appetite and decreases your testosterone levels for up to 24 hours and increases estrogen by 300%. The infamous "beer belly" is really just an "estrogen belly." Biochemically, the higher your level of estrogen is, the more readily you absorb alcohol, but the slower you break it down.
Muscle Tip: Drinking alcohol is the most efficient way to slash your testosterone levels; women…we don't want this to happen either. Just a single event of serious drinking raises levels of the muscle-wasting stress hormone called cortisol and decreases the levels of testosterone for up to 24 hours. If you are working out to build strong fat-burning muscles yet consuming alcohol, this actually breaks down muscle further and you end up with a slower metabolism. This is because you break down muscle as you lift weights and you repair them as you rest if you have proper hormone levels…if not, you never repair your muscles properly!
Also, we all know that alcohol dehydrates us. In order for fat to be metabolized, it must first be released from the fat cell and then be transported by the bloodstream where it is pushed to the liver to be used as fuel. If you are dehydrated, the liver has to come to the aid of the kidneys and can't focus on its role of releasing fat.
Alcohol also affects every organ of the body, it's most dramatic impact is upon the liver. The liver cells normally prefer fatty acids as fuel, and package excess fatty acids as triglycerides, which they then route to other tissues of the body. However, when alcohol is present, the liver cells are forced to first metabolize the alcohol, letting the fatty acids accumulate in huge amounts. Alcohol metabolism permanently changes liver cell structure, which impairs the liver's ability to metabolize fats, which causes fatty liver disease. To read more, check out my book: Secrets to a Healthy Metabolism. I have a whole chapter called "Alcohol, It's Not Just the Calories!"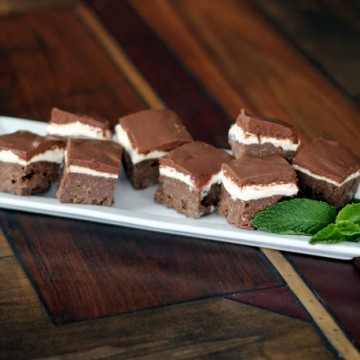 BROWNIES:
4 oz unsweetened baking chocolate
1 cup butter or coconut oil
4 large eggs
2 cups Swerve (or erythritol and 2 tsp stevia glycerite)
1/2 tsp Celtic sea salt
1 tsp mint extract
1 cup blanched almond flour
FILLING:
1/2 cup cream cheese or coconut cream
1/4 cup Swerve confectioners (or erythritol and 1/4tsp stevia glycerite)
2 TBS unsweetened almond milk
1 tsp mint extract
CHOCOLATE ICING:
2 TBS butter or coconut oil
1 oz unsweetened baking chocolate
5 TBS unsweetened almond milk
1/4 cup Swerve confectioners (or erythritol and 1/4 tsp stevia glycerite)
Preheat oven to 350 degrees. Grease a 9×13 baking pan with coconut oil spray. BROWNIES: In a double boiler, melt baking chocolate and 1 cup butter over simmering water; cool slightly. In a medium mixing bowl, beat eggs with a whisk until blended, then add the sweetener and continue whisking until the mixture is light and fluffy. Add cooled chocolate mixture, salt, extract, and almond flour. Keep whisking until thoroughly blended. Pour batter into prepared pan and bake 25 minutes. Remove from oven and leave brownies to cool in pan.
FILLING: Using an electric mixer on medium speed, beat the 1/2 cup cream cheese and sweetener together until well blended. Stir in the almond milk and creme de menthe until blend well. Spread over cooled brownies. Refrigerate in an original baking pan until filling is firm.
ICING: Place the butter and chopped chocolate in a double boiler (or in a heat-safe dish over a pot of boiling water). Stir well until just melted (don't burn the chocolate!), add in the almond milk, and sweetener. Stir until smooth and thick. Use to frost the brownies. Refrigerate until chocolate hardens.  Makes about 14 servings.
NUTRITIONAL COMPARISON (per serving)
Traditional Brownies = 441 calories, 25g fat, 3.8g protein, 56 carbs, 1.7g fiber (54.3 effective carbs)
"Healthified" Brownies = 246 calories, 24g fat, 4.9g protein, 4.6 carbs, 2.3g fiber (2.3 effective carbs)
If you have a dairy allergy, you can use Coconut Cream in place of cream cheese. (click HERE to find)