Collagen Pudding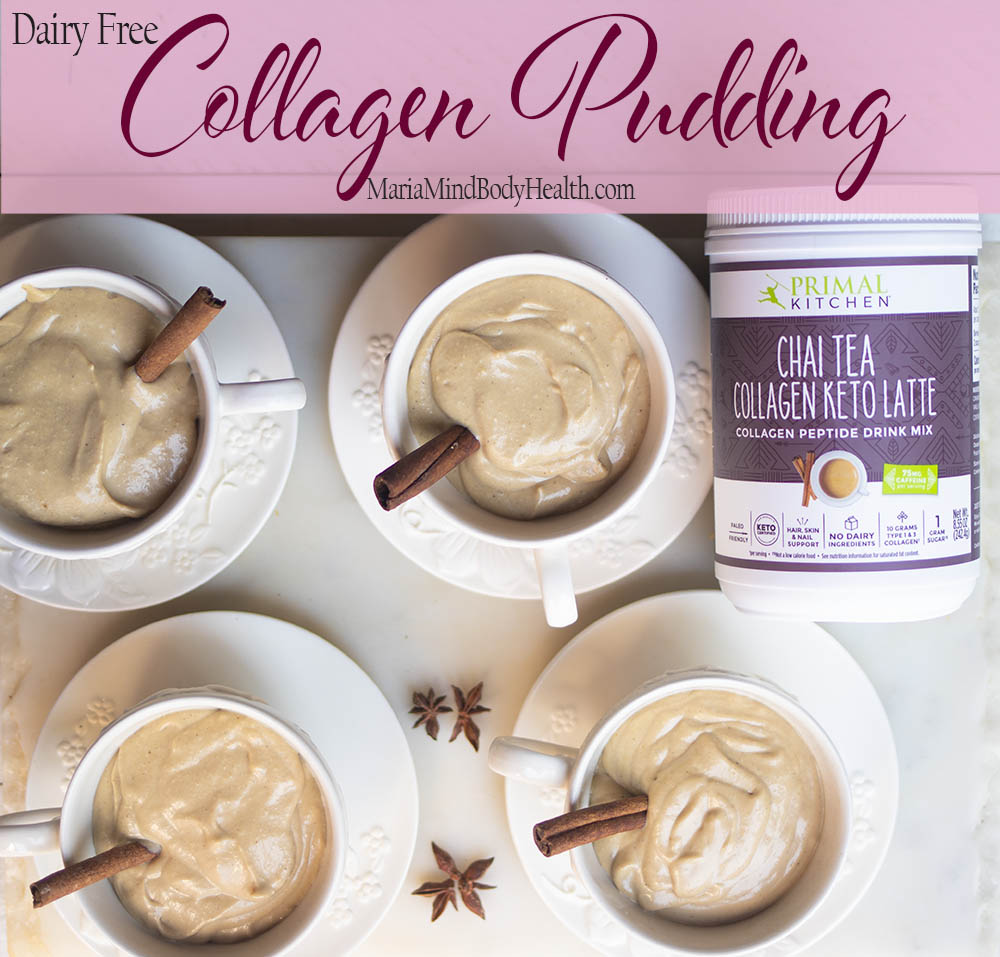 Have you tried my Hard Boiled Egg Pudding yet?
People are tagging me in their hard boiled egg pudding all over Instagram and Facebook because the ingredients are so weird but it is so delicious!
I decided to make my Hard Boiled Egg pudding even healthier for my family by adding a few scoops of collagen!
What a GREAT breakfast if you are sick of eggs!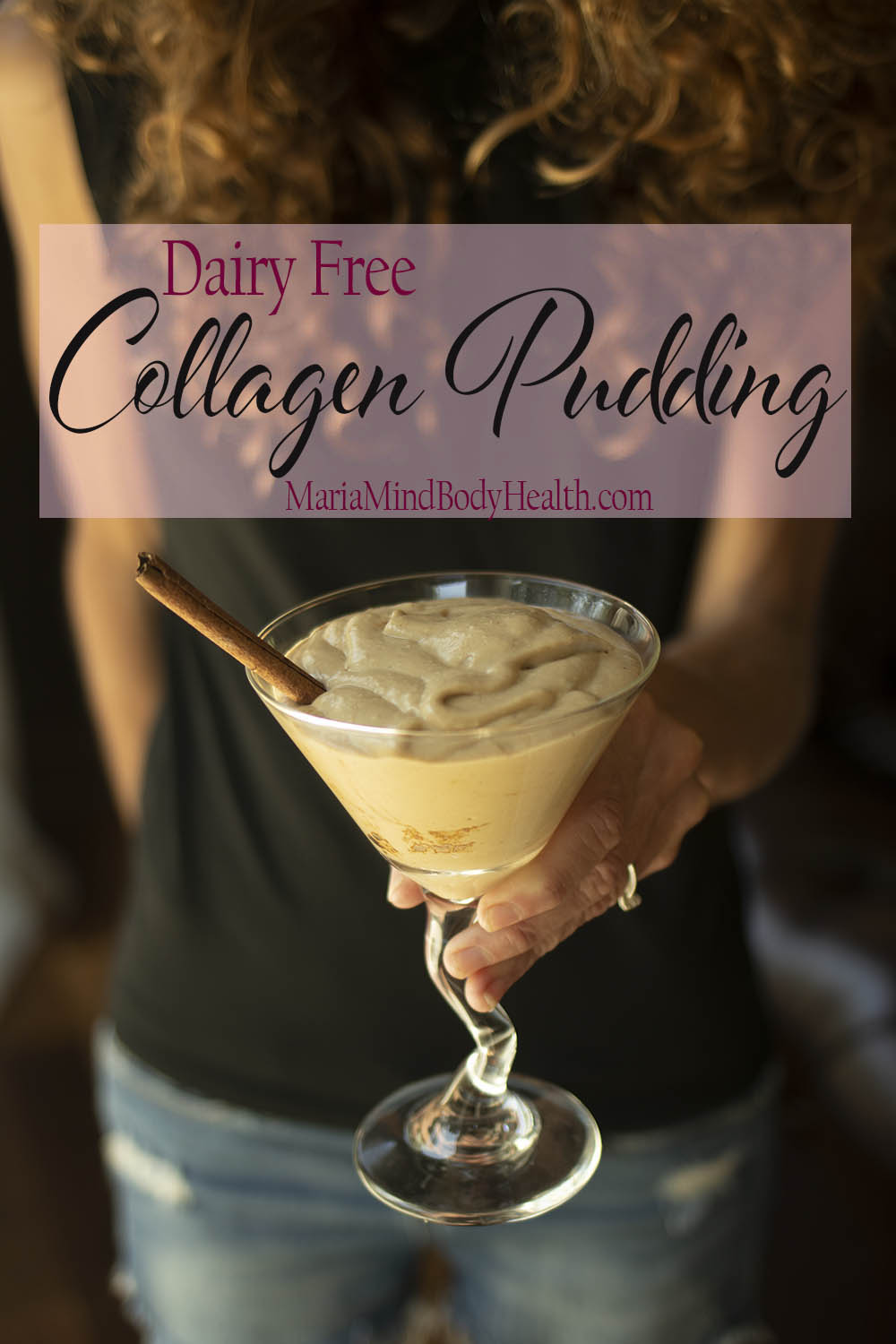 There have been many studies showing a wide range of benefits from collagen. You get a lot of glycine from collagen. THIS STUDY showed that the glycine derived from collagen is essential to maintain the normal structure and strength of connective tissue, such as bones, skin, cartilage, and blood vessels. Many other studies have shown benefits ranging form immune health, digestive health, bone strength and much more. It also greatly benefits the skin and reduced wrinkles and aging. Smoking reduces collagen synthesis and that is why smokers have more wrinkles.
Another important benefit of collagen is that it is the second most ferment-able substrate behind FOS (fructooligosaccharides). This study showed that collagen is great for feeding our gut flora, much better than almost any plant fiber (collagen is 7.96 where plant fiber is 1.53). So the push for feeding the gut flora with lots of plant fiber is really not needed. Just add some collagen.


HEALTH BENEFITS OF COLLAGEN:
Can help with skin elasticity and aging. This means when losing a lot of weight it can help the skin shrink better, reduce wrinkles and cellulite
It can help strengthen hair and reduce hair loss
Improves joint health
Builds bone strength
Contains 18 amino acids that help muscle and ligament repair and recovery
Contains glycine that helps with immune system health and helps with digestion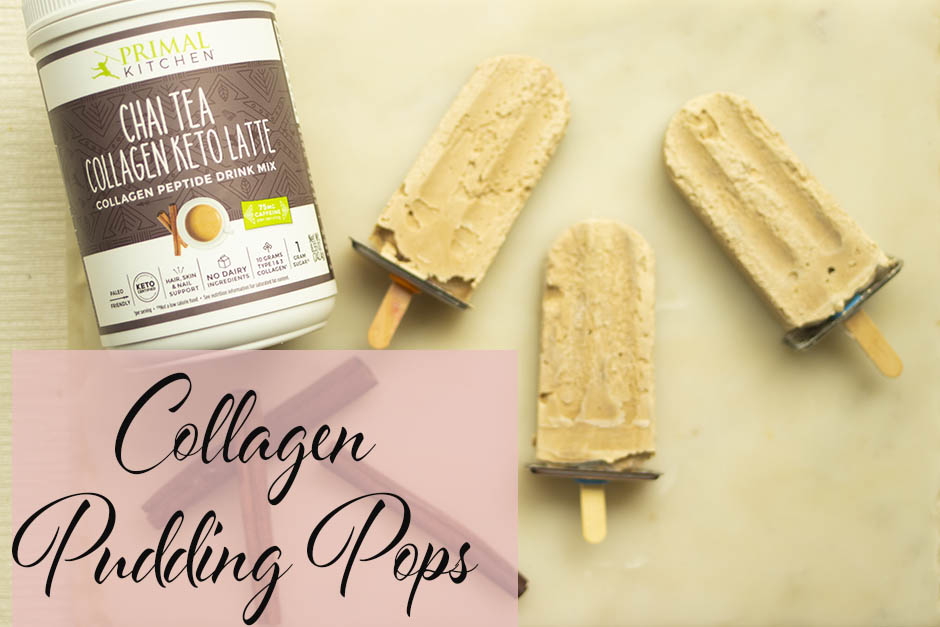 Primal Kitchen collagen is not only super healthy, it is also delicious! If you Buy Chai Tea Collagen Keto Latte now, you Get Matcha Collagen Keto Latte FREE! Click HERE! 
Primal Kitchen is SO generous that they are doing a special discount for all of my readers! Use code: Maria for 20 % off!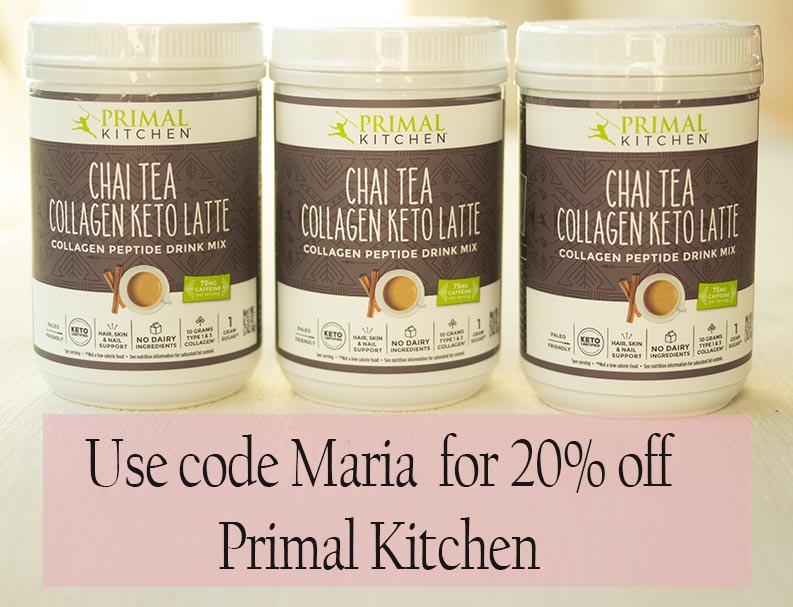 TIP OF THE DAY: I often hear that people do not like the sulphur smell of the eggs when they make my hard boiled egg pudding. So here is a great tip! Jacques Pepin, the amazing French chef, suggests putting boiled eggs immediately into ice water after cooking, and leaving them there for 30 minutes to prevent the sulphuric odor.

We recorded a YouTube video making my Collagen Pudding!
Collagen Pudding
Ingredients
10

hard boiled eggs

peeled (or scrambled eggs)

1

14oz can coconut milk (or 10 oz. unsweetened almond milk)

1/4

cup

Natural Sweetener

or equivalent amount of liquid or powdered sweetener

4

scoops Primal Kitchen Chai Tea Collagen

2

teaspoons

vanilla

1/8

teaspoon

Redmond Real Salt

use code Maria15 for 15% off
Instructions
Place all the ingredients into a blender and puree until very very smooth. Taste and adjust sweetness to your liking.

Place in the fridge in an airtight container for up to 4 days.

COLLAGEN PUDDING POPS: Place the mixture into ice pop molds (click HERE) and place in the freezer until set, about 8 hours or overnight.
Notes
Nutritional Information:
281 calories, 23g fat, 17g protein, 2g carbs, 0.4g fiber
TESTIMONY OF THE DAY
"Results: Week 1 of PSMF (Protein Sparing Modified Fast) … -3.5 lb 🤩 -53.5 lbs down total!
I followed traditional keto marco's from Jan – Apr.. saw amazing results. Things slowed down. Last week I learned about PSMF and plugged in right away!
Did 3 days of PSMF and the rest of the week Marco's from Maria and Craig Calculator.
Shocked by the scale today! And the best part.. I ate Maria's soft serve ice cream last night and still lost weight.. GOD is Good!!
I have weight goals in mind, but for now, keep it going!!" – Kellie
Most people I consult are doing keto totally wrong. Get fast results with the my NEW Keto Packages!
This Protein Sparing Modified Fast Cookbook is perfect for summer because the recipes are easy, many are grilling recipes and are perfect to get you into your summer wardrobe fast!