Cocoa Pebbles
I grew up on cereal and skim milk. I often had it as a 'bed-night-snack' as a kid. Habits are hard to break and that one was probably my hardest habit I had to stop.
If you are craving cereal on your keto diet, you must try this delicious remake of my favorite Cocoa Pebbles!

 Cocoa Pebbles
1/2 cup vanilla egg white protein
3/4 cup peanut flour
1/4 tsp baking soda
1/4 tsp Celtic sea salt
1/4 cup unsweetened cocoa powder
1/4 cup coconut oil OR NATURAL almond/peanut butter*
4 TBS Swerve confectioners
2 TBS water (just enough to hold dough together)
Preheat the oven to 400 degrees F (200 degrees C). In a medium bowl, stir together the protein powder, nut flour, cocoa powder, baking soda, and salt. Cut in the peanut butter using a pastry blender or your fingers until the butter lumps are smaller than peas. Stir in the water and sweetener to form a stiff dough. On parchment paper (lightly greased), roll the dough out to 1/8 inch in thickness. Cut into small diamond shapes with a pizza cutter. Place parchment onto cookie sheets. Bake for 7-10 minutes in the preheated oven, until edges, are lightly browned (I broke up pieces and baked another 3 minutes to crisp up the pieces). Remove from oven to cool. Makes 3-4 servings.
***You could also use coconut oil in place of the peanut butter. This would allow you to store longer since coconut oil is shelf stable and doesn't need to be refrigerated. Serve with Unsweetened Vanilla Almond Milk! YUM
NUTRITIONAL COMPARISON (3/4 cup with 1 cup milk)
POST Cocoa Pebbles with 1 cup skim milk = 240 calories, 42 carbs, 3g fiber
"Healthified" Pebbles with 1 cup almond milk = 195 calories, 17g fat, 8g protein, 5.5 carbs, 2.8g fiber (78% fat, 16% protein, 10% carbs)
1 serving of "Healthified" Cereal = 165 calories, 15g fat, 7.3g protein, 4.5 carbs, 1.8g fiber (81% fat, 17% protein, 10% carbs)
Testimony of the Day 
"I completed day 28 since switching to the Keto-Adapted lifestyle and was amazed. When I started I had a whopping 200 excess pounds to shed. Knowing the last time I was at my goal weight was 27 years ago I was terrified that this would not work for me but I have followed the program diligently and it has already paid off. I have shed 26 pounds in 28 days and am feeling better than I have in years. I am 62 years young, have multiple health issues and have been extremely sedentary for decades. This 26 pounds has come off without exercise!
I am so encouraged as I know that I will surely shed the rest of my excess weight. Having dropped 26 pounds with no exercise or supplements to support me just think what will happen as I add those in as part of my health care regime.
Thank you soooo much Maria for what you are doing. God Bless – KaraAnn"
Click HERE to start your journey to a keto-adapted diet!
Craig looks amazing!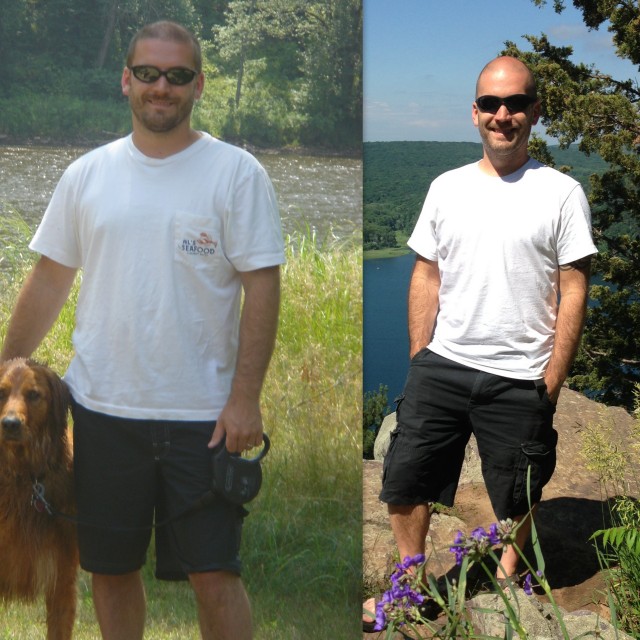 "This is a partial before after photo of me.  I couldn't find any photos of me at my highest weight (185 in college).  On the left ,I was about 170 and today I am 145." Craig