Testimony of the Day
PHOTO TESTIMONY: "Hiya Maria and Craig! My name is Whitney Bray, and though we have never had a conversation before- you have changed my life.

I grew up in a paycheck to paycheck household that lived on microwave dinners and fast food. I was not encouraged to join sports or do outdoor activities, and was often told that my weight was 'genetic' and 'inevitable'. I spent 22+ years of my life believing that.
I had tried a few things like name brand diets, high end diet pills that I had seen my mom take, nothing worked and I was completely miserable. At 5′ 2″ I weighed in at over 225lbs and I was very weak. My digestive system was a wreck, I couldn't jog down to the end of the driveway, and I was miserable.
Then after a journey of learning to love myself, instead of hating myself, a friend told me about Keto. And it wasn't long after that, that I found your book Keto-Adapted. I had already read two other lchf books first- but they were not easily accessible. They didn't truly explain the importance of being keto-adapted, and how to get there, and didn't address pre-existing problems caused by carb intolerance. Your book was a miracle in my life. I bought all of your cookbooks for my kindle app on my phone and I check your site almost daily!! I make your low carb bread and fudge cookies almost weekly for my 2 year old son and my husband.
Since eating the Maria Way I've lost 50lbs!!! And more importantly, I feel better than ever before!! I am doing things I never thought I'd do. I went from trying my hand at yoga and being timid that my weight would keep me from gaining anything from the practice- to doing Aerial Yoga every week! So it's not just about the fat loss, it's also about how much I've gained from improving my health.
So thank you, thank you so very much for giving me confidence in providing my son with a much healthier beginning than I had when I was growing up, for helping my husband repair his leptin response and aid him in his new journey to do powerlifting competitions, and thank you from the bottom of my heart for showing me what it feels like, to be healthy.
Forever grateful, Whitney Bray"
If you too want to find out what supplements your body needs and how to change your diet, click HERE for life-changing help!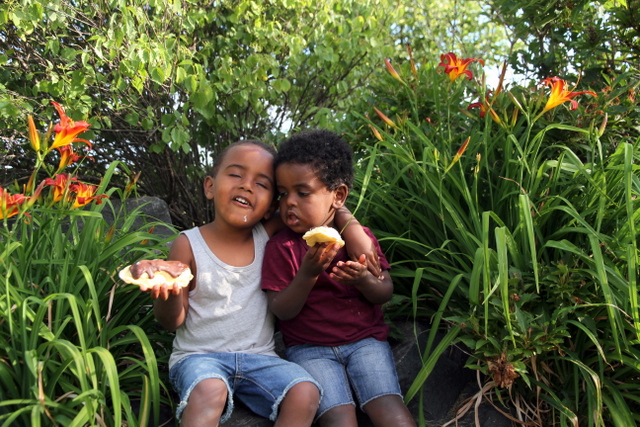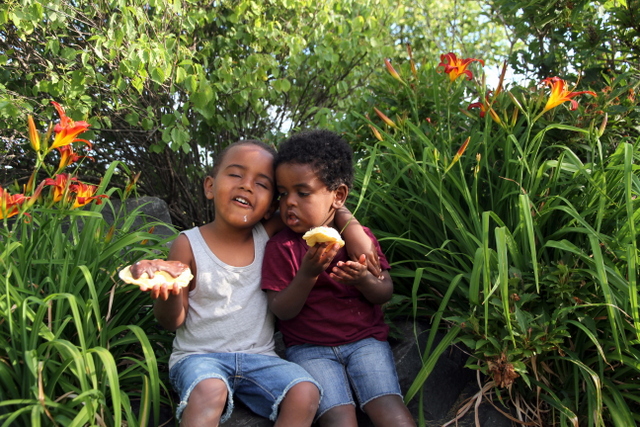 I'm not one to watch a lot of TVs, but I do love cooking shows! My favorite one is MasterChef! They made eclairs on this show which inspired me to create a "healthified" eclair, but I also watch a show called the Best American Baking Competition. The contestants on this show also had to make Eclairs. One of the judges claimed the contestant had too much filling in the eclair! WHAT? Craig and I looked at each other and laughed! That is NEVER a bad thing as you can clearly see by Micah's expression and the filling dripping down his face!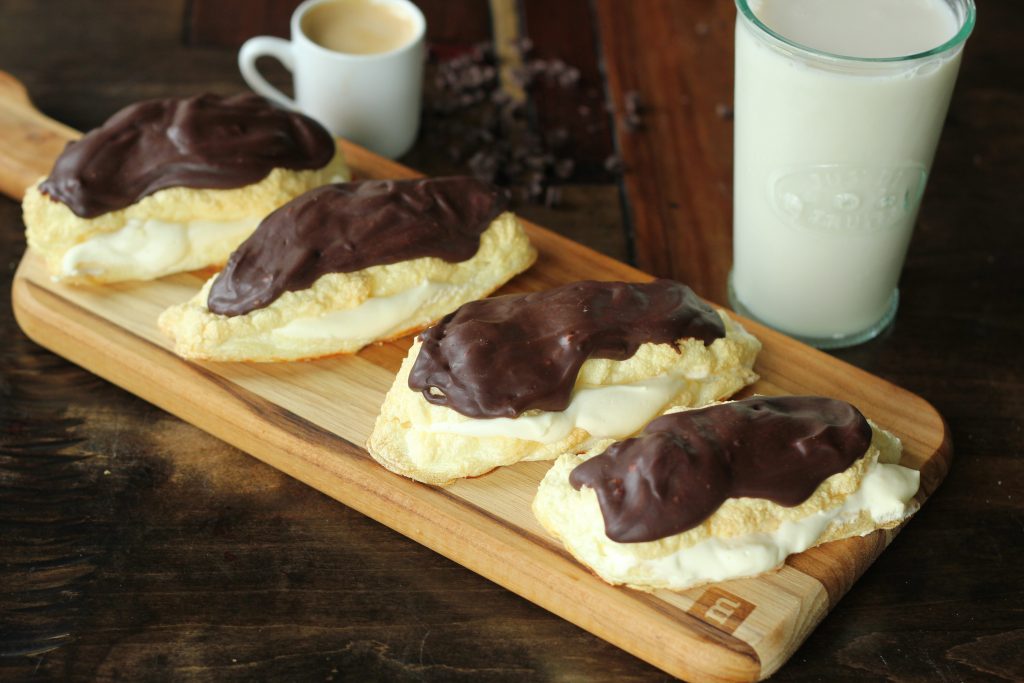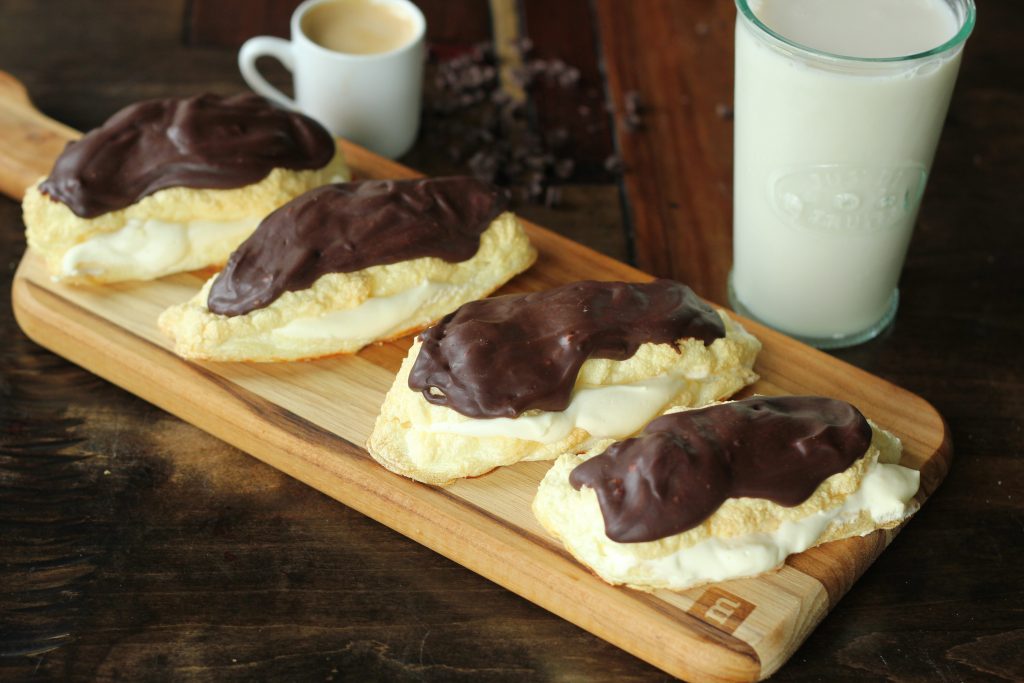 Chocolate Eclair
NOTE: If you use this on your Pure Protein and Fat day, do not use ChocoPerfection chocolate, you must use the homemade version.
Ingredients
Eclairs:
3

large

eggs

separated

1/4

cup

vanilla whey or egg white protein

3

ounce

cream cheese

softened OMIT IF DAIRY ALLERGY and add reserved yolks

1/8

teaspoon

cream of tartar

4

tablespoons

Natural Sweetener

or 1 tsp stevia glycerite
CUSTARD FILLING:
6

large

egg yolks

1/2

cup

unsweetened almond milk

1/4

cup

Natural Sweetener

or erythritol and 1/4 tsp stevia glycerite

1/4

cup

salted butter

melted, or coconut oil
CHOCOLATE (Easy Option):
2

whole

THE GOOD CHOCOLATE bars

chopped fine

4-6

tablespoons

unsweetened almond milk
CHOCOLATE (Homemade option):
2

tablespoons

salted butter

or coconut oil

1

ounce

unsweetened baking chocolate

10

tablespoons

heavy cream

or coconut milk

1/4

cup

Natural Sweetener

1

teaspoons

stevia glycerite
Instructions
Preheat oven to 300 degrees F.

Separate the eggs and whip the whites and cream of tartar until very stiff (I use my beloved stand mixer and let it go for 5 minutes).

Slowly sift in the protein powder into the whites.

Combine softened cream cheese (OR YOLKS) and natural sweetener.

Using a spatula, very gently fold the cream cheese into the whites.

Spray a lasagna pan with coconut oil spray and spoon the mixture into it in tube-like shapes (if the whites fall, put the mixture into greased muffin tins).

Bake for 18 minutes.

Remove pans from oven and let cool on a cooling rack.

To make the CUSTARD: Whisk egg yolks, almond milk, and natural sweetener in a medium metal bowl to blend.

Slowly mix in the melted butter so the eggs don't cook unevenly.

Set bowl over a saucepan of simmering water.

Whisk mixture constantly and vigorously until thickened and an instant-read thermometer inserted into mixture registers 140°F for 3 minutes, about 5 minutes total (or coats the back of a spoon).

Remove mixture from over water and chill for at least 1 hour in the fridge. (It can be prepared 1-3 days ahead and refrigerated. Re-whisk before serving.)

Place in a ziplock bag.

Cut the corner of the bag and pipe the mixture into the éclairs.

To make CHOCOLATE EASY OPTION: Chop the bars into small pieces.

In a double boiler or microwavable bowl, combine ingredients.

Microwave for 30 seconds. Stir well.

Drizzle onto éclairs and let rest on a cooling rack until glaze has set.

To make HOMEMADE CHOCOLATE: Place the butter and chopped chocolate in a double boiler (or in a heat-safe dish over a pot of boiling water).

Stir well until just melted (don't burn the chocolate!), add in the cream, and natural sweetener.

Stir until smooth and thick.

Smooth all over the top of the cooled eclairs.
Nutrition
Calories:
363
|
Fat:
33
g
|
Protein:
15.1
g
|
Carbohydrates:
3.8
g
|
Fiber:
1
g
|
P:E Ratio:
0.4
 Acetylcholine
In my book: Secrets to Controlling Your Weight Cravings and Mood, I discuss the main neurotransmitters responsible for a healthy brain (serotonin, GABA, dopamine and acetylcholine). Most people haven't heard of acetylcholine, but it is so important! Acetylcholine controls the brain's speed and mental process, keeping memory sharp and physical movements quick and precise. Acetylcholine controls activity in the parietal lobe, the area of the brain responsible for processing sensory information, learning, memory and awareness. Inadequate levels of this chemical can cause forgetfulness, Alzheimer's, Multiple Sclerosis, dementia, dry mouth, dry skin, reading or writing disorders, speech problems, slow movement, mood swings, difficulty prioritizing tasks and an inability to relate to others.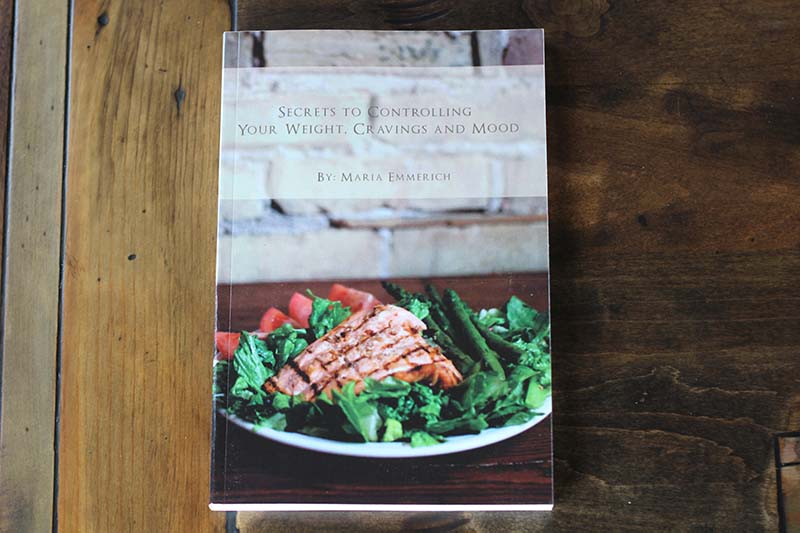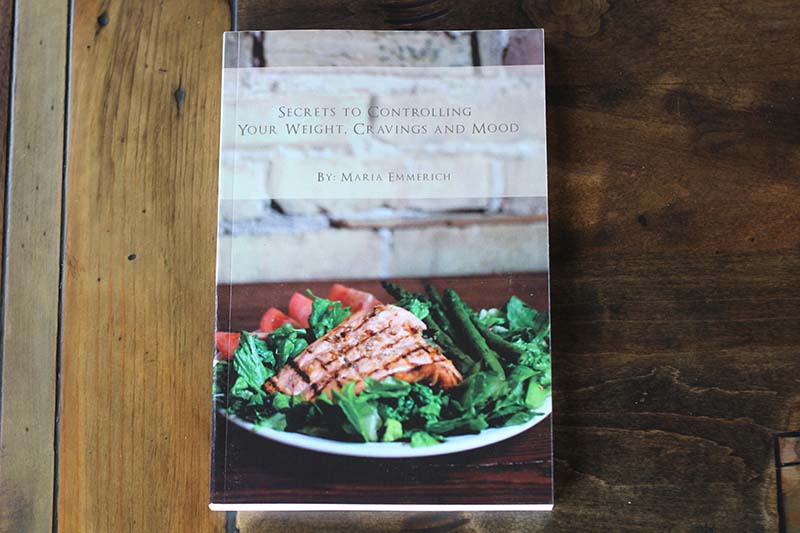 Most women are predisposed to an acetylcholine deficiency because these symptoms set in with peri-menopause. Estrogen and testosterone stimulate the production of acetylcholine. As levels of those hormones decline, so does the production of this brain chemical.  This prompts symptoms like memory lapses, dry skin, and weight gain. The cholesterol in yolks helps produce hormones levels. The reason why cholesterol levels go up after menopause is because your body is trying to produce more estrogen (which your ovaries are no longer releasing).
In the late 1930s, scientists discovered that tissue from the pancreas contained a substance, called Choline, which helps prevent fatty build-up in the liver and produces acetylcholine. Since then, research has shown that choline is found not only in the pancreas and liver but is also a huge component of every human cell. Choline is named after the Greek word which means bile, which is very appropriate. Bile, which is produced in our liver, has a primary job of making fat compatible with water so that fat-based matter can get transported through the body in our water-based blood. Interestingly, Choline has very comparable fat-modifying effects on our cellular membrane. The reason that choline decreases fat storage is that it allows our cell membranes to operate with greater flexibility in handling both fat and water-soluble molecules. In other words, without choline, fat-based nutrients and waste products could not pass in and out of our cells. Therefore, healthy fats can't get into our cells to make our brain healthy, skin soft, and cells happy AND we can't get the stored toxic fat out! Choline is a key component of the fat-containing structures in cell membranes. Since cell membranes are almost entirely made up of fats, the membranes' health depends on adequate amounts of choline.
To produce more acetylcholine, enjoy three servings of choline-rich foods; like eggs (I'm talking about the yolks here…Egg Beaters don't count). Grass-fed, organic eggs are the most beneficial. Grass-fed eggs contain a very high level of healthy omega 3s compared to store-bought eggs. Omega 3 will also stimulate a happier brain by assisting our cells to communicate. "Happy cells are talking cells." Supplemental choline has even shown effectiveness in treating Alzheimer's disease. Click HERE to find.


If you would like to help out a small family, rather than a large business, I am happy to announce that you can now get my books as a high-quality ebook that works on any platform. This is an ebook format that works on any computer or mobile device. It is a beautiful pdf that has all the full-color pages and layouts as the printed books with a click-able table of contents and searching capabilities. This is extremely useful when trying to find a recipe. These books are much higher quality than the ebook platforms (kindle, apple). Plus, most of the profits don't go to Amazon or apple! Just go here to get your copy!
Just Click HERE or select "My Books" above to get your copy now! Thank you all for your love and support!