Testimony of the Day
Photo Testimony: "Maria, I have been a HUGE fan of your blog for over a year now. I bought just about every book that you have published!
Ketogenic diet not only changed my life, but it has also changed my whole family.
Just like you, I adopted my daughter Michelle. We were in the process if adopting from Guatemala when international issues suddenly made that impossible. Less than three months later, a barely two lb baby was born to a birth mother who decided to place her daughter. I spent a whole month in the NICU holding her, feeding her, changing her… She got bigger and stronger every day. The Neonatologist told me that she was estimated to be 8 weeks premature, she had a traumatic delivery. Birth-mom had no prenatal treatment, and the baby's heart stopped while inside the womb and needed emergency resuscitation. We were to expect developmental and neurological complications.
Everyone that I met kept telling me, "Do you think that adopting this child is such a good idea. Biracial, neurologically damaged, & family history of mental illness?"
I said, "Hey, that's my kid your talking about. Btw, your kid just ate his own poop!"
I was so busy and overjoyed being a Mom, moving from FL to Boston with a 6 mo old, starting a new job, etc… I neglected my health. Boom! Type 2 diabetes. That is when I discovered a ketogenic diet, your books, recipes, etc.
To date, I lost over 100 lbs (and counting). I now five-year-old us better than normal. She reads and writes at THE FIRST GRADE level!  When I changed my diet, all of a sudden her interest in food changed towards the types of food that I ate. Her favorite is "Yum-tella waffles" from your combined cookbook.
My husband no longer needs statins and I am completely off my Diabetes meds!
I love the fact that we share soooo many common interests: kids, cooking, keto, exercise (I was a BIG athlete too).
Have a great day. Thank you for your blog & books!"
To get started on your transformation, click HERE. 
Migraines and Headaches
When clients come to me pleading for help eliminating migraines, I grin because to me it is an easy fix and I know they are going to feel wonderful soon. I have clients wanting me to help eliminate their chronic headaches and migraines all the time. I have lots of tips and tricks up my sleeve so when I started having headaches, I was puzzled. It all started when I decided to see if I were a candidate for LASIK eye surgery (which I am not). The clinic requires you to wear your glasses for a few days which my glasses are a bit weak, but I still wore them for the required time.
Once I heard the bad news that I was not a candidate since my eyes are just too bad (I'm a -11 prescription), I put my contacts back in. That day, my 3-year-old was being a typical 3-year-old and I blamed my headache on his behavior. But when the headaches continued for the next 3 days, I knew something was wrong. I went to the eye doctor and yep! I was over-prescribed. I was SO ecstatic to go down a 0.5 because that meant I could wear "night and day" contacts (the kind that you can wear for a month without taking out). They don't make "night and day" in a -11 but they do in a -10.5!!!
Anyway, my point is, there are numerous nutrition reasons for headaches and migraines but one thing that is often overlooked is our eyesight. So when nothing else is working, get your eyes checked! First off, you must drink half your body weight in ounces. Dehydration and not enough quality salt are the main causes of headaches. There are a few other major causes of severe headaches and migraines, and they all can be healed by a well-formulated keto-adapted diet as well as therapeutic doses of vitamins and minerals which you may be deficient in. If you need more help in eliminating migraines and headaches click HERE for a detailed supplement plan for only $25.
Read all about how to eliminate headaches and migraines in my new book Keto-Adapted.

If you would like to help out a small family, rather than a large business, I am happy to announce that you can now get my books as a high-quality ebook that works on any platform. Plus, most of the profits don't go to Amazon or apple!
Click HERE or select "My Books" above to get your copy now
!
Click HERE to get a limited edition of the Hard Cover.
Thank you all for your love and support!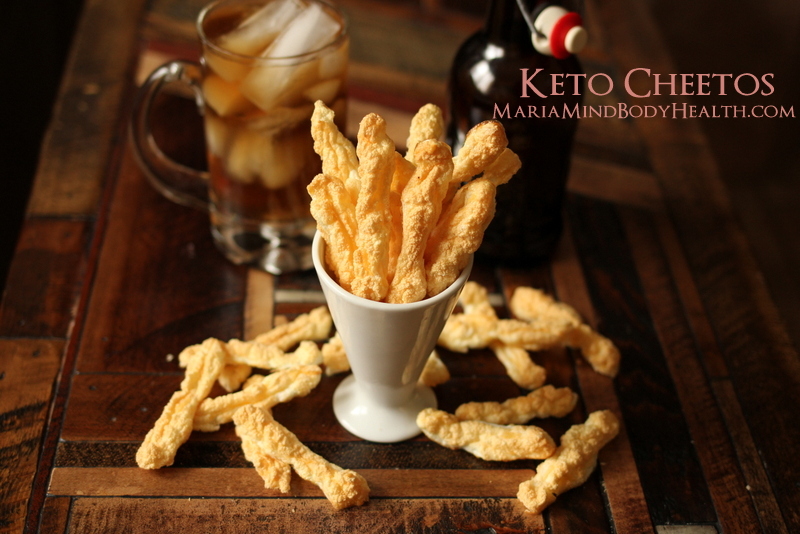 "HEALTHIFIED" CHEETOS
3 egg whites
1/8 tsp cream of tartar
1/2 cup freshly shredded cheddar cheese (frozen)
Parmesan cheese (if desired)
Preheat oven to 300 degrees. Put the frozen cheese in a food processor/blender and chop, until it's in tiny little pieces.
In a mixing bowl, whip the whites with cream of tartar until VERY stiff peaks form. Sprinkle the chopped cheese, on top of the egg whites. Then, with a rubber spatula, fold the cheese into the egg whites, VERY CAREFULLY, being careful not to disturb the fluffy whites, but thoroughly spread the cheese, throughout.
Carefully place the mixture into a large Ziplock baggie, cut a ½ inch hole in the corner of the baggie. Gently squeeze onto cookie sheet in CHEETO-like shapes. I would suggest using a sheet of parchment baking paper, to line your pan, but if you don't…grease the pan. Lightly sprinkle grated parmesan cheese, on top of each puff.
Bake at 300 degrees, for 20-30 minutes. The longer you can bake them (without them getting too brown), the crispier they will be. For even crispier puffs, turn off the oven, and leave them in the oven for at least 30-minutes. Store in a tightly sealed, air-tight container. Makes 6 servings.
NUTRITIONAL COMPARISON (per serving)
Store-Bought Cheetos = 150 calories, 10g fat, 2g protein, 13g carbs, 0.5g fiber (12.5g effective carbs)
"Healthified" Cheetos = 46 calories, 3.1g fat, 4.2g protein, trace carbs, 0g fiber (0g effective carbs)