Carnivore Gravy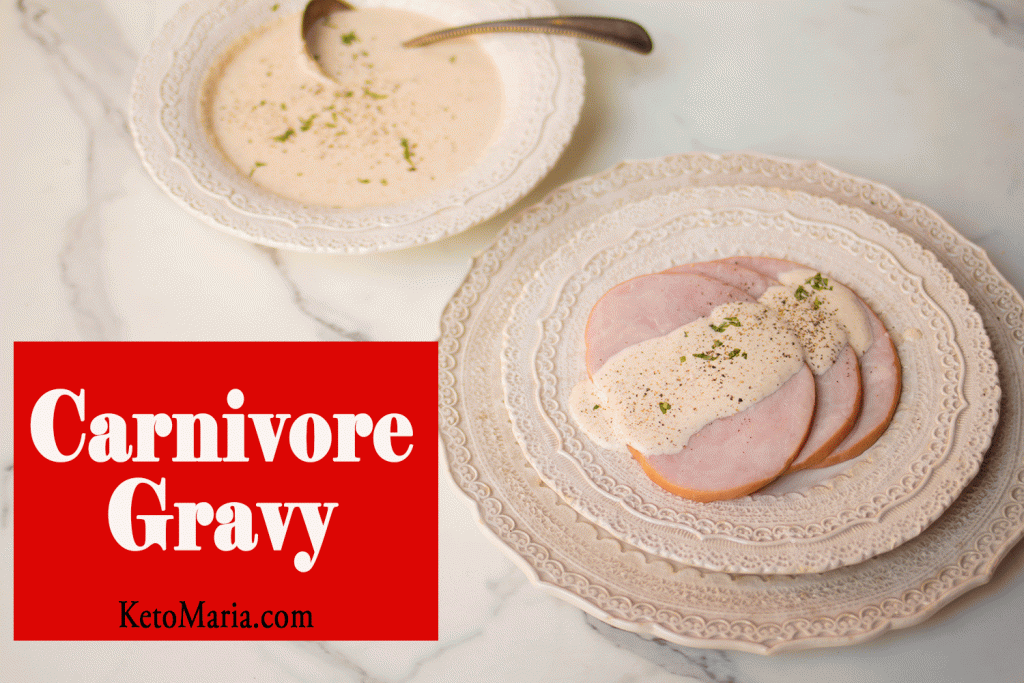 If you are a carnivore and crave gravy, I have a perfect recipe for you!
My Carnivore Gravy tastes delicious over Thanksgiving turkey, Christmas ham or my carnivore biscuits (click HERE to find)!
Seriously my friends! This is the best gravy!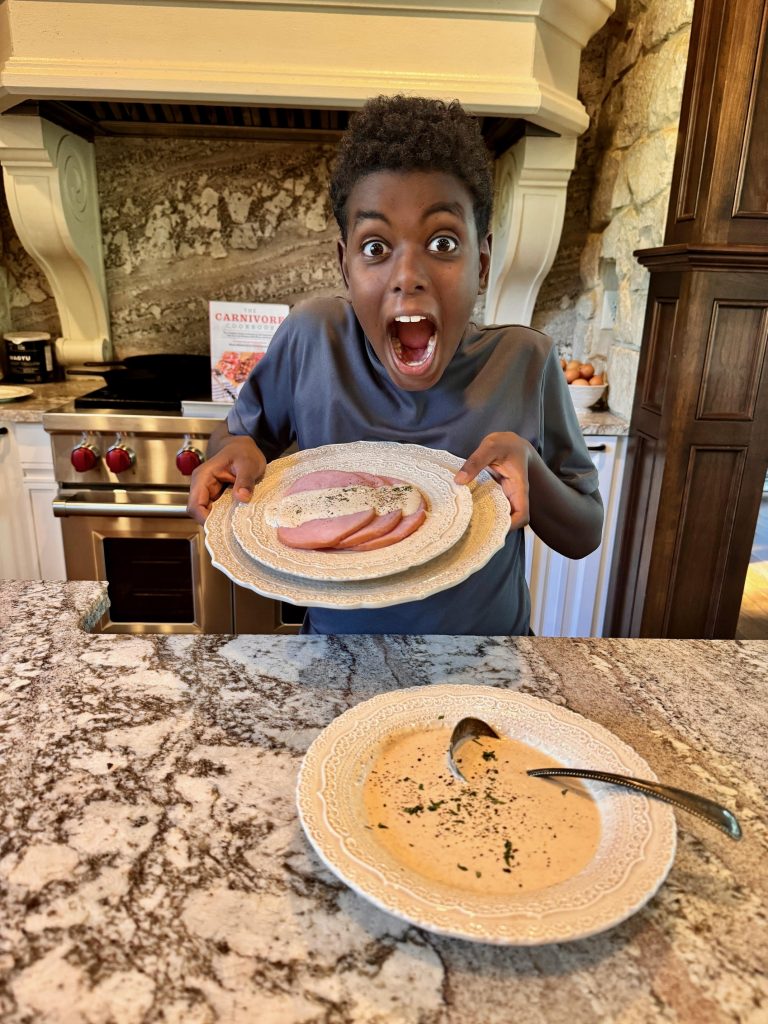 HOW TO MAKE CARNIVORE GRAVY
To make my carnivore gravy, I used Further Food gelatin!
My recipe is a carnivore version of the very popular egg gravy recipe. Egg gravy uses flour, milk, and eggs but instead of flour, I used Further Food gelatin as a binder!
I love using gelatin in recipes! Gelatin helps create collagen which is a great carnivore pre-biotic for the gut!
Further Food is so generous, you save when you use code MariaMindBody!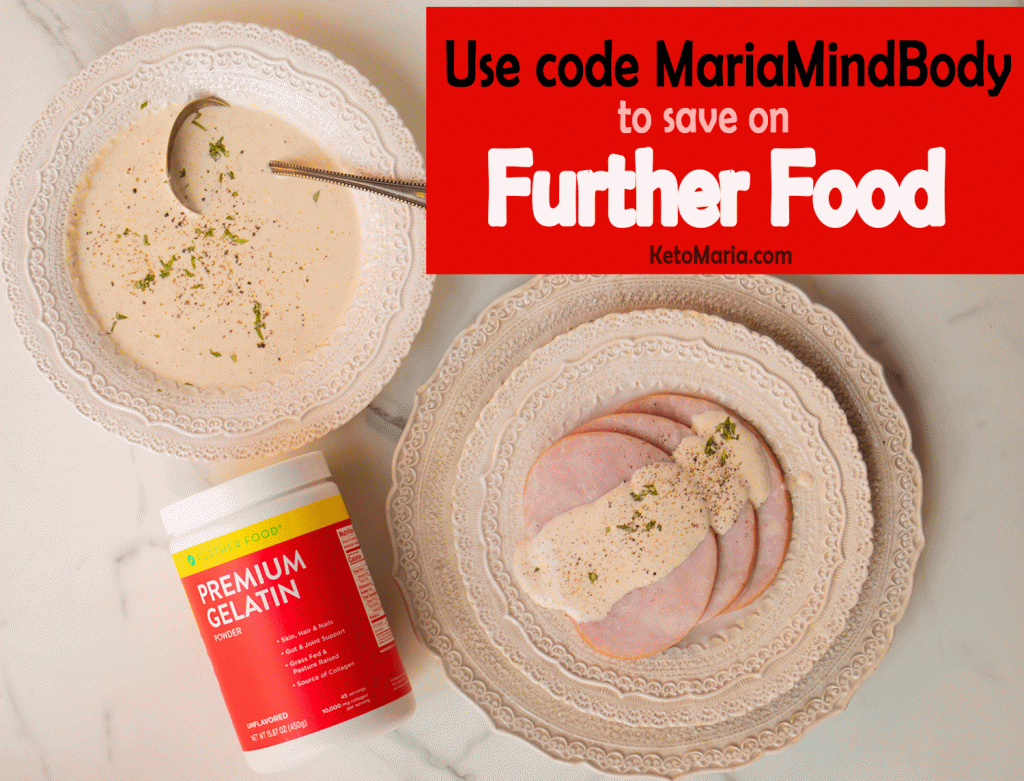 Carnivore Gravy
Ingredients
OPTIONAL GARNISH:
Fresh parsley or chives

chopped
Instructions
Place the bacon into a large skillet and cook over medium high heat for 5 minutes or until bacon is crisp. Remove bacon from the skillet while leaving the drippings. Set the bacon onto a plate lined with a paper towel. Crumble the bacon and set aside.

Add 1 teaspoon gelatin to the bacon grease. Stir and let dissolve over med low heat for about 1 minute.

In a large bowl, beat the eggs and add cream (and broth if using), softened cream cheese, salt and pepper. Mix well then slowly pour into the bacon grease mixture. Heat slowly till thick, stirring constantly. NOTE: if it separates, place into a blender or use a stick blender to puree until smooth. I put mine in a blender and we loved the texture better!

Add crumbled bacon. Serve over turkey, ham, protein sparing bread toast or my carnivore biscuits!
Nutrition
Calories:
145
|
Fat:
13.3
g
|
Protein:
4
g
|
Carbohydrates:
1.1
g
|
Fiber:
0.1
g
|
P:E Ratio:
0.3
TESTIMONY OF THE DAY
Doesn't Amy look AMAZING? I am SO proud of her
"Today is a very important day for me. I hit just under my goal weight of 160 lbs.

5 years ago when I decided to embark on this health journey it was the best decision I have ever made.

I have been able to not only lose weight, improve my asthma, heal joint, spine and hip pain, get off of gabapentin for pain, anti-depressants, high blood pressure medicine.

The girl in the left picture was in so much hip pain and was getting ready to go into 2 consecutive hip surgeries it was necessary to do something. At one point I could barely walk.

I will never let myself be that way again. Little did I know how easy it was once you got started and how many different diseases it would heal. The best part is that I have inspired others and they have lost tremendous amounts of weight along with me!

I have never felt better. I feel happier and healthier at 47 than I did at 35.

This truly is the best gift one can give themselves!

Thank you Craig and Maria Emmerich for the wonderful recipes, advice, teaching me about Keto, PSMF, and fasting. I couldn't have done this without you!" -Amy
Most people I consult are doing keto totally wrong. Get fast results with the my Mind-blowing Keto School!