Testimonies of the Day
HAQ Supplement Testimony: "Some of the benefits from working out everyday and eating the Maria way.. my bad back and joint issues are pretty much gone.   I was so afraid of how bad my back would be on the cruise sleeping in the beds there.  I did not have one problem!!!  Amazing! Also, just raked leaves for 2 hours at my house this weekend.   That would usually lead me to the chiropractor and medication and hot/cold packs for a week….not this time.   Only required me to do some extra stretching of my low back!!    WOW!  Looking forward to a healthier future!!" – Mary Jo
30 Day Accelerated HAIR GROWTH Testimony: "I got compliments on my HAIR today at work. There is NEW hair growth, it's not as lifeless. I laugh now and feel happy. I'm firing on all cylinders for the first time in I don't know when, I'm losing weight and have energy but most important my mood is the best it's been in, forever. It took such a huge leap of faith to buy your services. I've been down the rabbit hole so many times I could cry! I went off the HCG early to start your program and boy, I am glad I did. Now I eat and feel full. I feel awake when I should feel awake and sleep great when I need to. Today my time of the month came and NO pms which was awesome.  It dawned on me when I was at the grocery store the other day buying Kerry gold butter for bullet proof coffee, I thought to myself, wow….I don't need or want half of this stuff in here anymore!! That was a strange feeling. I'm about to buy a 1/4 of a cow from a farmer, I need more j robb and swerve. I'm looking for a new farm to buy fresh eggs. I really like this and feel like the recipes you supply are enough for me to sustain on and be happy with.I think people at work are wondering why I'm so chipper and laughing a lot too. Haha" – Donna
I LOVE this Photo TESTIMONY: "Second round of the 30 day accelerated diet. After working all day, went for a 5 mile sunset paddle. Full of energy and feeling great!" Christie
To get started on your path to health and healing, click HERE. I'd be honored to help you too!
SENSORY SPECIFIC SATIETY
When do you find yourself over-eating? When you have a plate filled with the same thing or at a buffet or potluck when you have a plate filled with a variety of flavors? When you eat for pleasure, rather than out of hunger, it can signal our brain to want that hedonistic experience more and more. But when you limit your flavor options, the brain gets bored and tells your body to stop sooner than it would if you switch flavor profiles.
The clients I deal with who tend to overeat often develop the same patterns of neural activity in reward areas as drug addicts do. Eating high carbohydrate foods, sugar and gluten can lead to cycles of craving and withdrawal.
I'm sure that you have heard the advice to eat slowly so your body has a chance to sense when it is full but that takes at least 20 minutes, which is far longer than we typically spend on a meal. Sensory-Specific Satiety happens a lot sooner, in minutes or even a few bite.
Sensory-Specific Satiety is processed in the orbitofrontal cortex, a region of the brain just behind the brow involved in sensory integration, reward processing and decision making. Neurons in that region respond strongly when we first taste a food, and the response gets weaker with each subsequent bite. When a different food is introduced, neuron activity jumps back to the high initial levels, instigating a response that can spur us to eat more even if we are full, as long as the next bite has a radically different sensory profile than what we had previously eaten. In other words, there is always room for dessert.
TAKE AWAY TIPS:
1.  Limit your choices during a meal: Don't fill your plate with 3 or 4 options. Stick to 1 or 2. A main dish and a side.
2. ADD more flavor!: Intense flavors help to exhaust the brain to help decrease gluttony. The flavor profile of the food you eat makes a dramatic difference in how much of it you want in one sitting. People reach this type of satiety much more quickly when they eat foods that have complex, intense or unfamiliar flavors, as opposed to mild or one-note taste profiles.
3.  Increase Dopamine: Another risk factor for binging is having overindulged in the past. Once you have binged, that habit triggers more of the same behavior.  When someone binges, there are fewer receptors for the neurotransmitter dopamine, which signals pleasure, in the striatum, a brain area activated by rewarding stimuli. Fewer receptors suggest a lowered sensitivity to a substance such as food, an effect that may motivate an animal to consume more to get the same "high." Similar decreases in dopamine receptors are seen in overweight people, as well as rodents and humans addicted to cocaine and heroin. How do you increase dopamine? Certain supplements and amino acids help a lot. I can certainly help with a consult if needed.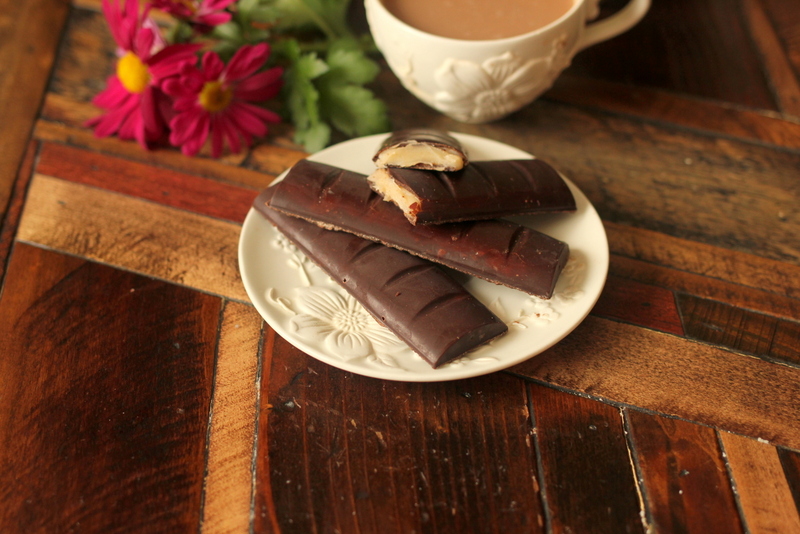 Caramello Candy Bar
Ingredients
1

cup

Natural Sweetener

6

TBS

organic butter

1/2

cup

organic heavy whipping cream

WHITE CHOCOLATE BAR:

2

oz

cocoa butter

1/3

cup

Natural Sweetener

1

tsp

vanilla

OR <g class="gr_ gr_178 gr-alert gr_gramm gr_inline_cards gr_run_anim Grammar multiReplace" id="178" data-gr-id="178">other extract</g> like MINT

1/8

tsp

Redmond Real salt

MILK CHOCOLATE BAR:

Add 1/4 oz unsweetened baking chocolate

DARK CHOCOLATE BAR:

Add 1/2 to 1 oz unsweetened baking chocolate

depending on how dark you like it
Instructions
Before you begin, make sure you have everything ready to go - the cream and the butter next to the pan, ready to put in. If you don't work fast, the sweetener will burn. Heat butter on high heat in a heavy-bottomed 2-quart or 3-quart saucepan. As soon as it comes to a boil, watch for specks of brown (this is brown butter....SO GOOD on veggies!). Immediately add the Swerve and the cream to the pan. Whisk until caramel sauce is smooth. Let cool in the pan for a couple minutes, then pour into a glass mason jar and let sit to cool to room temperature. Store in the refrigerator for up to 2 weeks.

Place cocoa butter in a double boiler and heat on medium high until fully melted (or <g class="gr_ gr_137 gr-alert gr_spell gr_inline_cards gr_run_anim ContextualSpelling ins-del multiReplace" id="137" data-gr-id="137">microwave safe</g> bowl and heat on high for one minute, check and heat for 30 seconds until melted). Melting cocoa butter takes longer than traditional fats.

Stir in natural sweetener.

Stir in extracts and salt.

Place melted chocolate into candy bar mold, enough <g class="gr_ gr_151 gr-alert gr_spell gr_inline_cards gr_run_anim ContextualSpelling only-del replaceWithoutSep" id="151" data-gr-id="151">to to</g> cover the bottom and sides, and cool in <g class="gr_ gr_149 gr-alert gr_gramm gr_inline_cards gr_run_anim Grammar only-ins replaceWithoutSep" id="149" data-gr-id="149">refrigerator</g> until white chocolate is solid, about an hour. Or the speedy method; you can place the molds in a freezer <g class="gr_ gr_150 gr-alert gr_gramm gr_inline_cards gr_run_anim Grammar multiReplace" id="150" data-gr-id="150">till</g> they are set up, which will only take a couple of minutes versus <g class="gr_ gr_138 gr-alert gr_spell gr_inline_cards gr_run_anim ContextualSpelling ins-del" id="138" data-gr-id="138">and</g> hour.

Once cool, fill the divots with caramel and set in freezer to set.

Once the caramel is set, remove from freezer and cover with additional melted chocolate.
Notes
NUTRITIONAL COMPARISON (per serving)
Traditional Caramello = 139 calories, 8.1g fat, 0.8g protein, 16g carbs
"Healthified" Caramello = 98 calories, 8.1g fat, 0.8g protein, 2.1g carbs
(83% fat, 5% protein, 12% carbs)
NEW COMBINED COOKBOOK!
I am happy to announce my new combined cookbook! This is a collection from The Art of Healthy Eating series (Savory, Sweets and Kids). Those three books retail for $75 ($25 each).  This combined book is not only a durable hardcover that will last a lifetime, it is only $29.99!!
Many of the photos are new and updated too!
Thank you so much for your love and support!