Butterfinger Bars 
TESTIMONY OF THE DAY
30 Day Keto Advanced Testimony: "Good morning Maria! I just wanted to check
in and say hi and tell you that I am loving all the keto advanced recipes..:) I am eating eggs and bacon as I write this with your hollandaise sauce  So I think I am of the 1% that won't loose the weight till later…I have more energy, no PMS symptoms at all and though the scale says I have only lost 3 pounds in almost 3 weeks, I feel totally different..the biggest gift is my blood sugar has totally regulated! Morning or night its 84-86..this is amazing..used to be 130's." – Heidi
To get started
on your path to health and healing, click HERE. I'd be honored to help you too!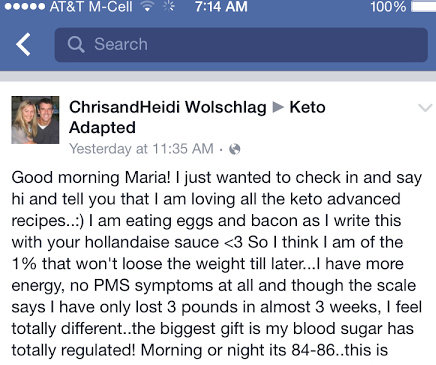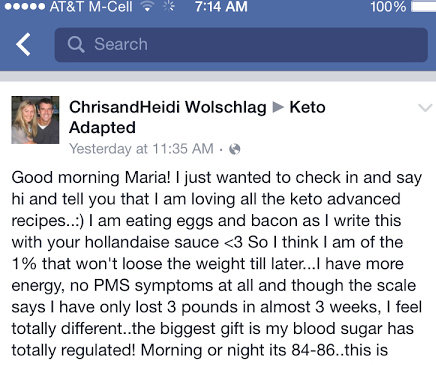 BUTTERFINGER BARS
If I owned a large corporation I would have my employees play outside during the day. I always have the best ideas when I am 'meditating' in nature! As I was kayaking the other day I was thinking of what other recipes I could do with the ever popular Crispy Fat Bombs I have been making and I BAM! It came to me! BUTTERFINGER BARS!
Yep, they really are as good as they sound!
I thought about making them really cute candy bar shaped, but doing it this way made them super easy! All you have to do is dump the filling into a container and spread the chocolate over the top!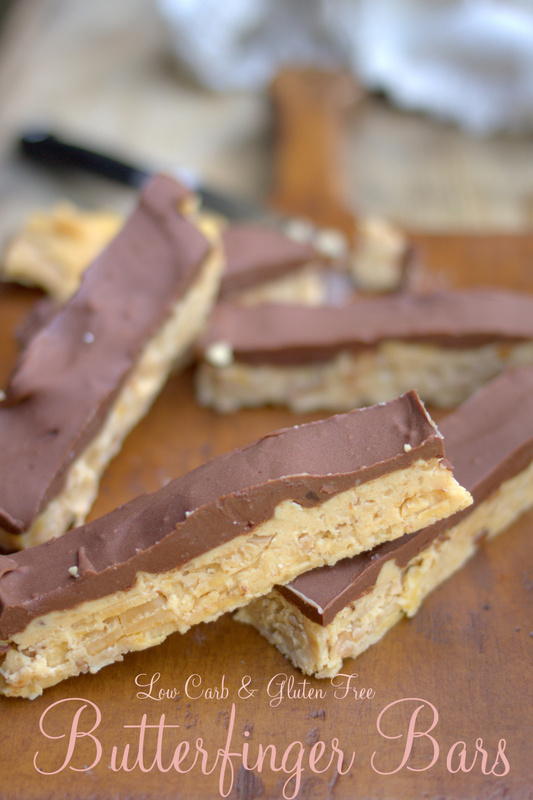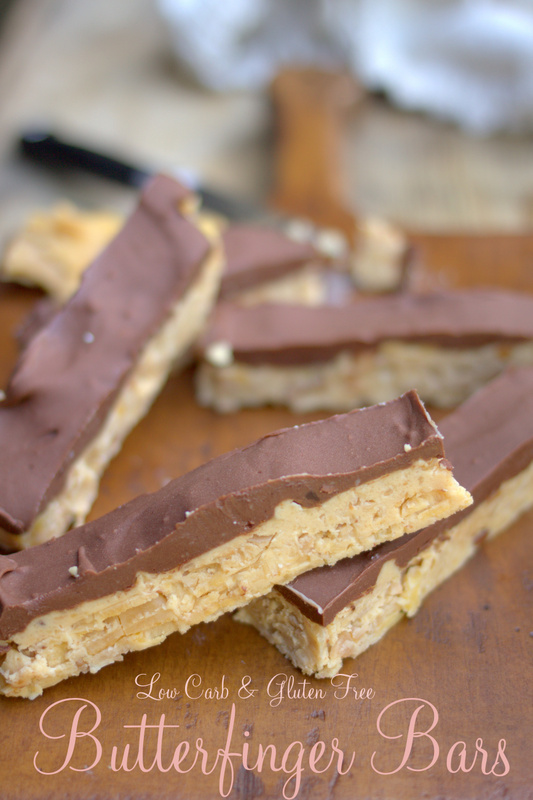 Next on the list… BUTTERFINGER BLIZZARD and I am baking a BUTTERFINGER CHEESECAKE as I write!
Here to good eating!

Butterfinger Bars

Ingredients
CRUNCHY INSIDE:
1 cup Swerve confectioners
2 teaspoonsbutterscotch extract
3 tablespoons coconut oil
NOUGAT:
¼ cup butter (or coconut oil)
¼ cup Swerve confectioners (or erythritol )
1 tsp stevia glycerite (optional)
¼ cup cream cheese
¼ cup natural peanut butter
1 tsp vanilla
CHOCOLATE COATING:
6 TBS butter (or coconut oil)
4 TBS unsweetened cocoa powder
4 TBS of Swerve confectioner
1 teaspoon stevia glycerite
1 teaspoon vanilla extract
⅛ teaspoon fine ground sea salt
Instructions
CRUNCHY INSIDE: Preheat the oven to 350°F. Line a rimmed baking sheet with parchment paper.
Combine the natural sweetener, extracts and coconut oil with a fork until small crumbs form.
Place on the baking sheet and spread into a thin sheet. Bake for 12 to 15 minutes. Remove from the oven and allow to cool completely.
The candy hardens as it cools. Once cool, crush into tiny bits.
NOUGAT: Meanwhile make the nougat. In a heat safe medium bowl place ¼ cup of butter, ¼ cup sweetener and stevia if using, cream cheese, ¼ cup natural peanut butter, 1 tsp vanilla and heat until soft and stir able (I heated in microwave for 1 minute). Stir until well combined.
Add the nugget to the tiny bits of crispy fat bomb. Stir well. Pour into a 4 x 4 inch glass Tupperware container lined with Parchment paper. Smooth over the top. Place in fridge to set.
CHOCOLATE COATING: Make the chocolate coating by melting coconut oil over low heat. Stir in chocolate, natural sweeteners, extracts and salt until completely melted.
Once the nugget is cool spread the chocolate over the top. Place back in fridge to set. Cut into bars and enjoy!
Notes
NUTRITIONAL COMPARISON (per serving)
Traditional Butterfinger = 275 calories, 11g fat, 3.2g protein, 44g carbs
"Healthified" Butterfinger = 254 calories, 26.4g fat, 3.7g protein, 3.2g carbs
(91% fat, 5% protein, 4% carbs)