Butter Pecan Trifle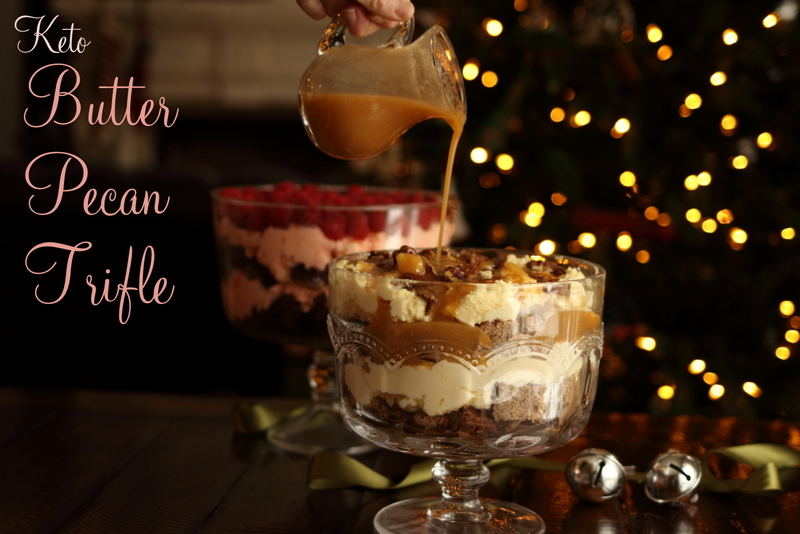 Many of you know this already, but it is Craig's birthday on Christmas Day! I've always tried to make it special and I have even celebrated on his half birthday! I always tell him that he is lucky because he always gets off work on his birthday! That's not necessarily true anymore because we work just about everyday, but we love it!
Anyway, I always make a few keto desserts to bring to our family's Christmas celebrations and this year I'm making trifles! I love Trifles for many reasons!  For one, I love the creamy filling more than cake! And a keto trifle is just one excuse to have more filling!
I also love trifles because they hide mistakes or cakes that stick to the pan and come out not as pretty as you were hoping!
My boys helped me make this Butter Pecan Trifle because I feel it is important to teach them to celebrate their father's birthday and make something special for him. While we made this trifle, we were also making my flourless chocolate torte into a chocolate raspberry trifle. My boys love to crack eggs and I had Kai crack eggs into a bowl for one trifle and Micah crack eggs into a bowl for the other trifle… well, both bowls of eggs ended up in the Chocolate Raspberry Trifle! Instead of getting upset, I added a touch of ingredients and baked it anyway! It worked great for the trifle!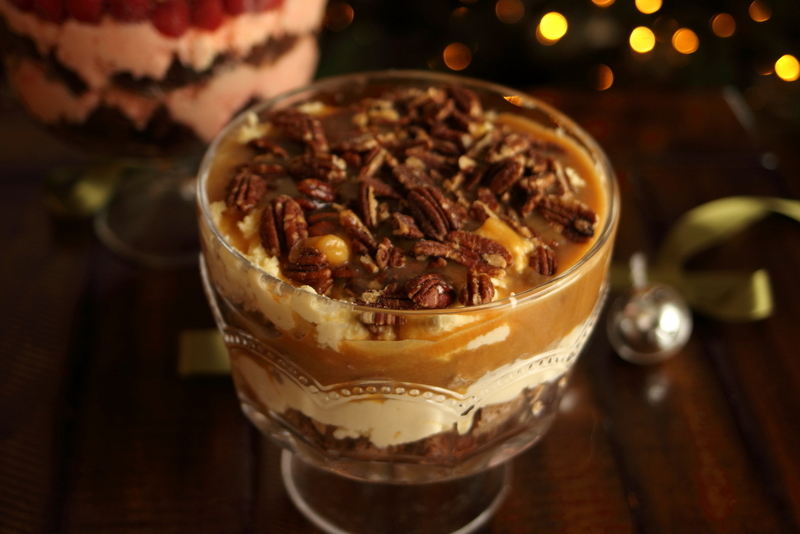 Butter Pecan Trifle
Ingredients
CAKE:

3/4

cup

butter

softened

5

oz

cream cheese

softened (or Kite Hill cream cheese spread if dairy allergy)

4

large eggs

2

cups

pecan meal

3/4

cup

erythritol

1

tsp

stevia glycerite

1/2

tsp

Redmond Real salt

1/4

tsp

baking powder

1

TBS

vanilla extract

1/2

cup

chopped pecans

FILLING:

2

cups

heavy cream

or my dairy free cream, click HERE

1

8 ounce package cream cheese (or Kite Hill cream cheese spread if dairy free)

1/2

cup

Natural Sweetener

or equivalent

OPTIONAL:1 teaspoon English Toffee Better Stevia

1

teaspoonsbutterscotch extract

or vanilla

OPTIONAL CARAMEL LAYER

click HERE

GARNISH:

Chopped Pecans
Instructions
Preheat oven to 350 degrees. Grease an 8" by 8" pan with coconut oil, or spray with coconut oil cooking spray. Place a cut square of parchment paper in the bottom of the pan.

Place the butter in a small saucepan over medium-high heat. Stirring often, heat until the butter foams up and brown (but not black!) flecks appear. Remove from the heat and allow to cool a bit. This brown butter creates a caramel-like flavor to the cake.

Place brown butter into a large bowl and use a hand mixer to beat in softened cream cheese with until smooth. Add the natural sweetener. Whisk together dry ingredients. Add eggs one at a time to cream cheese mixture, and beat until smooth. Add dry ingredients and vanilla. Fold in nuts. Pour mixture into prepared pan, and smooth top with a spatula. Bake at 350 degrees for 45 minutes until toothpick inserted in center comes out clean, and top feels firm to the touch. When done, place pan on wire rack and cool completely. Cool cake overnight in the refrigerator.

Meanwhile make the filling and the caramel. Place the heavy cream into a large bowl (or blender) and beat with a hand mixer until stiff peaks form. Add the softened cream cheese and sweetener. Add the extract. Taste and adjust sweetness to your liking. Set aside.

To make the caramel layer if using, click HERE.

Cut the cake into one inch pieces and place 1/2 of the cake pieces into a large trifle bowl. Place 1/2 of the cream cheese layer on top of the cake slices. Top with a layer of caramel if using. Then repeat layers one more time. Top with a garnish of crushed pecans. Place in the fridge until ready to serve.
Notes
Nutritional Information:
297 calories, 30g fat, 4g protein, 3g carbs, 1g fiber
TESTIMONY OF THE DAY
I'm so blessed to meet people like Mona! She came to my book signing in Michigan and sent this amazing testimony to me!
"I wanted to thank you for the inspiring talk that you gave at the Ann Arbor, MI book signing!  I've been grain free and sugar free for five and a half years and love eating Maria's recipes! 
I've lost 185 pounds from my high weight of 310 pounds but this year I started regaining a few pounds back.  I saw a quote my Dr. Ted Naiman this year about eating less dietary fat…lightbulb moment.  Then read information on the Fat Flux from your new Keto book. Thank you for giving me new direction on my lifelong journey to good health!
I had more than 17 but some took longer to resolve:
High blood pressure
Blood sugar issues
Rosacea 
Sacroiliac Joint pain
Skin infections 
Arthritis 
Body odor (never would have guessed it was sugar causing my foot odor!)
Plantar fasciitis 
Acid reflux
Sinus congestion 
Headaches
Indigestion 
Bloating 
IBS
Asthma 
Fatigue 
Depression (I was at a very dark point in my life.  I didn't know what to do to help my situation.  Maybe that is why I was so open to change.  I am forever grateful.)
I remember after those first few days thinking that something was "wrong" with me because I couldn't hear any noise in my belly.  Then it dawned on me that my tummy was supposed to be quiet!! 🙂
Over the next few months I felt well enough to start physical therapy for my SI joint pain.  I worked very hard to correct my anterior pelvic tilt, bad posture and muscle imbalances.  I asked lots of questions so I could learn how to move my body again.
I was finally diagnosed with Hashimotos in 2014 and learned that grains were likely my biggest trigger.  I still need to find my other triggers…likely dairy.
This was me in 2016 posing with my size 32 jeans.  I now wear a size 4." – Mona
Most people I consult are doing keto totally wrong. Get fast results with the my NEW Keto School!