Butter Mayo
I was nominated to be the BEST CHEF and I am in 2nd place!
You can vote daily!
 Thank you!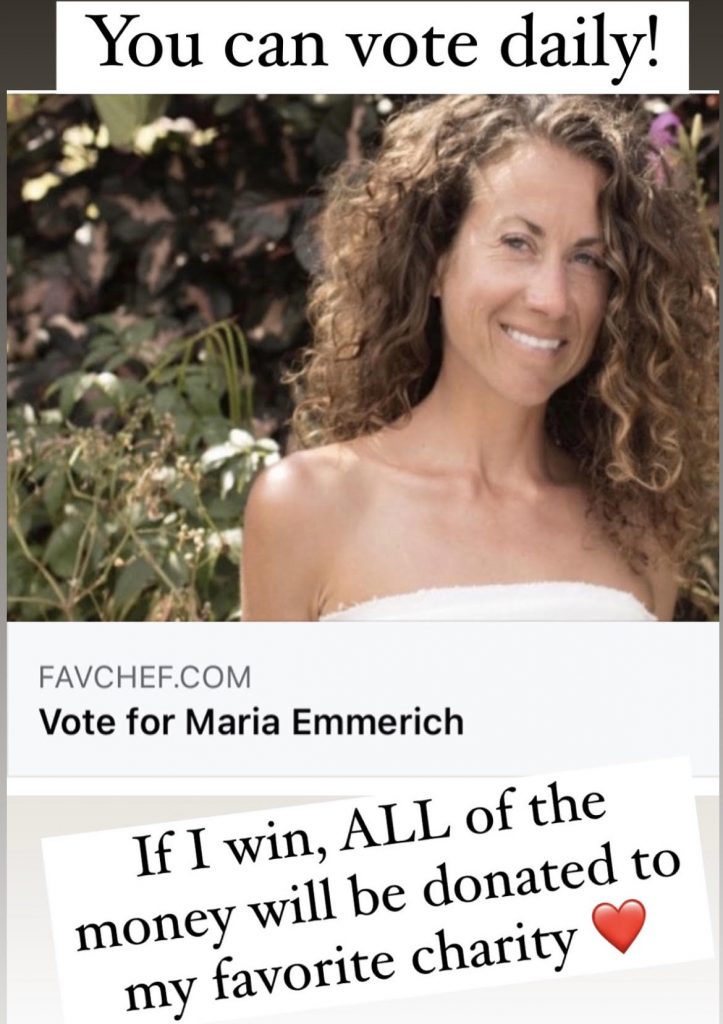 HOW BUTTER MAYO HAPPENED
Most of you know that I LOVE sauces! Sauces can take a boring meal up to a delicious party in your mouth!
I have always wanted to own a keto restaurant and this past February, I felt like I owned one! I was a chef on a television show in Costa Rica and I cooked from 7:30am until 10pm! Almost all day, I cooked, prepped for meals and had to adapt meals on the fly for vegetarians. It was extremely hard work but I LOVED every minute of it!
We even spent a little time at an orphanage which was extremely emotional for me.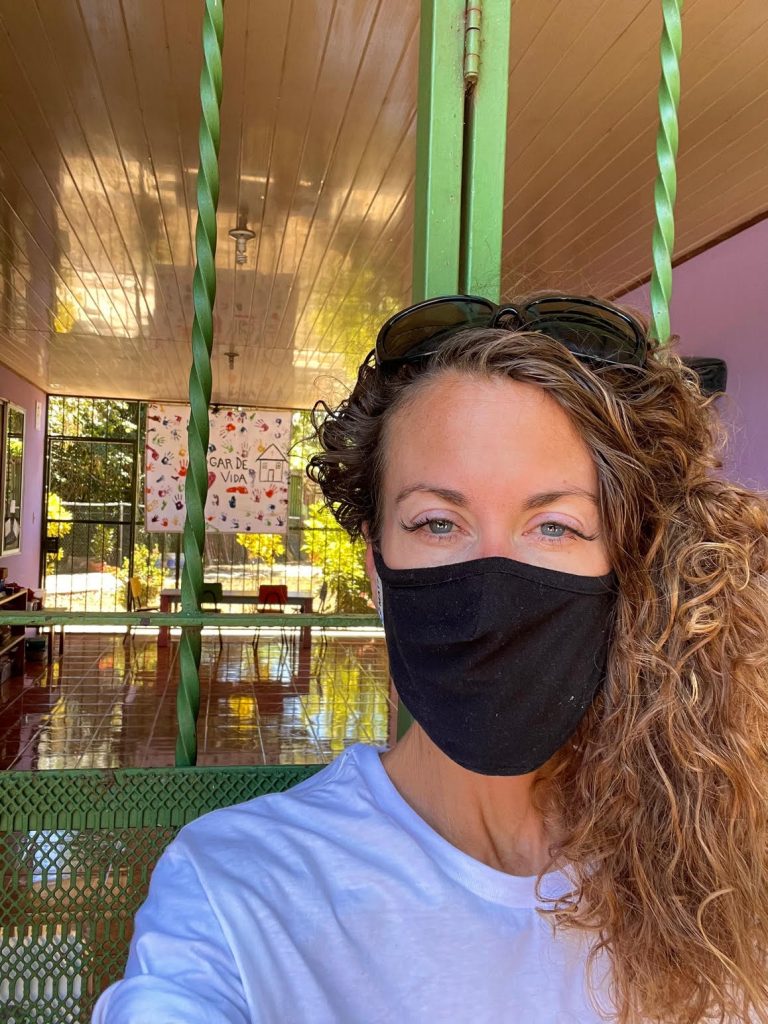 For the television show, I was constantly making a variety of sauces to go with the meals. One of them was butter mayo. My butter mayo happened by accident!
I do not know Spanish very well so when I had to grocery shop for the show, it was quite an adventure! I didn't get half the ingredients I wanted but I'm really flexible and changed the menu to what I had available.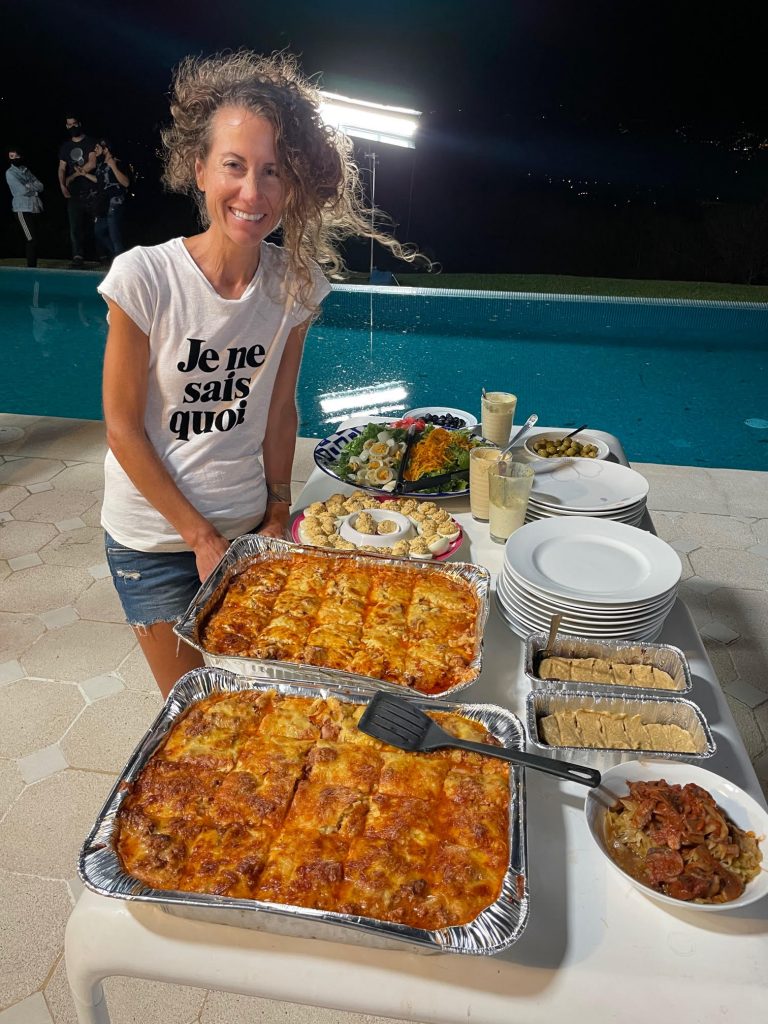 Another issue that happened on the television show is that Costa Rica customs did not allow the sponsor's food items to be released. We were unaware of this when I first arrived in Costa Rica. As I grocery shopped, I did not buy salt because Redmond Real Salt was a sponsor and had a huge shipment sent; nor did I buy seasonings, natural sweetener, pork rinds or oils because the tv show had sponsors that sent a lot of product to feature on the show.
The first night that the crew and cast got together, I cooked without salt, seasonings, oil or butter! I didn't have butter because I accidentally bought margarine! It was a nightmare but everyone loved the food! I found other ways to get in flavor; including BACON for salt!
Don't worry, we returned the margarine and bought a lot of butter!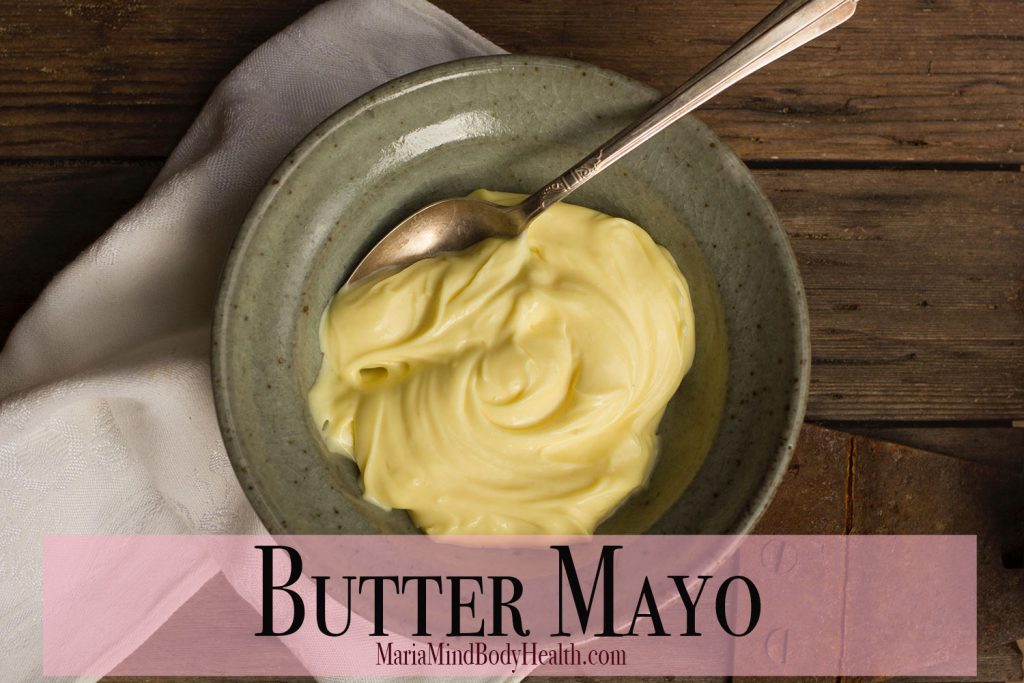 On the show I made a LOT of deviled eggs! Everyone loves deviled eggs and they are vegetarian which was nice to have offered for those who didn't eat meat. I had to improvise because I didn't have an immersion blender nor a whisk which makes making mayo quite difficult!
I like to make mayo with macadamia nut oil but all I had in the pantry was olive oil which can create a very strong flavor in a mayo.
Instead of using olive oil to make the mayo, I used BUTTER! Butter Mayo has the most amazing flavor and tastes great on everything; especially steak!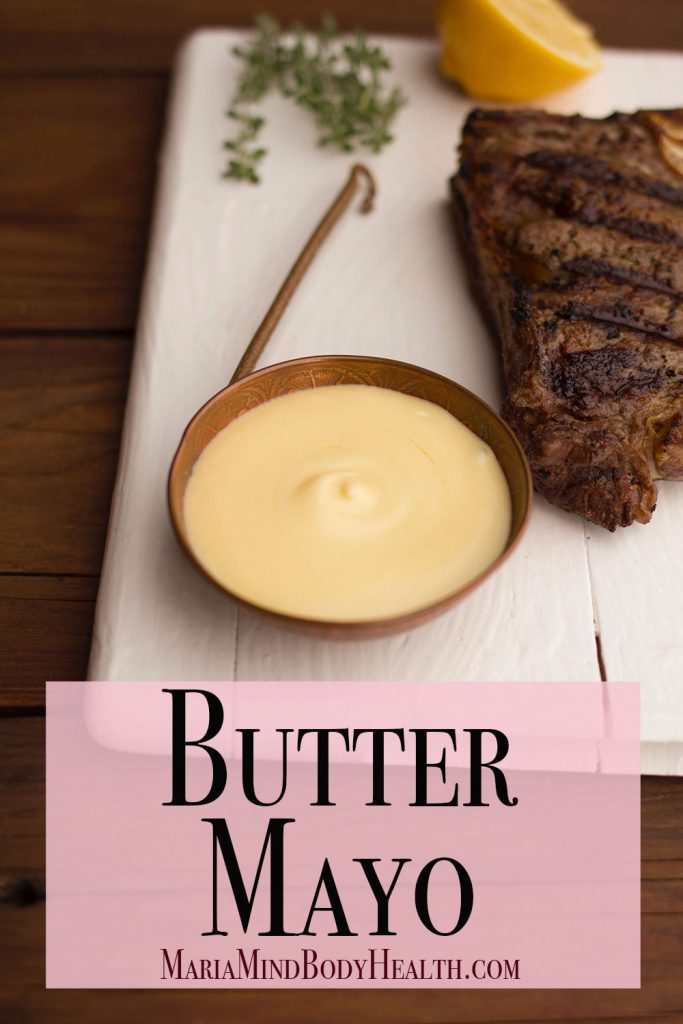 Everyone devoured my Butter Mayo deviled eggs and couldn't get over how delicious they were! They all wanted to know my secret! I told them I used Butter Mayo! They all were intrigued and asked what butter mayo was so I showed them!
I highly suggest trying my butter mayo recipe! It is divine!
Actually, I loved being the chef so much that if you want me to be your private keto chef for an event or vacation, message me at Support@keto-adapted.com for pricing.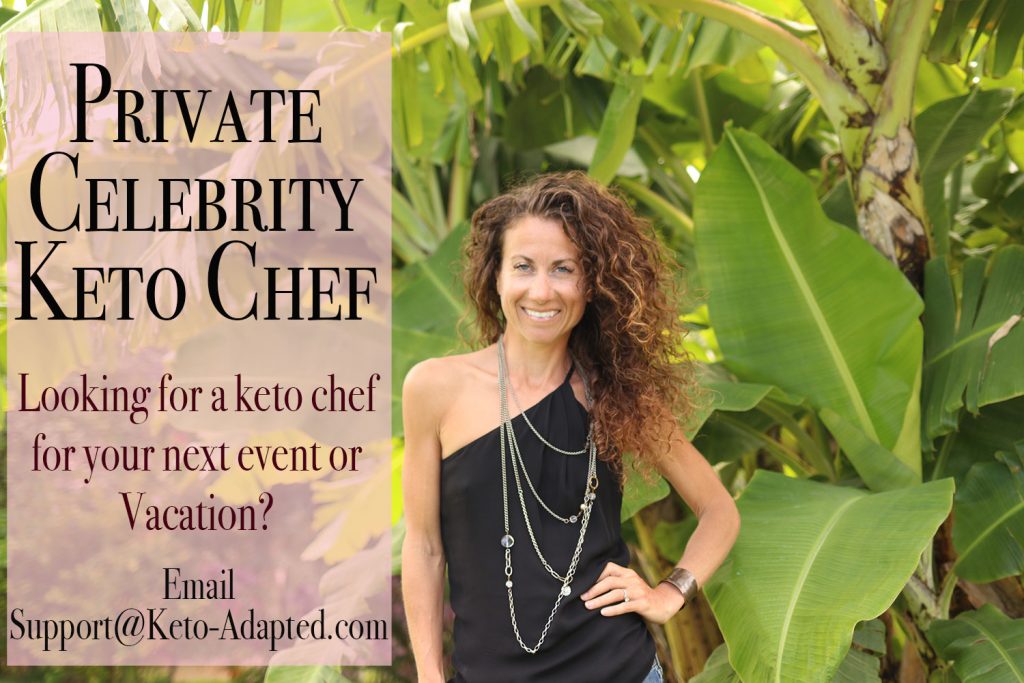 Butter Mayo
Equipment
Ingredients
1

large

egg

2

teaspoons

lemon juice

1

tablespoon

Dijon mustard

½

teaspoon

Redmond Real salt

1

cup

butter

melted (I recommend RAW Farms Dairy, click HERE and use code MARIA20 for 20%off)

beef broth

or water, to thin (Optional)
Instructions
Place the egg, lemon juice, mustard and salt in a wide-mouth, pint-sized mason jar.

Heat the butter until warm and melted.

Place the immersion blender at the bottom of the jar. Turn the blender on and very slowly add the melted butter while moving the blender to the top. Be patient!

Moving the blender slowly is key to getting the mayonnaise to emulsify. Voilà! Simple butter mayo!

Place in the fridge and allow to chill. If the butter mayo is too thick for your liking, add a tablespoon of beef broth or water and stir to combine well.

Store in the fridge for up to 5 days. Makes the best deviled eggs!
Nutrition
Calories:
92
|
Fat:
10
g
|
Protein:
0.3
g
|
Carbohydrates:
0
g
|
Fiber:
0
g
|
P:E Ratio:
0
TESTIMONY OF THE DAY
"Left is  taken with my daughter who got me started on Keto) one year ago..wt 170. Right today..wt 133. Not at my goal yet (8lbs to go) not bad for a 70 year old!!!" -Marty
I would like to add that my Doctor took away my diabetes meds, my high blood pressure meds, my cholesterol meds and my kidney function went from 33% to 50%! I have labs tomorrow and am anxious for results!!! Thanks to God for the Emmerich family!!"
Most people I consult are doing keto totally wrong. Get fast results with the my NEW Keto Packages!