Testimony of the Day
"Hi Maria, I have read ALL the diet books, I've done LOTS of different diets, LOTS. I understood each diet's CONCEPTS, but never understood the science UNTIL I met Maria Emmerich! I was eating arugula, spinach, strawberries, blueberries, Ezekial bread, nuts and seeds and on and on, you name it, if we were suppose to eat it, I ate it, including grass fed grass finished beef and I still couldn't keep the weight off! I could lose weight but I have never been able to maintain it. AND, I would never lose everything I needed to lose.
Now I understand some of the science thanks to Maria, and what IS affecting my chemistry, and I will continue to be a STUDENT with her daily BLOG'S etc.! Before I had a consultation and worked with Maria for 6 weeks, I had been introduced to Maria's BLOG by an acquaintance almost a year prior. I read, read, read her BLOGS etc. and also bought ALL of her books except the children's one at that time. That was a year ago. I started to incorporate her recommendations in to my life, food wise, and even some of the supplements she recommends, and I actually still wasn't loosing. I mentioned this to the acquaintance who introduced me to Maria's BLOG and she theorized that maybe there is something, supplement wise, that Maria could zero in on that would help me loose and maintain, or that maybe I am still doing something wrong, meaning eating something wrong.
WELL, after working with Maria for 6 weeks I think she has zero'd in on the culprit, dairy!!!! Also, I was, occasionally, eating the Trader Joe's sprouted grain bread, so between that and the occasional dairy, we are on to something VERY important for me. I am only getting detailed and personal to help you understand that Maria KNOWS HER STUFF! Maria is exactly what I have been looking for, someone who could/would/and did tailor her services to ME, and for ME! Getting back to ALL the books I have read and diets I have done, I have never read one or talked to anyone who can and does explain the science like Maria does, plus I understand it at the same time!!
I am just mad that I didn't hear about Maria sooner because it could have saved me a lot of money and time AND wear and tear on my body!!! Do what she says as she knows what she is talking about!!! I am just at the early/beginning stage of my journey with Maria, I am running up and down the stairs in my home where before I had to hold on because of the pain, my CRAVINGS are GONE but the fact that I can have something sweet and delicious, "healthified", while losing weight is a Godsend to me!! The best part is that I don't even crave anything anymore!! I AM A STUDENT FOR LIFE and will also try to be a TEACHER of Maria's way and live by example to all my precious children and grandchildren!!! Thank you Maria for ALL that you do and DID for me!! Mary Ellen
To get started like Mary did, click HERE.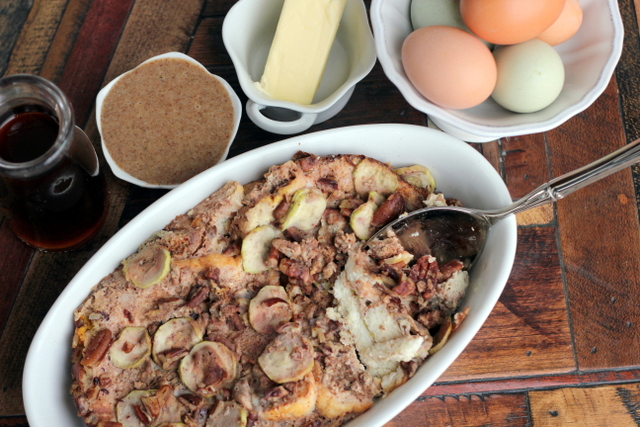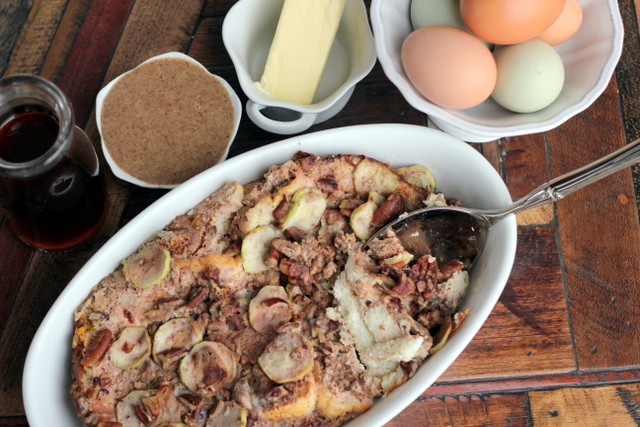 I made this for a company that I spoke at. Out of the 250 samples I gave away, only 2 people guessed the secret ingredient!
Rhubarb Bread Pudding:
2 cups eggplant, peeled
2 tablespoons butter, melted
1/2 cup Rhubarb (optional), cut into 1/2 inch pieces
4 eggs, beaten
1 1/2 cups unsweetened vanilla almond milk
1/4 cup erythritol (or Swerve)
1 tsp stevia glycerite (omit if using Swerve)
1 tsp ground cinnamon
1 tsp vanilla extract
Preheat oven to 350 degrees F (175 degrees C). Cut eggplant into 1 inch pieces and place in an 8 inch square baking pan. Drizzle melted butter over eggplant (add rhubarb if using). Bake for 15 minutes or until soft and drain an extra liquid.
In a medium mixing bowl, combine eggs, almond milk, sweetener, cinnamon, and vanilla. Beat until well mixed. Pour over eggplant, and lightly push down with a fork until eggplant is covered and soaking up the egg mixture. Bake in the preheated oven for 45 minutes, or until the top springs back when lightly tapped.
Serve with a dollop of fresh whipped cream (sweetened with a drop of stevia glycerite)
Nutritional Comparison:
Store Bought Bread Pudding (per SERVING)= 642 calories, 31g fat, 7g protein, 84 carbs, 2 fiber (82g effective carbs)
Eggplant Bread Pudding (for WHOLE BATCH) = 588 calories, 47g fat, 26.5g protein, 17.5g carbs, 8.7g fiber (8.8g effective carbs)
Eggplant Bread Pudding (per serving, serves 8) = 74 calories, 5.9g fat, 3.3g protein, 2.2 carb, 1.1g fiber (1.1g effective carbs)