Jay Robb Protein Discount Deal!
I love Jay Robb for so many reasons, but here's one more! They have a new subscription program where you get a 20% discount on every order!  I love Amazon Subscribe and Save (I gets lots of stuff sent every month or 2 months) and this is just like that.
Thank you JAY ROBB! Click  HERE to get started!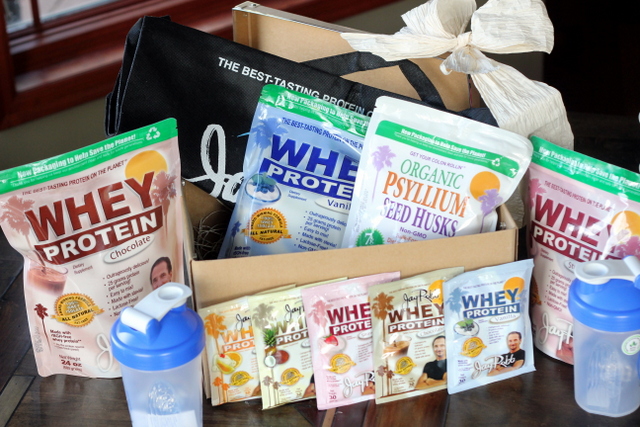 Testimony of the Day (p.s. It is from Russia!)
Dear Maria! I couldn't thank you enough for all the things you've done. You are doing an incredible job! So please keep doing it! You make a difference, you really make this world a better place – thank you, thank you, thank you! My way on your way started in August, after my second miscarriage, suffering from nausea, indigestion, diarrhea, acid reflux, burning pain in my abdomen, hemorrhoids – the list goes on and on – joint and muscle pain, acne, hair loss and what not – you know, all the possible side effects of high dose antibiotics, antifungal and other prescribed post-surgical treatment. I was desperate for answers and the answer came from a dear friend of mine with an invitation to your FB group.
The first thing I read there was something about gluten. I suddenly remembered that an endocrinologist had mentioned something like that a couple years before, when I'd been planning my first pregnancy – which wasn't a success either. However, at that time all I knew about gluten intolerance was that it gives you some GI tract discomfort and I figured, oh well, almost everyone else has it and did not do a thing about it. Thus, having read a great amount of gluten intolerance facts from your blog, first of all I decided to eliminate all the gluten from my everyday meals. And by the way, that oat-meal all doctors like to prescribe with the heavy treatment – to ease the liver damage – gave me the most awful acid reflux, even after a single teaspoon, even without sugar. The only thing that would be actually soothing was something no sane doctor would suggest – lard and thick broth (which I also discovered in your blog and it gave me some confirmation on what I was doing)! Then I came to a conclusion to eliminate all the rest of the bad stuff.
You should've seen my husband begging me not to throw his candies and cookies away, just like a little boy! Since we don't have those sweeteners you write about here in Russia, we've excluded all the treats, even the healthified ones. In just a week of your diet we stopped thinking about anything sweet, not even fruit – we simply didn't need those anymore! In just a week most of my symptoms either disappeared or started fading away. Besides, my husband's apron – that's how I call his wheat belly – started melting away and so did his complaints. As for myself, I'm not a scale person, I believe in good old jeans – jeans don't lie – and as long as I could fit myself into size 4 I was happy…. but I haven't been that happy lately, to be honest. Well, size 1 it was in just two weeks! We've been this way for about 5 weeks now and even though we never dine before 10 p.m. – and it's a solid meal, not just some kind of a snack – we're keep loosing our weight. Now that we don't have cravings it's absolutely effortless! My husband's joints feel fine now after years of pain! My body has never been so responsive and flexible – and here, believe me, I know what I'm talking about since I'm a yoga teacher. And that's another paradox.
Food is always a very sensitive question for yoga followers – on one hand, flash eating is wrong, on the other, we're not in India, the climate, the environment, even the bodies differ! I knew that the real yoga diet doesn't fit most people. I could torture myself as long as I was willing to but I knew that eating nuts and grapefruit for months is not a healthy way and it was the only way for me to maintain my look and to feel tolerable. But that was my choice and I could not suggest that to my clients for it's wrong. So whenever someone asked me to give some recommendations on eating, I'd just describe the Ayurvedic way or traditional "healthy" with cereal and skim milk for breakfast or sport protein fat free diet, neither of which were good for myself.
The only time I was feeling fine about the meals was on Prozac, but that's just because you don't care whether you eat or not at all! And this year, after my second miscarriage – which, in fact, could also have happened because of gluten intolerance – I was sure I would end up taking Prozac again. I was too weak for exercise to handle my despair and devastation, ready to make the lives of everyone around myself just as miserable. And here I am, getting calmer, fitter, happier day by day. I realize I'm not completely there yet, but that's a great start. Starting from this coming weekend I quit cheating – no more wine or whatsoever – too tired of those mood swings and skin problems afterwards, doesn't seem like fun anymore. I'm taking all the supportive things you wrote about and healing. I translate your articles just so my family members and friends who don't understand English can also get this vital information! Thank you for being there for us, helping and nurturing every single day! I can go on and on describing all the unbelievable things that have been happening to us since we've started it your way, but like I said, I couldn't thank you enough!"  Irina
Banana Walnut Cereal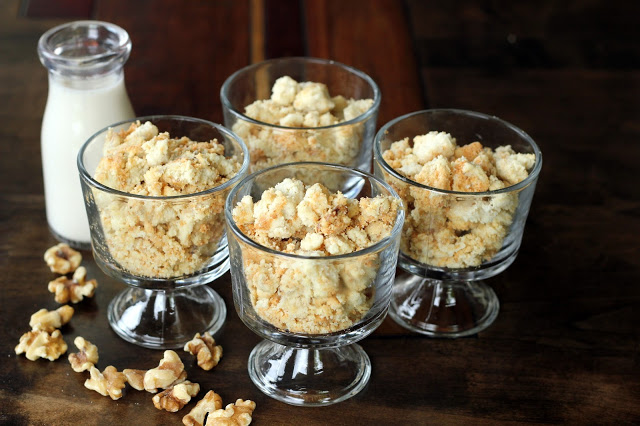 I found these cute mini trifle serving dishes HERE.
Banana Walnut Cereal
Ingredients
⅓ cup Swerve
1 tsp stevia glycerite
⅓ cup crushed walnuts
¼ cup almond flour
¼ cup JAY ROBB vanilla protein (whey or egg white)
¼ cup butter or coconut oil, softened
1 tsp pure organic banana extract
1 tsp cinnamon
CRISPIER CEREAL: 2 TBS water or more coconut oil
Instructions
Preheat oven to 300 degrees F (170 degrees C). Combine ⅓ cup Swerve and stevia glycerite, ⅓ cup crushed nuts, almond flour, whey, extract and cinnamon in a small bowl. Cut in butter with fork or pastry blender until mixture resembles coarse crumbs (add additional oil or water if desired). Place on a cookie sheet with defined edges or the oil will leak off. Bake for 12-20 minutes or until golden brown. Remove from the oven and gently stir while still hot. Let cool in the cookie tin (it will crisp up A LOT). Break pieces apart and enjoy with unsweetened almond milk.
Notes
NUTRITIONAL COMPARISON (per serving)
Post Cereal = 249 calories, 6g fat, 5g protein, 44 carbs, 4g fiber
"Healthified" Cereal = 220 calories, 18g fat, 9.2g protein, 4g carbs, 2 g fiber (74% fat, 17% protien, 8% carbs)

MILK COMPARISON (per cup)
Skim Milk = 90 calories, 13g carbs, 13g sugar
Unsweetened Almond milk = 35 calories, 1g carb, 0g sugar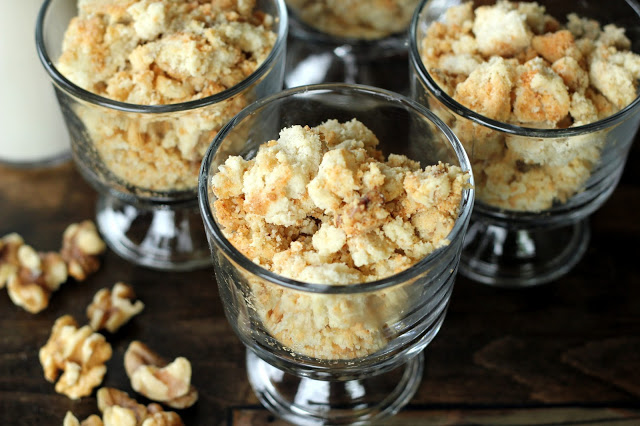 If you don't want to make your own cereal, you must try Wheat Free Market's line of granola and other tasty low carb foods! I was stunned at how tasty and chewy this granola was! 
Click here to find them!