Bacon Wrapped Meatloaf
GREAT NEWS!!!!
You all know that I would rather be on my outside enjoying nature rather than driving to the store and waiting in line to get groceries! That is why I get just about everything mailed to my front door and my favorite delivery twice a month is Butcherbox!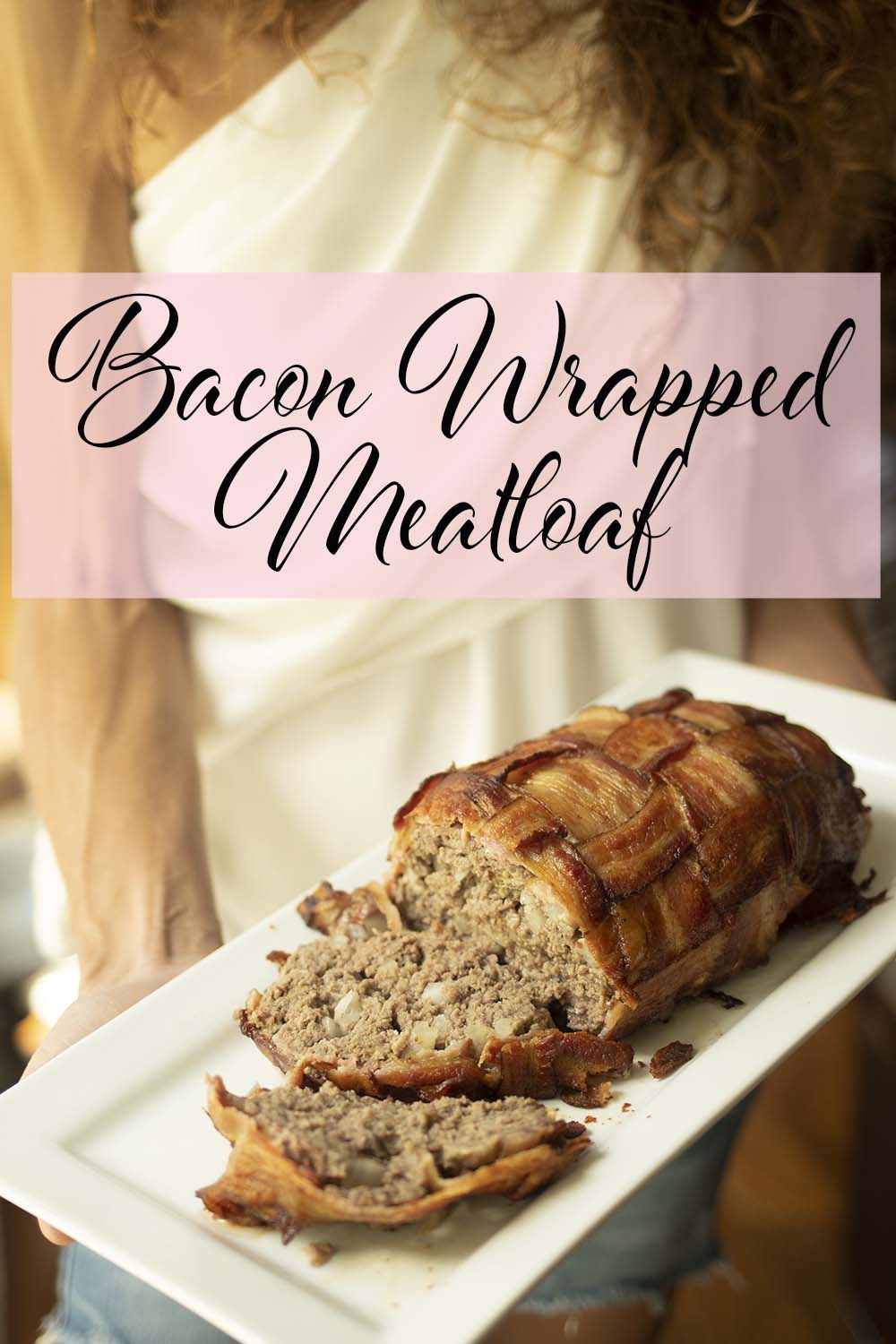 If you are looking for the BEST meatloaf recipe, you must try this Bacon Wrapped Meatloaf!
Bacon lovers will swoon over this amazing meatloaf recipe! I made this Bacon Wrapped Meatloaf dairy and nut free to help with weight loss and macro targets! Make sure to get your macros done on my free calculator HERE.
When I was little, I dreaded meatloaf night. I probably would have liked it if I would have given it a chance, but seriously, I think the name turned me off. I love meatloaf now. It's like a gigantic hamburger. Who wouldn't want that? I am officially renaming meatloaf "Gigantic Hamburger Loaf!"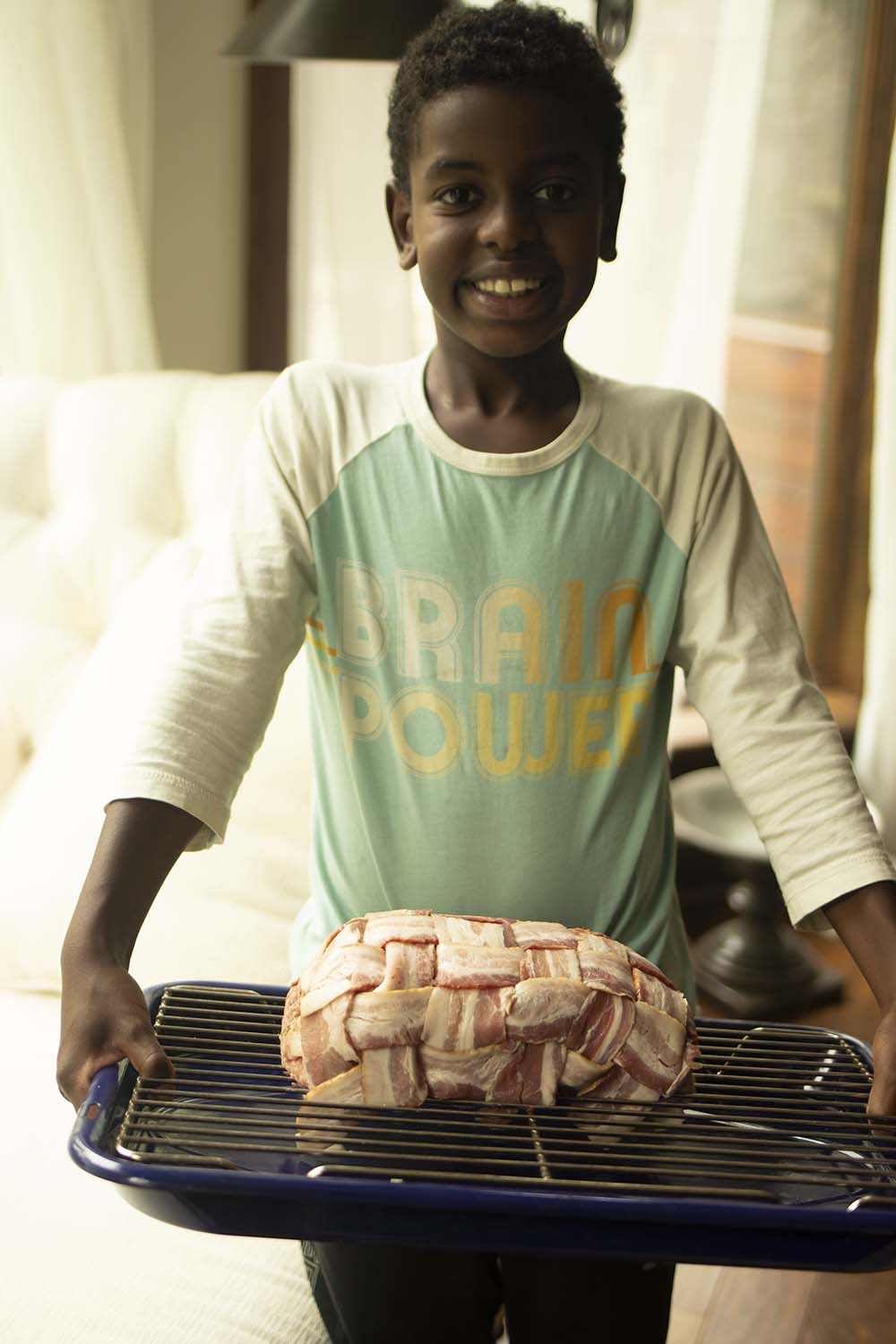 Instead of using bread crumbs or cracker crumbs in my Bacon Wrapped Meatloaf, I use finely chopped mushrooms and powdered pork rinds (or powdered Parmesan cheese if you aren't dairy free) …oh, so much more flavor and a lot more nutrients! Mushrooms and Parmesan have an "umami" property. Taking its name from Japanese, umami is a 'savory' taste that comes from glutamate, a type of amino acid, and ribonucleotides, including inosinate and guanylate, which are found naturally in foods such as meat, fish, vegetables and some dairy products. As the taste of umami itself is subtle and blends well with other tastes to expand and round out flavors, most people don't recognize umami when they encounter it, but it plays an important role in making food taste delicious. So here is a super flavorful way to make keto meatloaf.
We recorded a YouTube video making my Bacon Wrapped Meatloaf!
Bacon Wrapped Meatloaf
Ingredients
2

pounds

ground beef 85% lean

1

cup

powdered pork rinds

or powdered Parmesan cheese

½

cup

diced button mushrooms

for moisture

½

cup

diced onion

1

large

egg

3

teaspoons

Redmond Real salt

2

teaspoons

Primal Kitchen Dijon mustard or yellow mustard

½

teaspoon

pepper

16

slices

bacon

Click HERE
Instructions
Preheat the oven to 350 degrees F. Place the bacon onto a large piece of parchment paper. Weave the bacon. Under, over, under, over to make it look like a checker board. Lift the parchment with the square of weaved bacon into a 9 by 5 inch meatloaf pan.

Place the beef, powdered pork rinds, diced mushrooms, onion, egg, salt, mustard and pepper into a large bowl. Use your hands to combine well. Place the mixture into the bacon weave in the pan. Fold the bacon in a weave over the meatloaf mixture. Pull the meatloaf out of the pan and place it on a wire rack over a baking sheet with edges (to catch the baking grease).

Place it in the oven to cook for 45 to 55 minutes or until bacon is crisp on the outside and meatloaf is cooked through.

Remove from oven and allow to rest for 15 minutes before slicing.

Store extras in an airtight container in the refrigerator for up to 3 days. Reheat in a baking dish in a preheated 350°F oven for a few minutes or until warmed through
Nutrition
Calories:
398
|
Fat:
28
g
|
Protein:
34
g
|
Carbohydrates:
1
g
|
Fiber:
0.2
g
|
P:E Ratio:
1.2
TESTIMONY OF THE DAY
"Hi Maria! 
Here is a photo (see below) of all the medications I am NO LONGER taking!!! I had depression, anxiety, thyroid issues, migraines, and chronic pain (fibromyalgia). You and your recipes resolved all those issues! I have lost 90 lbs and am a much more active, happy, healthier version of myself! You have helped to keep this a fun, interesting way of life. I have all your books and pre-order the new ones when you announce them! 
️
I am so grateful to you and your husband and the advocacy you do for this lifestyle. I am so grateful for all your knowledge, time, kindness and how all your recipes help enable me to make this a lifelong journey! 
The important part is how much my life has improved, how happy I am! 
Thank you thank you thank you for all you do!!! 
Sincerely, 
Cristen
Most people I consult are doing keto totally wrong. Get fast results with the my NEW Keto Packages!