TESTIMONY OF THE DAY 
30 Day Accelerated Testimony: "Here are a few difference I have noticed: no more red bumpy upper arms, less acne, no more hormonal mood swings, of course less weight, no HANGRY times, better hair, more stamina, more energy, no more naps, better sleep! I could go on and on but today I did my happy dance, while shopping for new clothes yet again I realized I am down 4 while jean sizes which means I am now in the same size jeans I was in when I graduated high school! so I again say THANK YOU!! all the hard work and dedication of you and your family are not only helpfull but inspirational! you have a follower for life! with Love, Von
"This is my before and after. my weight lose journey…so far..top two have dates, bottom left is from 2-7-15 bottom right is 10-28-15. I had started doing some cardio and eating what I thought was better in Sep 2013. switched to keto on 8-26-14. No going back for me!" Siobhan
To get the results like Siobhan, click here to get started. A year from now you will thank yourself!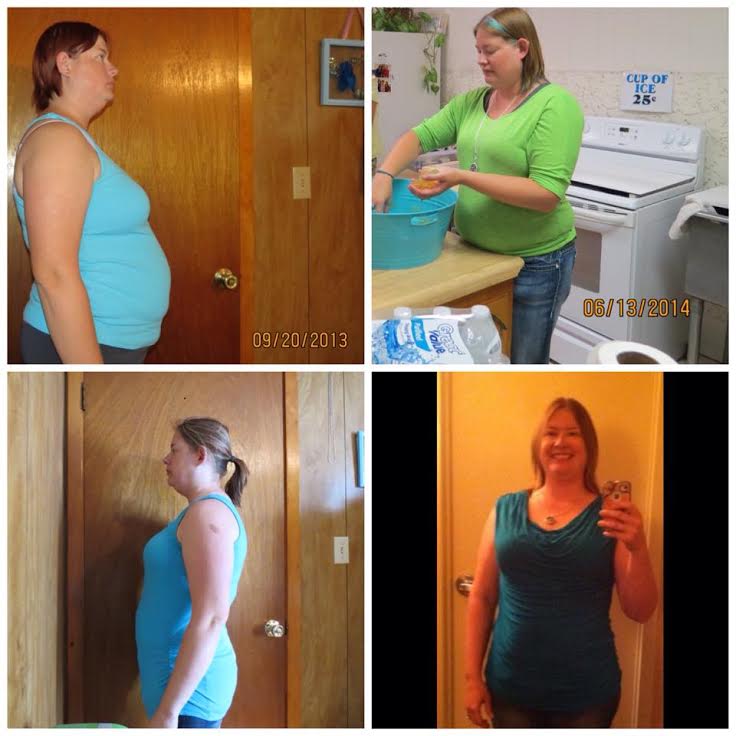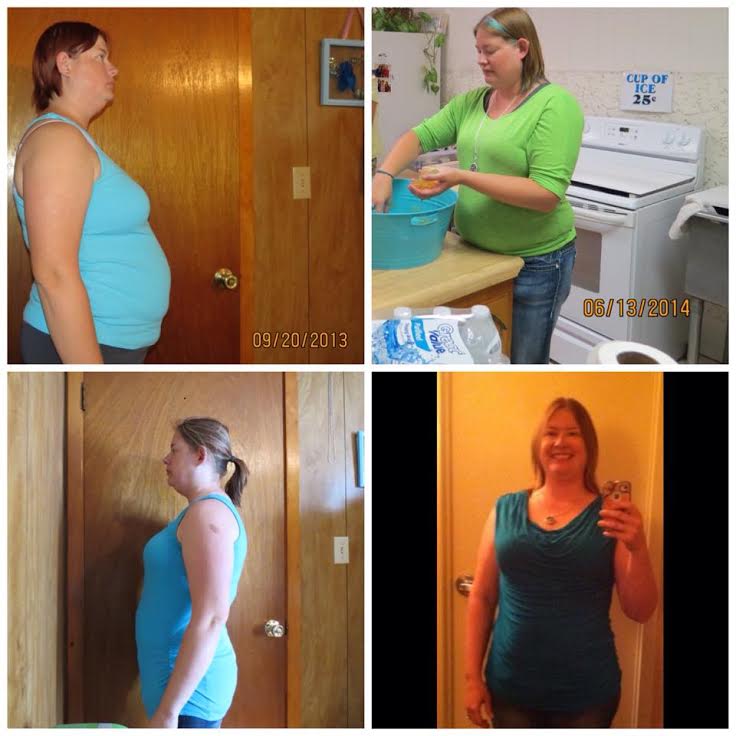 LOVE LETTER TO CRAIG
Dear Craig, My LOVE and BEST Friend;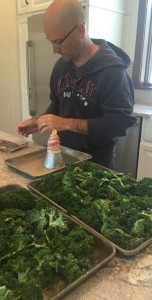 Craig, this is a love letter to you. We have been through so many ups and downs throughout our 14 years of marriage including 2 job losses. But no matter what life throws at us, you have always been my rock and #1 supporter. I have to believe that most men wouldn't be as cool as you when it comes to all the "dirty work" you do behind the scenes and yet do not get the credit like you should. This business should be called "CRAIG and Maria Mind Body Health" but you never complain about needing a title or recognition.
This love letter may seem goofy that I am writing this on a blog post, but I need you to know that all you do for our family does not go unnoticed; you make sure the dishwasher is loaded "properly" (and re-load it when I do it so dishes actually get clean! lol), home-school the boys with patience and love, answer blog questions and Facebook questions when I am too busy with clients, do the laundry (I haven't folded clothes in over 2 months!), you make sure my Kale Chip addiction is full-filled by making them perfectly crispy for me, and as well as many other things such as make forms out of sheet metal for these amazing BA-CONES!
I am one lucky girl…
SHMILY, 
Ria
Ba-Cones with Peanut Butter Banana Ice Cream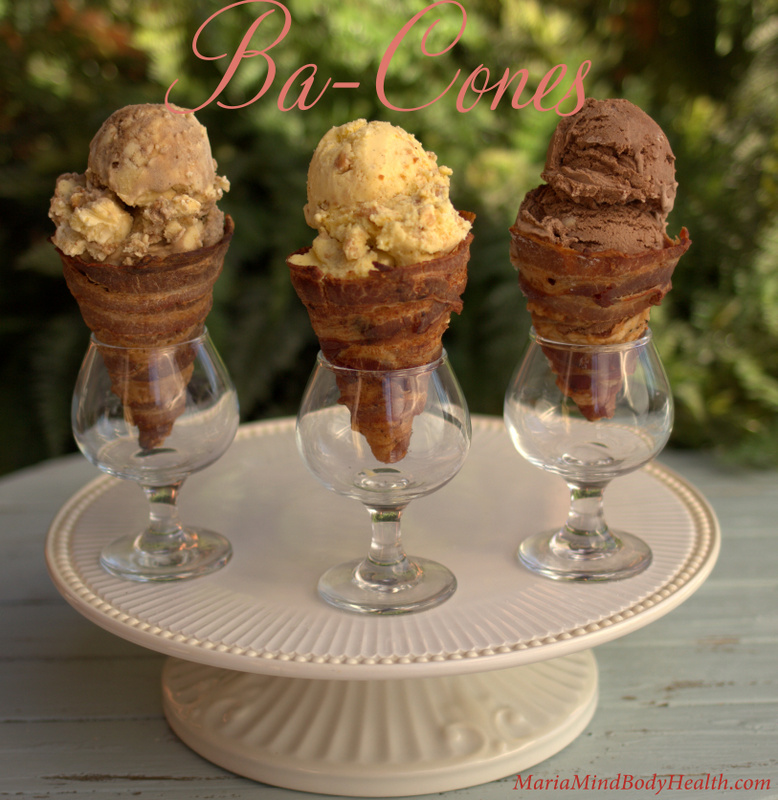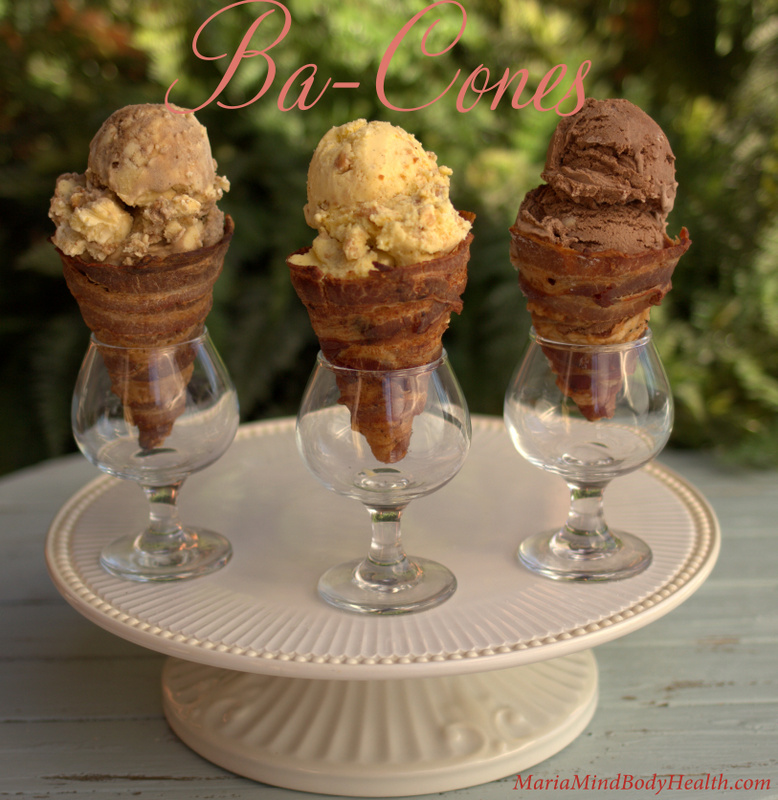 It is hard to find bacon without sugar and if you do, it is really expensive! That is why I order Pederson's Farms bacon! Click HERE to get sugar-free bacon! 
If you want to get my favorite keto BUNDLE of meaty goodness from Pederson's Farms, you get a great deal!
Maria's Mind Body Health Bundle contains 10 of Pederson's Natural Farms Whole30 Approved No Sugar Added products. Included with this bundle is:
1 package No Sugar Added Hickory Smoked Uncured Bacon
1 package No Sugar Added Smoked Kielbasa
1 package Uncured No Sugar Grass Fed Added Beef Hot Dogs
1 package Fully Cooked No Sugar Added Mild Breakfast Sausage Links
1 Uncured No Sugar Added Half Ham, Boneless and Spiral Sliced
1 package No Sugar Added Italian Ground Sausage
1 package No Sugar Added Chorizo
1 package No Sugar Added Uncured Old World Kielbasa
1 package No Sugar Added Uncured Hot Dogs (Made with Pork & Bacon)
1 package 100% Grass Fed Organic Ground Beef
Bundle is normally $225.00 but with code: MARIAEMMERICH it is only $161.00! Click HERE to get it!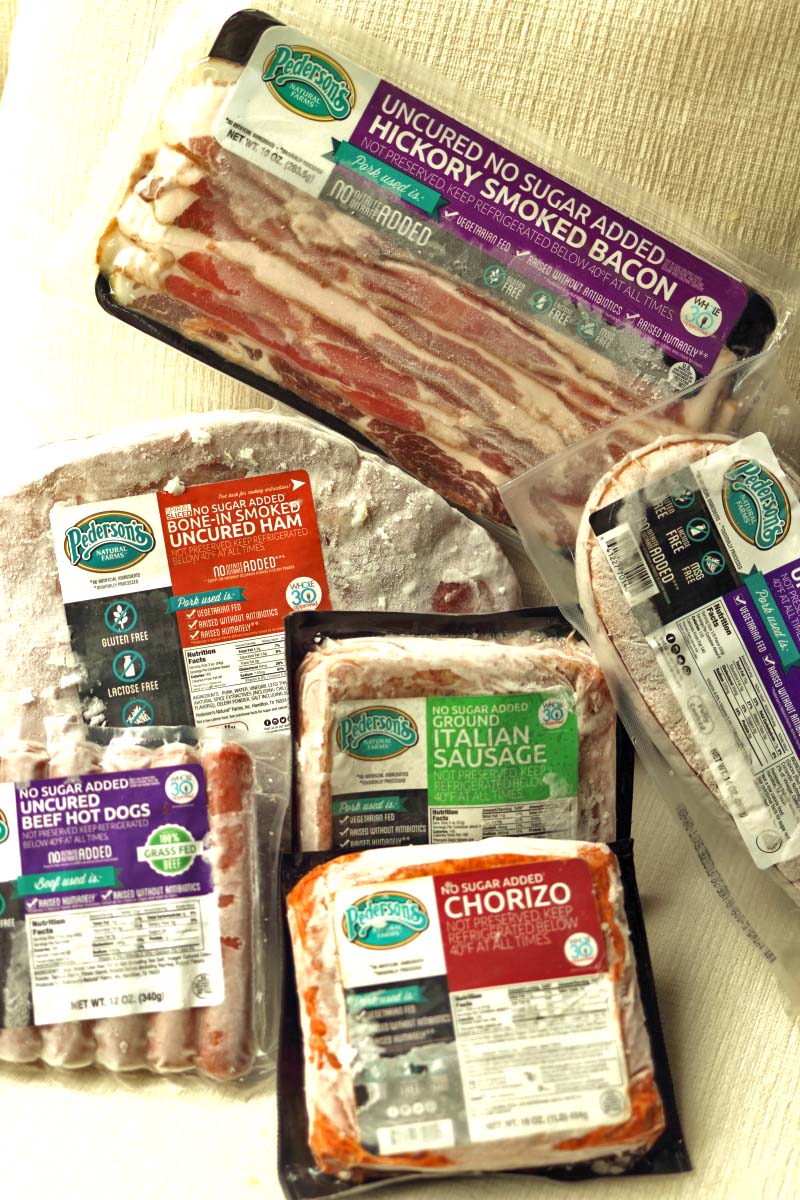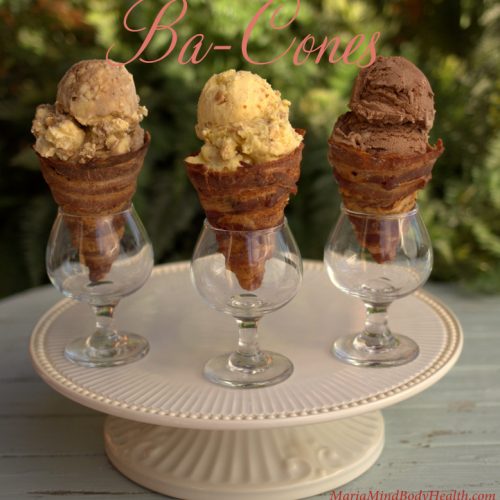 Bacon Ice Cream Cones
Ingredients
ICE CREAM:
14

tablespoons

coconut oil

or butter if not dairy sensitive

4

tbs

MCT oil

1/2

cup

unsweetened almond milk

or water

4

large

eggs

4

large

egg yolks

2

teaspoon

banana extract

1/4

cup

Allulose

1/2

tsp

Redmond Real salt

*helps keep ice cream soft
PEANUT BUTTER SWIRL:
1/2

cup

natural peanut butter

softened

1/4

cup

coconut oil

melted

1/4

cup

allulose

or 1 tsp stevia: to desired sweetness or Swerve confectioners
Instructions
Preheat oven to 400ºF.

Line a large baking sheet with defined edges with unbleached parchment paper.

Using cone-shaped metal (we made our own with sheet metal), wrap one slice of bacon around each. Wrap the bacon tightly, overlapping the edges so the bacon totally covers the cone.

Bake for 15-20 minutes or until bacon is crisp. Remove from oven and allow to totally cool.

Meanwhile make the ice cream.

In a blender (I used my blendtec), place the coconut oil, MCT oil, eggs, yolks, almond milk/water, extract, natural sweetener and salt. Blend until very smooth. Place into ice cream maker and watch the magic happen!

Meanwhile, make the peanut butter swirl by combining the peanut butter, coconut oil/butter and natural sweetener in a small bowl. Combine until smooth. Cool in fridge until ice cream is almost done.

Swirl into the ice cream maker for the last 30 seconds.

Turn off ice cream maker. Store in airtight container in the freezer.
Nutrition
Calories:
310
|
Fat:
31.7
g
|
Protein:
6.5
g
|
Carbohydrates:
3.3
g
|
Fiber:
1.3
g
|
P:E Ratio:
0.2