Graham Crackers
"HEALTHIFIED" GRAHAM CRACKERS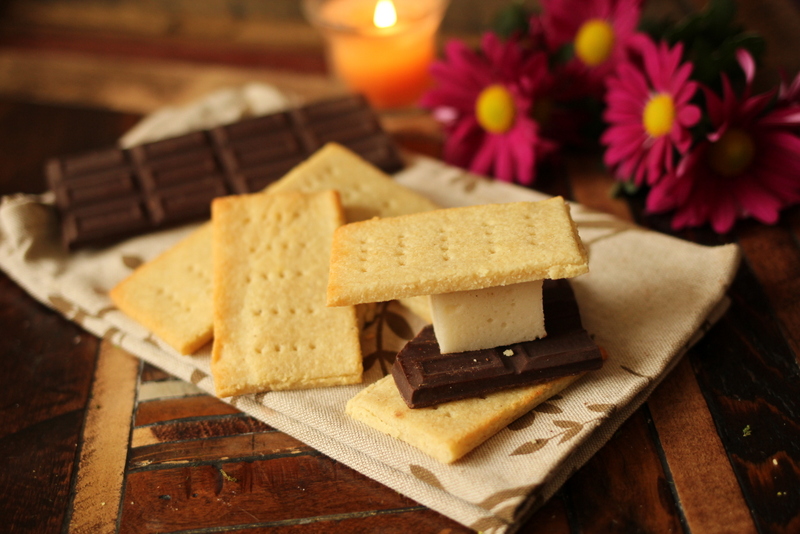 1/2 cup Jay Robb vanilla whey or egg white protein
3/4 cup almond flour
1/4 tsp Celtic sea salt
1/4 cup coconut oil (or butter)
1 tsp cinnamon
1/2 cup  Swerve or erythritol
1 tsp stevia glycerite
Preheat the oven to 300 degrees F. In a medium bowl, stir together the whey, almond flour, sweetener, spices and salt. Cut in the coconut oil or butter using a pastry blender or your fingers until the butter lumps are smaller than peas form a stiff dough (you may need to add a touch of water, but only a TBS or 2).
On parchment paper (lightly sprayed with coconut oil spray: click HERE to find it), roll the dough out to 1/8 inch in thickness. Using a pizza cutter, cut into squares and "score" with a fork (to look like graham crackers). Place parchment onto cookie sheets. Bake for 7 to 9 minutes in the preheated oven (remove and score the cookies again…they will bake together otherwise), bake an additional 5 minutes. Remove from cookie sheets to cool on wire racks. Makes 24 crackers.
Enjoy with a glass of unsweetened vanilla almond milk.
NUTRITIONAL COMPARISON (per cup)
Skim Milk = 90 calories, 12g sugar
Unsweetened Almond Milk = 40 calories, 0 sugar
Nutritional Information (per 2 crackers) = 82 calories, 1.5 carbs, 0.75g fiber
Testimony of the Day
"I just wanted to share how GREAT your supplement plans are, Maria! I recently started on your plan for controlling blood sugar, but had to stop taking vitamins and supplements for a week leading up to an outpatient surgery. I was able to start up again immediately following the surgery, and the FIRST day back on the supplement plan I felt human again – more consistent energy, no cravings, able to focus and think more clearly! SUCH a difference! All along I have been trying to adhere to a keto-adapted diet, so the only thing that changed was not being able to take the supplements. They make an amazing difference! Thanks for making these tailored supplement plans available to help us sort out what's needed for specific health goals." – Debby
My pre-packaged supplement plans are only $25 and can make a big difference in your health!
To get started on your path to health and healing, click HERE. 
Great deals on Nut and Seed Flours
Great news!  If you use this link for your Nuts.com flour orders I can a little percentage that enables me to buy flours to experiment and make more great recipes!  So stock up on one of these great "Maria Approved" flours:
Almond Flour (I buy the 25 pound bag and keep extra in the freezer, only $4.29 a pound!)
Coconut Flour
Peanut Flour
Hazelnut flour
OR Pumpkin seed flour
Click HERE.  Thanks so much for your support! 🙂 *Note: Click on ingredients to discover where to find them for the best price I can find!