Testimony of the Day
"I just wanted to share how GREAT your supplement plans are, Maria! I recently started on your plan for controlling blood sugar, but had to stop taking vitamins and supplements for a week leading up to an outpatient surgery. I was able to start up again immediately following the surgery, and the FIRST day back on the supplement plan I felt human again – more consistent energy, no cravings, able to focus and think more clearly! SUCH a difference! All along I have been trying to adhere to a keto-adapted diet, so the only thing that changed was not being able to take the supplements. They make an amazing difference! Thanks for making these tailored supplement plans available to help us sort out what's needed for specific health goals." – Debby
My pre-packaged supplement plans are only $25 and can make a big difference in your health!
To get started on your path to health and healing, click HERE. 
Testimony of the Day
"Just wanted to share that last week was my Annual Physical and my doctor loved to hear that I was almost migraine free for a year and half. She also loved to hear that my asthma was under control and I no longer used 2 inhalers daily! I also hit a personal goal with my weight! She wanted the information as she knew last year what I started and I gave her yours! Thank you~ Candice"
To get the results like Candice, click HERE for easy to follow keto-adapted meals.
AMAZON ASTORE
I have created an AMAZON.COM store where you can find all the healthy ingredients that are difficult to find in the grocery store (and if you do find them, they are often very expensive). I have done some detective work and found the lowest prices on www.amazon.com for all of the products I use and love. Everything from food, pantry items, kitchen tools, supplements and skin products are in the aStore. I rarely waste time in the grocery store because I find everything online for a way better price!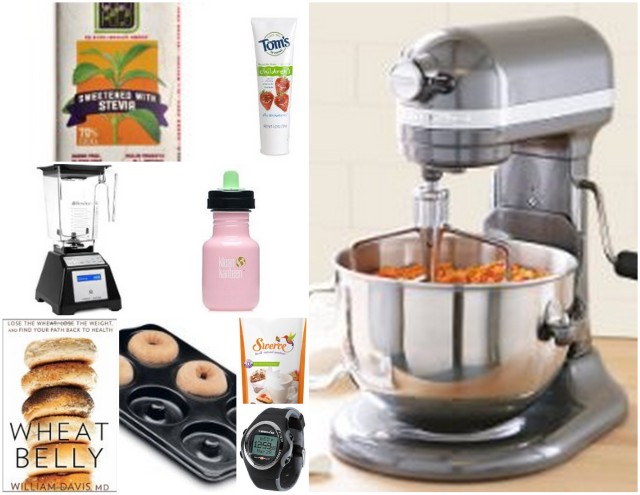 All you have to do is click on the words in my recipes and it will take you right to the correct item. If you add them to your cart I get a tiny commission which helps me afford to keep practicing recipes (Recipe experimenting can costing me a fortune!…but I love helping!).
By purchasing products through my Amazon store, you help keep this blog going. You can also continue shopping for other products on Amazon after you are finished with "healthified" shopping. Just click the "Proceed to Checkout". It then asks you if you want to add these to your Amazon cart (at the main Amazon site). Just click "Continue" and now you can add whatever else you want from Amazon all in the same cart! I always choose at least one thing from my Amazon Store before moving onto other items I need for the family, those items will also help pay for the blog without any extra cost; I just get a small commission for bringing your business to Amazon.com.
You can click on the below image to go to my store or on the right you will see a "Maria's Amazon Store" widget. Happy Shopping and THANK YOU for all your support!!!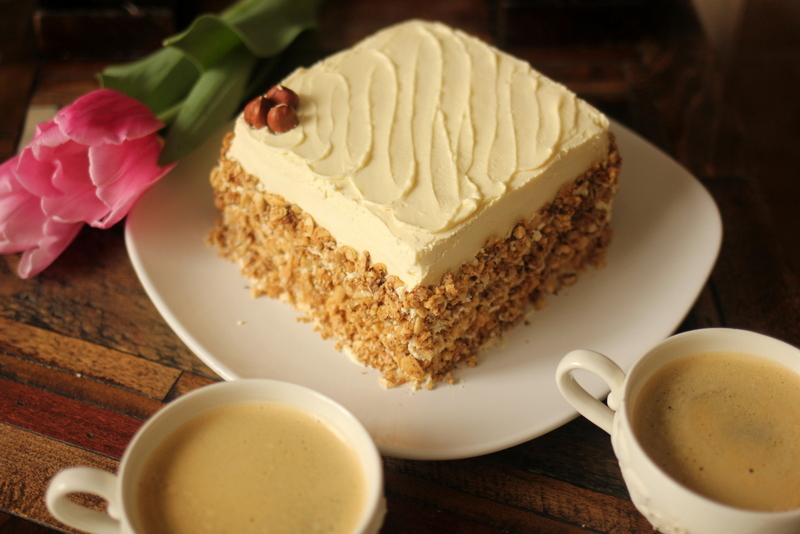 White Chocolate Torte with Hazelnut Praline
Ingredients
PRALINE:

1/3

cup

Natural Sweetener

or erythritol and 1/2 tsp stevia glycerite

1/4

cup

decaf espresso

or strong organic coffee

1

cup

hazelnuts

toasted, husked

MOUSSE:

12

ounces

"healthified" almond bark

finely chopped

5

TBS

unsweetened vanilla almond milk

2

cups

chilled heavy whipping cream

2 1/2

tsp

instant espresso powder

GANACHE:

2/3

cup

decaf espresso

or organic coffee

7

oz

unsweetened baking chocolate

chopped

3/4

cup

unsweetened vanilla almond milk

1/3

cup

Natural Sweetener

1

tsp

Kahlua extract

CAKE:

4

large eggs

room temperature

1/3

cup

Natural Sweetener

or erythritol and 1/2 tsp stevia glycerite

2

tsp

instant espresso powder

1

tsp

vanilla extract

1/8

tsp

Redmond Real salt

1

cup

blanched almond flour

1

tsp

baking soda

2

TBS

coconut oil or butter

softened
Instructions
For praline: Place sheet of foil on work surface. Bring natural sweetener sweetener and 1/4 cup water to boil in heavy medium saucepan over medium-high heat, stirring until sweetener dissolves. Boil for 7 to 8 minutes. Mix in espresso powder, then nuts. Scrape mixture onto foil; quickly spread out onto foil. Cool completely. Chop praline into small pieces. Try to leave some for the cake...these taste really good!

For mousse: Stir chocolate and 5 almond milk in metal bowl set over saucepan of barely simmering water until chocolate is smooth. Remove bowl from over water. Cool chocolate to lukewarm, stirring occasionally. Using electric mixer, beat cream in large bowl until soft peaks form. Gradually pour lukewarm chocolate over cream, folding to blend well. Transfer 2 1/2 cups mousse to another medium bowl; gently fold in espresso powder. Cover and chill both bowls of mousse until firm, at least 6 hours. Can be made 1 day ahead. Keep chilled.

For soaking syrup and ganache: Place chocolate in medium bowl. Bring espresso, almond milk, natural sweetener and extract to boil in small saucepan. Reserve 2 TBS of the syrup and pour the rest over chocolate. Stir until melted and smooth. Cover and store at room temperature.

For cake: Preheat oven to 350°F. Grease a 15 x 10-inch sheet of parchment paper. Line 15x10x1-inch baking sheet with prepared parchment. Combine eggs, sweetener, 2 teaspoons espresso powder, vanilla, and salt in large bowl. Using electric mixer, beat until egg mixture is thick and fluffy and falls in ribbons when beater is lifted, 6 to 7 minutes. Sift almond flour and baking soda over in 3 additions, folding gently just to incorporate after each addition. Transfer 1 cup batter to small bowl; fold in butter. Fold batter from small bowl back into batter in large bowl just until combined; spread evenly on baking sheet.

Bake cake until tester inserted into center comes out clean and cake begins to pull away from pan, about 18 minutes. Cool cake in pan on rack 30 minutes.

Cut around pan sides. Slide spatula under parchment to loosen from pan and invert cake onto work surface. Peel off parchment. Cut cake crosswise into 4 rectangles, each about 10 x 3 1/2 inches.

Place 1 cake rectangle on platter (I made mine into a round cake, but rectangles work too). Brush 2 tablespoons soaking syrup over. Spread 3 tablespoons ganache over, then 1/3 of espresso mousse (about 3/4 cup). Repeat 2 more times with cake, syrup, ganache, and mousse. Top with fourth cake layer; press lightly to adhere. Spread 2/3 cup plain mousse thinly over top and sides of torte to seal, then spread remaining mousse over top and sides. DO AHEAD: can be made 1 day ahead. Tent loosely with foil and chill. Makes 16 servings
Notes
NUTRITIONAL COMPARISON (per serving)
Traditional Torte = 465 calories, 46.3 carbs, 0.8g fiber
"Healthified" Torte = 384 calories, 7.25 carbs, 3.4g fiber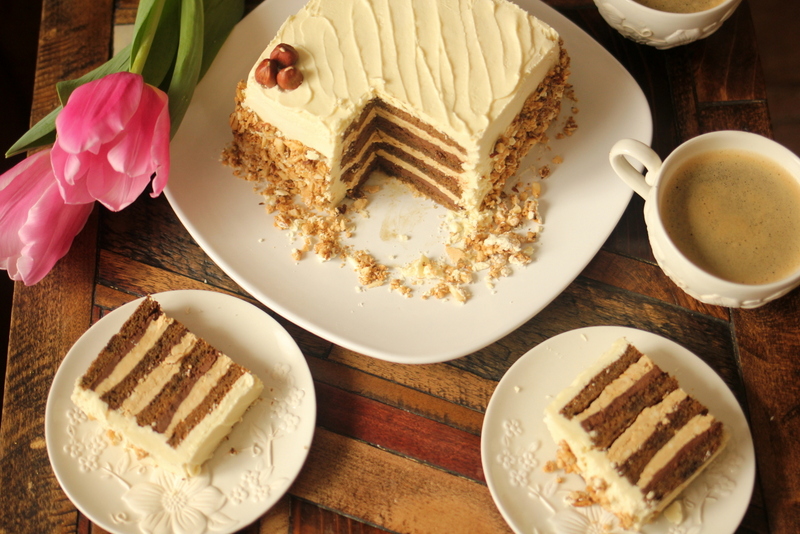 Testimony on Keto-Adaptation
"A year ago June my then 38 year old husband was in a health crisis. Type 2 diabetic who had just developed high blood pressure. His pressure was so high, his weight was almost 300 pounds and our new Family Doctor went through the roof. He was on the verge of a stroke or heart attack. He also suffers from Severe Sleep Apnea.
I started us on a diet back then which used lean protein shakes. When I learned about you, I switched over to "your way" or now known as the "Maria way or the ME way" (ME= Maria Emmerich) of high fat, moderate protein, low carb.
Almost a year down the road he's lost 50 pounds his blood pressure is much better and his diabetes is under control. He had a sleep study done and his very severe sleep apnea is now moderate when he sleeps on his side and only severe if he sleeps on his back. I also have lost 50 pounds and that's even after spending 3 months this Spring/Summer in bed with a broken ankle after a freak ice storm this past April.
We aren't perfect at following you yet but we've already made such huge strides forward. We are working at changing the habits of a lifetime. So Happy to have found you!!! -Sherrilee"
Click HERE to start your journey to a keto-adapted diet!