Thin Mint Ice Cream
TESTIMONY OF THE DAY
Phone Client Testimony: "Maria, I just wanted to tell you I finally hit 145 today. These last 10 pounds are taking a long time…Thank you for your coaching me and for the encouragement.
Next goal is 140. I can do 10 boy push-up now in a row. I could barely to 1 girl pushup  a  few months ago!"  Terri
Click here to get started on your path to health!
NORBU AND NATVIA SWEETENER
I was sent a sample of Norbu and Natvia sweeteners to try out. They are from a Australia based company that is now bringing their products to the US. NATVIA is made from erythritol and stevia: "We love and respect the bean to make the unique natvia blend we use the freshest tips of stevia plants. Our innovative growing and blending techniques are the secret to our unique taste, ensuring that every grain of natvia has a sweet, clean natural flavor."
NORBU is made from erythritol and monk fruit (or lo han go): "800 years ago in the foothills of the misty, remote mountains of Guilin, monks discovered the sweet taste and health benefits of a small green melon fruit. They used it to sweeten their drinks, ail lung congestion, and soothe coughs. Their traditional method of cultivation has been handed down for centuries and is about to be passed on to you."
Erythritol, stevia and monk fruit are my 3 favorite sweeteners as they have zero effect on blood sugars and taste great when blended together like this.  After experimenting with them I can say that they perform well and have a great taste.   I used Natvia in this recipe and it creates a great taste.  For even less aftertaste (a suggestive assessment but Craig thinks so) the Norbu product with monk fruit has very little discernible aftertaste.  Both are great options for a Keto lifestyle.
Click HERE to find the their products!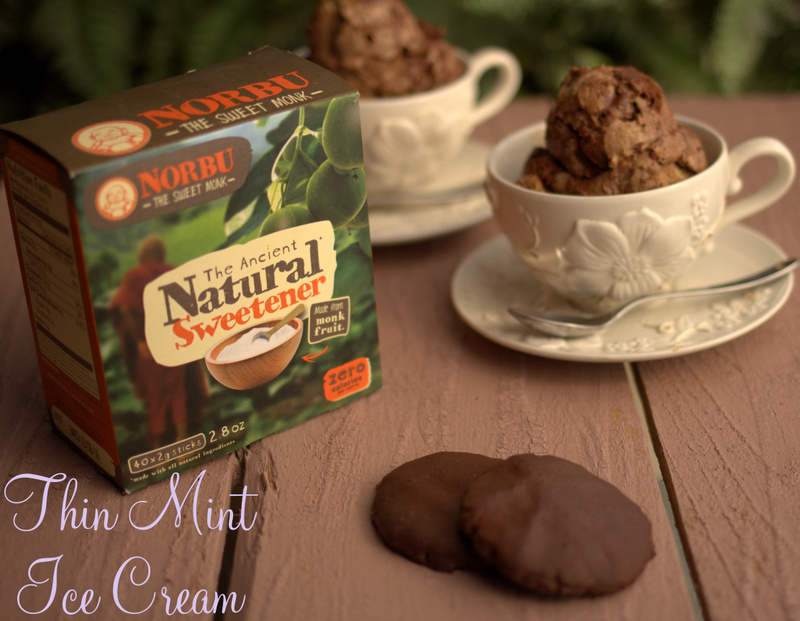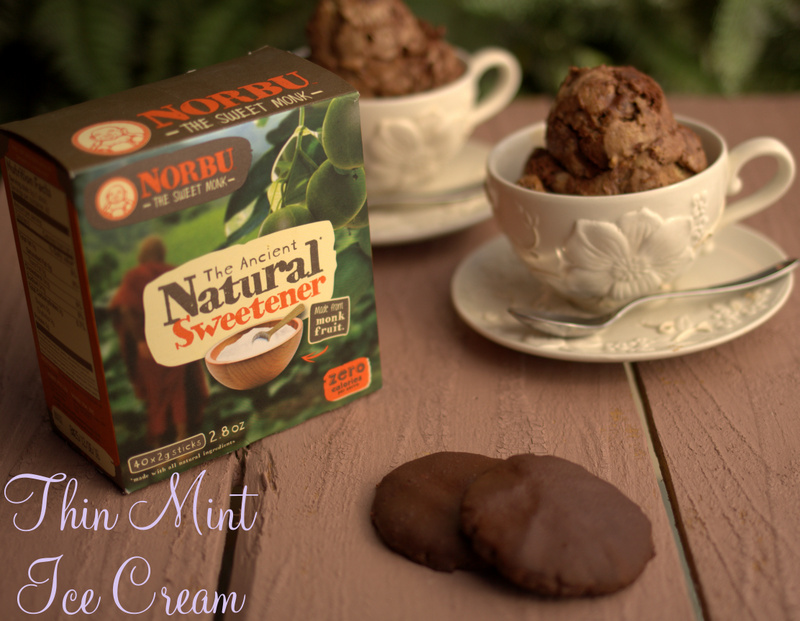 Thin Mint Ice Cream
Ingredients
COOKIES:
¼ cup coconut oil (or butter if not dairy sensitive)
¾ cup Natural Sweetener
½ cup unsweetened cocoa powder
1 egg
¼ tsp Redmond Real Salt
CHOCOLATE DIP:
2 TBS coconut oil (or butter if not dairy sensitive)
1 oz unsweetened baking chocolate
5 TBS coconut milk or unsweetened almond milk
¼ cup Natural Sweetener
ICE CREAM:
¾ cup plus 2 tbs coconut oil (or butter if not dairy sensitive)
½ cup unsweetened almond milk or water
4 whole eggs
4 egg yolks
1 vanilla bean, scraped clean
½ tsp salt *helps keep ice cream soft
¼ cup unsweetened cocoa powder
Instructions
Preheat the oven to 350 degrees F. In a medium bowl, cream the butter/oil and natural sweetener together.
Add in the eggs, stir until well combined.
Finally mix in the cocoa powder, salt and extracts. Form 2 inch balls. Place on a cookie sheet about 2 inches apart. Flatten the balls. Bake for 10 minutes. Allow to cool on the cookie sheet before removing.
Meanwhile make the chocolate coating.
CHOCOLATE DIP: Place the butter and chopped chocolate in a double boiler (or in a heat safe dish over a pot of boiling water). Stir well until just melted (don't burn the chocolate!), add in the coconut milk, other teaspoon of mint extract, and sweetener. Stir until smooth and thick. Use chocolate to dip the cookies (*Note: it works best to dip frozen cookies). Set on parchment paper to cool.
TO MAKE ICE CREAM: In a blender (I used my blendtec), place the coconut oil, MCT oil, eggs, yolks, almond milk/water, vanilla bean seeds (discard the pod), extract, natural sweetener, salt and cocoa powder. Blend until very smooth. Place into ice cream maker and watch the magic happen!
Swirl the Thin Mint cookies and extra chocolate dip into the ice cream maker for the last 30 seconds.
Turn off ice cream maker. Store in airtight container in the freezer.
Notes
NUTRITIONAL COMPARISON (per serving)
Traditional Ice Cream = 431 calories, 26g fat, 2g protein, 48g carbs
"Healthified" Ice Cream = 263 calories, 27.7g fat, 4.7g protein, 4.4g carbs

(90% fat, 5.5% protein, 4.5% carbs)