The Best Filet Mignon Recipe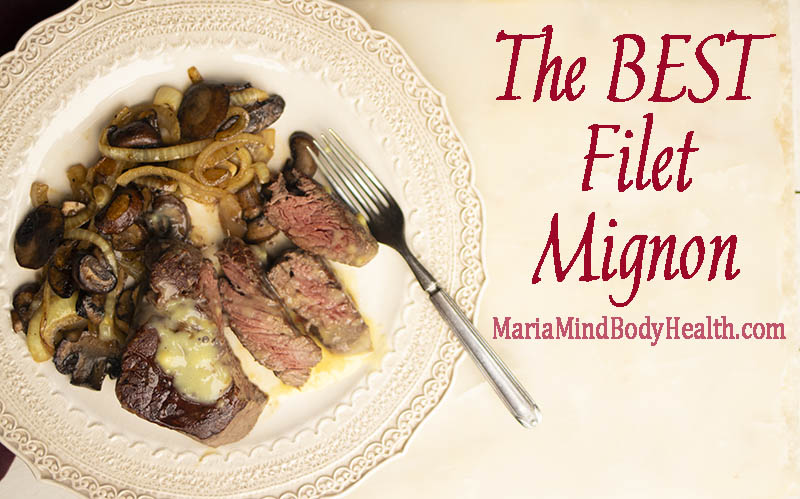 I love a tender Filet Mignon! I also love mushrooms and onions and bearnaise!
I usually cook my Filet Mignon on a grill but as the weather cools down, outdoor grilling isn't always an option. I made this Filet Mignon on a Cinder grill! I know you don't need another gadget in the kitchen but let me tell you why this Cinder Grill is a gadget I love! Craig brought the Cinder Grill home and I stuffed it away in the pantry for months because I didn't want to learn how to use it. Craig ended up digging it out to make a steak on it one day. He forgot he had a podcast recording with Danny Vega in 30 minutes so just as his steak was finished, he had to do a podcast! Bummer right??? But NO! The Cinder Grill held his steak for the whole hour of his podcast! Yep! The grill will hold the steak at the perfect temperature and not overcook it!
Cinder is the first precision grill. All you have to do is place whatever you want to cook on it, set the temperature you want your food to cook to (medium rare, medium), and walk away. Cinder will cook it to that exact temperature without even using a temperature probe. It's a "set it and forget it" type device and the result is perfectly cooked food!
I love Cinder because it is just like using a sous vide cooking method but without the need for a plastic bag or water bath. The cooking process also takes about a third of the time as traditional sous vide since you do not have to heat up a water bath. It is so easy, it feels like magic!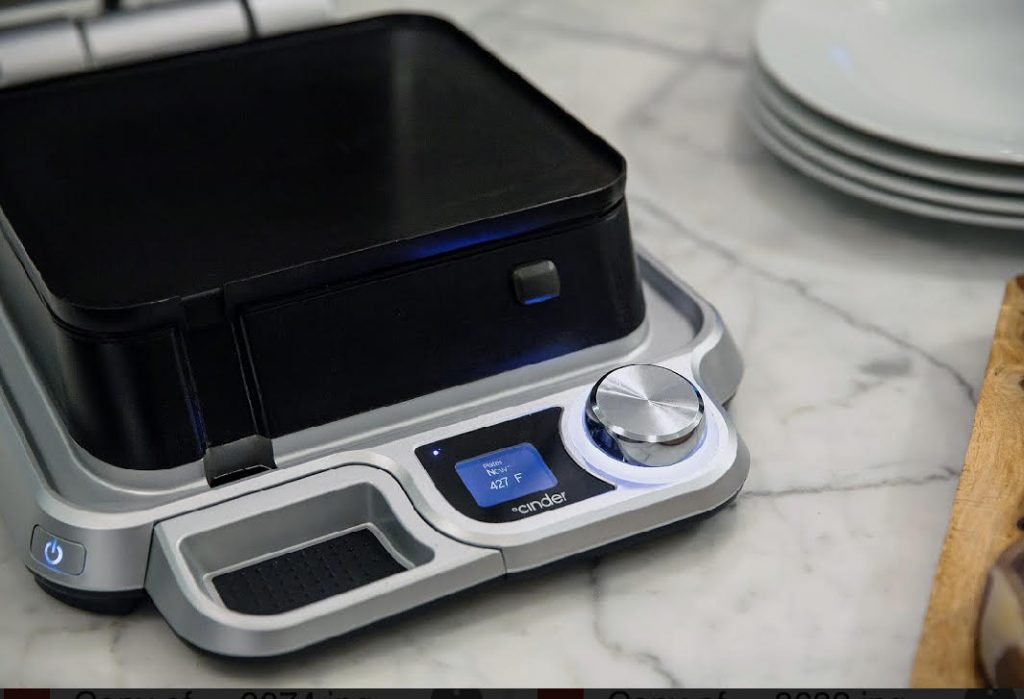 3 easy steps to cook on Cinder:
(1) Put your food on Cinder
(2) Set your target food temperature (guided through the app and website)
(3) Walk away and wait until Cinder tells you your food is Done either on the LCD screen or through the app
Bonus Step: If you like a sear on your food, take the food off, wipe down the plates, and turn the knob to searing. Once at searing temperature, put your food back on for a double sided perfect sear.
The Result: perfectly cooked food to the exact temperature you set it to. Say goodbye to dry chicken or overcooked meat.
Check out my video making the Best Filet Mignon and see just how easy it is!
What we love about Cinder is that it cooks on autopilot so it will never overcook your food. You can put your food on and go to the gym for a few hours or take care of your kids. When you come back your food will be at the perfect temperature you set it at. No oversight required and it's impossible to mess up.
All in all, Cinder makes cooking a phenomenal dinner every night very easy, especially for proteins. If you are feeling creative, the website also has recipes prepared by their Michelin Starred Chef John Critchley specifically tailored for Cinder. You can make anything from ribs, to steaks, to a whole chicken on Cinder and even keto deserts!
CLICK HERE to get a Cinder grill for $50 off using coupon KETOADAPTED!!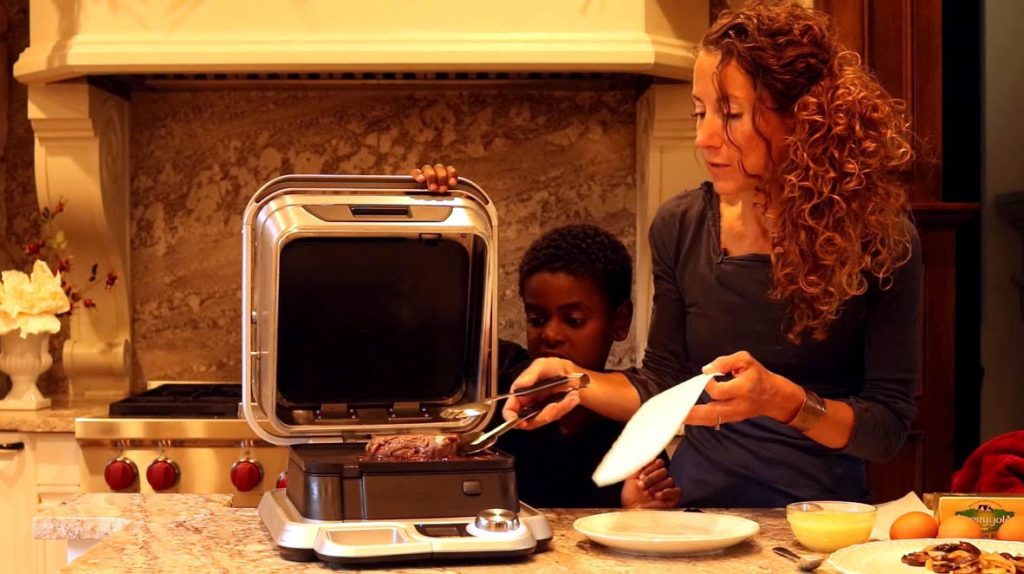 The Best Filet Mignon Recipe
Ingredients
2

tablespoons

unsalted butter

or duck fat if dairy free

1

small yellow onion

sliced thin

1

sprig thyme

2

cups

sliced baby portobello mushrooms

or button mushrooms

1/4

cup

beef bone broth

I used Kettle and Fire Broth

4

4 ounce filet mignon steaks (about 1 1/2 inches thick)

Brown Butter Bearnaise

click HERE or Hollandaise
Instructions
Season the filet mignon on all sides with salt. Place the filets in the Cinder Grill and select Filet Mignon on the Cinder App. Then select your preferred doneness.

When the Cinder Grill timer on your phone goes off, you have 2 HOURS to let the steak sit in the grill before it will over cook it!!!

Remove the steak from the Cinder Grill and wipe clean. Set the Cinder Grill to Sear. Once hot, add the steak and sear for one minute. It will sear the top and the bottom. Remove from the Cinder Grill and place on a platter.

While the steak is cooking, make the onions and the mushrooms. Heat the butter in a large cast iron skillet over medium high heat. Add the sliced onions and thyme. Cook for 2 minutes, or until onions are softened. Add the mushrooms and saute for another 4 minutes or until mushrooms are golden brown. Pour in the broth and simmer for 3 minutes or until broth as cooked down and most of the liquid has evaporated. Season with 1/4 teaspoon salt.

Divide the onion mixture onto 4 serving plates. Top the onion mixture with a filet mignon. Serve with hollandaise or bearnaise sauce if desired.
Nutrition
Calories:
242
|
Fat:
13
g
|
Protein:
26
g
|
Carbohydrates:
5
g
|
Fiber:
0.4
g
|
P:E Ratio:
1.5
TESTIMONY OF THE DAY
"Weighing in at close to 210 pounds when I went to see my doctor-crying and telling her that I didn't want to take a "diet" pill and being 54 I knew my metabolism had slowed down.
She suggested Keto – told me about Maria Emmerich and her book The 30 day Ketogenic Cleanse cookbook. And that is all it took. I got the book- started reading it first and went in 100%!  
Having lost 50 lbs so far and not stopping till next goal!  I love the way I have changed my eating habits and yes I will do a maintenance once I hit my lowest weight and may not add a few things back. But NEVER pure sugar or breads!  Thank you Maria Wojcik Emmerich!  I will always be grateful to you and my doctor!  Best life changing decision I've ever made!"
Most people I consult are doing keto totally wrong. Get fast results with the my NEW Keto Packages!