TESTIMONY OF THE DAY
Do you or someone you know suffer from an autoimmune disease? Alopecia is an autoimmune disorder is close to my heart. One client real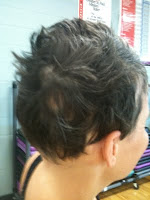 ly sticks out in my mind. Kiki was a middle-aged woman who came into my office. I saw her often in the weight lifting class that I take three times a week, but I never talked to her. It was impossible to ignore that she always wore a bandana on her head, but I never knew why. Her story is that in her 20's she started losing her hair and by the time she came into my office, it was completely gone.
I love this story because Kiki was a professor so I never saw her at the gym during the school year. After 6 months of my anti-inflammatory, keto-adapted, gluten-free diet, Kiki walked into the gym with a bandana on like usual and ran up to me with a huge grin. She ripped her bandana off and had a full head of hair. She said with delight, "I had my first haircut in 10 years!" As a woman, I can't imagine. I use to let those "bad hair days" upset me, but after meeting Kiki, that just seems silly.
She thought I was crazy when I told her that she had a food allergy causing her to lose her hair. She is a total believer now! She was so excited that she had her first haircut in over 10 years!
We eliminated certain foods and added in some specific supplements to help with skin and hair conditions. Also, in the cases that I see of autoimmune disorders (like alopecia) adding in low-dose naltrexone (LDN) to help immune status. LDN works by blocking opioid receptors so the pituitary will somewhat normalize and the immune system functions better.
30 Day Accelerated Testimony: "I've been eating your meal plans for about 3 wks now and there hasn't been a recipe I didn't like. Normally when I get a recipe book there's only a handful that is good but all of yours are. I have to pinch myself daily that I'm actually eating healthy and I feel so much better. I'm at 5 wks postpartum and I already fit into my pre having kids jeans and that usually takes 4-6 months. My husband's also lost 8lbs of "sympathy" weight. I am so glad I stumbled upon your blog. It has been life-changing for my whole family" – Amber"
If you or someone you know is interested in getting on the right path, please email me for a consult. I would be honored to help! Click HERE to get started!
If you love spinach artichoke dip, you have to try this recipe!
CRUST:
1 1/2 cups almond flour
1 1/2 cups freshly grated Parmesan cheese
1/4 tsp Celtic sea salt
1 clove garlic (optional)
1 egg
FILLING:
1 (10 oz) package frozen chopped organic spinach, thawed and drained
1 ½ cups artichoke hearts, drained and chopped
1/8 tsp Celtic sea salt
1 clove garlic, minced
3/4 cup Parmesan Cheese
8 oz mascarpone or cream cheese softened
2 eggs
Preheat the oven to 325 degrees F. For the tart shell, combine the flour, cheese, salt, and garlic and mix well.
Add the egg and mix until the dough is well combined and stiff. Press pie crust into a pie dish or tart pan. Bake the crust for 12-15 minutes, or until it starts to lightly brown.
Meanwhile, combine spinach, artichokes, salt, garlic, Parmesan Cheese, mascarpone and eggs. Pour mixture into prebaked tart shell. Sprinkle with extra Parmesan. Bake at 350 degrees F for 30 minutes. Makes 6 servings.
NUTRITIONAL COMPARISON (per serving)
Traditional Tart = 475 calories, 30g fat, 20g protein, 30g carbs, 2g fiber
"Healthified" Tart = 504 calories, 36g fat, 28g protein, 12g carbs, 4.4g fiber (68% fat, 22% protein, 9% carbs)
Iron Facts
Are you a female? an athlete? or have a food allergy and are low in iron? Spinach is very high in available iron which is very important to supplement with especially if you are female (about 90% of females are iron deficient and this is why they don't have enough energy and are losing hair). If you lack iron you have a hard time carrying oxygen to the mitochondria of your cell, which is where you burn fat. So, if you are low in iron, fat burning is hard to accomplish. Low iron can be caused by a FOOD SENSITIVITY (your intestines inhibit you from absorbing iron), heavy menstrual cycles, heavy exercising, or not eating meat. Low iron causes high anxiety.
HEALTH TIP: adding lemon to meals with iron, helps with absorption; it can increase your body's absorption of the iron by up to 20 times!
Tip: for those with a compromised thyroid, don't consume excessive amounts of raw spinach.