Ranch Chicken Satay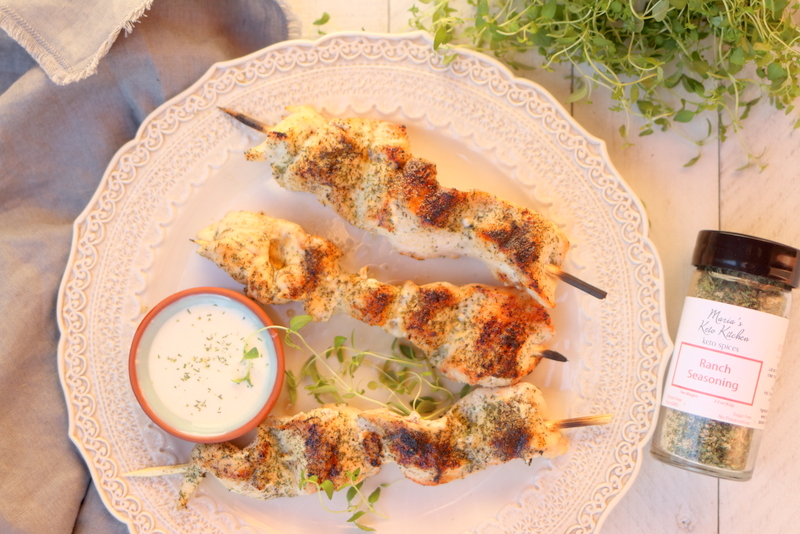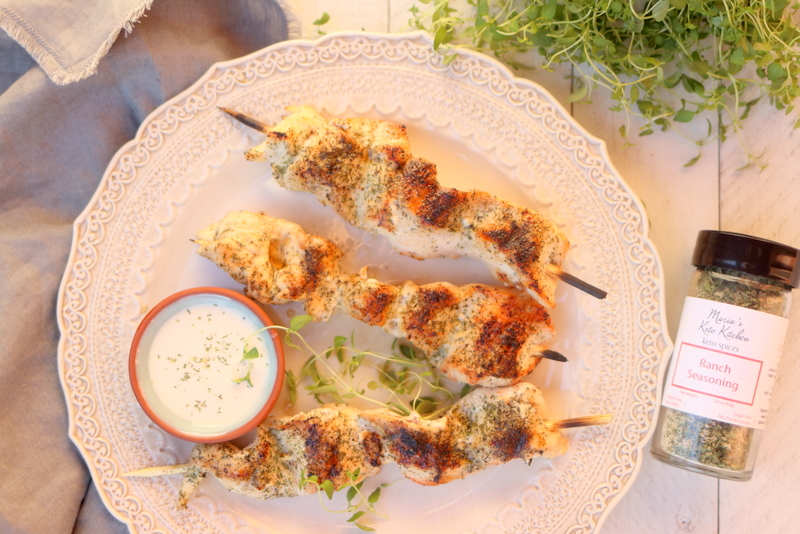 Chicken dipped in Ranch Dressing! What's not to love? This recipe is simple, delicious and very ketogenic! This Ranch Chicken Satay recipe is something that my kids adore because they love anything on a stick and they love dipping food in tasty sauces like my homemade Ranch dressing.
If you didn't know already, I do not like wasting time going to the store, waiting in line and driving home. That is why I get just about everything mailed to my front door! Including chicken  to make this tasty Ranch Chicken Satay recipe! We love using Butcherbox for helping us save time getting quality meats mailed to us every month. Check out this video with Micah as my assistant on what you get in a box each month! You can customize your box too! Whether you want a box of chicken tenders, chicken thighs, ground beef, ribs, steaks or pork chops, Butcherbox has you covered!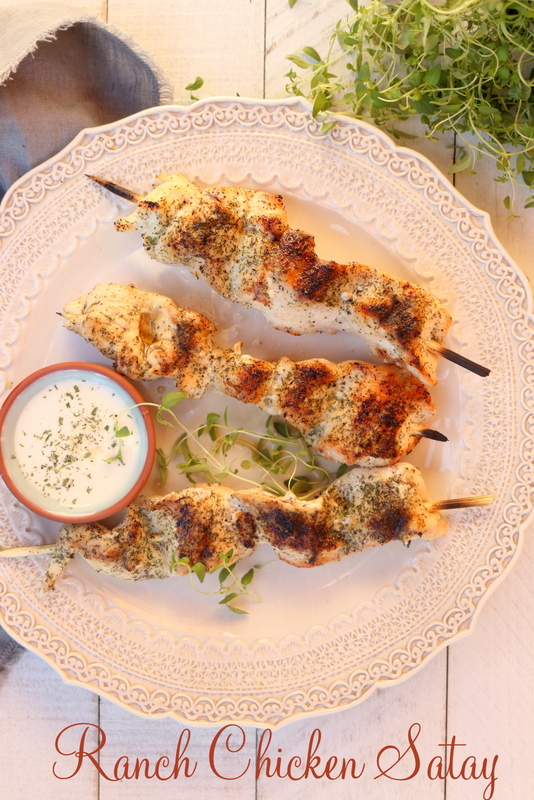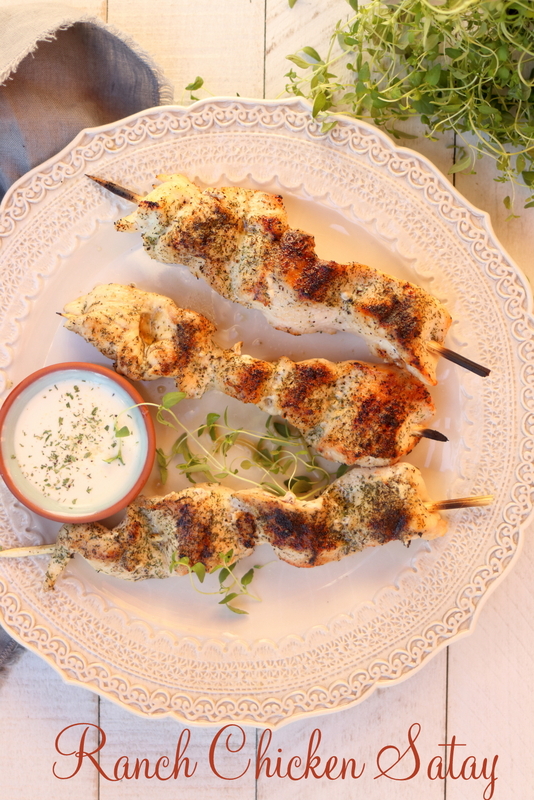 Ranch Chicken Satay
Ingredients
CHICKEN SATAY:
4 (6-oz.) skinless, boneless chicken breast halves
1½ tablespoons Maria's Keto Kitchen Ranch (or homemade ranch seasoning), plus more for making Ranch dressing
RANCH DRESSING: Click HERE
GARNISH:
Optional Fresh sprigs thyme
Instructions
Soak 8 wooden skewers in water for 10 minutes while you prepare the chicken.
Slice the chicken breasts lengthwise into long strips that are about ½ inch thick.
Season chicken strips on all sides with 1½ tablespoons ranch seasoning and thread onto wooden skewers. Heat grill to medium-high (or heat a tablespoon of coconut oil in a cast iron skillet over medium-high). Add chicken to grill (or skillet) and cook 5 minutes, flip and cook another 4 to 5 minutes or until chicken is cooked through and no longer pink. Remove chicken and rest for 5 minutes before serving.
Meanwhile make the sauce by placing the softened cream cheese, broth and ranch seasoning in a bowl or blender. Combine until smooth. Taste and adjust seasoning to your liking.
Place dressing in a dish to dip chicken satay. Garnish with thyme. Store extras in airtight container for up to 4 days. Can be frozen for up to 1 month. To reheat chicken, place on a lightly greased skillet for 2 minutes per side or until heated to your liking.
Notes
Nutritional Info:
385 calories, 22g fat, 43g protein, 0.5g carbs, trace fiber
TESTIMONY OF THE DAY
An amazing testimony of a woman following my meal plans my book The 30 Day Ketogenic Cleanse!
 Thank you for your love and support!
"New A1C results today! Started Keto 7/2 at 234 pounds. A1C on 7/28 was 7.3. I'm down to 195 pounds and A1C is 5.7. (At 5.6, you're considered non-diabetic!)" – Lisa