Pure Protein Flourless Cookies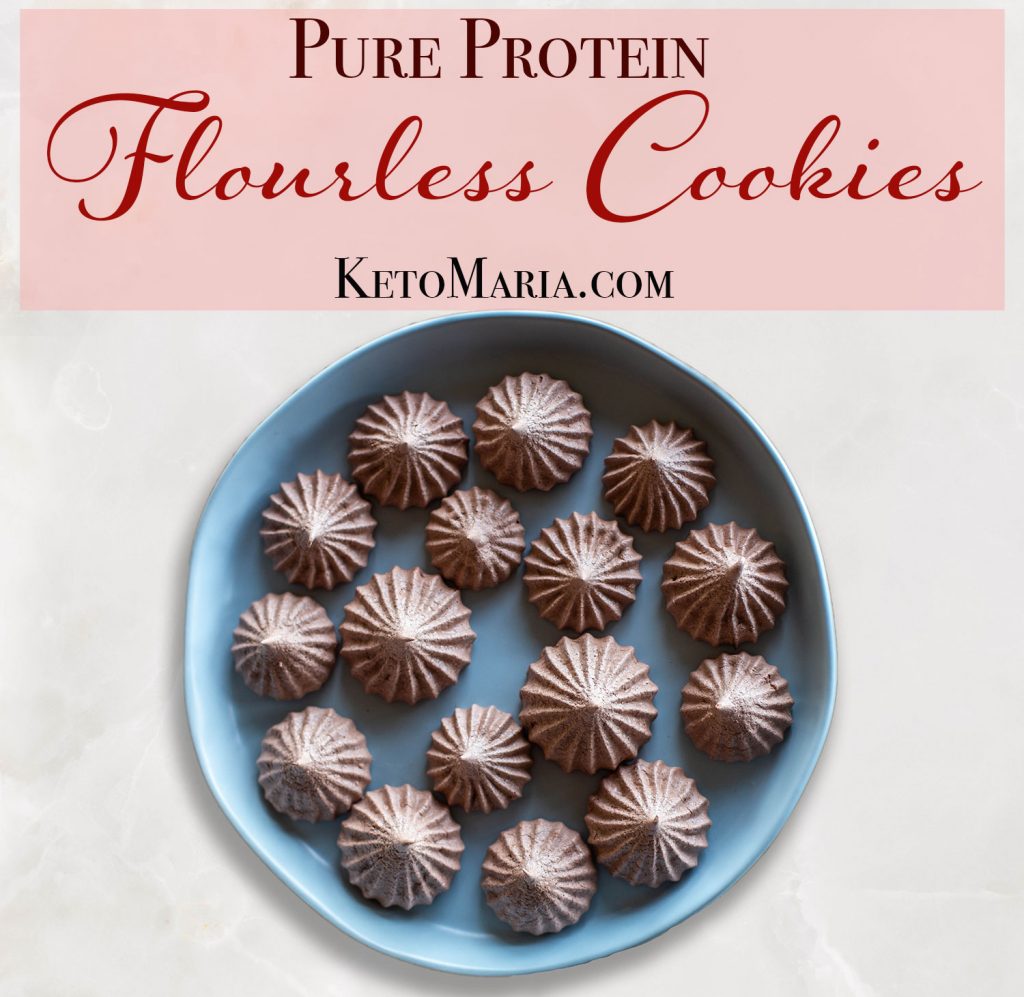 Please note that my pure protein flourless cookies are like a meringue cookie and meringues and humidity do not mix. If your kitchen is very humid, you will not end up with a crispy pure protein cookie outside.
HOW TO MAKE PURE PROTEIN FLOURLESS COOKIES 
I love that my pure protein flourless cookies are filled with Further Food chocolate collagen! Collagen is such a healthy addition to these protein cookies!
Further Food Chocolate Collagen has the most delicious flavor! You are going to love this pure protein flourless cookie recipe!
Further Food is SO generous that they are doing a special discount for all of my readers!
Use code: MARIAMINDBODY for 20 % off!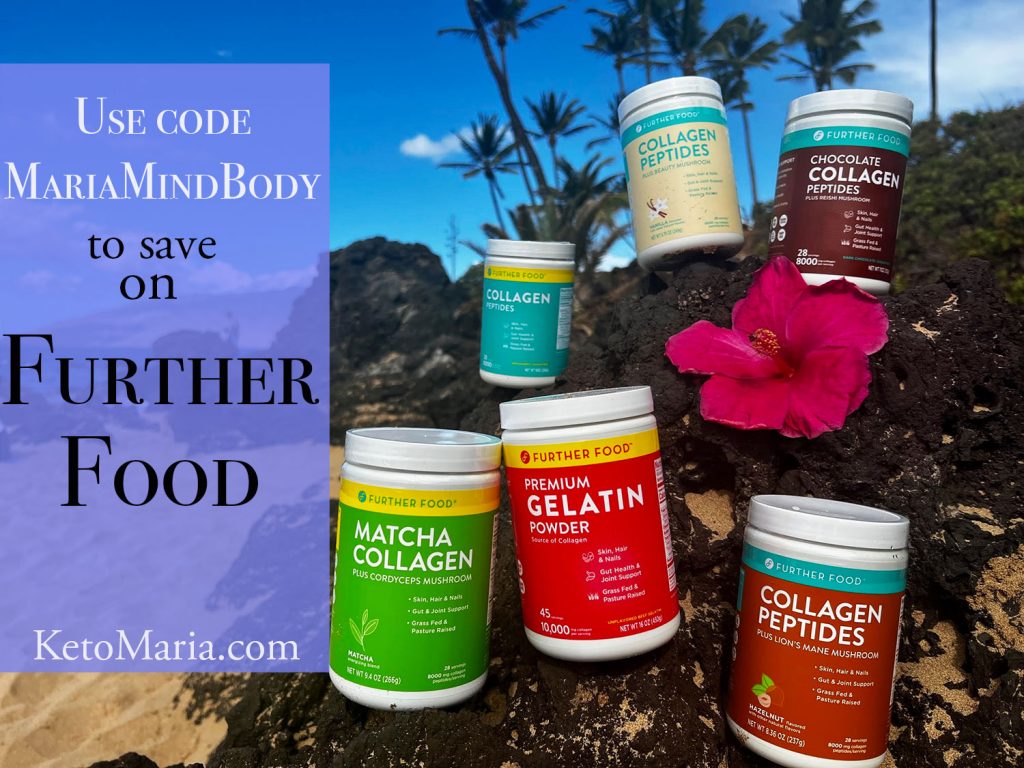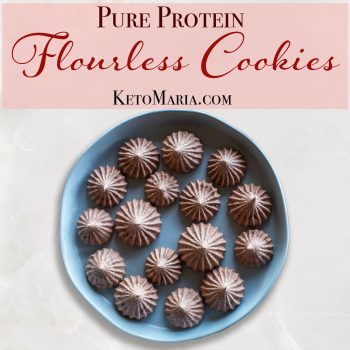 Pure Protein Flourless Cookies
Instructions
Preheat oven to 225 degrees F. Line a baking pan with parchment and spray with Primal Kitchen Avocado oil spray.

In a small bowl, use a hand mixer to beat the egg whites and cream of tartar with a hand mixer until soft peaks form. With the mixer on low, slowly sprinkle in the sweetener until completely incorporated. Continue to beat until stiff peaks form. Gently fold in the collagen.

Spoon the mixture into a piping bag and form 1 inch meringue cookies on the parchment that are about 1/4 inch apart from each other.

Place in oven and cook for 1 hour, then turn off the oven and let the cookies stand in the oven for another 20 minutes.
Nutrition
Calories:
13
|
Fat:
1
g
|
Protein:
2
g
|
Carbohydrates:
1
g
|
Fiber:
1
g
|
P:E Ratio:
2
TESTIMONY OF THE DAY
"This photo can show you some of my journey, and the Maria and Craig way of keto helped me regain going off of thyroid medicine.

In December last year, not sleeping more than and a few hours, and my heart rate was constantly high. I had blood work down and i was off the charts hyperthyroid and my autoimmune system went crazy with ignoring my gall bladder issues for 8 months.

I fought hard to keep my thyroid and avoid radiating it.  It's not my first rodeo fighting to keep it. I always tell them I refuse to have it out because I will never feel normal if you only treat me based on lab numbers. To some 2.5 is a normal TSH but honestly it makes me feel like a slug and my autoimmune is under control better at 0.5-1.0.

I was put on hyperthyroid medicine, and with 2 weeks gained 10 pounds.

April 2021 my numbers were a little high for me to feel normal so I cut back to every other day. This was the month I found PSMF and started the Maria and Craig way of keto.

August: 2 months med free, 4 months 85-90% consistent eating the Maria and Craig Emmerich's way, about 2 days a week of PSMF.

December this year: back to normal lab results, still pretty consistent with Maria and Craig way of keto. High protein, moderate fat and ~30 grams of total carbs a day. Can't wait to have the conversation with the doctor on me being off all the medication again soon.

Maria helped me get off of my thyroid meds, and feel like myself again.  Always fight for what you feel is best. I know I would have given in on a thyroid removal or radiating it I would not be on where I am today.

Cheers to 2023 and to start back to PSMF days for a few moths for a cut." – Tiffany
Most people I consult are doing keto totally wrong. Get fast results with the my Mind-blowing Keto School!