Pumpkin Muffins
I was asked to do a presentation at a large company in Stillwater, MN. The woman I am working with asked me to bring a few samples of foods from my cookbook. I thought "tis the season" with Pumpkin Muffins. There was just one problem…I needed 200 samples and every time I would frost one, it would disappear! They are very tasty!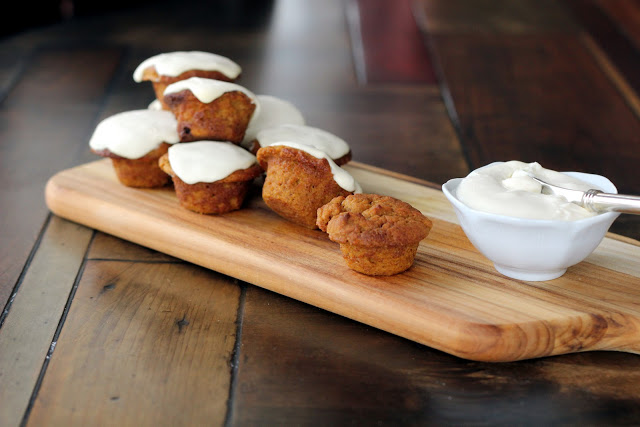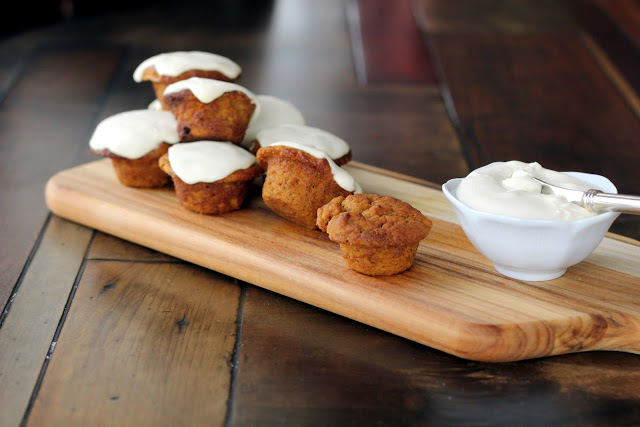 Option: Make mini muffins like shown above using a mini muffin pan and baking for 20-30 minutes.
1 ½ cups blanched almond flour
¼ tsp Celtic sea salt
½ tsp baking soda
1 tsp ground cinnamon
½ tsp ground nutmeg
¼ tsp ground ginger
1/8 tsp ground cloves
2 TBS Butter or Coconut Oil
½ cup Swerve (OR 1/3 cup Erythritol and ½ tsp stevia glycerite)
3 large eggs
1 cup fresh OR canned pumpkin
In a mixing bowl combine almond flour, baking soda, salt, and spices. Mix butter, sweetener, eggs and pumpkin until smooth. Stir wet ingredients into dry. Grease or place paper liners in muffin tins. Spoon batter into the pan. Bake at 325° for 30-40 minutes. Cool and top with cream cheese frosting! Makes 6 servings.
FROSTING:
4 oz cream cheese or coconut cream
2 TBS unsweetened almond milk
3 TBS Confectioners Swerve OR a touch of stevia glycerite (to taste)
Mix together and place a dollop on top of muffins.
NUTRITIONAL COMPARISON (per serving):
Traditional Pumpkin Muffin = 403 calories, 73 carbs, 2 fiber (71g effective carbs)
"Healthified" Muffins (4 mini muffins) = 319 calories, 27g fat, 11g protein, 10g carbs, 4g fiber