Protein Sparing Egg Rolls
Want to learn everything you need to know about Protein Sparing Modified Fasts (Pure Protein Days)?
My new Protein Sparing package has it all including weekly meetings with me and my husband Craig!!!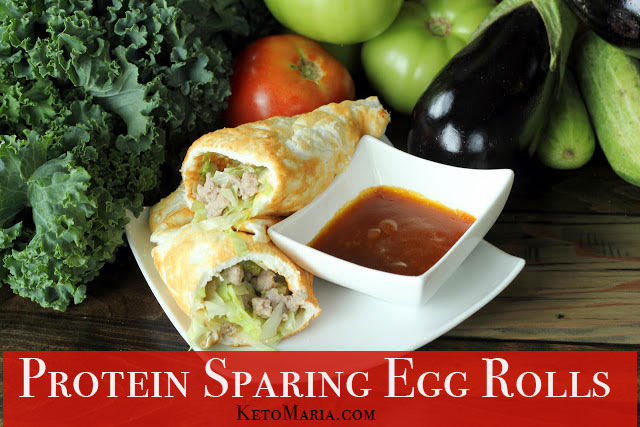 I have been making my protein sparing bread for a long time now! I love it and eat it just about daily!
To make my protein sparing egg rolls, I used my psmf bread recipe to make the egg roll wrapper!
Sure, these protein sparing egg roll wrappers are not as crispy as a traditional egg roll wrapper but they are delicious!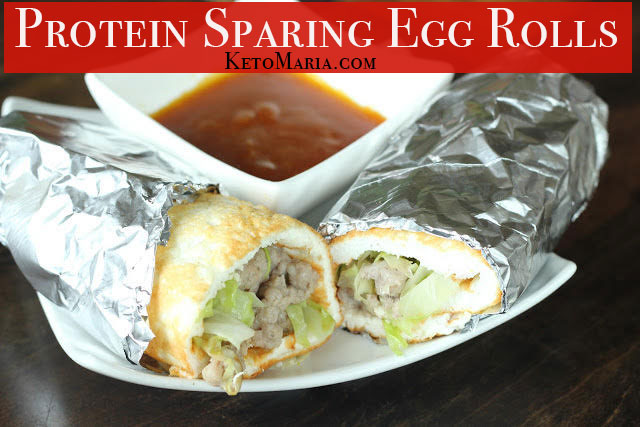 EGG ROLL FILLING:
1 teaspoon coconut oil or duck fat
1 teaspoon freshly grated ginger
1 clove garlic, minced
1 lb ground pork
1/2 teaspoon Redmond Real salt
2 cups shredded cabbage
2 tsp Organic Tamari sauce (wheat-free soy sauce)
1/2 teaspoon stevia glycerite
PROTEIN SPARING EGG ROLL WRAPPER:
Coconut oil or duck fat for frying
3 eggs, separated
1/4 cup unflavored egg white powder
2 oz cream cheese, softened
FILLING: Heat the oil in a skillet over medium heat. Add the ginger and garlic and saute for one minute. Add the pork and saute until pork is cooked through and no longer pink. Season with salt. Add in the cabbage, Tamari sauce, and stevia. Fry until the cabbage is crisp-tender. Set aside to fill the "wrapper."
"WRAPPER": Separate the eggs (save the yolks for a different recipe), and whip the whites in a clean, dry, cool bowl for a few minutes until VERY stiff). Blend in the egg white powder. Slowly stir in the cream cheese (without breaking down the whites). Heat the oil in a frypan on medium-high until a drop of water will sizzle. Once it is hot, place a circle of dough on the pan. Fry until golden brown on both sides. Remove from heat and place on a plate. Fill with egg roll mixture and enjoy! Makes 12 servings.
Optional: Wrap into a foil for easy lunches at work!
NUTRITIONAL COMPARISON (per serving)
Traditional Egg Rolls = 334 calories, 14.2g protein, 20.5g fat, 22.6g carbs, 1.6g fiber
Protein Sparing Egg Rolls = 112 calories, 13.8g protein, 5g fat, 1.8 carbs, trace fiber
TESTIMONY OF THE DAY
Thank you Maria Emmerich!
I wanted to share how you have helped change my life for the better
I have battled with my weight all of my life and stomach issues. I came across your Instagram in July of this year and it changed my life for the better!
I have lost 30 pounds and have not suffered from my IBS and fibromyalgia. I did a personal supplement plan with you and have never felt better. I now feel better in my 50's then in my 30's. I appreciate all the research and dedication you put into helping people live their healthiest life!!! Thank you so much!!!
Most people I consult are doing keto totally wrong. Get fast results with the my Mind-blowing Keto School!