Protein Sparing Bûche de Noël (Yule Log Cake)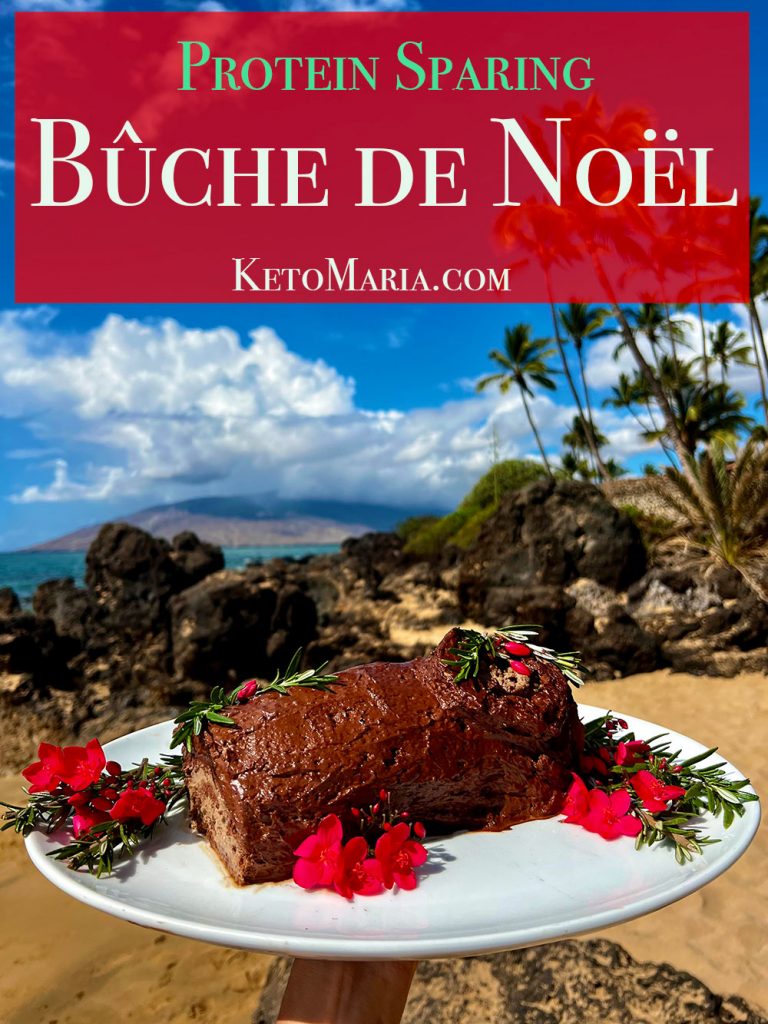 I am so happy people are finaly loving my protein sparing bread and protein sparing cake recipes! I have been making my protein sparing bread and protein sparing cake for almost 20 years now!
As you can see in this old Keto Adapted Facebook post from 2010, I made a Protein Sparing Bûche de Noël! Yes, I have been eating it for decades!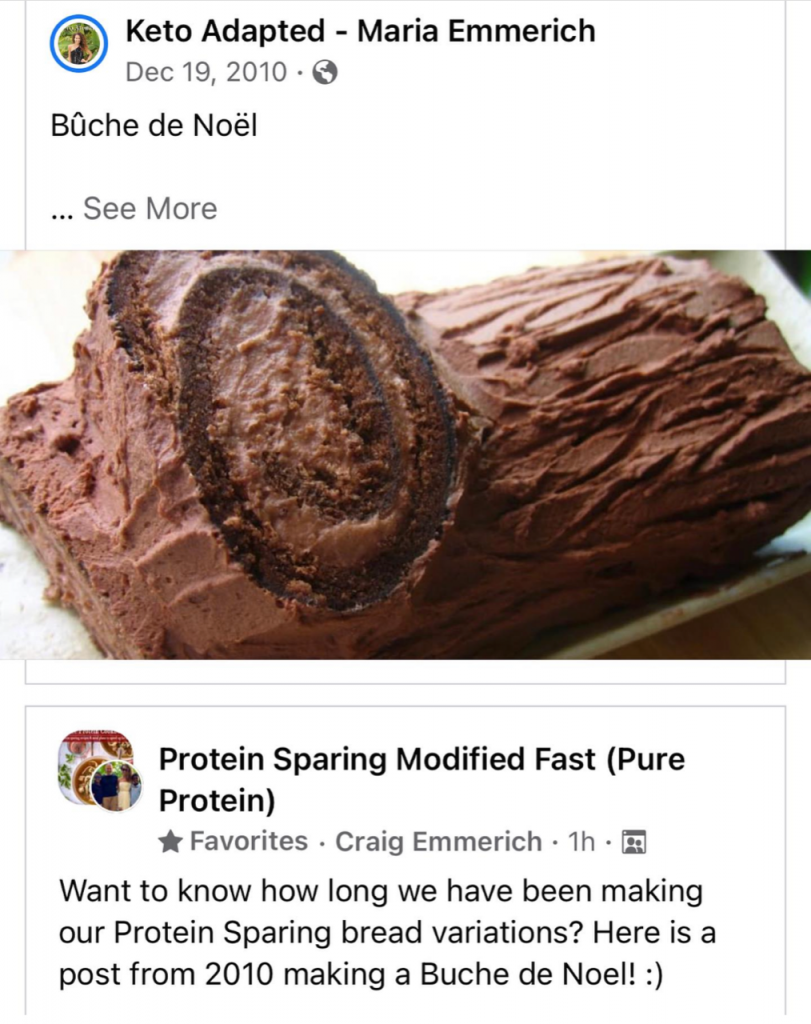 I LOVE this moist protein sparing cake that I used as the base of my Bûche de Noël! There are no protein powders like my protein sparing bread. It isn't needed. I spent years creating the perfect protein sparing cake and I hope that you love it as much as we do!
I am not much of an artist, so if you make my Bûche de Noël recipe, please mention me @mariaemmerich on Instagram or  Maria Wojcik Emmerich on Facebook so I see your lovely creations! They warm my heart!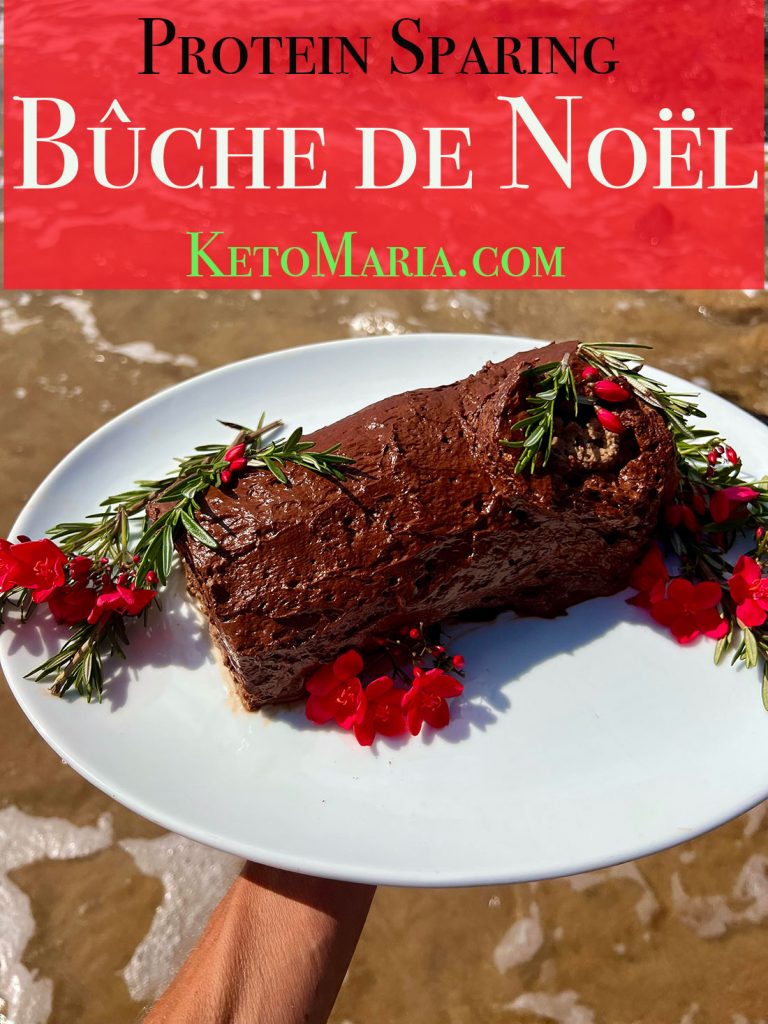 To make my protein sparing Bûche de Noël, I used Further Food chocolate collagen!
Further Food chocolate collagen made the protein sparing cake for my Bûche de Noël extra delicious and extra healthy!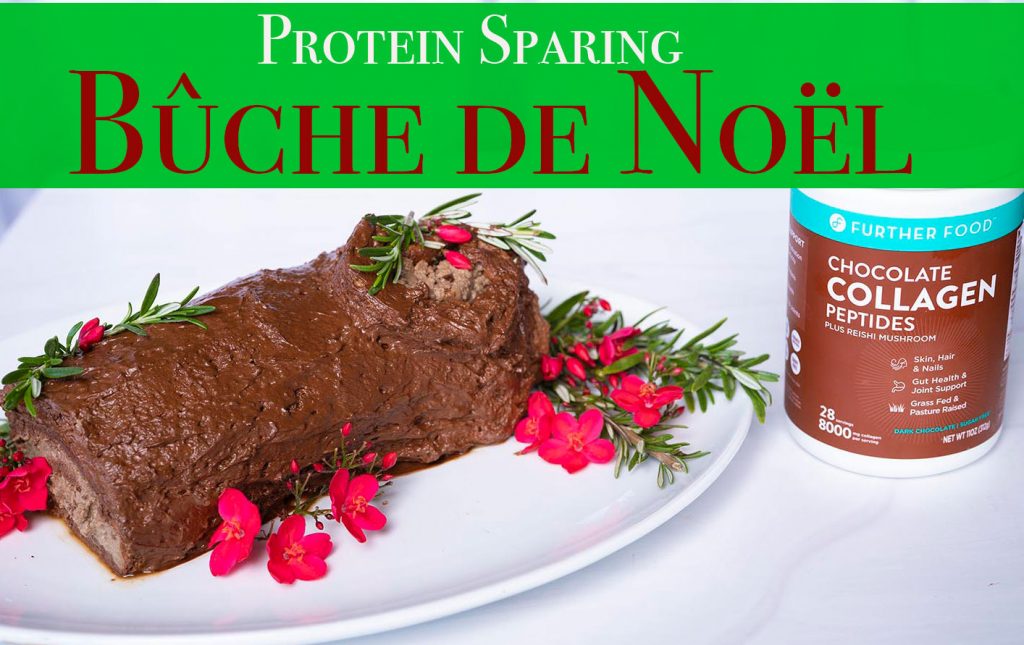 Further Foods products are not only filled with top quality ingredients, they are also delicious!
I love that I can easily open a tub of Further Foods Chocolate Collagen and use it to make my protein sparing Bûche de Noël for the holidays!
Further Foods is SO generous that they are doing a special discount for all of my readers!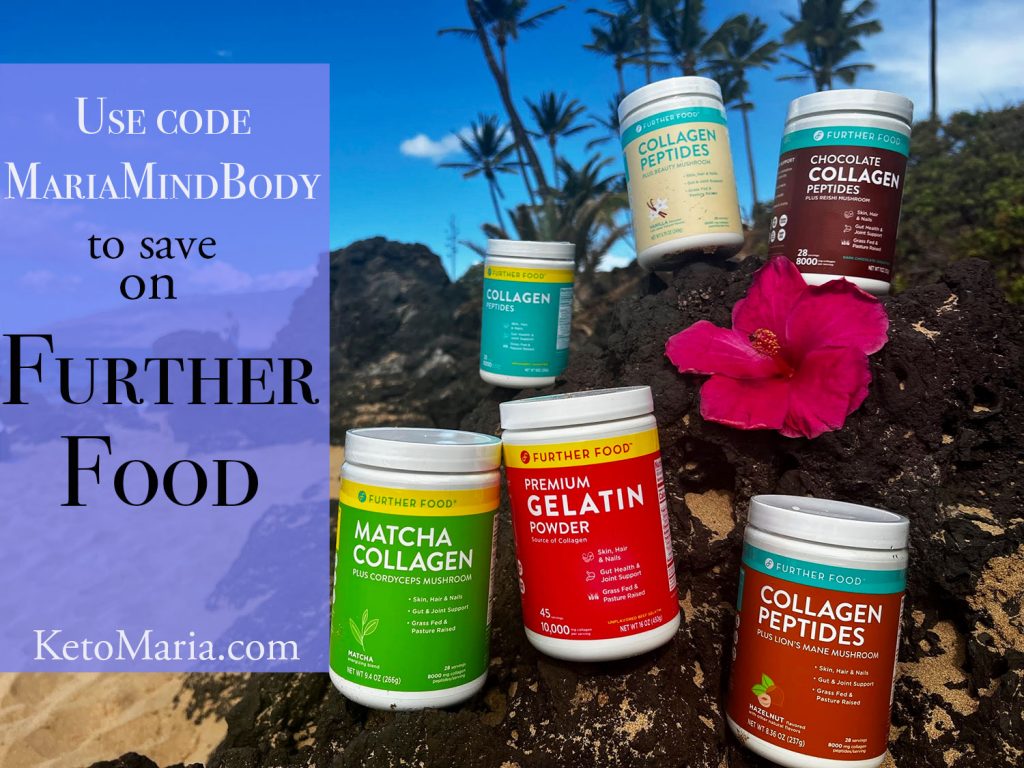 Protein Sparing Bûche de Noël (Yule Log Cake)
Ingredients
PSMF FILLING (OPTION 1):
10

large

eggs whites

scrambled and cooked through

3/4

cup

unsweetened almond milk

or unsweetened cashew milk

1/4

cup

Natural Sweetener

or equivalent

2 ½

tablespoons

unsweetened cocoa powder

2

teaspoons

vanilla

or chocolate extract

⅛

teaspoon

Redmond Real Salt
FILLING AND FROSTING (NOT PSMF-OPTION 2):
1 

cup

Natural Sweetener

or allulose

½

cup

butter

softened

1 ½

tablespoons

unsweetened cocoa powder

1/8

teaspoon

Redmond Real salt

1

teaspoon

vanilla

or chocolate extract

⅓

cup

mascarpone cheese

or cream cheese, softened
PSMF FROSTING:
2

large

egg whites

3/4

cup

Natural Sweetener

or 1 cup if you prefer it sweeter

3

tablespoons

unsweetened cocoa powder

1/4

teaspoon

cream of tartar

1/3

cup

cold water

plus more for sauce pot

1 1/2

teaspoon

vanilla

or other extract
OPTIONAL GARNISH:
1

bar The GOOD CHOCOLATE

click HERE
Instructions
Preheat oven to 350 degrees F (175 degrees C). Line a 10x15 inch jellyroll pan (or rimmed baking sheet) with parchment paper. Spray well with avocado oil spray. Set aside.

In a large clean bowl, whip egg whites with a pinch of salt and the cream of tartar until foamy (save the yolks for "healthified" creme brule, "healthified" coconut custard, OR "healthified" ice cream).

Mix on high speed until very stiff (you will be able to put bowl upside down and the whites won't fall out).

Meanwhile, in a medium bowl, sift the sweetener, cocoa powder and collagen together and set aside.

Once the whites are stiff, gently fold in the cocoa mixture. Add your favorite extract flavor. Stir to combine.

Place the mixture onto the prepared jellyroll pan.

Bake for 15 minutes or until golden brown and cooked through.

Dust a clean kitchen towel with powdered natural sweetener (Swerve or allulose) and invert warm cake onto towel. Peel off parchment paper.

Starting at the short end, use the towel to tightly roll cake into a log. Let cool completely.

To make the PSMF filling, place all the ingredients into a blender and puree until very very smooth. Taste and adjust sweetness to your liking. Place in the fridge in an airtight container for up to 4 days. The better your blender, the creamier and more delicious this filling will be.

To make the option 2 filling, in a large bowl (or bowl of a stand mixer), place powdered sweetener, butter, cocoa powder, salt, and extract and mix on high speed until well combined and fluffy. Add the mascarpone cheese. Mix until combined; set aside.

To make the frosting, Place all the ingredients in a metal bowl that fits inside a sauce pot then set the filled metal bowl aside. Bring a sauce pot filled 1/3 of the way with water to a soft boil, place the bowl into the sauce pot and let the water simmer under the bowl as you mix with an electric hand mixer. As the egg cooks it will thicken. It will take about 7 minutes of mixing. As the mixture gets hot and is thickened, remove the bowl from the saucepan and finish mixing it on the counter. The frosting is ready when the mixture forms stiff peaks when you lift the beaters.

When cake is cool, unroll and spread filling evenly over cake. Roll cake back into a log, using the towel to help create a tight roll. Place seam side down on a baking sheet and refrigerate until well chilled, 1 hour.

When ready to serve, trim ends and frost cake with chocolate protein sparing frosting. Top with The Good chocolate curls (click HERE). Place cranberries and rosemary on log to create mistletoe.
Notes
Option 2 (Non-PSMF):
195 calories, 16g fat, 8g protein, 3g carbs, 1g fiber
P:E Ratio 0.4
Nutrition
Calories:
96
|
Fat:
2
g
|
Protein:
13
g
|
Carbohydrates:
4
g
|
Fiber:
2
g
|
P:E Ratio:
3.3
TESTIMONY OF THE DAY
Felicia lost 190 POUNDS! 
"Feeling Blessed every day for  Maria and Craig Emmerich!
I thought it was impossible for me to lose weight and keep it off.
Morbidly obese from the age of 8, I was put on every diet imaginable. I ate salads and fruits and listened to all the doctors. At age 60, with an A1C of 11.7, in constant pain, walking with a cane because of diabetic foot ulcers that wouldn't heal, I decided I would try one more time to get the weight off.
Now at age 62, my A1C is 5.4 and I'm down 190 lbs from a high of 420lbs to 230 lbs this morning!! I haven't taken as much as an aspirin in over a year.  No medications and my eyesight has improved.
Saying Thank you again to Maria and Craig for helping me to do what I truly thought was IMPOSSIBLE!
" – Felicia
Most people I consult are doing keto totally wrong. Get fast results with the my Mind-blowing Keto School!