Protein Noodle Pad Thai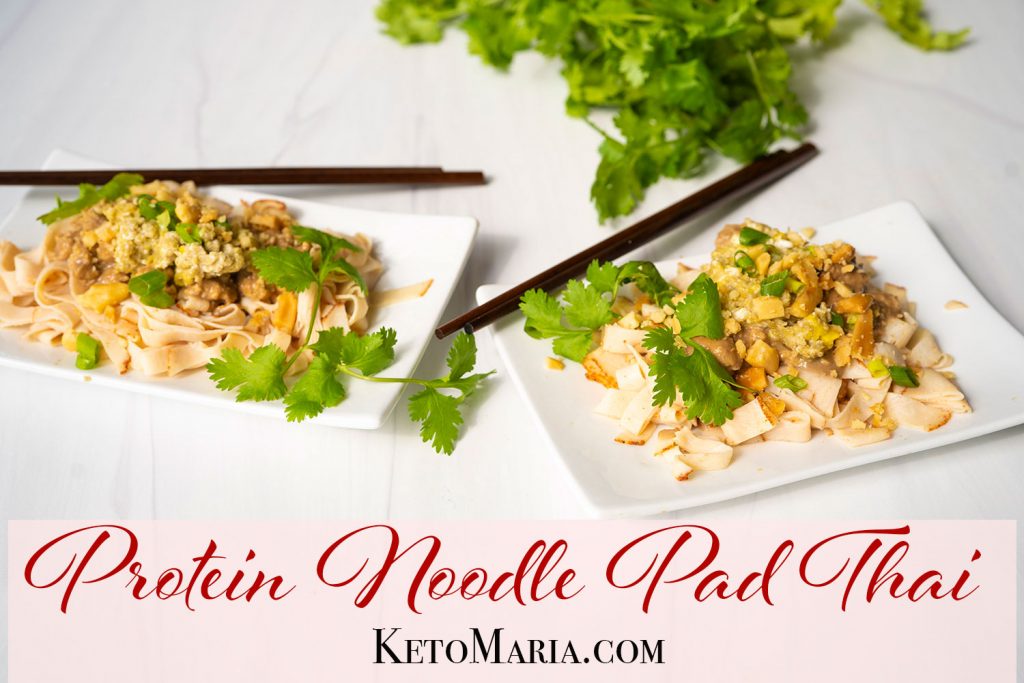 Pad Thai is a delicious recipe that is often served over rice noodles and made with peanut butter.  My keto pad thai is extra healthy and extra delicious because instead of carb-heavy rice noodles, I used protein noodles1
My Protein Noodle Pad Thai is so delicious and it is easier than most Pad Thai recipes because you don't have to boil the noodles and the protein noodles are extra flavorful! My easy keto pad thai also makes delicious leftovers for easy lunches!
To make my Protein Noodle Pad Thai, I used my favorite Pili Nuts and Pili Nut Butter!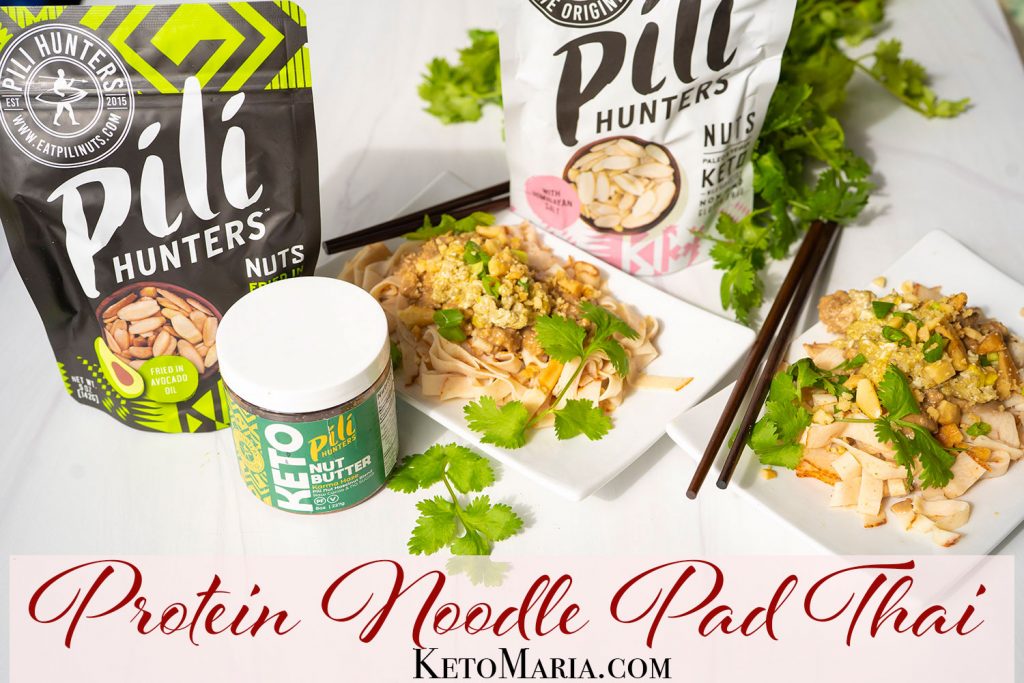 Pili Nuts RULE! Not only do they taste like a crunchy buttery mouthful of goodness, they also are only ONE gram of TOTAL carb per ounce!  For true keto weight-loss success you need to count total carbs, do not get caught up in counting "net" carbs.
Using pili nut butter in my protein noodle pad thai, lowered the carbs and it also gave my easy pad thai recipe a delicious new flavor!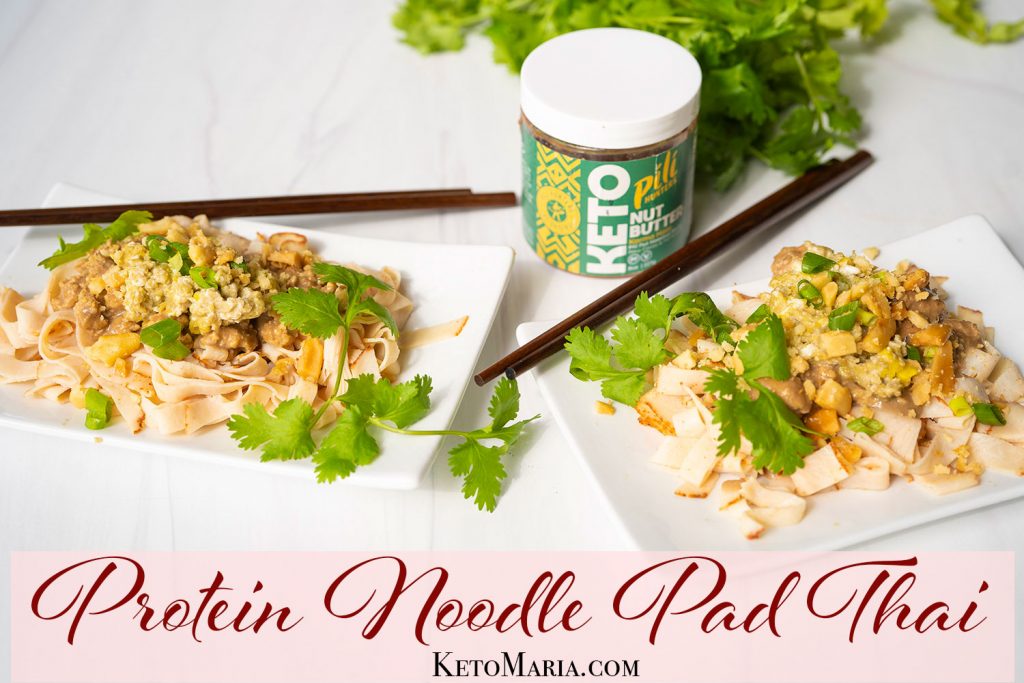 Protein Pad Thai
Ingredients
½ cup chicken broth
½ cup Swerve confectioners' or equivalent
1½ tablespoons apple cider vinegar (coconut vinegar)
1 teaspoon fish sauce
1 teaspoon hot sauce, such as Franks
1 tablespoon coconut oil
2 cloves garlic, minced (or ½ head roasted garlic)
1 ½ teaspoons grated fresh ginger
1 pound ground chicken
4 large eggs, lightly beaten
12 oz slices deli chicken, sliced into thin noodles (about 4 cups)
GARNISH:
¼ cup chopped fresh chives or scallions, for garnish
Fresh cilantro leaves, for garnish
Instructions
Whisk the broth, sweetener, vinegar, Pili Nut butter, fish sauce, and hot sauce in a small bowl. Set aside.
Heat the oil in a large skillet or wok over medium-high heat. Add the garlic and ginger to the pan and stir-fry for 2 minutes, until fragrant. Add the ground chicken and season with 1 ½ teaspoon of salt. Saute for 5 minutes or until the chicken is cooked through and no longer pink. Stir in the sauce and stir well. Remove from skillet and place on top of the protein noodles in the large serving bowl.
Place the eggs into the skillet and sauté until the eggs are set, about 2 minutes. Season the eggs with ½ teaspoon salt. Top the chicken mixture in the serving bowl with the eggs. Garnish with chives, Pili Nuts, and cilantro.
Slice the deli chicken into thin noodle-like shapes. Gently heat over low heat in a large skillet or in the microwave for 1 minute. Set into a large serving bowl.
To serve, divide the protein noodles among 4 bowls. Serve with chopsticks.
Store the leftovers in an airtight container in the refrigerator for up to 4 days.
To reheat, place the mixture in a saucepan over medium heat for about 4 minutes, or until heated through.
Notes
Nutrition:
396 calories, 22g fat, 51g protein, 3g carbs, 1g fiber
P:E Ratio 2.1
TESTIMONY OF THE DAY
"Thanks to Maria Emmerich and living keto the Emmerich way, I've lost 104 pounds and I'm still going! " – Marsha
Most people I consult are doing keto totally wrong. Get fast results with the my Mind-blowing Keto School!