Testimonies of the Day (Yes, they all came the same day!)
CHOLESTEROL TESTIMONY: "My mom has had high cholesterol for a good chunk of her life. She was on pills and followed a diet with eggs only once in a while. After reading your book, we decided to test it out and put eggs in her diet again. She has eggs everyday. And her cholesterol has never been lower. Thanks, Maria!" -Nat
WEIGHT LOSS AND GUT HEALTH: "It's day 6 and I've lost 6! I feel good too! No bloating, sore intestines, and great energy! Thanks, Maria!" -Nan
MOOD TESTIMONY: "Hi Maria, Thank you for your wonderful advice! I started your plan a couple of months ago and I am so happy with how I am feeling. Mentally and emotionally this is the healthiest I have felt in many, many years! I am off my depression medication and I am sleeping so much better. I feel more motivated and have more energy than I can ever remember having before. I honestly can't imagine feeling any better than I do right now!"- Carrie
AUTISM TESTIMONY: "Hi Maria! My family saw an immediate shift in behavior with gluten, casein soy, and sugar-free diet. I honestly thought that we would have a grieving period over cake pops from Starbucks. In the past, we had an upset little girl every time she saw that dang green mermaid. I honestly think yanking the processed sugar out COMPLETELY was way bigger for our child. She is 4 and has an autism diagnosis. It's mostly speech and language we are dealing with so explaining the changes to her was not gonna help a thing. She's on a whole new protocol, but this diet was the first step. Very impressed by the removal of sugar. She takes one simple no for an answer now. It's crazy."- Heather
CONSTIPATION TESTIMONY: "Maria, it's amazing – after just one day on the supplements no bleeding or pain during and after #2 for the first time since August! Thank you :)" -April
WEIGHT LOSS AND MIGRAINE TESTIMONY: "I've been eating the Maria way for 19 days and feel great. The webinar you taught really helped too. I've lost 8lbs and I'm never hungry! Thank you! My husband has migraines 3-4 times a month and hasn't had one yet this month!" -Stephanie
GOUT FACTS
Gout, or elevated levels of uric acid, is one of the most commonly mistakenly fixed with a diet that is low in protein and high in fructose. The prevalence of gout seems to have doubled over the last 25 years. Uric acid accumulates and crystallizes into needle-sharp urate crystals. These crystals then lodge in the soft tissues and in the joints of the extremities most commonly, the big toe. This causes inflammation, swelling, and terrible pain.
Uric acid is a breakdown of protein compounds known as purines; which are the building blocks of amino acids. High concentrations of purines are found in meat, SO we assumed that the primary cause of elevated uric acid levels in the blood is caused by an excess of meat consumption.
The actual cause has been quite shocking! Just as low sodium diet has been proven to NOT help with lowering blood pressure and a cholesterol-free diet doesn't help with decreasing heart disease, a low-purine diet has no effect on uric acid levels!
A vegetarian diet will drop serum uric acid levels by only about 10% compared to a typical American diet, but that isn't going to do much to decrease gout and the pain that is being experienced.
Another shocking piece of evidence is that eating additional protein increases the excretion of uric acid from the kidney! This decreases the level of uric acid in the blood; therefore the high protein diets are helpful, even if the purines aren't.
Now let's look at the true culprit…Insulin resistance DOES raise uric acid levels. This happens because it decreases uric acid elimination by the kidney; the same way it raises blood pressure by decreasing sodium excretion. So raised insulin levels will raise uric acid levels and can cause gout. Therefore a high carbohydrate diet is one large problem with gout.
BUT there is one specific carbohydrate source to REALLY steer clear from! Fructose causes many problems, but we are now understanding that it also is the main contributor to gout. Fructose increases serum levels of uric acid. The increase in uric acid levels with an infusion of fructose was first written about in the Lancet in the late 1960s. Fructose was proven to accelerate the breakdown ATP (the primary source of energy); which it is loaded with purines. ATP stands for adenosine triphosphate; adenosine is a form of adenine, and adenine is a purine; this increases the production of uric acid. Alcohol also raises uric acid levels through the same reaction.
Fructose also stimulates the production of purines. The metabolism of fructose leads to the production of lactic acid, which inhibits the excretion of uric acid by the kidney, which raises uric acid by that mechanism.
Gout can run in families. In 1990, Edwin Seegmiller and the British geneticist George Radda discovered that the familial association was a very specific gene defect that regulated fructose metabolism. This gene defect made it difficult to metabolize fructose and cause a predisposition to have gout if the diet had excess fructose.
So where do we get this excess fructose…sugar is about 50% fructose, honey is about 55% fructose, high fructose corn syrup can range up to 65% fructose, and AGAVE is about 90% fructose! Keep in mind that natural foods, even fruit, have fructose and in extreme health conditions, they should be avoided.
For more information CLICK HERE.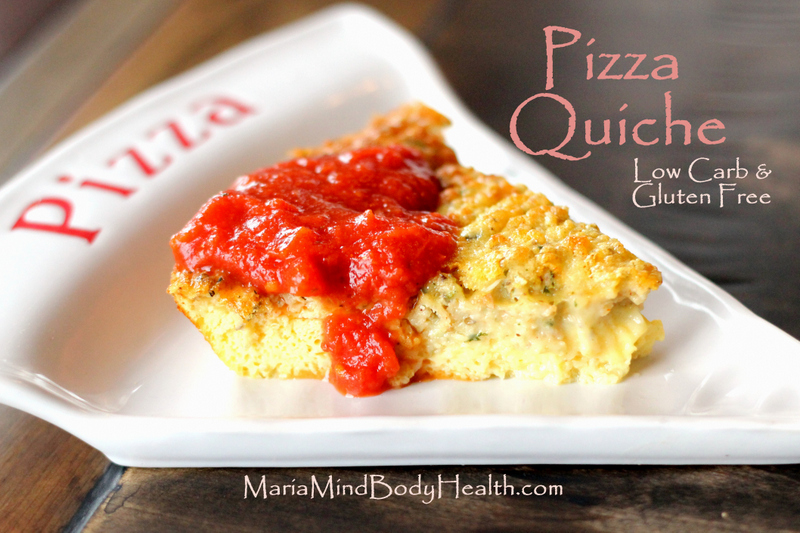 "HEALTHIFIED" PIZZA QUICHE
1 cup cottage cheese
1/2 tsp baking powder
1/2 tsp salt
1 TBS oregano
7 eggs
6 oz shredded Mozzarella cheese
3 Tbsp grated Parmesan cheese
1/4 cup chopped onions
1 clove garlic
3 links of Bolinski's Organic Chicken Sausage (spinach garlic flavor or other), cut into small chunks
OPTIONAL:
Olives, peppers, Italian sausage, mushrooms…
NO SUGAR Marinara sauce for dipping.
Preheat oven to 350°F. Combine cottage cheese, baking powder, salt, and Oregano; set aside. Beat the eggs in a large mixing bowl. Slowly add the cheese and pizza toppings (BAKE IN MUFFIN TINS for individualized pizza toppings) or pour into a greased 10″ pie plate. Bake at 350°F for 40 minutes, until puffy and lightly browned. A knife inserted into the center of the quiche should come out clean. Let rest for 15 minutes, serve. Makes 12 servings.
NUTRITIONAL COMPARISON (per serving)
Traditional Quiche with Crust = 290 calories, 19g fat, 10.8g protein, 19g carbs, trace fiber
"Healthified" Quiche = 112 calories, 6.9g fat, 9.4g protein, 2.1g carbs, trace fiber