Testimony of the Day
"Maria, it's amazing – after just one day on the supplements no bleeding or pain during and after #2 for the first time since August! Thank you :)"
To get started on your path to health, click HERE. 
Another Client Testimony
"Hi Maria! I have to tell you about a recent doctor visit. I told my doc that I'd started working with a nutritionist (you) and changed my diet rather dramatically and he asked a bunch of questions about it. I told him that I completely eliminated both sugar and grains. He seemed really pleased about that and kept asking questions. I told him that he may be horrified by this, but I added way WAY more fat into my diet. He said that he wasn't horrified at all, and really pleased to hear it. Then he looked through my chart and told me that I'd lost about 13 pounds since the last time I'd been in (maybe a year ago). We decided it would be good to get some blood work done at this time, just to see where I compare to my last blood workup.
He left a rather long-winded message on my cell phone last night, and suffice it to say, he was waxing lyrical about my results. He said they were really, really great all around. Even my thyroid labs which had been a problem in the past. He ended the diatribe by saying that with regards to my cholesterol, he joked that he was going to hang the results on the wall to let everyone gawk at. haha! -MJ"
Tired Liver
Your liver plays a major role in weight loss. The liver is a chief organ in the body for metabolism functions. Keeping our liver at optimal health should be a main focus of your weight loss plan. I write a chapter in my book, Secrets to a Healthy Metabolism, called Tired Toxic Liver…this is my mom's favorite sub-chapter because it all makes sense! The liver makes and secretes bile for storage in the gallbladder. During digestion, the bile is moved to the intestine to break down fats. But, if the liver is congested, it doesn't produce enough bile for fat to be broken down.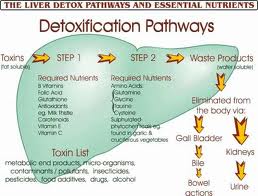 The liver can become congested from not only the foods you eat, but all of the makeup and soaps you use on your skin! I had one client who had her liver enzymes go back to normal once she ditched all of the lotions and make-up products she was using! Like every American, you've been flooded with emails of new miracle diets, and wondering why they don't work for you. Could it be as simple as cleansing your liver? When the liver is overloaded and toxic, every organ in a person's body is affected and weight loss efforts are stalled.
Some signs of a toxic liver are weight gain, cellulite, abdominal bloating, indigestion, fatigue, mood swings, depression, high blood pressure, elevated cholesterol, and skin rashes. Many people struggle with weight gain and a sluggish metabolism most of their lives, and go through lots of yo-yo dieting unsuccessfully. "So why doesn't anything work?" You may have been tackling the symptom when we should be addressing the cause; weight gain is often due to poor liver function. The liver performs more than 400 different jobs, and is the body's most important metabolism-enhancing organ; it acts as a filter to clear the body of toxins, metabolize protein, control hormonal balance and enhance our immune system.
The liver effects:
1. Thyroid: The liver is where T4 is converted to T3 which is the activated thyroid hormone. Excess estrogen blocks production of T3. T4 needs to be converted to activated T3 which happens in the liver. T3 is what makes us feel good. A supplement called Estrofactors helps detox this bad estrogen out of the liver which will in turn heal liver function and increase t3.
2. Fat loss: The liver breaks down fat if it is not tired and toxic. Your liver is a "worker bee" that can even regenerate its own damaged cells! But our liver is not invincible. When it is abused and lacks essential nutrients, or when it is overwhelmed by toxins, it no longer performs as it should. Fat may build up in the liver and just under the skin, hormone imbalances can develop, and toxins increase and get into the bloodstream. The liver metabolizes not only fats but proteins and carbohydrates for fuel. It breaks down amino acids from proteins into various pieces to help build muscle; which directly impacts your calorie burn. It also transports amino acids through the bloodstream for hormone balance; which is critical to avoid water retention, bloating, cravings, as well other undesired weight issues.
3. Moods:  The liver also controls our moods. The clients I see with depression or anxiety often have a poor liver function.
4. Cholesterol: Amino acids also help move waste, such as damaged cholesterol and excess estrogen to the liver, for detoxification and elimination through the kidney. The liver's most important function, and the one that puts it at greatest risk for damages, is to detoxify the numerous toxins that attack our bodies daily. Working together with the lungs, kidneys, skin and intestines, a healthy liver detoxifies many damaging substances and eliminates them without polluting the bloodstream. When we cleanse the liver and eat the right foods, liver metabolism will improve and we start burning triglycerides (fat).
The liver also plays a role in migraines. If this vital organ is overloaded with toxic substances, it can cause inflammation that triggers migraine pain. If you have tried many ways to improve your health and energy level and nothing seemed to help, it is possible that your tired liver is triggering your difficulties.
If you notice that you are more edgy, easily stressed, have elevated cholesterol, skin irritations, depression, sleep difficulties, indigestion, kidney damage, brain fog, hypothyroidism, chronic fatigue, weight gain, poor memory, PMS, blood sugar imbalances, or allergies, your liver may be to blame.
Restoring liver function is one of the most essential actions you could ever do for your health. When the liver gets congested it will remain that way and get worse until it gets cleaned and revitalized.
In addition to diet, supplements also help speed up cleansing of the liver. Click HERE to find my favorite.
If you are more of an ebook reader, I am happy to announce that you can now get my books as a high-quality ebook that works on any platform (Craig spent a whole week working on this for me!). This is an ebook format that works on any computer or mobile device. It is a beautiful pdf that has all the full-color pages and layouts as the printed books with click-able table of contents and searching capabilities. This is extremely useful when trying to find a recipe. These books are much higher quality than the ebook platforms (kindle, apple). Plus, most of the profits don't go to Amazon or apple! Just go here to get your copy!
Just Click HERE or select "My Books" above to get your copy now!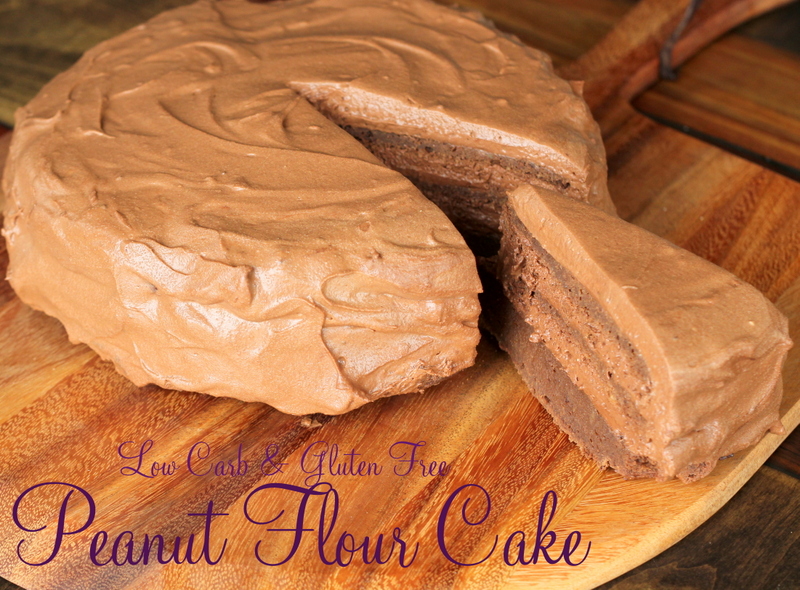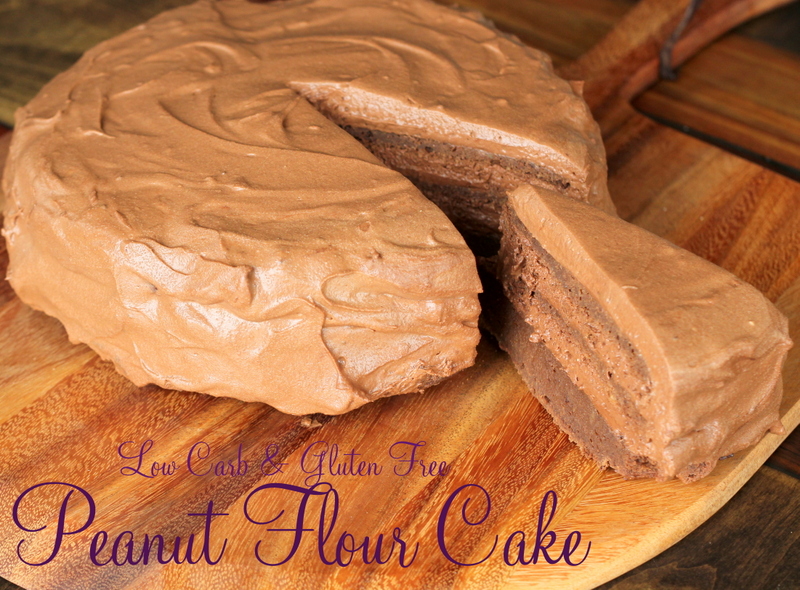 My husband's birthday is on Christmas Day, so another dessert is usually the last thing he wants. He prefers a cheesecake instead anyway. But for those of you who need a "healthified" birthday cake, this one is awesome. The peanut flour makes a great flavor for the cake.
1 1/4 cup Swerve (or erythritol)
1 tsp stevia glycerite
1 3/4 cups peanut flour
3/4 cup unsweetened cocoa powder
1 1/2 tsp baking soda
1 1/2 tsp baking powder
1 tsp Celtic sea salt
2 eggs
1 cup unsweetened almond milk
1/2 cup coconut oil or butter
2 tsp vanilla extract
FROSTING:
3/4 cup butter or coconut oil
3 oz cream cheese or coconut cream
1 1/2 cups unsweetened cocoa powder
2 cups confectioners Swerve (or powdered erythritol)
1 tsp stevia glycerite
3/4 cup unsweetened almond milk
1 tsp vanilla extract
Preheat oven to 350 degrees F (175 degrees C). Grease two 9 inch cake pans. In a medium bowl, stir together the sweetener, peanut flour, cocoa, baking soda, baking powder, and salt. Add the eggs, almond milk, oil and vanilla, mix for 3 minutes with an electric mixer. Pour evenly into the two prepared pans.
Bake for 30 to 35 minutes in the preheated oven, until a toothpick inserted comes out clean. Cool for 10 minutes before removing from pans to cool completely.
To make the frosting, use the second set of ingredients. Cream butter and cream cheese until light and fluffy. Stir in the cocoa and sweetener alternately with the milk and vanilla. Beat to spreading consistency.
Split the layers of cooled cake horizontally, cover the top of each layer with frosting, then stack them onto a serving plate. Frost the outside of the cake. Serves 12.
NUTRITIONAL COMPARISON (per serving):
Using white flour, skim milk and sugar = 655 calories, 111 carbs, 5.8 fiber
Using peanut flour, almond milk, and Just Like Sugar = 314 calories, 13.8 carbs, 7.1 fiber
More recipes and tips like this can be found in: The Art of Eating Healthy: Sweets. Thanks SO much for your support!

TO ASSEMBLE CAKE POPS: Crumble cake into a large bowl. Add 1/3 cup frosting and mix completely. Tip: If you don't mind getting a little messy, push up your sleeves and use your hands to mix the cake and filling! Be careful not to add too much frosting. You want the consistency to be sticky, not soggy.
Roll the mixture into balls and place on cookie sheet.
Dip the ends of the lollipop sticks into "healthified" melting chocolate (click HERE to find) and insert it into the balls. stick the handle/pop stick into the chocolate and then into the ball and place in freezer for 5-10 minutes till chilled. Then you bring the pops back out and dip them in the chocolate and then place them in styrofoam to set or can put in freezer/fridge for faster cooling/set.
Chill the pops in the freezer for 15 minutes.