TESTIMONY OF THE DAY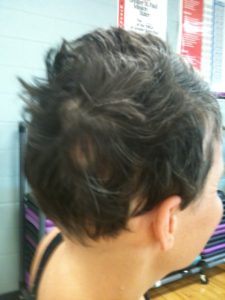 Do you or someone you know suffer from an autoimmune disease? Alopecia is an autoimmune disorder is close to my heart. One client really sticks out in my mind. Kiki was a middle-aged woman who came into my office. I saw her often in the weight lifting class that I take three times a week, but I never talked to her. It was impossible to ignore that she always wore a bandana on her head, but I never knew why. Her story is that in her 20's she started losing her hair and by the time she came into my office, it was completely gone.
I love this story because Kiki was a professor so I never saw her at the gym during the school year. After 6 months of my anti-inflammatory, keto-adapted, gluten-free diet, Kiki walked into the gym with a bandana on like usual and ran up to me with a huge grin. She ripped her bandana off and had a full head of hair. She said with delight, "I had my first hair cut in 10 years!" As a woman, I can't imagine. I use to let those "bad hair days" upset me, but after meeting Kiki, that just seems silly.
She thought I was crazy when I told her that she had a food allergy causing her to lose her hair. She is a total believer now! She was so excited that she had her first hair cut in over 10 years!
We eliminated certain foods and added in some specific supplements to help with skin and hair conditions. Also, in the cases that I see of autoimmune disorders (like alopecia) adding in low-dose naltrexone (LDN) to help immune status. LDN works by blocking opioid receptors so the pituitary will somewhat normalize and the immune system functions better.
If you or someone you know is interested in getting on the right path, please email me for a consult. I would be honored to help! Click HERE to get started!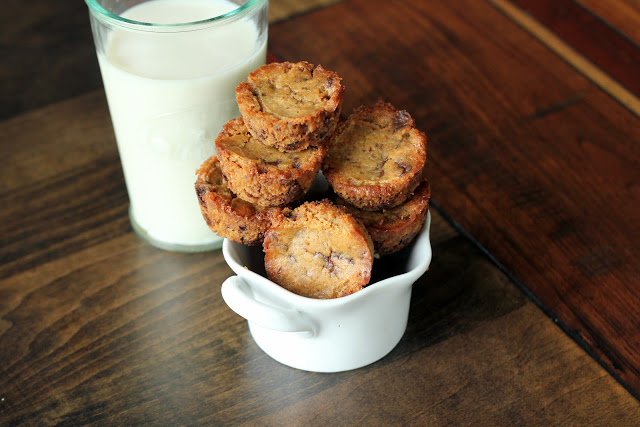 1/2 cup butter or coconut oil
1/2 cup Swerve (or erythritol )
1 tsp stevia glycerite
3 eggs, beaten
1/2 cup natural peanut butter
3/4 cup sour cream
1 tsp vanilla extract
2 cups peanut flour
1 tsp baking powder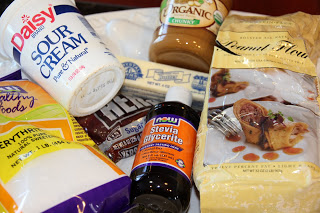 1 tsp baking soda
1/2 tsp Celtic sea salt
1 cup ChocoPerfection Bar, chopped
Preheat oven to 350 degrees F. Cream butter and sweetener. Beat eggs in well. Mix in peanut butter, sour cream, and vanilla. Combine peanut flour, baking powder, soda, and salt together and add to creamed mixture. Stir in most of the chocolate chips, reserving a few for the top. Spoon mixture into greased mini muffin tin. Place in the oven for 10-12 minutes. Test with a toothpick for doneness. Makes 12 large muffins or 42 mini muffins.
NUTRITIONAL COMPARISON (per 1 large cupcake)
Traditional Chocolate Chip PB Cupcakes = 396 calories, 49.5 carbs, 2.5g fiber
"Healthified" Chocolate Chip PB Cakes (making 12 servings) = 302 calories, 12 carbs, 6.9g fiber
"Healthified" Mini Muffins (making 42 muffins) = 86 calories, 3.6 carbs, 2g fiber
*Nutritional Info using ChocoPerfection Bar