Nutrients with a Keto Lifestyle
We often get asked "without fruits and whole grains, how do I get my nutrients with a Keto Lifestyle?".  So Craig went to work and recorded the nutritional analysis for all the ingredients in typical meals that he eats.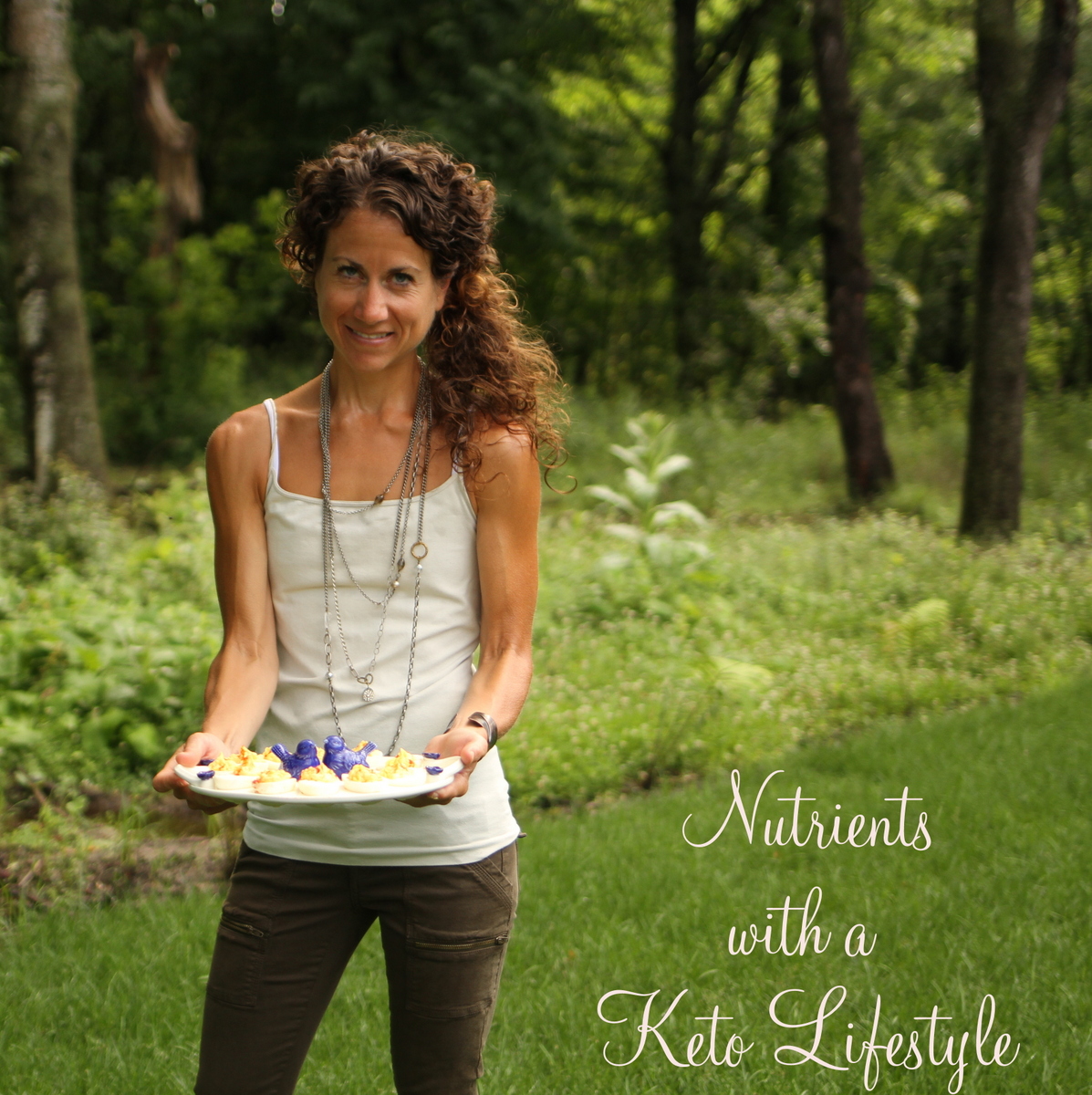 Keep in mind, this is a typical maintenance day for this lifestyle.  This would be pretty similar to a typical day for Craig and I.
"Break"fast
3 Eggs Avocado Benedict
Snacks
3 ounces Salmon
2 servings Keto Fudge
End eating Window
2 cups Chili with cheese and sour cream
Daily Macro Totals
| | | | |
| --- | --- | --- | --- |
| Calories | Fat | Protein | Carbs |
| 1762 | 141g | 89g | 38g |
We broke down all the vitamins and minerals we could find in ingredients tools online.  Here are the totals for this day.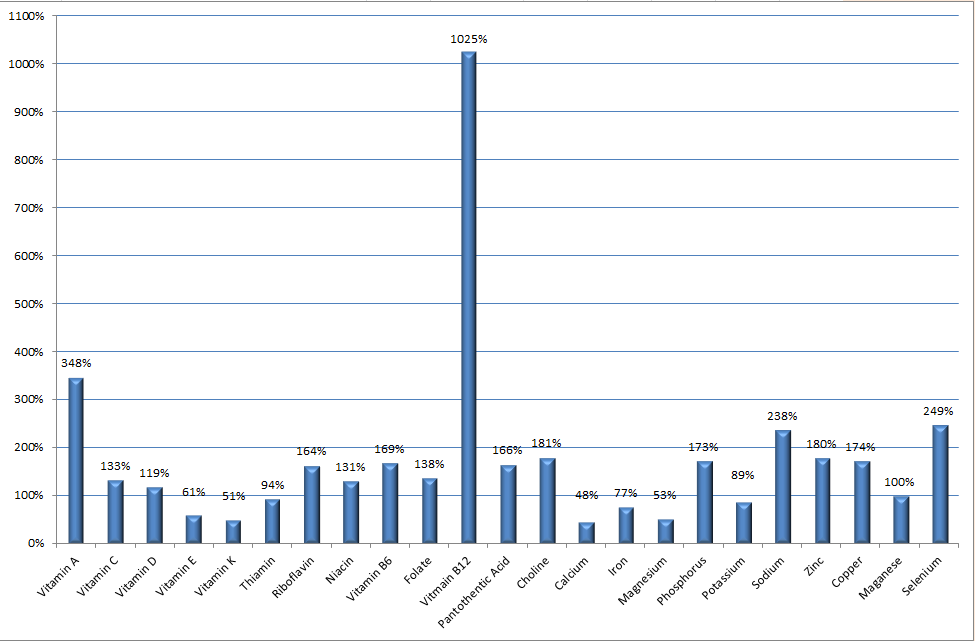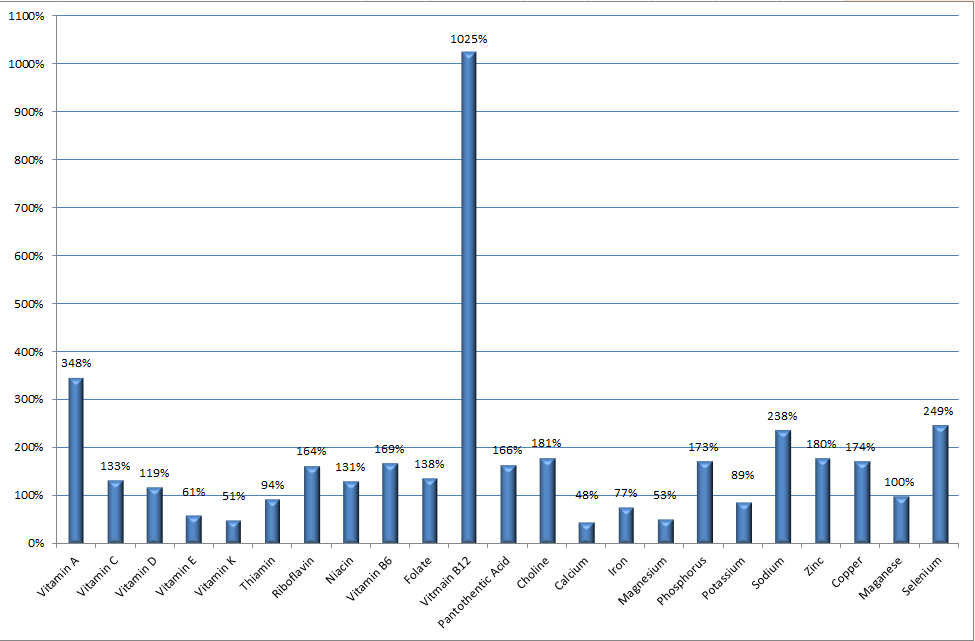 As you can see, many of the nutrients listed are at or well above 100% of the daily recommended allowances (RDA).  Plus, in our paleo days and if you are on good well water, you get lots of calcium, magnesium and potassium (source). Magnesium and potassium are also supplements most of our clients take because our water and food supply doesn't have as much as it once did. Also we need less calcium they the RDA recommends. With plenty of vitamin D, K2, Magnesium and other co-factors, calcium intake isn't really an issue.
This is just a one-day snapshot.  If the next day you eat some avocado, spinach and kale, you will easily make up difference in E and K. So this lifestyle can easily get you all the nutrient you need to be happy and healthy, without the added sugar and carbs of fruit and grains.
Also of note, in maintenance Craig (5'6″ male of 158 pounds) eats about 1800 calories a day in maintenance. This lifestyle is very nutrient dense so less calories are needed as well. For more on that go HERE.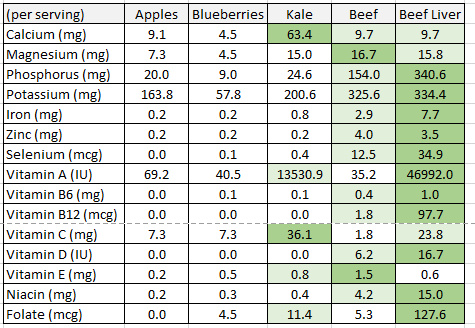 Source: Our book Keto. Click on the chart to find it.
TESTIMONY OF THE DAY
Platimum Member of Keto-Adapted.com: "One of these days I will be home on a Sunday and can join you! This past weekend I was hosting my sister and her family and we took them boating on the Chesapeake Bay. I think I talked about you and Keto the whole weekend!!
I felt so good. And even after having to eat in restaurants, I managed to lose a pound… which means I am 16 lbs. down from starting April 24 (7 weeks!) and I've seen the best improvement since finding you, using your recipes, and taking the supplements you suggested which was about a month in (May 24 or so).
So that's 8 lbs. in just 3 weeks! My doggie died during that time and I've been miserable so I don't even know how I lost the weight during all that. My face stopped breaking out too which is incredible. I've never had good digestion– I'm gluten intolerant, no gallbladder, no appendix, and everything shows up on my complexion when I'm upset. I'm seriously in awe of what being in ketosis has done for me. I mean, I finally feel full and stop eating during a meal!!! That is so crazy for me!!! Thank you Maria!!!" – Bethany
You too can join Craig and I every Sunday on our live weekly webinar so you too can stay the course!