HALLE BERRY!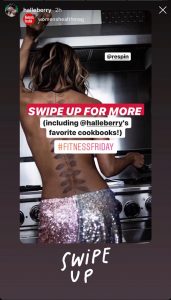 I have to mention this since I am over-the-moon excited! Halle Berry was interviewed by Women's Health Magazine on what she eats, she gave a day of eating that included my recipes AND she said her favorite cookbook is my book Keto Comfort Foods! How cool is that?
"After being diagnosed with diabetes at 22, I adopted what I now know was basically a keto diet. My doctors told me I'd have to keep an eye on how I ate to stay healthy, and I took it to heart. I wanted to get off of insulin, so I decided to say goodbye to processed carbs and sugar like baked goods and white bread—and it has seriously paid off.
When in doubt, I whip out my favorite cookbook, Keto Comfort Foods, and make a recipe from there." Halle Berry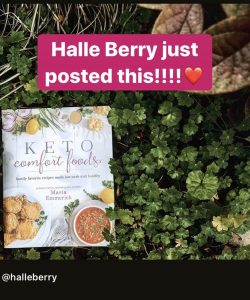 Mocha Latte Panna Cotta
Show your mother some extra special love by making her my very popular recipe from my book The 30 Day Ketogenic Cleanse, my Mocha Latte Panna Cotta for Mother's Day! This panna cotta recipe is dairy free and is a HUGE hit! Yes, it is from a book, but it is SO delicious, I thought I should share the recipe from it as a special little gift to all of you!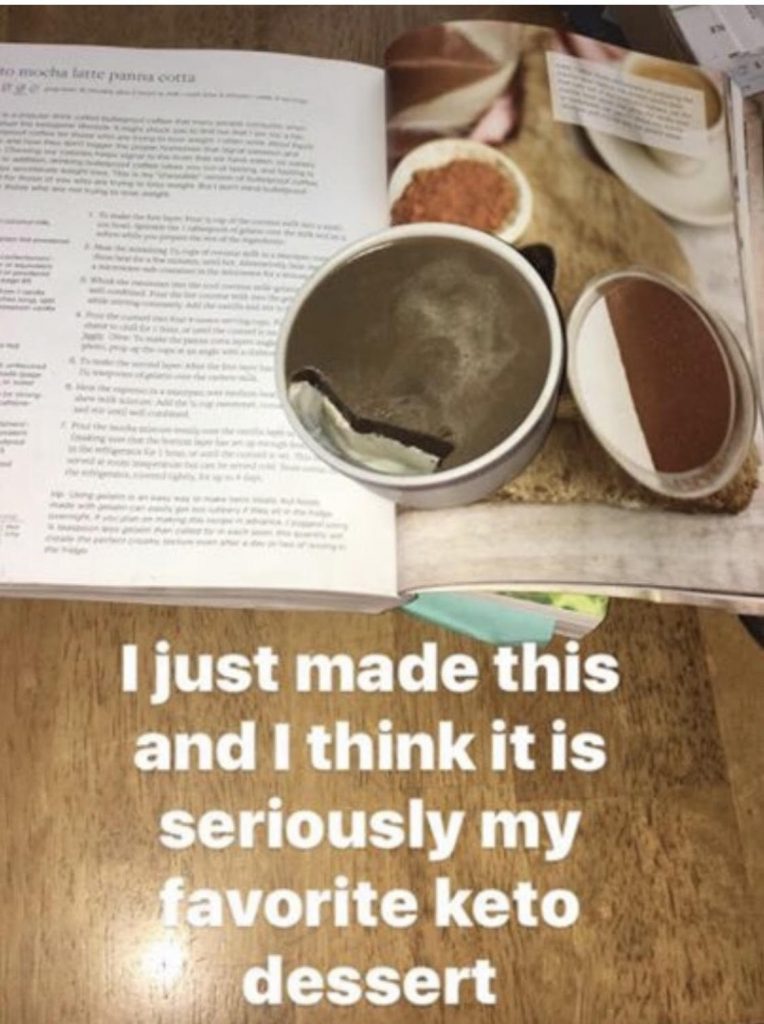 I love making Panna Cotta because they are easy, creamy and oh so delicious! Here is a huge tip when making Panna Cotta: Making food with gelatin is an easy way to make tasty treats, but foods made with gelatin can easily get too rubbery if they sit in the refrigerator overnight. If you plan on making this recipe ahead of time and aren't serving it the same day it is made, I suggest using ¼ teaspoon less gelatin than called for. This quantity will ensure a perfect, creamy texture even after the panna cotta has rested in the refrigerator for a day or two.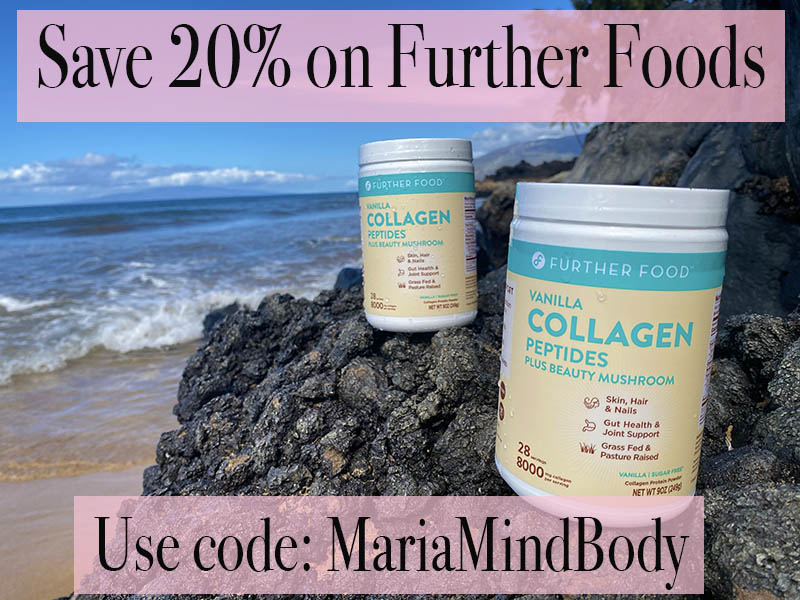 When I make this Mocha Latte Panna Cotta, I always use Further Food Gelatin! Further Foods gelatin and collagen peptides are both excellent sources of collagen. Both their Collagen & Gelatin are sourced from the highest quality, grass-fed, pasture-raised, hormone-free, and antibiotic free bovine collagen.
The benefits of collagen are astounding! Collagen helps support skin elasticity & hydration, longer hair & nails, stronger bones & joints, faster recovery between workouts, increased flexibility, improved digestion, and it even keeps you feeling full and satiated for longer! Collagen Peptides dissolves instantly in any recipe, and Gelatin Powder naturally thickens recipes. It's perfect for making jello, gummies, cheesecake, or panna cotta!
I have another gift for you! The owner of Further Foods, Ashley, is an awesome woman who wants to make Mother's Day special for all of you! Ashley has a special Keto Mother's Day sale for my readers!
Use code MARIAMINDBODY is for 20% off site-wide !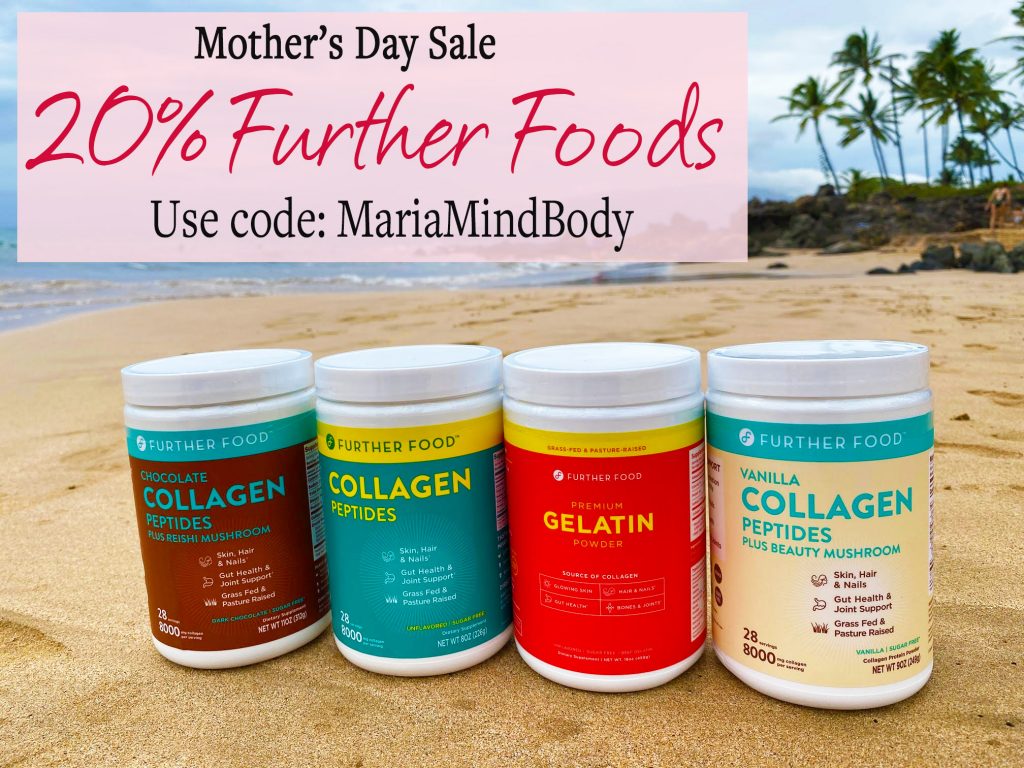 If you want to watch us make this delicious Mocha Latte Panna Cotta, subscribe to our new YouTube Channel to get updated when the video comes out which will be in a day or two, and comment below on what video recipe we should make next!
Mocha Latte Panna Cotta
Ingredients
layer 1:

2

cups

full-fat coconut milk

divided (or heavy cream if not dairy free)

1

tablespoon

Further Food gelatin

¼

cup

Natural Sweetener

Seeds scraped from 1 vanilla bean

split lengthwise, or 1 teaspoon vanilla extract

layer 2:

1½

teaspoons

Further Food gelatin

½

cup

unsweetened

unflavored cashew or almond milk

1

cup

decaf espresso

or strong brewed coffee if not caffeine sensitive

¼

cup

Natural Sweetener

2

teaspoons

unsweetened cocoa powder

or Further Foods Chocolate Collagen

⅛

teaspoon

Redmond Real salt
Instructions
To make the first layer: Pour ½ cup of the coconut milk into a medium bowl. Sprinkle the 1 tablespoon of gelatin over the milk and let it soften while you prepare the rest of the ingredients.

Heat the remaining 1½ cups of coconut milk in a saucepan over medium heat for a few minutes, until hot. Alternatively, heat the milk in a microwave-safe container in the microwave for a minute.

Whisk the sweetener into the cool coconut milk–gelatin mixture until well combined. Pour the hot coconut milk into the gelatin mixture while stirring constantly. Add the vanilla and stir to blend.

Pour the custard into four 4-ounce serving cups. Place in the refrigerator to chill for 1 hour, or until the custard is set and is no longer jiggly. (Note: To make the panna cotta layers angled, as shown in the photo, prop up the cups at an angle with a dishtowel.)

To make the second layer: After the first layer has set, sprinkle the 1½ teaspoons of gelatin over the cashew milk.

Heat the espresso in a saucepan over medium heat. Whisk in the cashew milk mixture. Add the ¼ cup sweetener, cocoa powder, and salt and stir until well combined.

Pour the mocha mixture evenly over the vanilla layer in the four cups (making sure that the bottom layer has set up enough first). Place in the refrigerator for 1 hour, or until the custard is set.

This is best served at room temperature but can be served cold. Store extras in

the refrigerator, covered tightly, for up to 4 days.
Notes
calories
210
fat
19g
protein
7g
carbs
3g
fiber
0.5g
TESTIMONY OF THE DAY
"I just started the Further Foods collagen Maria suggests three months ago (one scoop in my tea each morning) and I took a picture the day I started & today! Can't say I'd believe it if I didn't see so myself!
I can't believe so many wrinkles around my eyes are gone! Get some if you haven't already!!! It's flavorless & one tub of it lasts well over a month!! Great skin, hair, nails, gut health & most importantly bone & joint health!" – Betsy