TESTIMONY OF THE DAY
"We put our 10-year-old son on your diet plan in November, with the hope that it would help his ADHD symptoms. We do not use medication and did not want to, but his gluten-free diet was not enough.
In December, his teacher remarked that he seemed more focused in class, especially after snack time, which used to be marked with bursts of energy and lack of self-control. Although the diet takes more planning (on my part) and required him to try new foods, my son said he felt better.
Well, last night he got his report card. His grades went up in every subject. His change is remarkable. Thank you." – Stacy
Click HERE to get started on a happy and healthy family!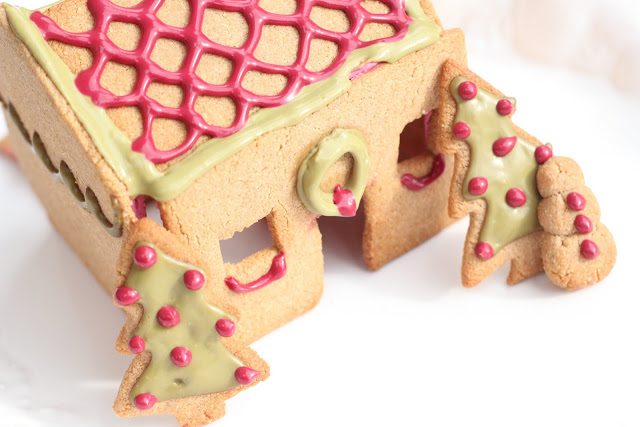 Low Carb Gingerbread House
1/2 cup vanilla whey or egg white protein
3/4 cup almond flour
2 TBS coconut flour
1/4 tsp Celtic sea salt
1/4 cup butter or coconut oil
4 TBS Swerve (or a few drops stevia glycerite)
1-2 TBS water (just enough to hold the dough together)
1/4 tsp allspice
1 tsp ground ginger
1/4 tsp ground cloves
1/2 tsp cinnamon
ICING:
4 oz cream cheese or coconut cream
2 TBS unsweetened almond milk
3 TBS Swerve OR a touch of stevia glycerite (to taste)
COLORING: India Tree Natural Decorating Colors
In a large bowl cream the butter and sweetener together until very smooth. Sift the baking soda, spices, salt, and whey into the almond and coconut flour, then slowly add the almond flour mixture into the butter mixture. Mix until well combined, then slowly add water just until the dough is soft, yet able to roll out. Form into a tight ball and cool in the fridge to chill.
Preheat oven to 325 degrees F. Place the dough onto a non-stick surface (I used parchment paper), then top it with another piece of non-stick surface (again, I used parchment paper) roll the dough out into about 1/4 inch high. Cut the dough with cookie cutters, and place onto a baking sheet. Bake for 20-30 minutes (depending on the size of the shape) or until golden brown.
To assemble: Decide how you want your house to be positioned on the base. Make sure the base is big enough so you will have plenty of space for a front walkway, bushes along the side of the house, a backyard, etc. Lay your walls down on the base where they will go. Pipe a line of icing in an L shape for two adjoining walls, as well as a strip of icing along the inside edge of one wall. Carefully stand the walls up and hold in place a few minutes until stable. Repeat steps 4-5 for the other sides of the house. Let the icing dry and harden before attaching the roof. Pipe a line of icing all along the top edge of the walls. Gently place the two roof pieces on the house simultaneously. Hold the roof in place for a few minutes until the roof is stable. Then pipe a strip of icing along the ridgeline. Wait for the icing to dry and harden completely before decorating the house.